Murakami-sensei, Let's Meet Again!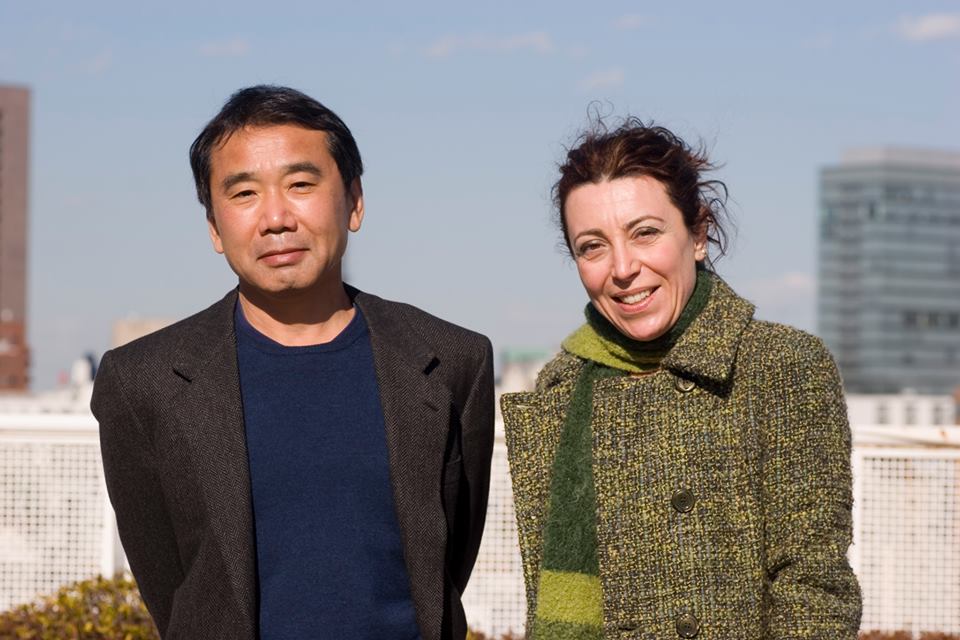 I read about Haruki Murakami's withdrawal from nomination for the Nobel Prize recently. The renowned writer chose to focus on his most recent novel Killing Commendatore (October 2018, Knopf) which has just been published worldwide, and forego a chance of winning the prize. As I saw his name in the news in the past few months, my mind went back to the time I met him a few years ago.
During our long conversation, I told him that I was waiting for him to receive the Nobel Prize. He smiled back at me, making a funny face.
It was around 2006 and I was in Japan on a scholarship for journalists. At the time, I was writing articles from Japan for Italian magazines and newspapers.
One day, my Italian editor emailed me, asking me to interview Haruki Murakami. The Italian translation of Kafka on the Shore was about to be published and the editor wanted to have a comment from him.
I panicked. How could I reach someone I thought was one of the hardest writers to interview? Murakami was already as famous for his novels as he was renowned for his refusal to be interviewed and detachment from social life.
Anyway, I tried my best. Through a friend, who was working at a Japanese TV company, I was able to find the email address of Murakami's personal assistant.
I wrote a simple email introducing myself and the magazine I was writing for, and asked for an interview with Murakami-sensei about his last novel. I specified that I could speak Japanese and therefore the interview could be done in Japanese — it might help, I thought. And I was right.
A few days later, I received an answer, and it was positive! "Wow!" I thought. I could not believe I would really have the chance to meet him. I had always been a great fan of Murakami and I had read almost everything he wrote, including his collection of interviews, Underground (2000, Harville Press).
The day of the interview, I went to his studio in Tokyo with a friend, a photographer, whom I asked to cover the meeting. That is why there is a picture of Murakami and me together on the rooftop of the building where his studio is located. From there, it is possible to see Aoyama Cemetery and its green trees, between which he likes to walk and run.
At that time Murakami was writing What I Talk About When I Talk About Running (2008, Knopf), an essay on his passion for running that I would read only later.
"Writing is also a physical matter," he said. "Being physically healthy is necessary to write. If I have a stomach ache, I can't concentrate on writing."
I was so focused on studying his work that I hadn't had the time to wonder how it could be to meet Murakami himself. So, when he appeared in the small room of the studio, I couldn't believe it. A not-so-tall man, easy-going, dressed in jeans, t-shirt, and a jacket. The impression I had was of a simple, nice person. He sat on the other side of the table, cross-legged.
I started thanking him for accepting my request and for the time he was going to devote to me.
"Your request arrived at the right time," he replied. "I am currently writing an essay and in the meanwhile I can accept some interviews. This is not possible while I write a novel."
The interview was scheduled to last one hour and I had carefully prepared all the questions, consulting with some Japanese literature professors.
We spoke about Kafka on the Shore (2005, Knopf) and its suspended final: "It's not important how the journey ends. The important thing is the journey itself," he said.
We spoke about his first novels, such as Norwegian Wood (1989, Kodansha) and the fact that it had been written in Italy, at least its first part. Then we talked about his time in Rome and then his experience in Sicily.
He told me about his "epiphany" and how he started writing, about his passion for music and his encounter with the members of Aum Shinrykyo.
We spoke also about his personal life.
"The most important thing for me is writing," he explained. "When I write I am completely absorbed by the story and I do not have time to go out and have a social life. If I refuse invitations, people then complain because I refused them, and I cannot stand that. I want to be free to write as I like."
As we spoke, even about our common passion for cats, one hour became two hours, then three and four. It was amazing. We spent all the morning together. The interview was a success, it was published by one of the most popular Italian magazines and then translated into other languages.
Once on the rooftop of the building, while he was talking about running, I remember his secretary arriving quite breathless and worried to remind Murakami of his next appointment.
We returned to the interview room and, once there, it was time to say goodbye. I bowed my head and thanked him for the time he gave me.
He smiled at me and, before disappearing like one of his characters behind the door of the small room, he said: じゃー、またね。(Ja, mata ne.)
I was so surprised by his words! I know that this is a Japanese common way to say goodbye, but it's different than saying a cold "Sayonara."
Saying "Ja, mata ne!" is an expression that conveys a positive feeling and carries inside the hope of a next chance. It is just a matter of words, of course, but words are important.
Murakami's life is made of words, and so is mine. Carefully choosing the words is our job and our life. That's why I really believe in what he said, and I still hope to have the chance to meet him again.
I tried to contact him again later for another interview, after some of his new novels came out, but I never succeeded. And maybe it's fine that way. けど、先生、またね 。
Author: Stefania Viti