Japan Honors Nobel Laureate Liu Xiaobo A Year After Death in Chinese Prison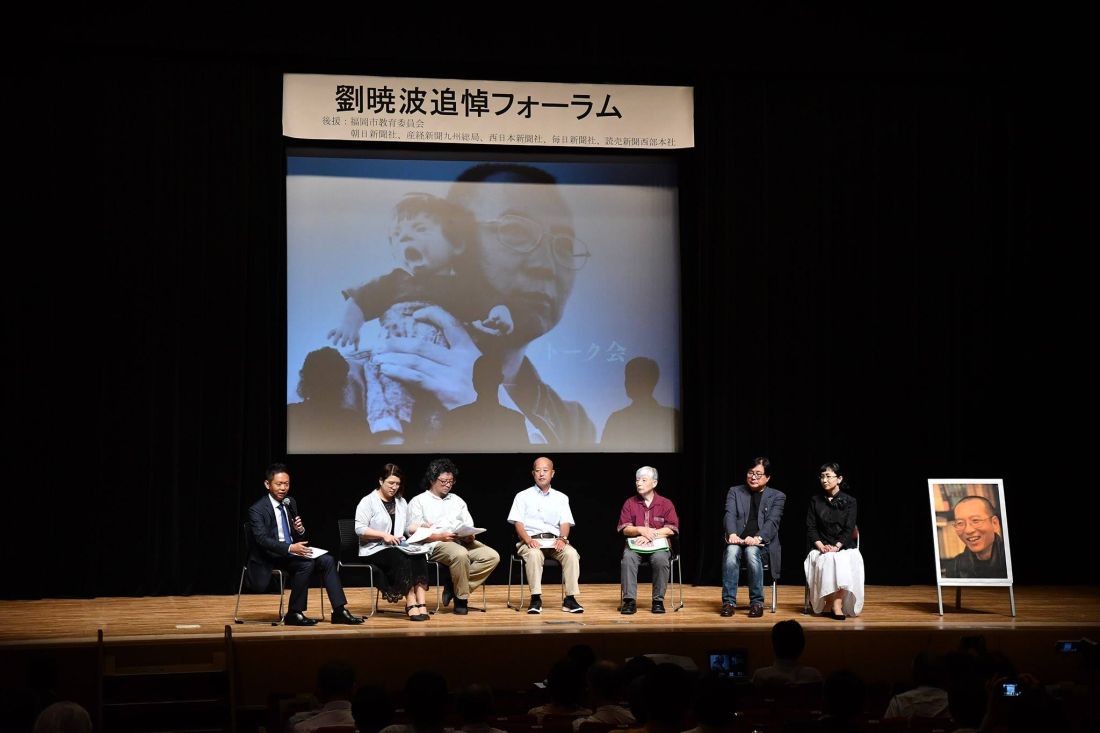 By Yoko Mada
July 13, 2018, marked the first anniversary of the death in a Chinese prison of democracy activist and Nobel Peace Prize Laureate Liu Xiaobo.
Memorial ceremonies were held in Taiwan, Hong Kong, Berlin, New York, and other places in the world on the anniversary date. In Fukuoka, Japan, an event titled "Liu Xiaobo Memorial Forum" was held in keeping with the worldwide movement to honor Liu's commitment to human rights and democracy. About 150 participated in this lone event held in the country.
Liu Xiaobo became known for the courageous efforts he made to keep casualties to a minimum at the Tiananmen Square Massacre of 1989. At the time, the army was oppressing Chinese citizens through the use of its military might. He negotiated with the army in an effort to minimize casualties.
He also released "Charter 08" in 2008, which called for freedom of speech and respect for fundamental human rights in China, among other basic human rights.
Liu continued his advocacy inside of China without giving in to repeated detention and surveillance by the police. His activities led to his conviction on charges of inciting against the government. He was sentenced to prison, where he was fighting terminal cancer when nominated for the Nobel Peace Prize.
Liu's principled determination was acknowledged worldwide in 2010 when he was announced to be the recipient of the Nobel Peace Prize for his "long and non-violent struggle for fundamental human rights in China."
Liu did not suffer alone. His wife, Liu Xia, had been under house arrest for several years, but recently was allowed to depart from China—right before the first anniversary of her husband's death. She is now in Berlin.
Her release can be viewed as the result of many long years of effort by the German government. Unfortunately, Liu Xia's brother is still detained in China, which amounts to a hostage situation held over Liu Xia's head by the Chinese government. Therefore, she was unable to attend any of the memorial events in Berlin. Since she can no longer be her husband's public voice, it is incumbent upon international society to raise its voices more and louder.
The memorial forum in Fukuoka was organized by an executive committee led by Hidetoshi Ishii, the president of the NPO Yume Dai Asia (Dream – Greater Asia). Ishii is best known for his broad activities on such issues as human rights and democracy in Tibet, Uyghur, Hong Kong, and China, among others.
This year's event was backed by a public institution—the Fukuoka City Board of Education—and five newspaper companies of the Japanese mainstream media. The significance of their support lies in the fact that the forum was pulled off with broad support from both conservatives and liberals.
On the day of the memorial forum, six activists and Chinese experts on human rights participated onstage, including Japanese and Taiwanese representatives who directly interacted with Liu Xiaobo. Their presentations focused on the achievements of Liu Xiaobo and the current human rights situation in China.
One of the guests, writer Seiichiro Aso, pointed out, "In China, today, freedoms such as obtaining food and so on in ordinary life have expanded, but in terms of public issues, freedom of association is not permitted among the citizens."
Junko Oikawa, an associate professor of Chuo University, emphasized, "Liu Xiaobo intentionally continued his activities inside of China in order to make his thoughts and actions relevant."
Problems with the attitude of Japanese were also raised one after another. Former professor of Kumamoto Gakuen University Yasuo Yokozawa offered the criticism that "the Japanese government and intellectuals are ignoring the human rights oppression by the Chinese Communist Party, and thus their actions amount to approving such acts."
The historian Noboru Urabe said, "Japanese people back in the Meiji era supported the Chinese revolution, but, today, the historical facts themselves are even forgotten."
In addition, the famous Taiwanese journalist Yang Sen-hong visited Japan for this event. Yang talked about his experience interviewing Liu Xiaobo more than 30 times. He insisted, "The democratization of Taiwan came true, and it can be the model for the democratization of China."
Liu Yanzi, a scholar of contemporary literature, introduced the poems of Liu Xiaobo and his wife, Liu Xia. In tears, she recited them aloud in Chinese and Japanese and deeply touched the hearts of all participants.
She added, "Next year will mark the 30th anniversary since the Tiananmen Square Massacre. It's forbidden to speak of the incident in China, but Chinese can learn through their neighboring country, Japan. I'd love to invite Liu Xia to Japan one day."
Hidetoshi Ishii, speaking on behalf of the Liu Xiaobo Memorial Forum executive committee, showed the significance of this forum when he said, "I'd like to make this a start for re-establishing Japanese-Chinese relations based on freedom, human rights, and the rule of law."
One of the forum participants responded: "The current Japanese attitude is too cold-hearted. We need to do a better job of sharing our thoughts on Chinese human rights and democratization, and support the thoughtful Chinese people."
The organization now plans to hold the Liu Xiaobo Memorial Forum annually in Fukuoka City.