Japan now has "coronavirus-fighting" beer, Amabie IPA, with a label by "Moyasimon" creator Masayuki Ishikawa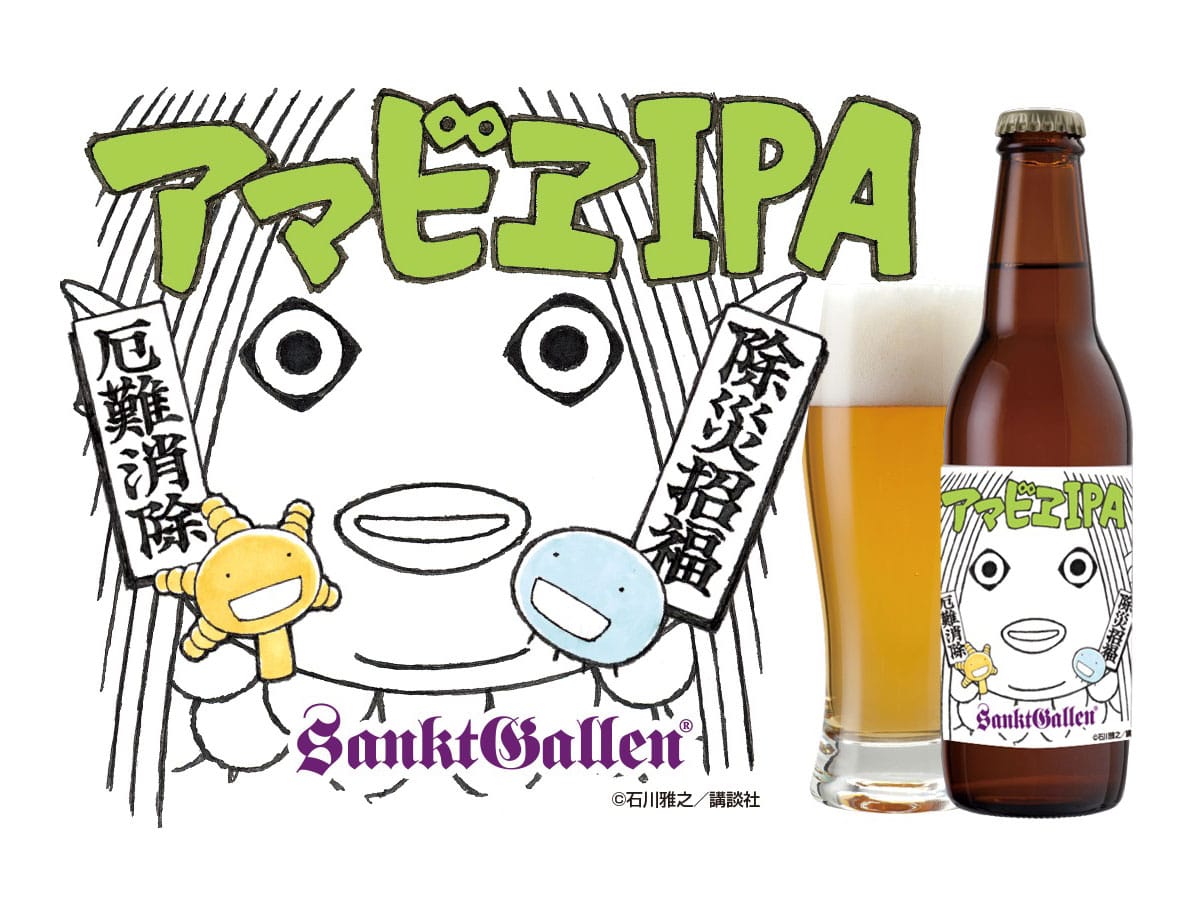 If you've been reading grape Japan lately, then there's a good chance that you know about Amabie アマビエ.
Legend has it that the yōkai 妖怪 (monster) with long hair and a scaly body appeared off the coast of Kumamoto, making predictions of a bountiful harvest, then left with the words: "If an epidemic ever spreads, draw a picture of me and show it to everyone."
Rediscovered in March in a Tweet which went viral, Amabie quickly became Japan's unofficial mascot character in its fight against the novel coronavirus outbreak, inspiring fan art and appearing in everything from rice crackers, colorful donuts and wagashi traditional sweets, and even showing up as a SnapChat effect.
Now, Amabie appears on the label of Amabie IPA, a new beer from SanktGallen Brewery, the oldest microbrewery in Japan.
Fighting the pandemic with great beer and donations
Having sold over 10,000 bottles of Amabie IPA only a day after it launched on April 28th, SanktGallen Brewery donated 2 million JPY in proceeds on April 29th to a fund dedicated to stopping the spread of the novel coronavirus.
The brewery is committed to continuing sales of the beer until the outbreak subsides and has vowed to continue donations throughout that time.
Label by "Moyasimon" creator Masayuki Ishikawa
In a very appropriate collaboration, the microbrewery called upon Masayuki Ishikawa, whose hit manga "Moyasimon: Tales of Agriculture," about an agricultural college student who can see and talk to a motley crew of bacteria, was translated in several languages and made into an anime.
The rest of the article can be viewed on our partner's website, grape Japan at "Japan now has "coronavirus-fighting" beer, Amabie IPA, with a label by "Moyasimon" creator Masayuki Ishikawa."