[JAPAN SPORTS NOTEBOOK] Gymnast Kohei Uchimura Tests Positive for COVID-19 in Run-Up to Big Meet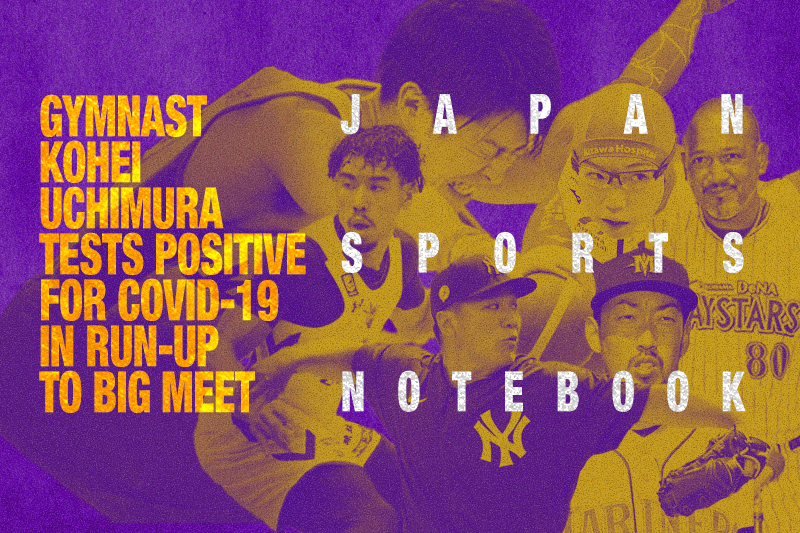 Updated on November 2 at 12:35 a.m.
Gymnastics superstar Kohei Uchimura tested positive for COVID-19 less than two weeks before an upcoming international competition in Tokyo. But Uchimura was retested at three different hospitals after the positive test was announced, and all three polymerase chain reaction (PCR) tests were negative, the International Gymnastics Association (FIG) revealed on Saturday, October 31.
The 31-year-old's positive test was announced on Thursday, October 29.

With Uchimura now cleared for competition, FIG President Morinori Watanabe said that a four-nation meet, scheduled for November 8 at Yoyogi National Stadium, will still be held.
In recent days, Uchimura had been working out at the Ajinomoto National Training Center in the nation's capital in preparation for the competition.
After Uchimura's positive test was announced, Watanabe addressed the issue of the gymnast's health during an online news conference on October 29. Watanabe described the two-time defending Olympic men's all-around champion as being in "very stable condition."
The six-time all-around world champion is the featured attraction for the meet, which will also feature gymnasts from the United States, Russia and China. A crowd limited to 2,000 spectators is expected to attend the event.
No other Japanese athletes or gymnastics staff tested positive for the coronavirus, Watanabe said on October 29.
Baseball
Dodgers' Roberts Becomes First Asian Manager to Win World Series
Los Angeles Dodgers manager Dave Roberts, who was born in Naha, Okinawa, led his team to a World Series title on Tuesday, October 27.
The Dodgers earned their first title since 1988 by topping the Tampa Bay Rays 3-1 in Game 6 in Arlington, Texas.
"I had a crazy feeling that came to fruition," Roberts told CNN. "It's just a special group of players, organization, just all that we've kind of overcome, I just knew that we weren't going to be denied this year."
Now in his fifth season at the helm, the 48-year-old Roberts previously took the Dodgers to the World Series in 2017 and 2019. Roberts has compiled a 436-273 regular-season record with the Dodgers.
Roberts' late father, Waymon, an African-American, served in the U.S. Marines and met his wife, Eiko, in Okinawa.
In a December 2015 interview, Roberts expressed joy when discussing his new job with the Dodgers.
"I understand what it means to wear this uniform," he told Rafu Shimpo, a Los Angeles' English-Japanese newspaper. "This is my dream job."
Roberts understood the significance of the opportunity to be the Dodgers' first minority manager.
"There's a lot of people that paved the way for me to ultimately have this opportunity," Roberts told the newspaper. "That isn't taken lightly. It's something that I'm going to carry with me forever."
Hawks, Giants Capture League Titles
The Fukuoka SoftBank Hawks and Yomiuri Giants, opponents in the 2019 Japan Series, have won their respective league pennants.
The Giants, who fell to the Hawks last fall, wrapped up their second straight Central League pennant under manager Tatsunori Hara on Friday, October 30, despite playing to a 3-3 tie with the Tokyo Yakult Swallows at Tokyo Dome. The other five CL clubs are now mathematically eliminated from title contention.
As a result, the Giants have clinched a spot in the upcoming Japan Series. (This year's CL Climax Series was scrapped as a COVID-19 preventative measure.)
Meanwhile, in the Pacific League, the three-time reigning champion Hawks moved closer to a potential fourth consecutive trip to the Fall Classic with a 5-1 victory over the Chiba Lotte Mariners on Tuesday, October 27 at PayPay Dome.
"We started the season absolutely wanting to win the pennant, but things were difficult amid the coronavirus pandemic," Hawks manager Kimiyasu Kudo was quoted as saying by Kyodo News. "The players did well to keep themselves fit, I'm not sure if we'd have won without those efforts."
BayStars' Ramirez to Quit at Season's End
Alex Ramirez, who has piloted the Yokohama DeNA BayStars for five seasons, will step down when the season wraps up.
The Central League club made the announcement on October 24.
The BayStars have not won a pennant during the 46-year-old's managerial tenure.
Yokohama finished third in the CL in 2016 and 2017, then placed fourth in 2018, followed by a second-place finish last season. Ramirez, however, did lead the BayStars to the 2017 Japan Series after winning the Central League Climax Series.
Through Friday, October 30, the BayStars were in fourth place in the Central League with a 54-53-6 record, 10½ games behind the Yomiuri Giants.
Daisuke Miura, the 46-year-old manager of the BayStars' Eastern League farm team, is expected to be named Yokohama's next manager.
Tanaka, Hirano Become Free Agents
Pitcher Masahiro Tanaka's lucrative seven-year contract with the New York Yankees is finished.
Thus, after a deal that was worth $155 million USD (¥16.2 billion JPY), Tanaka is back on the market.
Tanaka is coming off a pandemic-shortened season in which he made 10 starts and went 3-3 with a 3.56 ERA.
The Hyogo Prefecture native turns 32 on Sunday, November 1.
In a recent article in the New York Post, one MLB scout praised Tanaka. "He still knows how to maneuver his way through lineups,'' the scout was quoted as saying. "He is a competitor and you know what you are going to get from him. He certainly is still a good pitcher.''
Seattle Mariners reliever Yoshihisa Hirano has also become a free agent.
The 36-year-old had a one-year contract with Seattle. He appeared in 13 games and recorded four saves in 2020.
Nao Kodaira has won the women's 500 meters six years in a row at the All-Japan Distance Championship.
Speedskating
Nao Kodaira Claims 500-meter Title at National Meet
Pyeongchang Olympic 500-meter champion Nao Kodaira did what she does best on the oval on Friday, October 23 at Nagano Olympic Memorial Arena to open the 2020-21 season.
The 34-year-old Kodaira grabbed the 500-meter title for the sixth year in a row, crossing the finish line in 37.73 seconds at the All-Japan Distance Championship, while Arisa Go placed second, 0.03 seconds behind.
The All Japan Distance Championship for speed skating began on the 23rd at M-Wave in Nagano City, and Nao Kodaira, the champion of the Pyeongchang Winter Olympics, took the top spot for the sixth consecutive year at 37.73. Arisa Go came in second with a 0.03 difference.
Kodaira has amassed 11 overall national titles in her specialty race at this competition over the years.
Due to the COVID-19 pandemic, the International Skating Union announced in late August that four speedskating competitions would be called off. Meets in Tomaszow-Mazowiecki, Poland (November 13-15), Stavanger, Norway (November 20-22), Salt Lake City, Utah (December 4-6) and Calgary, Alberta (December 11-13) have been erased from the season calendar.
As a result, Kodaira will likely compete in domestic meets to close out the year, including the Japan Skating Federation-organized event in Obihiro, Hokkaido Prefecture, November 13-15.
Rugby
Toshiba Adds Two International Signees
In preparing for the 2021 Japan Rugby Top League season, the Toshiba Brave Lupus have finalized deals with ex-New Zealand center Seta Tamanivalu and England lock Myles Edwards.
Toshiba made an announcement on Wednesday, October 28.
Tamanivalu, 28, competed for Bordeaux, a French Top 14 club, for the past two seasons. He was released from his contract to join the Brave Lupus.
"I am excited and very grateful for the opportunity to join the Toshiba team," Tamanivalu said in a team-issued statement. "I'm also really looking forward to being reunited with some of my old teammates and the coach. My family is excited to explore the Japanese culture."
In 2016, Tamanivalu made three appearances for the All Blacks.
"Seta is not only the very good player we know but also an endearing and appreciated [player]," Bordeaux President Laurent Marti said, according to rugby365.fr. "We thank him very much for the two seasons we spent together, and wish him well for the rest of his career."
Tamanivalu was scheduled to depart for Japan at the end of October.
Edwards, 23, previously competed for Oyonnax, a second-division French team, and inked a deal with the English Premiership's Wasps in May.
Next season's Top League campaign is scheduled to start on January 16.
Soccer
Suzuki Bags Pair of Goals in Belgian League Defeat
Beerschot forward Musashi Suzuki scored two goals against Antwerp in a Belgian League clash on Sunday, October 25.
Antwerp won 3-2.
Suzuki pulled his club within 2-1 in the 25th minute and made it 2-2 in the 73rd minute.
The 26-year-old has four goals in six matches this season.
Utsunomiya Brex guard Yusuke Endo scored a team-best 20 points in a victory over the Levanga Hokkaido on October 28. Credit: B. League
Basketball
Notable Efforts in B. League's Midweek Games
With 20 B. League first-division teams in action for the midweek action, roughly 200 players saw court time in games on Wednesday, October 28.
A few performances stood out beyond what was expected.
Utsunomiya Brex guard Yusuke Endo doesn't garner the same attention as veteran teammates Ryan Rossiter and Makoto Hiejima, among others. But Endo's understated game is an important asset for the title-chasing Brex.
In the Brex's 85-76 triumph over the visiting Levanga Hokkaido on October 28, Endo made 8 of 9 shots, including 4 of 5 from 3-point range, en route to a team-high 20 points.
On the same night, Shinshu Brave Warriors point guard Tatsuya Nishiyama knocked down 7 of 14 3s en route to 26 points in a 65-61 road loss to the Nagoya Diamond Dolphins.
Also Wednesday, Ryukyu Golden Kings catalyst Narito Namizato nailed a game-winning inside bucket to beat the final buzzer and the Hiroshima Dragonflies, 74-72. Namizato finished with a team-high 17 points.
Editor's note: Interested in submitting a news item for possible inclusion in the Japan Sports Notebook? Send an email with relevant information to e.odeven@japan-forward.com, or JAPAN Forward's comment's page or Facebook page and look for future editions of Japan Sports Notebook on our website.
Author: Ed Odeven
Follow Ed on JAPAN Forward's [Japan Sports Notebook] here on Sundays, in [Odds and Evens] here during the week, and Twitter @itsjapanforward.