[JAPAN SPORTS NOTEBOOK] Hakone Ekiden Triumph Fulfills Triple Crown Quest for Komazawa Coach
Hiroaki Oyagi led Komazawa to eight Hakone Ekiden titles. He finished his final season at the helm with victories in Japan's three premier college ekiden races.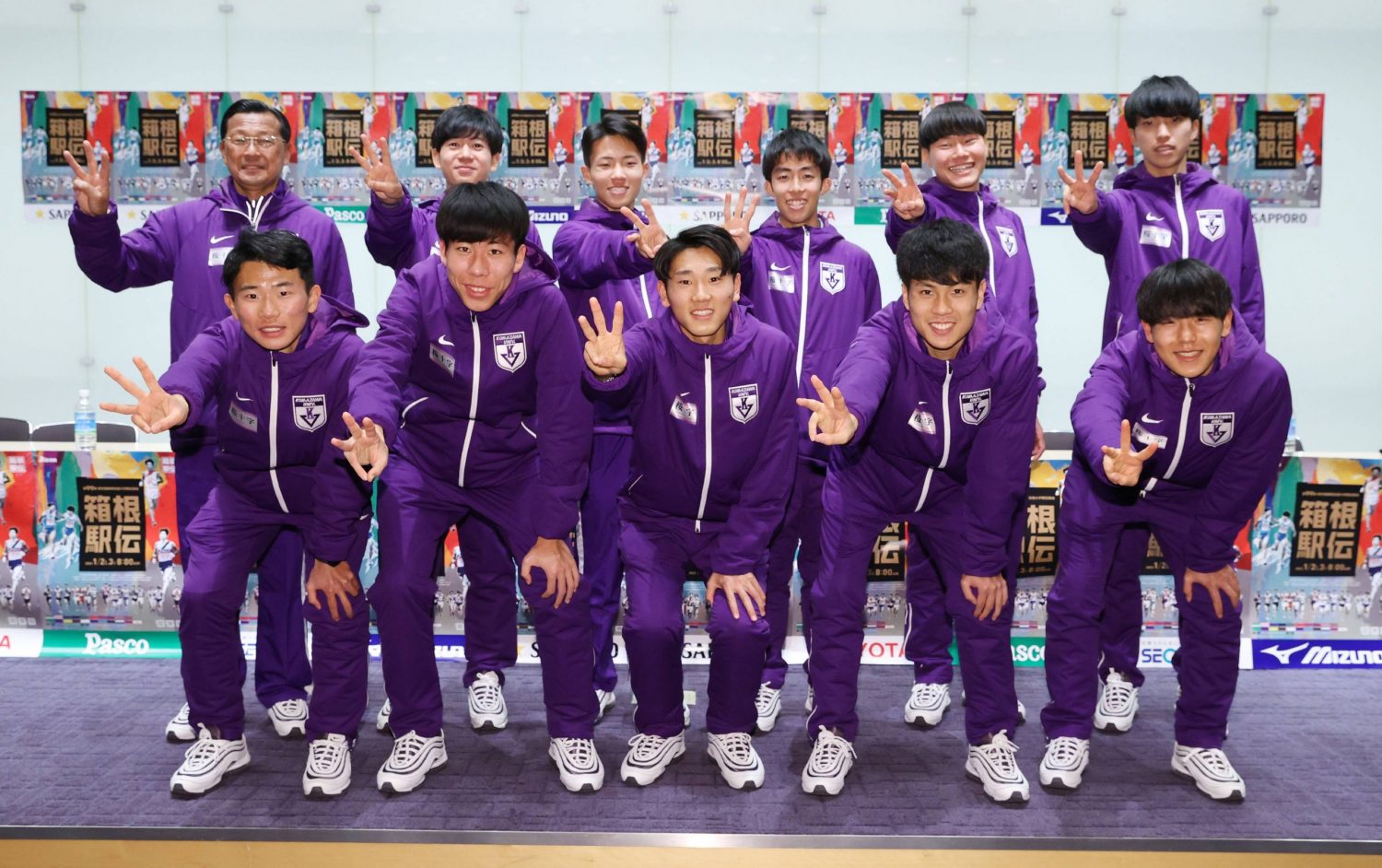 Read the full article on SportsLook - Hakone Ekiden Triumph Fulfills Triple Crown Quest
A New Year tradition began in 1920, and the Hakone Ekiden, a two-day distance relay race, has been held every year since except five times in the 1940s.
The 99th edition of the January 2-3 event, which is officially known as the Tokyo-Hakone Round-Trip College Ekiden Race, delivered several notable achievements. One is a storybook finish to Komazawa University head coach Hiroaki Oyagi's career.
Oyagi stepped down as coach after guiding Komazawa to the storied running program's eighth Hakone Ekiden title. The school had won its most recent event title in 2021, followed by Aoyama Gakuin University grabbing the crown in January 2022.
This time, Oyagi's team completed a season-long quest: to sweep the nation's Triple Crown college ekiden races. Komazawa triumphed in October's Izumo Invitational and November's All-Japan Collegiate Championship, and then achieved its goal in 10 hours, 47 minutes, 11 seconds in the two-day, 217.1-km race, a 21-school competition.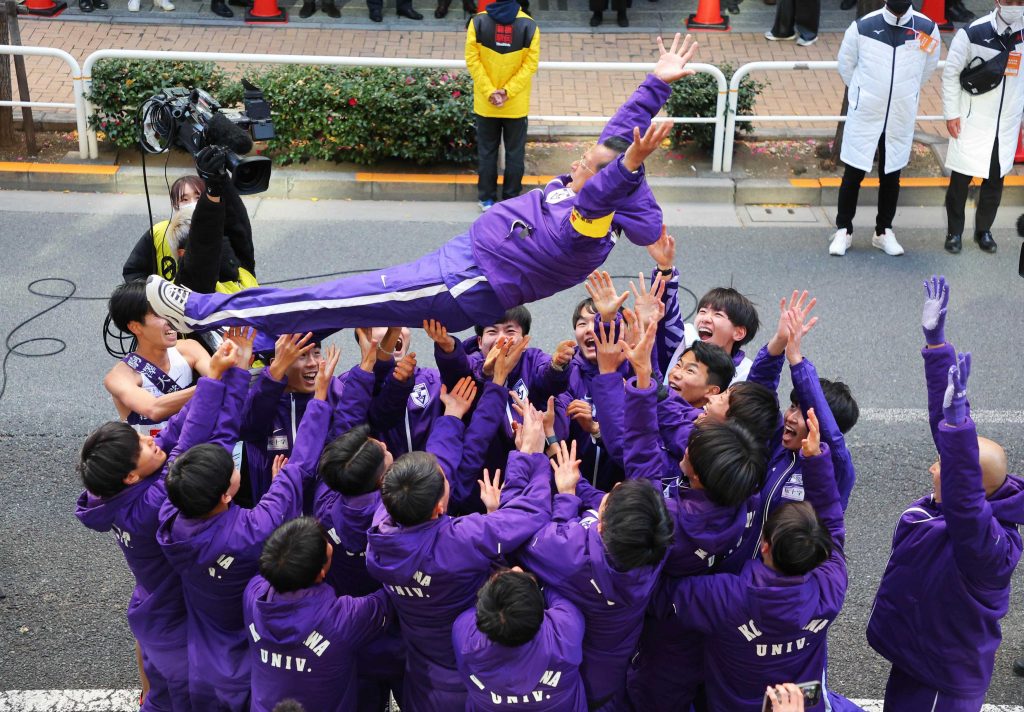 In doing so, Komazawa became the fifth school to achieve the coveted Triple Crown.

"I'm so happy that I was given the gift of a Triple Crown by my boys," retiring Komazawa mentor Oyagi was quoted as saying by The Yomiuri Shimbun.


Details of 2023 Hakone Ekiden
The opening day of the race is a 107.5-km, five-leg journey from Otemachi in Tokyo's Chiyoda Ward to Hakone, Kanagawa Prefecture.
Takuma Yamakawa reached the finish line in first place after the fifth leg on Monday, January 2, as Komazawa held a 30-second lead over Chuo University. Komazawa's overall time on the first day: 5:23:11.

Day 2's return to the nation's capital is a 109.6-km run, with five runners for each university team completing one leg.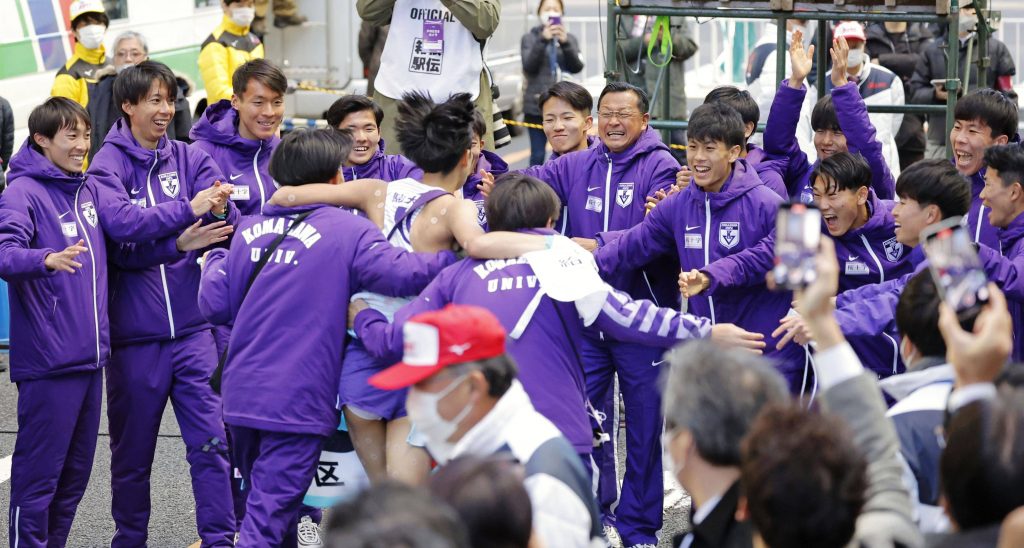 For Komazawa, a strategic push to build a seemingly insurmountable lead entering the Hakone Ekiden's 10th and final leg paid off.

Team captain Chikara Yamano ran the ninth leg, and by the end of his 23.1-km leg from Totsuka to Tsurumi, Kanagawa Prefecture, Komazawa owned a 30-second advantage over second-place Chuo University.

Oyagi's message to Yamano proved to be an important one.

"My manager told me to make things easier for [Hibiki] Aogaki, so I ran hard to extend the lead," Yamano told reporters, according to Kyodo News. "To win the Hakone Ekiden was my goal since I came to this university. I continued to train hard."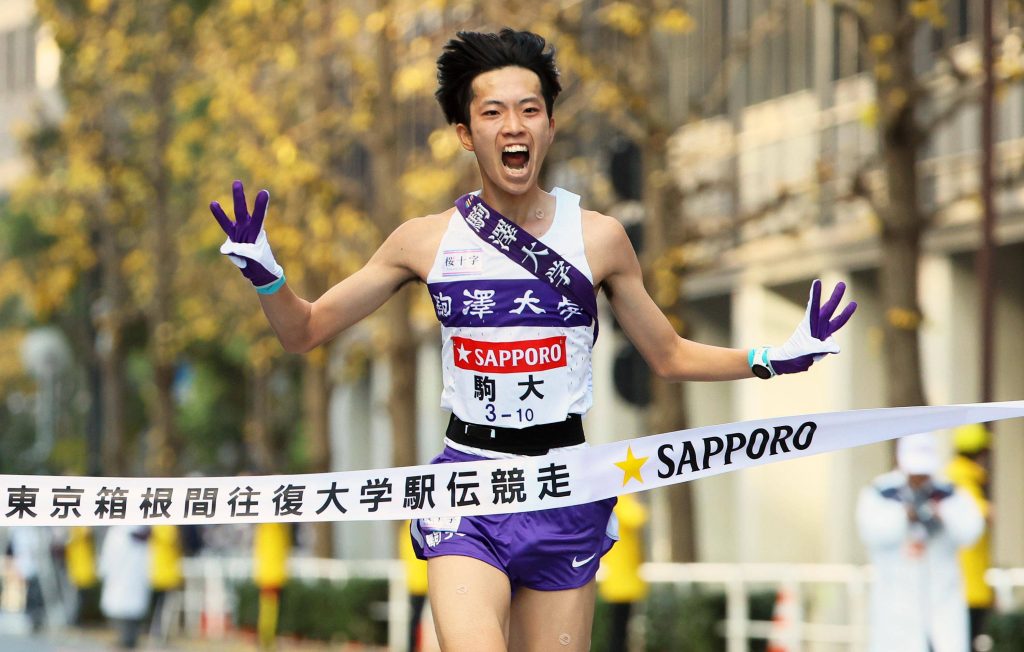 After Yamano's successful effort, Aogaki ran the anchor leg for Komazawa from Tsurumi to Otemachi. Aogaki reached the finish line 1:42 before the runner-up, Chuo's Takumi Sukegawa, winning the last leg and sealing Komazawa's title.

After the victory, Aogaki described the pressure he faced during the final leg.

"I felt under pressure the entire way because I knew my performance would determine how we finish," Aogaki was quoted as saying by The Yomiuri Shimbun. He added, "I want to thank my teammates, who got the sash to me the way they did."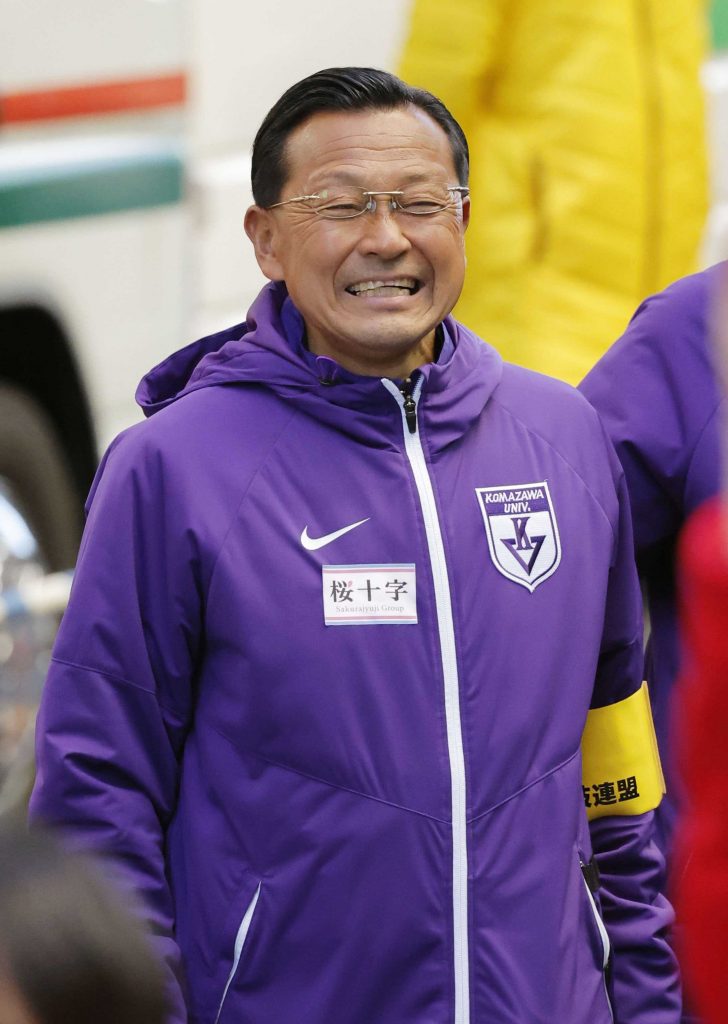 A Feeling of Satisfaction
Oyagi, 64, took over as head coach at Komazawa University, his alma mater, in April 1995. He guided the school to eight Hakone Ekiden titles, including four straight from 2002-05.

In his post-race news conference, he explained with emotion why the Triple Crown quest meant so much to him.

"There is no other coach who is as happy as this," Oyagi admitted, according to published reports.
Read the full story, including news on the upcoming World Baseball Classic, the Rice Bowl, a special honor for sailor Kenichi Horie and more, on SportsLook.

Author: Ed Odeven
Follow Ed on JAPAN Forward's [Japan Sports Notebook] here on Sundays, in [Odds and Evens] here during the week, and Twitter @ed_odeven, and find him on JAPAN Forward's dedicated sports website, SportsLook.