SUMO | Takakeisho Off to Strong Start in New Year Basho with Convincing Win over Wakamotoharu
With grand champion Terunofuji sidelined with knee injuries, lone ozeki Takakeisho is the tournament's highest-ranked wrestler.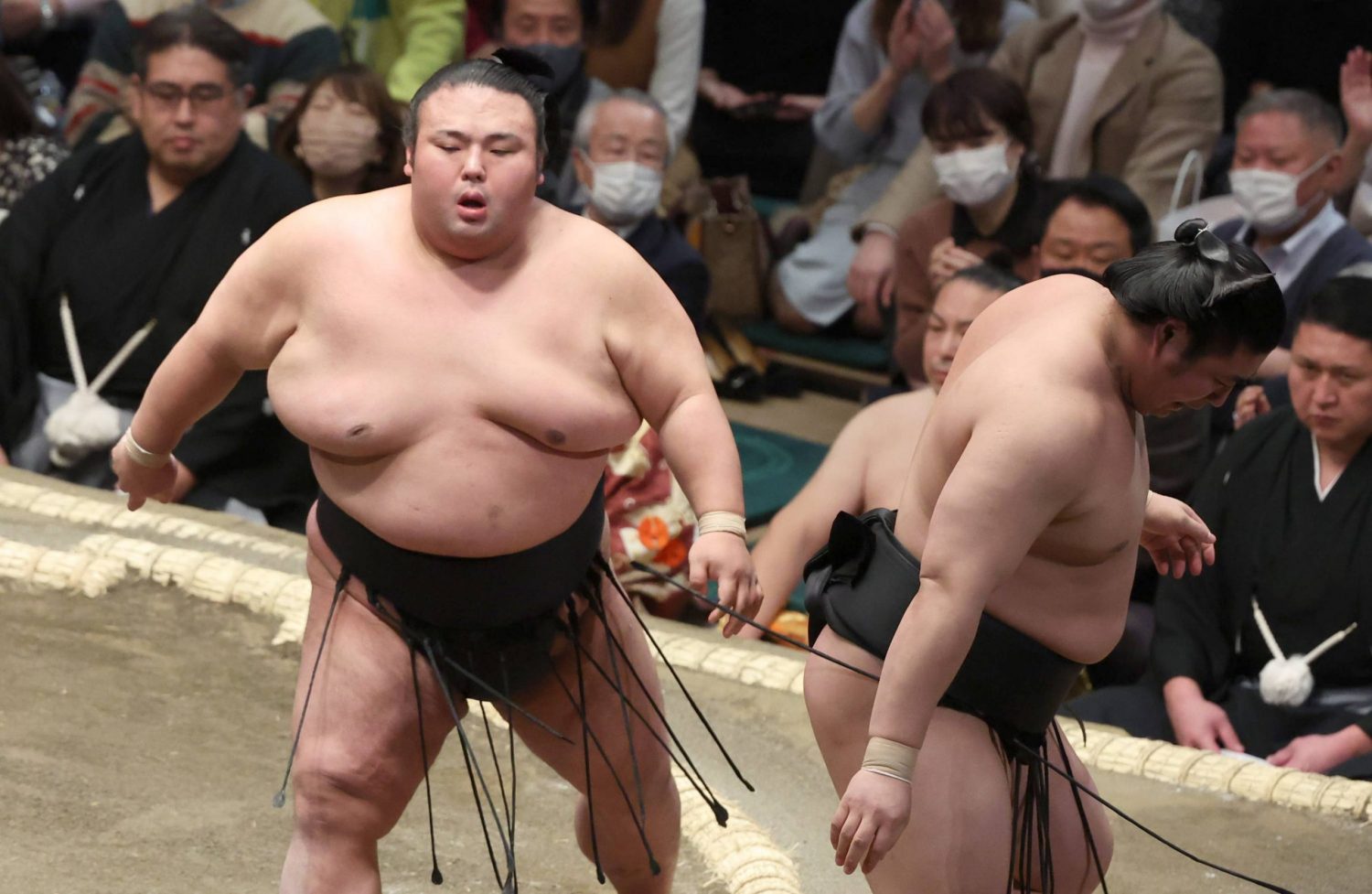 Ozeki Takakeisho brushed aside komusubi Wakamotoharu on Sunday, January 8 to kick off the New Year Grand Sumo Tournament with a convincing win.
With yokozuna Terunofuji sitting out the 15-day basho due to knee injuries, Takakeisho is the tournament's highest-ranked wrestler and lived up to the billing with a one-sided win.
After butting heads with his opponent in the day's final bout at Ryogoku Kokugikan, Takakeisho calmly swatted his opponent to one side before using trademark arm thrusts to send Wakamotoharu out and pick up the opening day win.
If Takakeisho could win the Emperor's Cup in a fortnight, the Tokiwayama stable wrestler would have a shot at earning promotion to yokozuna. But there is a lot of sumo left before that.
For now, he will be happy to open his New Year campaign with a trouble-free win.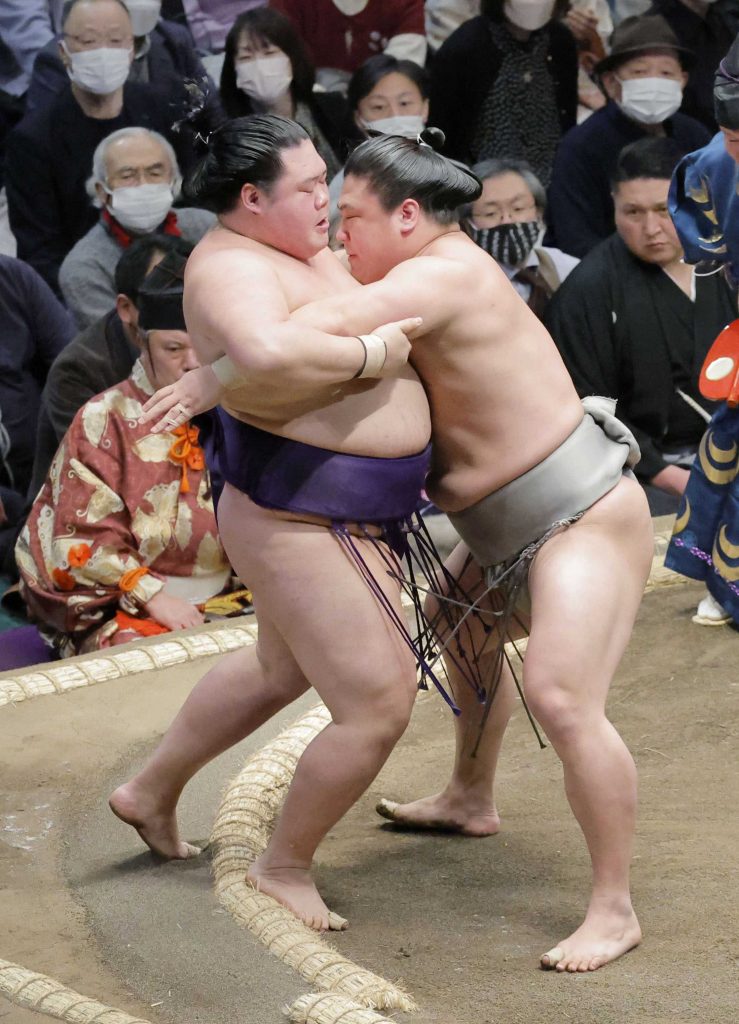 Wakatakakage, Hoshoryu Collect Wins on First Day of New Year Basho
In other major bouts, Wakamotoharu's brother sekiwake Wakatakakage quickly got a right-hand outside grip on the belt of Meisei after the face-off and calmly waltzed the komusubi out over the edge to open with a convincing win.
Mongolian sekiwake Hoshoryu came bursting out of the face-off, got a grip on the belt of Tobizaru and overwhelmed the top maegashira. A powerful shove sent sumo's Flying Monkey into the second row of ringside seats.
Hoshoryu has bulked up for the New Year Basho and is is aiming to match or improve on the impressive 11-4 record he had in the November meet where he was awarded the Technique Prize.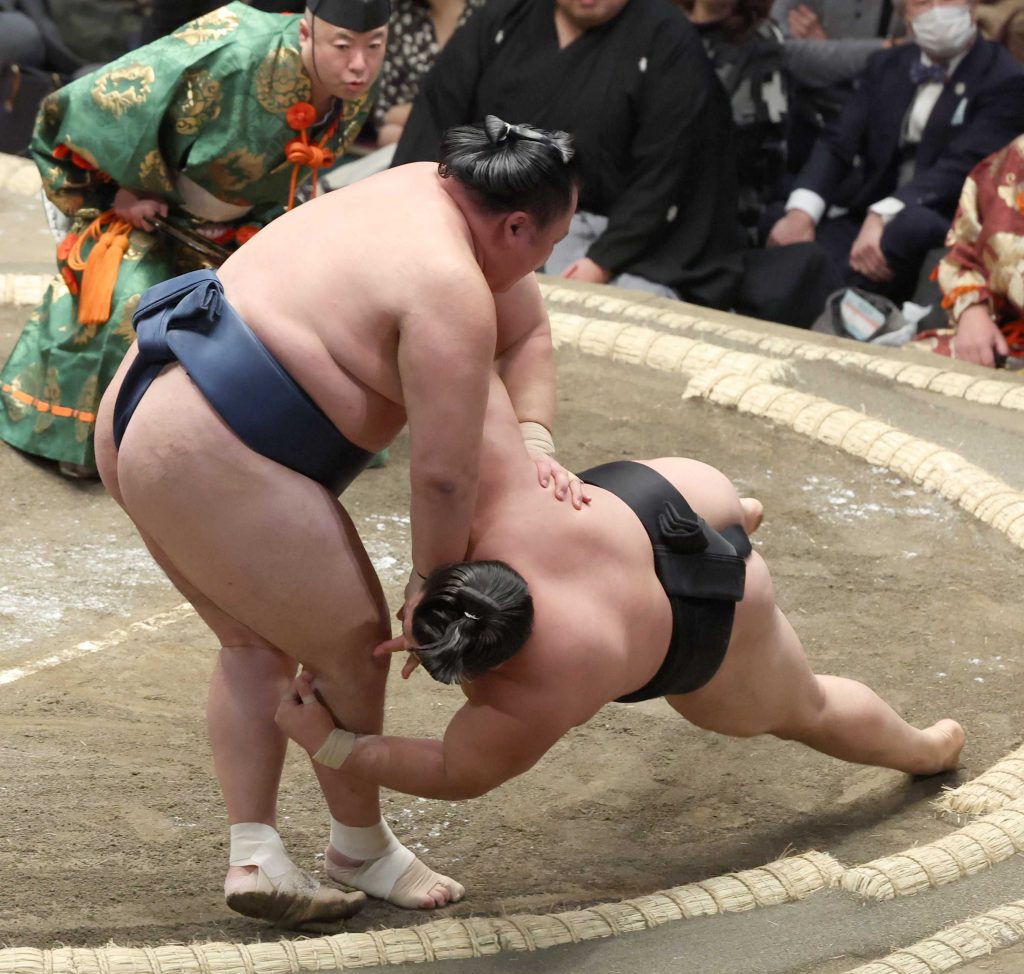 Tamawashi Conquers Compatriot Kiribayama in Do-Over
Mongolians Tamawashi and Kiribayama needed a do-over after their first bout ended in a draw when they both went out at the same time.
In the rematch, 38-year-old Tamawashi, a No. 2 maegashira, prevailed when he used a spectacular thrust-down technique after being shoved back to the brink by his younger compatriot.
Komusubi Kiribayama, 26, is one of sumo's bright up-and-coming grapplers but he was given a lesson by the wily veteran.
In a showdown of two former ozeki, No. 2 maegashira Mitakeumi shoved out sekiwake Shodai. Both men were ozeki last year but lost their rank after lackluster results.
November tournament winner Abi used his trademark arm thrusts to the neck and upper body to send newly promoted komusubi Kotonowaka backpedaling out of the ring.
No. 3 maegashira Abi surprised many in the sumo world when he won the Kyushu tournament after prevailing in a rare three-way playoff on the final day.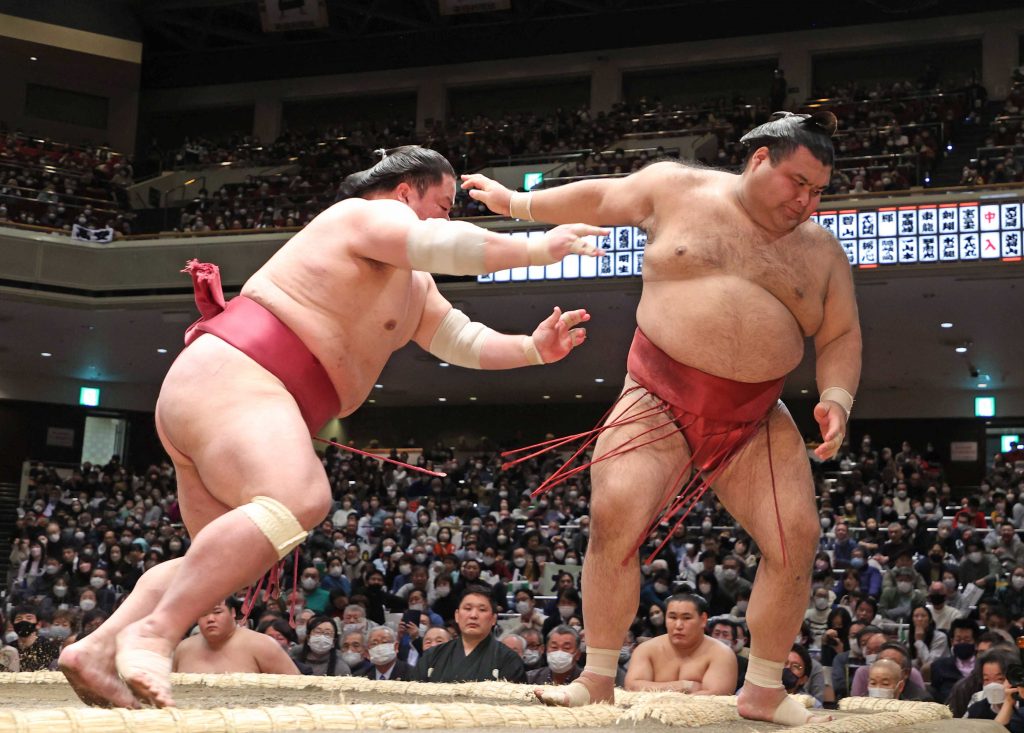 Daieisho Outmuscles Takayasu
Top maegashira Daieisho fought off a forearm shiver at the face-off and deployed a series of powerful arm thrusts to send sekiwake Takayasu out of the ring.
Takayasu was one of Abi's victims in the November meet and suffered a crushing head blow in the playoff but appears no worse for wear.
In a battle of heavyweights, sixth-ranked maegashira Hokutofuji got his hand on the back of Nishikigi's head and swatted the No. 5 maegashira down to open with a win.
Fifth-ranked Ryuden won by a rare forward step out when he balanced himself on the straw ridge and forced his opponent, No. 4 Nishikifuji, to step out of the ring.
No. 3 maegashira Midorifuji deployed a perfect overarm throw at the edge to dispatch fourth-ranked Sadanoumi.
Follow daily coverage of the New Year Basho on SportsLook, JAPAN Forward's dedicated sports website.

Author: Jim Armstrong
The author is a longtime journalist who has covered sports in Japan for over 25 years. You can find his articles here.