[JAPAN SPORTS NOTEBOOK] Hideto Asamura Provides Big Spark as Eagles Soar Early in Season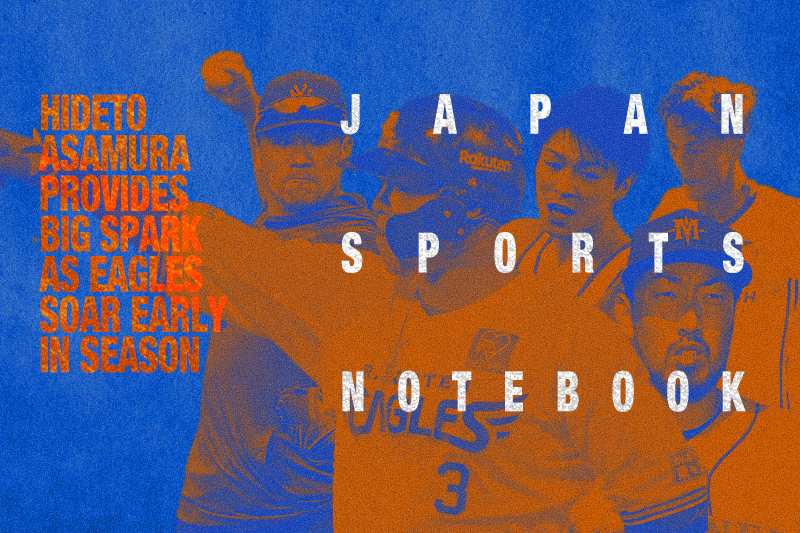 Hideto Asamura is on pace to set a career-high total in home runs for the third consecutive year.
The Tohoku Rakuten Golden Eagles second baseman leads Nippon Professional Baseball with 10 home runs through Friday. He's the NPB leader in RBIs (31), is seventh in the Pacific League in batting average (.315), while teammate Daichi Suzuki is No. 1 at .358, and owns a hefty .719 slugging percentage. He's also walked 16 times in 107 plate appearances.
In other words, Asamura's offensive productivity has played a pivotal part in Rakuten's winning ways.
Under first-year manager Hajime Miki, the Sendai-based team leads the Pacific League ー all of NPB, actually ー with a 15-9 record through the same day.
After a recent game, Asamura commented on his success at the plate so far this season, reflecting on knocking in a run.
"I'm grateful to the batters around me for the RBI," he was quoted as saying by Sports Hochi on Thursday, July 16.
Asamura, Rakuten's cleanup hitter, is pouncing on opposing pitchers this season. He has four round-trippers against the Chiba Lotte Marines, three against the Hokkaido Nippon Ham Fighters, two against the Fukuoka SoftBank Hawks and one against his former club, the Saitama Seibu Lions.
A safe prediction: The Orix Buffaloes will expect Asamura, who is also spending time at designated hitter, to go deep against them, too. He's hitting .333 (4-for-12) against Orix.
Twenty-four games, of course, is a small sample size. There are no guarantees that Asamura and the Eagles will maintain their hot start throughout the COVID-19-delayed season, which began on June 19.
But recent history suggests that Asamura is just picking up where he left off.
In his final season with the Saitama Seibu Lions in 2018, Asamura slugged 32 homers and knocked in a career-best 127 runs while playing in all 143 games. In his debut season with the Eagles in 2019, the Osaka native bashed 33 home runs and drove in 92 runs, also appearing in every game.
The 29-year-old Asamura, a seven-time All-Star, had 158 career homers entering the current season.
Knowing that the 2020 season is different in many ways, including its reduced number of games, late start and reduced crowds, Asamura recognizes that the Eagles' excellent start could be an important factor in the months ahead as teams vie for playoff position.
"Since the number of games will decrease compared to the average year, I think that it will be a short-term decisive battle in a sense, so anyway the start is important this year," Asamura was quoted as saying by Sports Hochi earlier this week.
Asamura went to Osaka Toin High School and helped the school's baseball team win the 2008 National High School Baseball Championship, aka Summer Koshien. The Lions selected him in the third round of the 2008 rookie draft.
Yankees Pitcher Tanaka says 'I feel Very Lucky'
New York Yankees right-hander Masahiro Tanaka is back to work after a frightening scene earlier this month at the ballpark.
The veteran starter was hit on the right side of his head by a line drive off the bat of teammate Giancarlo Stanton on the first day of practice for spring training 2.0 on July 4. The ball traveled at a speed of 112 mph, according to published reports. RELATED STORY: BASEBALL | Yankees Pitcher Masahiro Tanaka Hit in Head by Line Drive in Simulated Game
Tanaka visited the hospital, but was released on the same day after just a few hours.
On Thursday, Tanaka threw his first bullpen season since being hit in the head.
And what was Yankees manager Aaron Boone's assessment?
"Threw all his pitches with really good intensity," Boone told reporters. "I was really encouraged by what I saw today."
Earlier this week, Tanaka described the experience. "I think we're taking the necessary steps to get there," Tanaka said. "This whole thing is kind of a day-by-day process."
When the season begins next week, Tanaka will likely miss a start before the Yankees go through their second turn in the pitching rotation.
Since then, he's had time to reflect on what happened at Yankee Stadium.
"I'm never able to see other pitchers in the same situation get struck in their head or anything like that. I mean, that kind of frightens me," Tanaka was quoted as saying through an interpreter earlier this week, according to MLB.com. "But for some reason, I'm able to see myself get struck in the head by a ball. I don't know why. It's kind of weird."
Discussing the matter further, he said: "I feel very lucky because it could have been something that's much worse. Right now, I have no symptoms at all. I'm able to get back in all the training, so I think I feel very fortunate in a very unfortunate event."
Seattle's Hirano tests positive for COVID-19
Seattle Mariners reliever Yoshihisa Hirano has tested positive for COVID-19, he informed Kyodo News on Tuesday, July 14.
The 36-year-old pitcher was placed on the injured list on the same day.
Hirano pitched for the Arizona Diamondbacks for the past two seasons. He compiled a 9-8 record with a 3.47 ERA for the National League Club, including a 5-5 record with one save in 62 games last season.
Hirano tested positive for the coronavirus on June 25. He tested negative on July 6. According to MLB protocol, a player needs to test negative twice in order to be cleared to play again.
"[After the onset of symptoms] I just focused on healing my body," Hirano told Kyodo News. "I couldn't go anywhere or do anything because of the risk of passing it on to people around me."
GYMNASTICS
King Kohei Targets Individual Glory at Delayed 2020 Games
Many people consider Kohei Uchimura the greatest gymnast of all time.
King Kohei captured the men's all-around title at seven straight world championships from 2009 to 2015. He also stepped up in the pressure-packed environment at the 2012 London Games and 2016 Rio de Janeiro Olympics, claiming the prestigious prize both times.
What's more, International Gymnast Magazine has praised his "combination of tremendous difficulty, supreme consistency and extraordinary elegance of performance."
Uchimura didn't qualify for the 2019 world championships due to shoulder injuries. And younger stars, including Kakeru Tanigawa and Hidetaka Miyachi, have stepped into the spotlight, anxious to be labeled the sport's new king.
In June, Uchimura started working out again at the National Training Center in Tokyo's Kita Ward.
So does Uchimura, who turned 31 in January, still have one more magical performance left?
He's stated publicly that he's no longer focused on the grueling all-around competition. Instead, Uchimura decided in February that he's targeting Olympic gold in one event: the horizontal bar (also called high bar).
As Jiji Press reported on Friday, July 17, Uchimura has been forced to simplify his approach to gymnastics due to physical ailments. Uchimura noted that he's endured physical pain "from the neck down."
Not surprisingly, some experts are skeptical of Uchimura's chances.
"[Uchimura] may come out of this [one-year Olympic postponement] better, but I would say that the odds are against that," NBC Sports analyst Tim Daggett was quoted as saying by NBC Sports in April after the 2020 Games were postponed. "He had a long period of time to figure out what his plan was. They had already taken the time off that they needed to address some of those physical issues. Now, it's a very long road again."
But Uchimura remains committed to competing again, and appears confident in chances of securing a medal.
"I have thought about retirement," Uchimura told Yahoo Japan earlier this month. "I'm continuing because it's the Tokyo Olympics."
In another interview, he told NHK, "If I go to the Tokyo Olympics, I want the people around me to feel comfortable in the Olympics. With that in mind, I don't need my pride that I have to do the sixth event."

BADMINTON
Momota's Focus, Vision Back on Track
Kento Momota, the world's top-ranked men's player, recently confirmed he's not having vision problems after undergoing surgery in February to repair an eye socket fracture.
"I can see without any problem while I'm playing," Momota told reporters, according to an Olympic Channel report here late last month.
"I've been able to give 100 percent in practice."
On January 13, Momota was involved in a traffic accident when the van he was riding in crashed into another vehicle en route to Kuala Lumpur International Airport. The accident killed the driver, and three other passengers were also injured. Momota also sustained a broken nose and other facial injuries.
Momota, a two-time world champion, won the men's singles title at the Malaysia Masters on January 12.
With the surgery restoring his vision to pre-accident levels, Momota, now 25, is focused once again on training for the delayed 2020 Tokyo Olympics.
"I want to do my best every day towards the goal," Momota said, according to the Olympic Channel. "I don't want to make excuses, saying I cannot do well because this or that happened."
SOCCER
Kubo, FC Cincinnati Competing in MLS is Back Tournament
Yuya Kubo's first season with FC Cincinnati has been interrupted by the pandemic-forced hiatus.
The 26-year-old midfielder/forward started the season opener and played 79 minutes against the New York Red Bulls on March 1. He scored a goal in his second Major League Soccer game on March 7 at Atlanta United FC.
Then there was a long break.
The MLS suspended its season on March 12. It returned to action with a revamped schedule. The MLS is Back Tournament in Orlando, Florida, started on July 8. It began with the group stage to be held over 16 straight days, with at least four days between matches for teams. The round of 16 is set for July 25-28, followed by the quarterfinals, semifinals and final (on August 11).
Kubo and his FC Cincinnati teammates enjoyed a 1-0 win over Atlanta United FC on Thursday, July 16 in their second group match in the MLS is Back Tournament.
In the 60th minute, Kubo's shot, which targeted the near post, was deflected wide, earning FC Cincinnati a corner kick.
The Yamaguchi Prefecture native began his pro career with the J. League's Kyoto Sanga in 2011.
Editor's note: Interested in submitting a news item for possible inclusion in the Japan Sports Notebook? Send an email with relevant information to odevened@gmail.com, or JAPAN Forward's comment's page or Facebook page and look for future editions of Japan Sports Notebook on our website.
Author: Ed Odeven
Follow Ed on JAPAN Forward's [Japan Sports Notebook] here on Sundays, in [Odds and Evens] here during the week, and Twitter @itsjapanforward.