[JAPAN SPORTS NOTEBOOK] Japan Men Enjoy Strong Start at FIBA Asia Cup
The Akatsuki Five made 27 3-pointers in a 61-point win over Syria, improving to 2-0 in the tournament.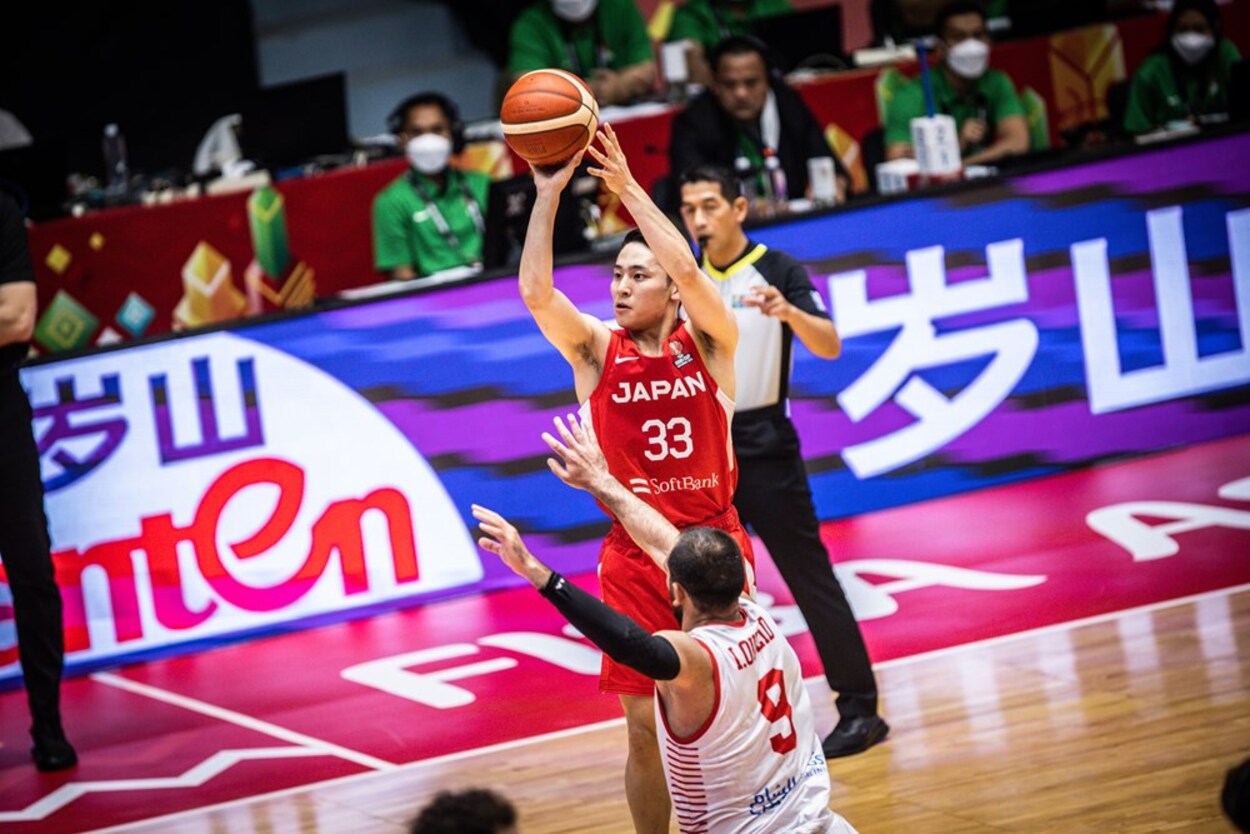 Like many coaches today, Tom Hovasse has implemented an offense that emphasizes 3-point shooting.
The Japan men's national basketball team's 5-out offense is set up for every player to be a scoring option on the perimeter. In other words, Hovasse wants all of his players to be confident in their ability to knock down long-range shots.
For the Akatsuki Five, confidence and opportunity collided on Friday, July 15 in a FIBA Asia Cup Group C game against Syria.

Japan sank a tournament-record 27 3-pointers in a runaway 117-56 victory in Jakarta, Indonesia. Hovasse's squad attempted 52 3-point shots, capitalizing on how Syria played defense. (Check out game highlights here.)
Using a zone, the Syrians packed the paint with defenders against Japan. Repeatedly, Japan had open looks or space to operate on the perimeter to fire away from long range.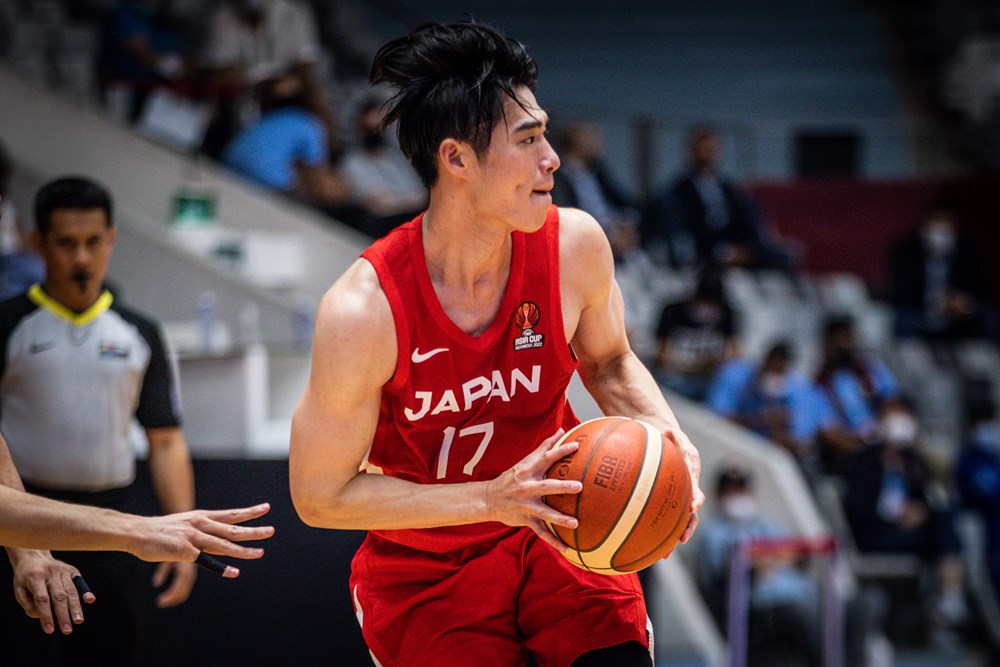 Swingman Yutaro Suda scored a game-high 33 points, making 9 of 12 3-point attempts in 15-plus electrifying minutes. Two days earlier, Hovasse commented that the Nagoya Diamond Dolphins player is a really good 3-point shooter, demonstrating this skill again and again in practice.
Japan guard Keisei Tominaga poured in 23 points. The University of Nebraska player knocked down 7 of 11 3s in 20:41 of court time.

Hirotaka Yoshii and Luke Evans contributed 12 and 11 points, respectively, for Japan, which opened the game with an 8-0 run and never trailed.

Evans and NBA free agent Yuta Watanabe canned consecutive 3-pointers in the opening minute. It was a glimpse of things to come.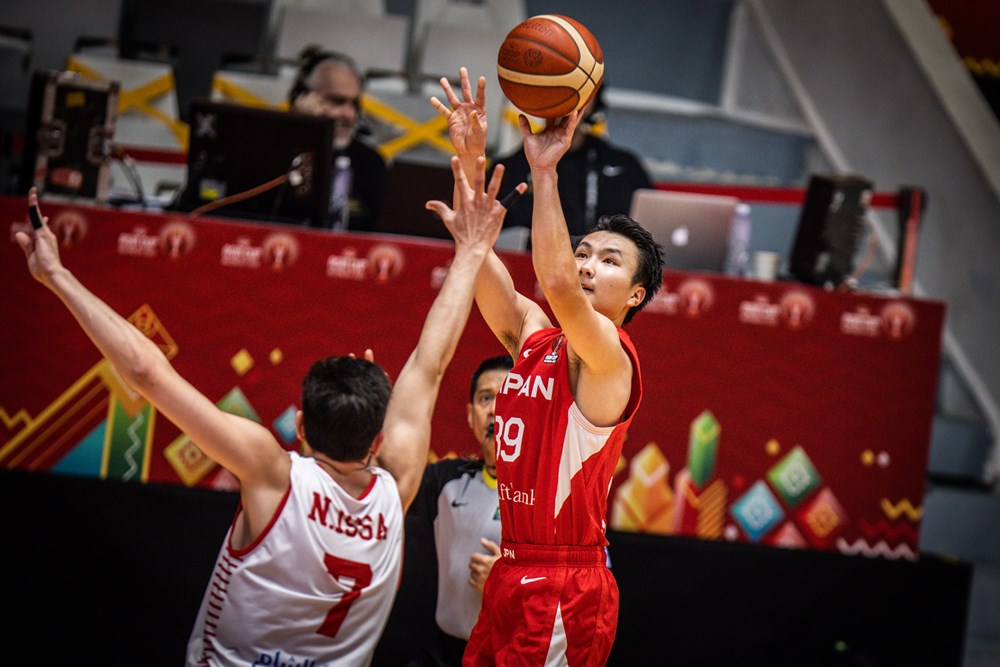 Eight Japan players made one or more 3-pointers in the game, and the squad rewrote the record for most 3s in Asia Cup history, surpassing South Korea's 25 against Sri Lanka in 2009.

By the end of the first quarter, Syria trailed 29-9. Japan extended its lead to 68-27 by halftime.

Tominaga scored 15 of Japan's first 35 points, including 5-for-6 from beyond the arc. By that point Japan had built a 35-15 lead at the 8:50 mark of the second quarter.

Suda delivered a shooting clinic in the opening half. He was 7-for-8 from 3-point range and led all scorers with 23 points.
"Suda's been working hard. He's been playing that way all [training] camp," Hovasse said later. "And I'm just happy to see it translate to the games. And it's not just Suda. A lot of the bench players haven't had a chance to play, even on their club teams that much, so this opportunity has been good. And we're starting to find our rhythm and find pieces to the puzzle."

Entering the fourth quarter, Japan led 96-42.

"That was a fun game for us on many levels," Hovasse told reporters in a post-game news conference.

Describing how the game unfolded on offense for his club, the former Japan women's national team coach said: "Our shooters got open and we were making shots from the beginning. We got really hot and we were able to continue that with Suda off the bench and a couple of other players off the bench, so it made the transition in the middle of the first quarter, I thought, really important."

How so?

"Because we not only kept our intensity level up, but we increased it a little bit, and our energy level really went up," Hovasse stated.

With consecutive wins to open the tournament, Japan's team development is a positive sign, according to Hovasse.

"What I'm really excited about is that we are starting to play the kind of basketball that I kind of envisioned and the players are starting to believe in it, and it's starting to take off," the coach commented.

In a comprehensive effort from Japan's starters and reserves, Watanabe chipped in with eight points in the rout and only played 14:01.
Playmaker Yuki Kawamura, like Tominaga only 21 years old, finished with seven points five assists and three steals. Kai Toews, Takuma Sato and Yudai Nishida all had six points. Starting point guard Yuki Togashi, a franchise cornerstone for the B.League's Chiba Jets, only attempted one shot and didn't score. But Togashi handed out seven assists in Japan's high-scoring effort.

Japan only attempted 21 2-point shots.

The Akatsuki Five made 36 of 73 shots overall, chalking up 34 assists on the night.

Hovasse commended his players for their effective passing throughout the game.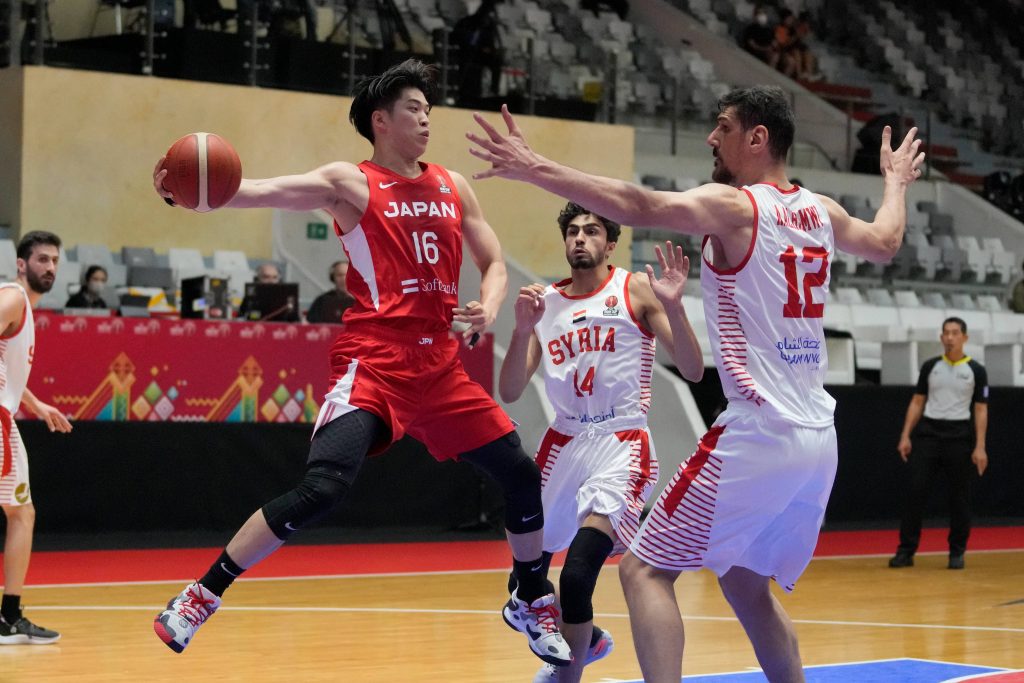 Japan defeated Kazakhstan 100-68 in the teams' tournament opener on Wednesday, July 13.

Up next: The Akatsuki Five face 2017 FIBA Asia Cup runner-up Iran, which is currently No. 23 in the world rankings, on Sunday night, July 17.
Before its final group phase game against Japan, Iran recorded an 80-67 victory over Syria on Wednesday and a 96-60 decision over Kazakhstan on Friday.
The Japan-Iran winner earns an automatic berth into the Asia Cup quarterfinals. The loser will face the third-place finisher in Group C for a spot in the final eight of the 16-nation tournament.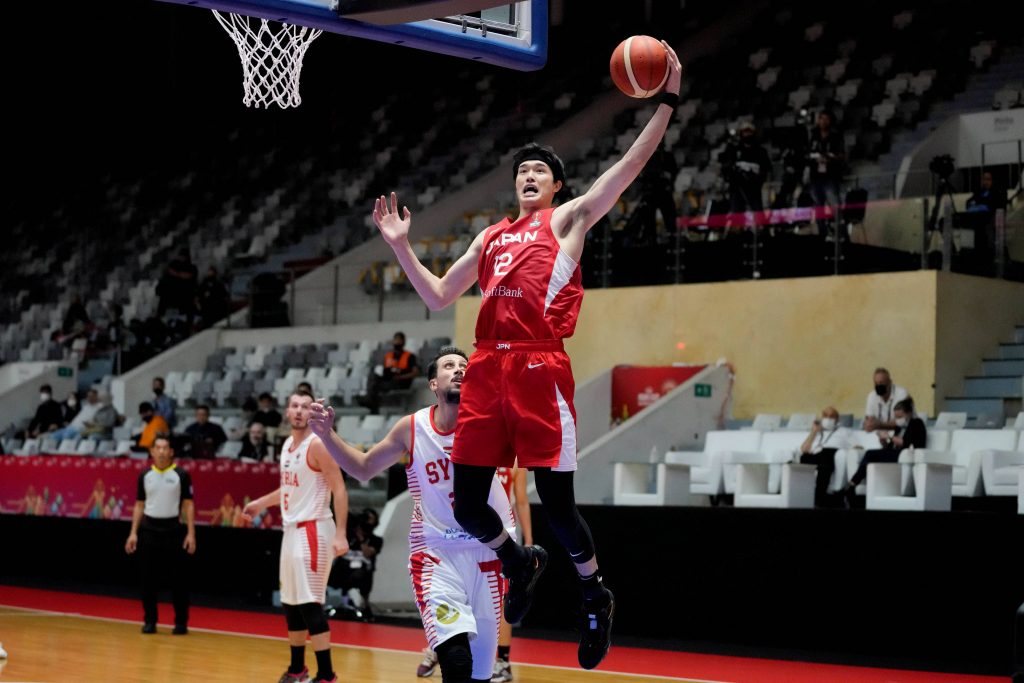 Hovasse said he doesn't expect his team will attempt 52 3-pointers against Iran, but while speaking to reporters on Friday night he noted that the players know what is expected of them.

Watanabe's inside presence, however, is a catalyst for the team's offense.
Hovasse said, "A lot of teams are starting to key on that, which opens up our other players, and that's a part of this system, right? Every player has the green light. Every player is option No. 1. There's nobody who's option No. 2. And if you know your role and know your teammates' role, that's when it starts to get fun."


Track and Field
Yamanishi Repeats as World Champion in Men's 20-Kilometer Race Walk
Toshikazu Yamanishi won the men's 20-kilometer race walk at the World Athletics Championships in Eugene, Oregon, on Friday, July 15 to defend the world title he captured in 2019 in Qatar.

Yamanishi completed the race in 1 hour, 19.7 seconds, placing ahead of compatriot Koki Ikeda, the runner-up, by 7 seconds.

Sweden's Perseus Karlstrom claimed the bronze in 1:19.18.
Three men have defended world titles in the event at the world championships, with Yamanishi joining Italy's Maurizio Damilano (1987, '91) and Ecuador's Jefferson Perez (2003, '05, '07). What's more, Yamanishi is the first Japanese athlete to win an individual event in consecutive world championships.

Yamanishi, a 26-year-old from Kyoto Prefecture, took home the bronze medal at last year's Tokyo Olympics, where Ikeda was the silver medalist.


Mental focus played a big part in the final outcome, according to Yamanishi.

"It was really hot and also a race with lots to think about with my rivals all being tough and not dropping off," Yamanishi was quoted as saying by Kyodo News. "It was decided by the most slender of margins but I'm happy to have somehow come away victorious."
On a day when the temperature reached 30 C in Eugene, Yamanishi picked his spots to increase his pace, conserving some energy along the way. Yamanishi made a decisive late push to pull away from Ikeda near the race's conclusion. He was clocked in 3:40 for the final kilometer on Martin Luther King Jr. Boulevard.
"I'm happy but also frustrated to have lost out to Yamanishi," Ikeda said, according to Kyodo News. "We have international competitions coming up next year and the year after and I hope to be competing with him for medals there too."
In the women's 20-km race, Peru's Kimberly Garcia Leon placed first, establishing a national record of 1:26.58 en route to the finish line.
For Japan, Nanako Fujii finished sixth in 1:29.01.


Baseball
Ohtani Maintains Impressive Pitching Form of Late
Los Angeles Angels hurler Shohei Ohtani won his sixth consecutive start on Wednesday, July 13, carrying his team to a 7-1 decision over the visiting Houston Astros.

Ohtani, now 9-4 on the season, held Houston to four hits and one run in six innings. He issued two walks and fanned 12 batters.
It was his fourth consecutive game with 10 or more strikeouts.

Ohtani also helped his cause at the plate, smacking a two-run triple to right in the third inning to increase LA's lead to 3-0.
The pride of Oshu, Iwate Prefecture, joined an elite fraternity in the process, becoming only the third MLB pitcher to have three games with 10 or more strikeouts and multiple RBIs in the same season. Kevin Milwood of the Atlanta Braves was the last player to do it in 1999. Hal Newhouser of the Detroit Tigers also did so in 1946.


Angels interim manager Phil Nevin said Ohtani made a concerted effort to get the team, which entered the game with a five-game losing streak, back on track.

"He understands how important his day [as the starting pitcher] is," Nevin said, according to The Associated Press. "His last three or four times, he has put the team on his back."
In other MLB news, San Diego Padres hurler Yu Darvish improved to 8-4 after tossing seven innings of three-run ball against the Arizona Diamondbacks on Friday, July 15 at Petco Park.
Darvish scattered five hits, issued two walks and struck out nine in the Padres' 5-3 victory.

Watch the 93rd Intercity Baseball Tournament Online
Men's adult amateur baseball has a long tradition in Japan. This month, the 93rd Intercity Baseball Tournament will be held at Tokyo Dome.

Featuring 32 teams, the tournament kicks off on Monday, July 18.

The final is set for July 29.

All games can be seen on a livestream on The Mainichi Shimbun's Japanese-language tournament website.


Judo
Abe Enjoys Successful Return to International Competition
Uta Abe, winner of the women's 52-kg division gold medal at the Tokyo Olympics last summer, appeared in her first international competition in 11 months on Friday, July 15.

It marked a successful return for Abe, who celebrated her 22nd birthday the day before. She won the 52-kg gold at the Zagreb Grand Prix.

Abe went 5-0 on Friday, including a victory over Kosovo's Distria Krasniqi, the 48-kg Olympic champ in 2021, in the final.


The Kobe native defeated Krasniqi by ippon, including a pair of waza-ari.
Abe's aggressive tactics in the final served notice that she remains hungry for continued success in the sport.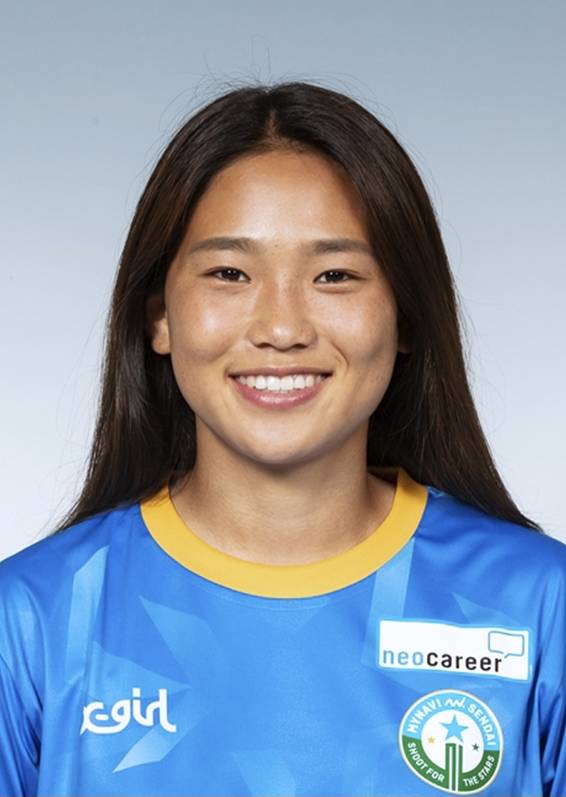 Soccer
Nagano Joins North Carolina Courage
Midfielder Fuka Nagano is set to move from the WE League's Mynavi Sendai Ladies to the North Carolina Courage of the National Women's Soccer League.

The WE League club announced on Tuesday, July 12 that Nagano, 23, received a one-year deal from the American team with a one-year option.

"I need to put myself in a tough environment and keep challenging each day," Nagano was quoted as saying by Kyodo News.
Nagano competed for runner-up Japan at the FIFA Under-17 Women's World Cup in 2016. Two years later, she scored a goal in the final in Japan's 3-1 victory over Spain in the FIFA U-20 Women's World Cup.

J.League Reveals Manager of the Month Winners
Manager Satoshi Yamaguchi guided Shonan Bellmare to back-to-back shutouts in June, victories that lifted the J.League first-division club out of the relegation zone.

As a result, Yamaguchi was named the J1 Manager of the Month for June, the J.League announced on Tuesday, July 12. The league had an abbreviated schedule due to an international break, when the Japan national team played in the Kirin Cup in preparation for this year's World Cup.

Bellmare blanked visiting FC Tokyo 2-0 on June 18, then edged Kyoto Sanga 1-0 in an away match on June 26.

Manager of the Month recognition also was bestowed on Takashi Kiyama of the J2's Fagiano Okayama, who had three wins and a draw in four June games.
Kataller Toyama boss Nobuhiro Ishizaki guided his side to 1-0 wins in all four of its June matches and earned the J3 award.

Volleyball
Japan Women Fall in Quarterfinals at Volleyball Nations League
Brazil outplayed Japan in the FIVB Women's Volleyball Nations League in their quarterfinal clash on Wednesday, July 13 in Ankara, winning 29-27, 28-26, 20-25, 25-14.

The Brazilians dominated on the front line, finishing with 16 blocks to Japan's six.

Japan's Kotona Hayashi had a team-high 16 points. Captain Sarina Koga added 14. Both players scored the bulk of the points on attack (13 apiece).

The 16-nation tournament is scheduled to wrap up Monday, July 18.
RELATED:
Quote of the Week
"Obviously, it's a huge honor to be in the same sentence with someone like Nolan Ryan. But more than strikeouts, I'm looking to put up zeros and shut opponents out."
―Shohei Ohtani, on becoming the first Angels pitcher since Nolan Ryan on June 27, 1972, to hit a triple.


Author: Ed Odeven
Follow Ed on JAPAN Forward's [Japan Sports Notebook] here on Sundays, in [Odds and Evens] here during the week, and Twitter @ed_odeven, and find him on JAPAN Forward's dedicated sports website, SportsLook.