[JAPAN SPORTS NOTEBOOK] MLB Rookie Shogo Akiyama Prepares for Season Despite Unknown Factors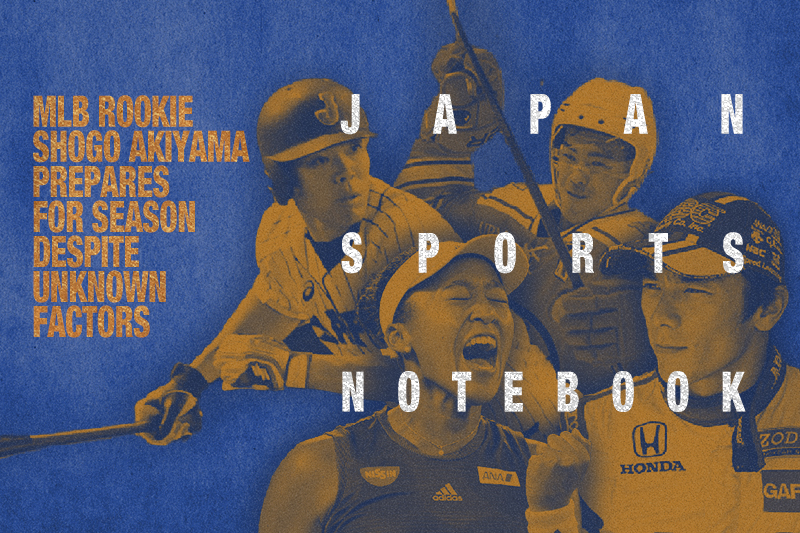 Shogo Akiyama is experiencing an unusual pause in his first spring as a Major League Baseball player.
MLB called off the remainder of spring training on March 12 due to the COVID-19 pandemic. Opening Day, which was set for March 26, was postponed.
A revised plan to open the season, possibly in early July, still isn't finalized. Players and personnel from all 30 MLB clubs have scattered about the United States and elsewhere.
Akiyama, however, has remained in the United States. The former Saitama Seibu Lions star arrived in California from Arizona on March 15 and has been staying at his translator Luke Shinoda's apartment in Los Angeles.
JAPAN Forward caught up with Akiyama earlier this week to find out how he's doing and how he's been handling preparations for a possible abbreviated rookie season in the majors (an 82-game schedule without fans at stadiums has been proposed).
Lindy's Sports 2020 MLB Preview Issue Describes Akiyama as a 'Skilled fielder and runner; ideal at the top of the lineup.'
The 32-year-old outfielder is trying to follow a routine as best as he can in order to stay in shape.
"Physically, right when spring training was suspended, I started my training schedule just to treat it as if it's an offseason, and so I've been ramping up as I've been expecting the season to resume soon," Akiyama told JAPAN Forward.
"Mentally, I thought the season would resume right away, so I've been motivated most of the time. But now since it's been so long, it's been harder to keep the motivation going throughout this period."
Akiyama is working out about three hours a day, Monday through Friday. His routing involves playing catch, hitting and training in the mornings at a nearby workout facility. His workouts include free-weight machines, bikes, and core exercises. With a bat in his hand ー his trademark tool ー Akiyama is improvising a bit during MLB's hiatus, saying he has "no set time how much I practice (hitting off the tee)."
He added: "But I try to mix it up with variations, including soft toss as well. I hit off the tee or I keep hitting until I'm satisfied for that day."
After appearing in all 143 games in each of the last five seasons with the Lions, the durable veteran is eager to contribute for the Reds. He signed a three-year, $21 million USD contract with the National League club in January.
"For me, honestly, it's just to be prepared for every game for the 82-game season if there is one, and also the most important part is getting used to the whole environment within MLB," he commented. "So when I look back when the season finishes I will be able to say that I was able to complete a full MLB season and competed."
Batted .328 over the Past Five NPB Seasons
Before being sidelined for more than two months, Akiyama contributed from the get-go for Cincinnati in the Cactus League.
Batting leadoff and starting in center field, Akiyama made his Reds debut on Feb. 23 in Goodyear, Arizona, against the Chicago White Sox. In the first inning, he rapped a single to right off Chicago's Dylan Cease on pitch No. 2.
That calmed his nerves a bit. "I was nervous, but definitely relieved that I got my first hit," Akiyama said later, according to The Associated Press. He was also thrown out trying to steal second base in the fourth inning in that game.
In 10 spring training games, Akiyama batted .321 with nine hits in 28 at-bats, scoring three runs. He struck out seven times and walked twice.
Asked about how he's played so far on offense and defense for the Reds, as well as how he's adjusted to the organization and MLB, Akiyama gave a thoughtful response.
"Within the short time period in March being with the Reds, being in that environment," he said, "I was trying to enjoy it as much as possible, and before the suspension of spring training, I think I was able to bring my performance in the right trajectory. But I was curious to figure out how that trajectory was going to end up, especially since it was just suspended. And I think, after spring training being suspended, I had the mentality and mindset of going in to not be surprised by anything that happens, whether that be the way they practice, or the schedule, and everything that happens within camp.
"Overall, I was trying to enjoy the moment within that month. It was a short period of time, so that's all I can say for now."
Indeed, 10 games is a small sample size. Consider: The five-time NPB All-Star racked up 1,405 hits, including 116 home runs, with 513 RBIs in 1,207 NPB games. He owns a .301 batting average, including a career-best .359 in 2015, in Japan. A native of Yokosuka, Kanagawa Prefecture, the left-handed batter set an NPB single-season hit record (216) in 2015, his fifth season with Seibu.
Remember Us Over Here when Baseball Starts Again
Akiyama celebrated his 32nd birthday on April 16. It was a memorable day because it differed greatly from his previous birthdays.
"It was the first birthday that I haven't spent with as many people as compared to before," Akiyama noted, "but being able to eat a birthday cake at the apartment and also receiving a birthday present from (Minnesota Twins pitcher) Kenta (Maeda) as well, I was just thankful for that day."
Does he hope he can inspire people to persevere and remain positive during these uncertain times?
"Yeah," he said. "I mean, I hope everyone can go back to their daily life as soon as possible in America and also in Japan. Even though they are not in the state of emergency anymore, it's not that the situation got significantly better overnight. So I just hope that everyone stays healthy and the situation gets better in Japan as well."
Before the exclusive interview wrapped up, Akiyama delivered a message to baseball fans in Japan who are waiting for the start of the NPB season on June 19.
"I know that Japan's going to start before MLB now, and I know that they are going to start watching baseball again. And hopefully when we start, all the baseball fans in Japan know that there's Japanese players playing over here, and I hope that they can support us as well once we start," he concluded.
TENNIS
Naomi Osaka Reaches Top of Money List
Tennis standout Naomi Osaka earned more money last year than any female athlete in history.
Osaka received a record $37.4 million USD from tennis and endorsement deals in 2019, Forbes reported on May 22.
By doing so, she surpassed the previous record of retired tennis player Maria Sharapova's $29.7 million USD in 2015.
"To those outside the tennis world, Osaka is a relatively fresh face with a great back story," sports business professor David Carter, who works at the University of Southern California's Marshall School of Business, told Forbes. "Combine that with being youthful and bicultural, two attributes that help her resonate with younger, global audiences, and the result is the emergence of a global sports marketing icon."
Find more recent reporting on Osaka here.
AUTO RACING
Takuma Sato Prepares for Season
Driver Takuma Sato and his Indy Car rivals are preparing for the start of the upcoming season.
The opening race, the Genesys 300, is set to be held at Texas Motor Speedway on June 6.
The Indy 500 is traditionally held on Memorial Day weekend, but last weekend was an empty date on the racing calendar due to the COVID-19 pandemic. The Indy 500 was rescheduled for Aug. 23. Originally, the season was to begin on March 15.
For Sato, who won the 2017 Indy 500, this season has been far from typical. He's had a much lighter schedule due to the down time.
"Usually in May you never get home because you'd be flat out at the speedway all the time and it's a very intense time," the 43-year-old Tokyo native recently told The Associated Press. "This is very weird, a very strange feeling."
The former Formula One driver has competed in the IndyCar Racing series on a full-time basis since 2010.
ICE HOCKEY
Yusaku Ando Commits to Minnesota School
Up-and-coming forward Yusaku Ando has committed to play at Minnesota State University (Mankato) in the 2021-22 school year.
The 16-year-old Ando, who is from Tomakomai, Hokkaido Prefecture, played for the United States Hockey League's Youngstown Phantoms in the coronavirus-shortened 2019-20 campaign. He finished with eight goals and 17 assists in 40 games.
The USHL, a Tier I junior ice hockey circuit, prepares players for pro careers.
"I am proud to announce my commitment to play Division I hockey at Minnesota State University Mankato," Ando tweeted on May 22. "Thank you to all my family, coaches, teammates and friends who have helped me along the way."
Ando is considered an NHL prospect.
Editor's note: Interested in submitting a news item for possible inclusion in the Japan Sports Notebook? Send an email with relevant information to odevened@gmail.com, or JAPAN Forward's comment's page or Facebook page and look for future editions of Japan Sports Notebook on our website.
Author: Ed Odeven
Follow Ed on JAPAN Forward's [Japan Sports Notebook] here on Sundays, [Odds and Evens] here during the week and Twitter, @itsjapanforward.