[Japan Sports Notebook] COVID-19 Hiatus: For Naomi Osaka, An Opportunity For Personal Growth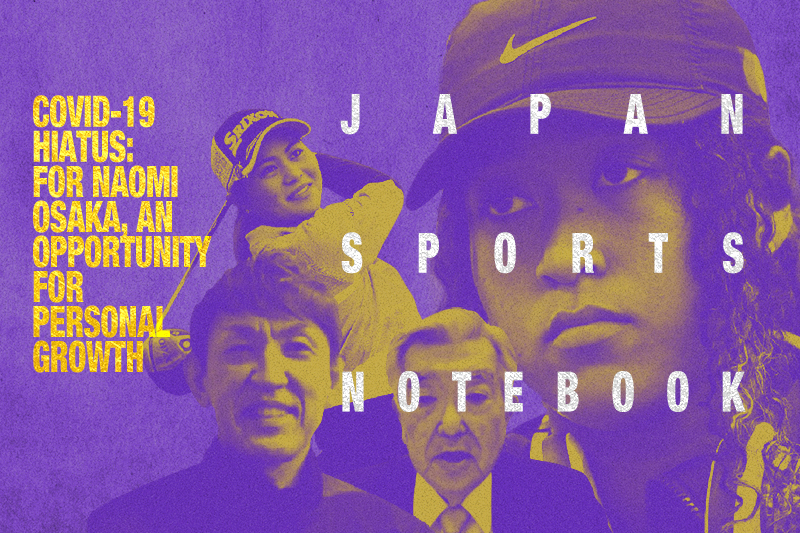 This is the debut of the Japan Sports Notebook,
a weekly column for JAPAN Forward.
Time away from the day-to-day grind of high-pressure competitive sports can lead to thoughtful reflections on one's life.
For Naomi Osaka, professional tennis' hiatus this spring due to the COVID-19 pandemic has provided lots of time to think.
Osaka, the world's 10th-ranked women's singles player, recently spoke to CNN Sport about how she's using time away from her high-profile job due to the coronavirus outbreak to reflect on her life.
The two-time Grand Slam Singles champion, who was born in Osaka, revealed she's been carefully poring over her personality, which is something that has troubled her.
"I think people know me as being really shy," Osaka told CNN Sport's Christina Macfarlane in a report broadcast this week before adding, "I want to take the quarantine time to just think about everything, and for me, I have a lot of regrets before I go to sleep."
What does she regret?
"Most of the regrets are because I don't speak out about what I'm thinking," the 22-year-old Osaka stated while speaking from her kitchen in her Los Angeles home. "I feel like if I asserted myself, I would have gotten the opportunity to see what would have happened."
Interestingly enough, Osaka doesn't consider tennis her main focus right now.
"I want to take this time to learn something new," she told CNN (Video here), "because I'm pretty sure I won't have this much free time ever again. It's not like I'll forget how to play tennis."
SWIMMING
Update From The Pool
FINA, aquatic sports' world governing body, recently announced that the canceled 2021 World Swimming Championships will be held in 2022 in Fukuoka.
The specific dates for the rescheduled extravaganza: May 13-29, 2022.
FINA President Julio Maglione said in a statement, "After liaising with the relevant stakeholders and receiving feedback from them, we have no doubt that the decision taken will provide the best possible conditions for all participants at the championships. We look forward to witnessing the world's best aquatic athletes from around the world competing in the city of Fukuoka in 2022.
"At a time of unprecedented uncertainty, FINA hopes the announcement of these dates will allow for some clarity in planning for all concerned."
Additional events at the worlds include diving, water polo, synchronized swimming and open-water swimming.
Fukuoka previously hosted the World Swimming Championships in July 2001.
BASKETBALL
Dates Announced For 2023 FIBA World Cup
The competition schedule for the 2023 FIBA World Cup is now set, as announced by basketball's world governing body earlier this week.
Competition will tip off on August 25 and conclude on September 10, with games in Indonesia, Japan and the Philippines.
The 32-nation event will be held in multiple countries for the first time.
Group phase games are set to take place in Okinawa along with venues in Indonesia and the Philippines. Manila was selected to host the final phase of competition.
The under-construction Okinawa Arena, a 10,000-capacity facility, will be used.
Spain is the defending world champion, claiming the top prize at the 2019 FIBA World Cup in China.
League Award Show
The fourth annual B. League Award Show was held online last weekend and spread out over three days instead of the customary one-night banquet. It was another reminder of the world we're currently living in, where virtual events far outnumber "normal" ones. RELATED STORY: [Odds and Evens] Celebrating Hoop Legend Takehiko Orimo's Career, 50th Birthday
The 2019-20 B. League Best Five team is comprised of guards Yuki Togashi (Chiba Jets), Yuma Fujii (Kawasaki Brave Thunders) and Daiki Tanaka (Alvark), guard/forward Kosuke Kanamaru (SeaHorses Mikawa), and power forward Ryan Rossiter (Utsunomiya Brex).
Tanaka, a key catalyst for the 2017-18 and 2018-19 champion Alvark, was named B. League MVP. The steady floor leader averaged 11.1 points, 4.8 assists, 1.8 rebounds and 1.6 assists per game for Tokyo, which finished with a league-best 32-9 record in the COVID-19-shortened season. ... The Rookie Best Five team players are Satoru Maeta (Toyama Grouses), Yuki Kawamura (San-en NeoPhoenix), Koh Flippin (Chiba), Avi Koki Schafer (Shiga Lakestars), and Ko Kumagai (Mikawa).
In other basketball news, former Kyoto Hannaryz star Julian Mavunga, who spent the past three seasons with the club, has launched a new podcast, "The Sports Bunker Podcast," which can be accessed via its YouTube Channel. Mavunga's first episode guest was Boston Celtics player Gordon Hayward, followed by Milwaukee Bucks guard George Hill in a wide-ranging interview in episode No. 2 on May 9.
BASEBALL
World Baseball Classic Called Off
The 2021 edition of the World Baseball Classic has been canceled due to the coronavirus, according to published reports this week.
Games were originally scheduled to be held March 9-23, 2021, in Tokyo, Arizona, Florida and Taiwan. The semifinals and championship game were slated to be held at Marlins Park, home of MLB's Miami Marlins.
The fifth edition of the WBC will be staged in 2023. Samurai Japan won the first two WBC in 2006 and 2009.
No NPB All-Star Game
There won't be an NPB All-Star Game this year. The midseason showcase game was canceled this week.
The NPB, meanwhile, is still trying to finalize plans to begin the 2020 baseball season.
Speaking to reporters this week after a meeting with the league's 12 clubs, NPB Commissioner Atsushi Saito said, "We will carefully assess the situation, carefully make preparations to try to open the season somewhere between the middle and end of next month."
GOLF
Golfers Lend a Helping Hand
Ayako Uehara, Mamiko Higa and Hina Arakaki headline a list of 11 Okinawan female golfers who have spearheaded efforts to raise funds to help pay for the reconstruction of World Heritage site Shuri Castle.
A fire razed the Okinawan landmark last October.
The ambitious women raised around ¥2.5 million JPY ($23,500 USD) for the project.
"It was great to see the spirit of professional golfers from Okinawa come together as one and take action," Uehara was recently quoted as saying by Kyodo News.
Through sales of her calendar, Uehara has donated ¥1.7 million JPY (about $16,000 USD).
Editor's note: Interested in submitting a news item for possible inclusion in the Japan Sports Notebook? Send an email with relevant information to odevened@gmail.com, or JAPAN Forward's comment's page or Facebook page and look for future editions of Japan Sports Notebook on our website.
Author: Ed Odeven
Recent Sports Stories: