[JAPAN SPORTS NOTEBOOK] Promising Talent Takefusa Kubo's Move to Villarreal a Good Opportunity to Develop Skills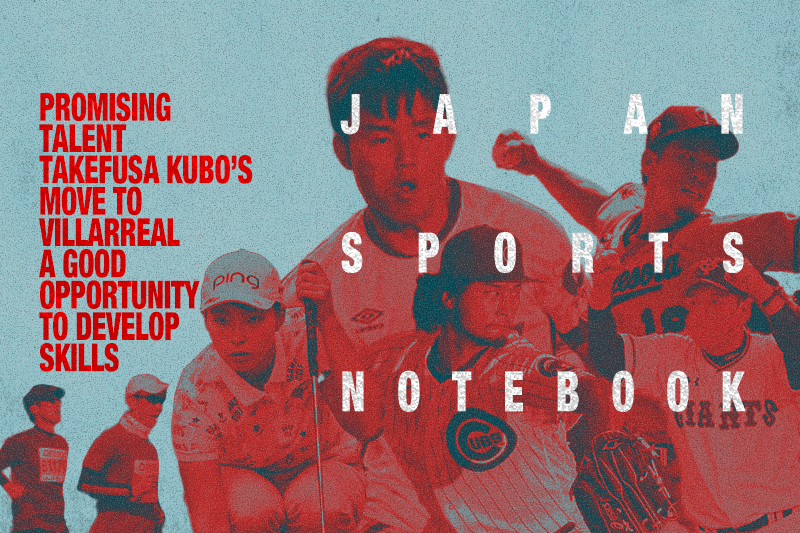 Blessed with abundant wealth and a rich roster of players, Real Madrid has the luxury of giving midfielder Takefusa Kubo time to develop his game in the tough environment of Spanish pro soccer.
For the second consecutive season, the talented 19-year-old Kubo will ply his craft for another team.
Kubo has joined Villarreal, which hired Spanish manager Unai Emery to run the show for the upcoming season in a 12-month deal formally announced on Monday, August 10.
The Kawasaki native became Emery's first signing as Villarreal manager. Villarreal paid a £2.7 million GBP (about $3,536,000 USD) loan fee plus incentives for Kubo.
"There were other offers, but this was the best, and that's why I'm here," Kubo said during his introductory news conference.
Real Madrid, a La Liga powerhouse, is, of course, closely monitoring Kubo's development while he's loaned out to rival Villarreal, which finished fifth in the league this past season.
He suited up for Mallorca in the 2019-20 campaign, appearing in 35 games and finishing with four goals and five assists.
While Mallorca was relegated to the second division, Villarreal will compete in the Europa League, the continent's second-tier club competition. And if he earns regular playing time, it can be an important testing ground for Kubo as he seeks to continue his maturation as a player.
Before signing a contract with Real Madrid in 2019, Kubo suited up for the J. League's FC Tokyo from 2017-19, playing in 19 matches, plus five more while on loan to Yokohama F. Marinos in 2018.
Having managed teams in Spain, France, Russia and England, Emery is an established figure within European soccer circles, including prominent clubs Paris Saint-Germain and, most recently, Arsenal in recent years. He has won the Europa League three times.
Emery has a track record of success throughout his pro coaching career, as evidenced by his overall record of 428 wins, 172 draws and 197 losses in 797 total games in charge.
In the final analysis, Emery is an ideal mentor for Kubo at this stage of his career.
Kubo appears excited about the opportunity to play for Emery.
"I've spoken to [Emery] about the team, but the manager hasn't been here for a very long time," Kubo said on August 10. "It was a friendly conversation. And as well as the manager, I've also spoken to some teammates today. So I hope that I'm going to adapt quicker than expected."
Kubo made his Japan men's national team debut in June 2019 in a friendly against El Salvador.
It is already evident that Kubo's arrival at Villarreal will be a big boost for the team's social media presence, tribalfootball.com observed, citing social media numbers from the Japanese player's unveiling on August 11 and the 48 hours that followed.
"On Twitter and Instagram, their accounts have increased by 30,000 followers in two days: 15,000 on the main Twitter profile, 3,000 in English, 10,000 on Instagram (and a cumulative 87,000 likes) and 2,000 on Facebook," the website reported:
The impressions on Twitter, which multiplied by over 10, is where the 'Kubo Effect' has been most noticed: from 700,000 on a typical day to 8,249,866 on Tuesday, thanks to his presentation.
In 24 hours there were around 12 million impressions, more than half of the 22 million of the last month. A tweet, that of the transfer agreement with Madrid, takes the cake: 1,135,583 interactions and 4,026,766 impressions. In the English version there was also a boost: from 63,9000 usual impressions to 533,893 on Tuesday. In total, the Japanese teen has generated 185,000 retweets and 144,000 likes.
Three Sagan Tosu Matches Postponed
After 10 Sagan Tosu players and staff contracted the COVID-19 virus, the J. League postponed the first-division club's next three matches.
The announcement was made on Thursday, August 13.
As a result, the Saga Prefecture side was forced to halt all soccer activities for two weeks, including home matches against Gamba Osaka on August 15 and Consadole Sapporo on August 23, and an away match at Vegalta Sendai on August 19.
Sagan Tosu manager Kim Myung Hwi tested positive for the virus on August 10.
RELATED COVERAGE: [SOCCER] Sagan Tosu's COVID-19 Outbreak Forces Delay of YBC Levain Cup Match
Baseball
Maeda Records 50th MLB Victory
Minnesota Twins starter Kenta Maeda earned his 50th victory as an MLB pitcher on Wednesday, August 12.
Maeda, in his first season with the Twins, was the beneficiary of a potent Minnesota offense in the series finale against the host Milwaukee Brewers at Miller Park. The Twins put seven runs on the board before the Brewers had their first man on base with two outs in the fourth inning.
Minnesota won 12-2, and Maeda worked 6 2/3 solid innings in the rout. He held the Brewers to five hits, while walking one and fanning five batters.
"I like to keep our defense out shorter," Maeda said, according to the St. Paul Pioneer Press, a Minnesota newspaper. "My intent was to keep it efficient so our guys could stay fresh."
Maeda improved to 3-0 on the season. He's made four starts. In 23 2/3 innings, he has 21 strikeouts and a 2.66 ERA.
"Hopefully I can pile up more wins," Maeda told reporters after the game. "My teammates tell me what my strengths are and I discuss that with the catcher before each game, which is leading to good results."
Darvish Delivers Impressive Performance
Chicago Cubs right-hander Yu Darvish tossed seven innings of one-hit, one-run ball against the visiting Milwaukee Brewers on Thursday, August 13.
The 33-year-old had a no-hitter going until Justin Smoak whacked a solo home run over the right-field fence at Wrigley Field in the seventh inning.
"You really didn't see a whole lot of good swings until that homer," Cubs manager David Ross declared.
Darvish, who threw 104 pitches, expected to leave the game after the seventh.
"I know I'm not going to get another inning because of the pitch count," he said later. "I just tried to keep the game close."
Darvish finished with 11 strikeouts and issued two base on balls.
Brewers counterpart Brett Anderson tipped his cap to Darvish.
"Obviously, on any given night, if he's commanding his 10 or 12 pitches, or whatever he has now, it's going to be a tough night for the offense," Anderson told reporters.
Chicago improved its National League-best record to 13-3 with the win, while matching the franchise's best start through 16 games since 1907.
Darvish has a 3-1 record with a 1.88 ERA in four starts this season. He has 27 strikeouts in 24 innings. He's won his last three starts after opening the season with a shaky outing in a loss to the Brewers on July 25 (four innings, six hits, three runs).
Hara, Giants in Familiar Position
Tatsunori Hara, in his third stint as Yomiuri Giants manager, is always expected to have the storied franchise in contention for another Japan Series title.
After all, the Giants thrived in the past with Hara, 62, at the helm.
He returned to the dugout for his third go-round as Giants skipper for the 2019 season. The Giants fell to the Fukuoka SoftBank Hawks in the Japan Series, dropping all four games.
In his first stint (2002-03), Hara led the Giants to a title in 2002.
In his second stint (2006-15), the Giants collected NPB championships in 2009 and 2012.
The Giants sit atop the Central League with a 27-15-3 record through August 14. Hara's club also has the best overall winning percentage (.643) in Nippon Professional Baseball.
Track And Field
2021 Kyoto Marathon Will Be a Virtual Race
Kyoto Marathon organizers recently announced that the 2021 edition of the race will be a virtual race due to the COVID-19 pandemic.
How will this be administered?
Tatta, a running app, will be used to measure the GPS on runners' smartphones and other electronic gadgets, recording their times and total running distances.
"The time recorded to run a distance of 42.195 kilometers (26.2 miles) in a set period will be their records for the race," the Mainichi Shimbun reported.
This year's Kyoto Marathon was held on February 12.
Looking ahead to 2021, Kyoto Mayor and Kyoto Marathon chief Daisaku Kadokawa, said:
We collected knowledge from people involved in the event, and decided to go online. Amid the difficult times we're having with the coronavirus pandemic, we would like to hold a marathon that connects us to the future, and hope it's a success.
Swimming
Ikee Set to Make Comeback at Tokyo Meet
Rikako Ikee is planning to compete at a Tokyo swim meet later this month, it was announced on Tuesday, August 11.
Ikee, who was sidelined for nearly a year while battling leukemia, has plotted a comeback since being released from the hospital in December 2019.
The 2018 Asian Games MVP began training again in March.
Ikee is among the entrants for a women's 50-meter freestyle race at a Tokyo Swimming Organization-organized meet on August 29, according to published reports.
Tennis
Play Academy with Naomi Osaka to Launch in Tokyo
Two-time Grand Slam singles champion is committed to helping create more opportunities for girls to play sports.
In a collaborative effort with Laureus Sport for Good, the charitable arm of the Laureus World Sports Academy and global sports apparel giant Nike, Osaka is investing in the future.
A new grassroots program, announced this month, will put Osaka's passion for sports in the spotlight in the nation's capital.
In an essay posted on nike.com, Osaka reflected on being a role model and using her fame to inspire girls to play sports.
"I picked up a tennis racket for the first time when I was 3 years old, and it changed my life," she wrote.
But I know that not every girl has the same opportunities that I've had.
Around the world, girls drop out of sports at twice the rate of boys. And some girls, especially from underrepresented communities, never even get a chance in the first place.
The more I learned about the barriers that girls face in getting active, the more determined I felt to do something about it. I started talking with people who could help--people who understand just how much sport and play can mean for a girl who's finding her own place in this big world.
Osaka is fired up about her new passion project.
"I can't wait to get started with Play Academy," she wrote. "I hope that the girls will learn new skills, maybe discover a new favorite sport, because you never know where it might take you."
RELATED COVERAGE: [Japan Sports Notebook] COVID-19 Hiatus: For Naomi Osaka, An Opportunity For Personal Growth
Golf
Shibuno Missed Cut in Final Event before Women's British Open
Defending Women's British Open champion Hinako Shibuno failed to make the cut for the final event before the upcoming major tournament.
The 21-year-old shot an 8-over par 79 in the opening round of the Ladies Scottish Open on Thursday, August 13. She carded a 6-over 77 with five bogeys and a double bogey in the second round the next day at the Renaissance Club in North Berwick, Scotland.
The Women's British Open begins on August 20 at the Royal Troon Golf Club in Scotland.
"My shots were slightly improved [from the opening round], but I have to take responsibility for this score," Shibuno was quoted as saying by Kyodo News.
"I want to discuss with my coach what went wrong, and practice hard in the little remaining time until next week."
Editor's note: Interested in submitting a news item for possible inclusion in the Japan Sports Notebook? Send an email with relevant information to e.odeven@japan-forward.com, or JAPAN Forward's comment's page or Facebook page and look for future editions of Japan Sports Notebook on our website.
Author: Ed Odeven
Follow Ed on JAPAN Forward's [Japan Sports Notebook] here on Sundays, in [Odds and Evens] here during the week, and Twitter @itsjapanforward.