[JAPAN SPORTS NOTEBOOK] Recent Friendlies Give Moriyasu, Japan Players Chance to Forge Ahead After Long Layoff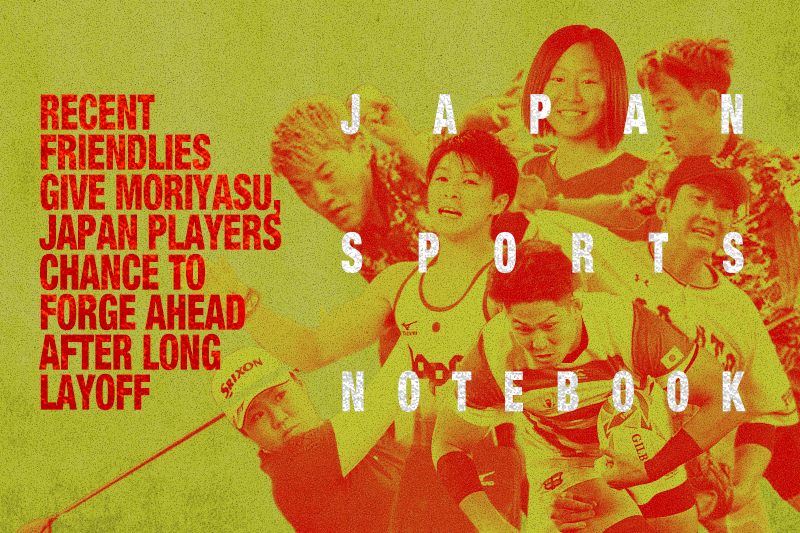 In the grand scheme of things, the Japan men's national soccer team's games against Cameroon and Ivory Coast in recent days do not hold titanic importance.
But every soccer boss needs matches in order to evaluate players. And every player needs time on the pitch to test his skills against opponents.
So you can affix some value to Japan's 0-0 draw with Cameroon on October 9 and its 1-0 win over Ivory Coast on Tuesday, October 13. The two friendlies were held in Utrecht, the Netherlands.
Both matches featured the Samurai Blue's European-based players only.
The main reason is that players from the J. League who were called up for national team duty in the Netherlands would have been required to quarantine for 14 days upon returning to Japan. And the J. League season is inching toward its conclusion in December, which puts a greater stress on teams with players on the national team.
Samurai Blue coach Hajime Moriyasu acknowledged that the team's long layoff since last November affected its importance.
"With this being our first match in nearly a year, there were many scenes where we had to find our rhythm on the pitch. But the players gave their best efforts until the very end to showcase a performance that can send energy and encouragement to the people in Japan," Moriyasu told reporters.
"Cameroon is an extraordinarily strong team and we saw ourselves being forced to play defensively in the early minutes, but our combinations got better as the match progressed. Our defenders played tenaciously to keep a clean sheet, but our offense lacked quality in the final third to convert our chances, so we must heighten the quality of our plays ahead of the next match."
Liverpool forward Takumi Minamino said he wasn't pleased with the result of the scoreless draw.
"With this being our first match in a while, we really wanted to win this match, so we are not satisfied with this 0-0 draw," Minamino said. "I focused on stimulating the team's offense, but this was a difficult match, and I was not able to create as many opportunities as I hoped for."
Longtime Samurai Blue teammates Maya Yoshida and Yuya Osako were also in the lineup.
Against Ivory Coast, Moriyasu put eight new starters in the lineup, giving Musashi Suzuki the nod at forward, with Daichi Kamada, Junya Ito and Takefusa Kubo and Wataru Endo at the midfield spots, Yuta Nakayama and Sei Muroya at the defensive fullback positions, and Daniel Schmidt at goalkeeper.
Substitute Naomichi Ueda, who entered the match in the 88th minute, broke the stalemate. Before the final whistle, Gaku Shibasaki lofted a high ball off a free kick toward the goal and Ueda pounced on it, striking a header into the net for the match's lone goal, and his first for the national team.
"I am genuinely happy," said Ueda, who plays for Belgian club Cercle Brugge K.S.V., reacting to the goal.
"As a late substitute, my first priority was to keep the clean sheet, but I was also anticipating an opportunity if there were any set pieces. I felt I was in great form in our training sessions, and my teammates were aware of that, too. Shibasaki and I were teammates at Kashima [the J. League's Kashima Antlers], so we were on the same page when we scored that goal. This goal gives me great confidence moving forward and I hope to use this experience to become a better player."
Moriyasu was pleased with the outcome against a team that defeated Japan 2-1 at the 2014 World Cup in Brazil.
"It was great to see our side managing to keep a clean sheet against Cote d'Ivoire, who recently drew against Belgium, and finish off the match strongly," the manager stated. "I am satisfied with my players for getting their job done and showcasing their full potential in this match. The players on the bench also gave great energy to this team. Ueda has prepared well and entered this match with great focus, and all of that has led to this result."
The two matches in the Netherlands gave Moriyasu and his coaching staff a chance to mix things up a bit in the starting lineup and tinker with playing combinations.
"I feel like we managed to try out most of the things we wanted to challenge during this tour," Moriyasu said. "The players played with great courage and actively challenged what I have demanded from them."
He added: "We managed to do a better job in the second match, as we made more collective efforts in defense while showing more composure in connecting the ball to build-up our offense. With the support of so many people, we were able to conduct this tour, and I would like to thank everyone who was involved to make this tour possible. I hope that our activity in Europe can lead to more sports organizations to resume their activities."
Up next: Japan faces Mexico in a friendly on November 17 in Austria.
WE League Unveils List of Teams for Inaugural Season
The WE League, which is set to launch competition in September 2021, has finalized its list of 11 teams for its first season.
The Japan Football Association-backed circuit, the nation's first women's pro league, received applications from 17 clubs before deciding to choose 11 for the 2021-22 campaign.
On Thursday, October 15, the WE League revealed the 11 teams, the majority of which currently compete for the Nadeshiko League, an amateur circuit set to become the nation's new second division once the WE League begins play.
Five-time defending Nadeshiko League champion Nippon TV Beleza, the Urawa Reds and INAC Kobe Leonessa are well-known successful clubs at the top of the list.
The list also includes Omiya Ardija and Sanfrecce Hiroshima, both of whom established teams in order to join the WE League. Both organizations already have teams in the men's J. League.
Additionally, AC Nagano Parceiro and Chifure AS Elfen Saitama, two Nadeshiko League second-tier clubs, will square off against Albirex Niigata, Mynavi Sendai, JEF United Chiba, and Nojima Stella Kanagawa Sagamihara in the new league.
RELATED COVERAGE: [Odds and Evens] Japan Football Association Raises the Bar for Women's Soccer with WE League
Rugby
Himeno Joins Otago Highlanders
Kazuki Himeno will embark on an overseas challenge in 2021, joining Super Rugby's Otago Highlanders.
The 26-year-old Nagoya native has played for the Japan Rugby Top League's Toyota Verblitz and the now-defunct Sunwolves, who made their debut in Super Rugby in 2016.
The Verblitz announced on Monday, October 12 that Himeno will play his craft next year for the Highlanders. The New Zealand club's season kicks off in January.
Himeno has earned 17 caps for Japan, and the Brave Blossoms' No. 8 scored a try against Samoa at the 2019 Rugby World Cup at City of Toyota Stadium.
"I thought it was necessary for me now to leave the environment of my comfortable Japan and play from scratch," Himeno was quoted as saying by Agence France-Presse.
In 2015, Brave Blossoms coach Jamie Joseph guided the Highlanders to the Super Rugby title.
Volleyball
Nihon University Men's Team Dealing With COVID-19 Outbreak
The Nihon University men's volleyball team is coping with a COVID-19 outbreak after 26 members of the squad recently tested positive for the virus, according to published reports.
Kyodo News reported that "none [of the players] are showing serious symptoms," quoting an informed source.
There are 56 members on the squad.
Due to the outbreak, team activities were put on hold.
On campus, most of the volleyball players live in the same dormitory, along with other Nihon University teams' athletes, Kyodo News reported.
Golf
Hataoka Places Third at Women's PGA Championship
Nasa Hataoka finished tied for third at the Women's PGA Championship, which concluded on Sunday, October 11.
Hataoka shot a 7-under par 263, tying Spain's Carlota Ciganda in Newton Square, Pennsylvania.
What's more, Hataoka improved throughout the tournament. She shot a 2-over 72 in the opening round, followed by 69, 68 and 64 in the next three rounds.
South Korean Sei Young Kim, who shot a 14-under 266, won the title, finishing off the weekend with a 7-under 63. Compatriot Inbee Park was the runner-up, five strokes off the pace at Aronimink Golf Club.
In a news conference after the final round, the 21-year-old Hataoka was asked to pinpoint what was the best aspect of her play on the day.
She responded by saying, "I would say my ball-striking. My second shots to the green were very close. I would say my iron play was really good today."
Hataoka, who has yet to win an LPGA Tour major tournament, also commented on her mindset in the fourth round.
"I felt like I had no choice but to play aggressive golf and not give up until the end. It was big that I was able to get through the round without a bogey," the Ibaraki Prefecture native told reporters. "I did everything I could do."
Lacrosse
Kokoro Nakazawa to Play at Louisville
Former Nihon University Senior High School standout Kokoro Nakazawa is set to begin her collegiate career at the University of Louisville with the women's lacrosse team in 2021, it was announced on Monday, October 12.
The Yokohama native brings international lacrosse experience to the University of Louisville, having competed for Japan at the 2019 Under-19 World Lacrosse Championship in Ontario, Canada. Nakazawa, an attacker, received All-World Team accolades at the tourney.
"Kokoro is a pure goal scorer with great hands, a creative stick and a high IQ," Louisville head coach Scott Teeter said in a statement. "She is one of the top players from Japan and comes from a very athletic family. We are very excited to have her join our program."
RELATED COVERAGE: [JAPAN SPORTS NOTEBOOK] Kai Iwamoto Expresses Pride in Forging New Path for Japanese
Gymnastics
Yoyogi Gymnasium to Host Four-Nation Meet
An International Gymnastics Federation-sanctioned event will be held on November 8 at Yoyogi National Gymnasium in Tokyo.
Gymnasts from Japan, the United States, Russia, and China will compete, and the attendance will be capped at 2,000 fans. Plans for the event were revealed on October 12.
The Japan Gymnastics Association (JGA) discussed its COVID-19 prevention measures in an online news conference on the same day, stating that competitors from foreign nations would be required to undergo a polymerase chain reaction (PCR) test within 72 hours before traveling to Japan.
In addition, the JGA announced that the normal 14-day quarantine period for overseas arrivals would be disregarded. However, the gymnasts will need to take a PCR each day during their stay in Japan.
Among the headliners for the meet are all-time great Kohei Uchimura and Russia's Nikita Nagornyy.
Nagornyy claimed the men's all-around title at the 2019 world championships in Stuttgart, Germany.
For the event, each nation will select eight gymnasts, four male and four female.
Swimming
Disgraced Seto Suspended for Remainder of 2020
After his extramarital affair showed up in the weekly tabloids, Daiya Seto stepped down as captain of the Japan men's national team in late September.
Then, on Tuesday, October 13, the Japan Swimming Association (JSA) announced that it has banned the 26-year-old from organizational activities for the rest of the year.
The punishment was meted out during an online meeting, which was carried out by the nation's swimming governing body leaders. The JSA cited that Seto had engaged in activities that "breached its standards for sportsmanlike conduct."
ISL to Broadcast Meets on TV Asahi
The expansion Tokyo Frog Kings' inaugural season in the International Swimming League will be aired on TV Asahi.
Thus, general manager Kosuke Kitajima, whose moniker during his legendary career in the pool serves as the team's nickname, and the Frog Kings will remain in the spotlight over the next several weeks.
The compact season, all of which is being held in Budapest, got underway on Friday, October 16 and wraps up on November 10, with the semifinals and finals slated to be held over the following two weeks in the Hungarian capital at Duna Arena.
Meets are held over a two-day period.
The ISL is in its second season.
Baseball
Giants' Sugano Suffers First Loss of 2020
Yomiuri Giants ace Tomoyuki Sugano, who has helped push the club to the brink of another Japan Series berth, won his first 13 decisions this season.
A perfect season is now out of the question, though, as Sugano fell to 13-1 on October 13. In the Giants' 4-3 loss to the Hiroshima Carp at Tokyo Dome, Sugano allowed seven hits and three runs in six innings, walking two and striking out five.
Sugano, who collected his 100th career win on October 6, leads NPB in victories this season.
Editor's note: Interested in submitting a news item for possible inclusion in the Japan Sports Notebook? Send an email with relevant information to e.odeven@japan-forward.com, or JAPAN Forward's comment's page or Facebook page and look for future editions of Japan Sports Notebook on our website.
Author: Ed Odeven
Follow Ed on JAPAN Forward's [Japan Sports Notebook] here on Sundays, in [Odds and Evens] here during the week, and Twitter @itsjapanforward.