[JAPAN SPORTS NOTEBOOK] Kai Iwamoto Expresses Pride in Forging New Path for Japanese Lacrosse Players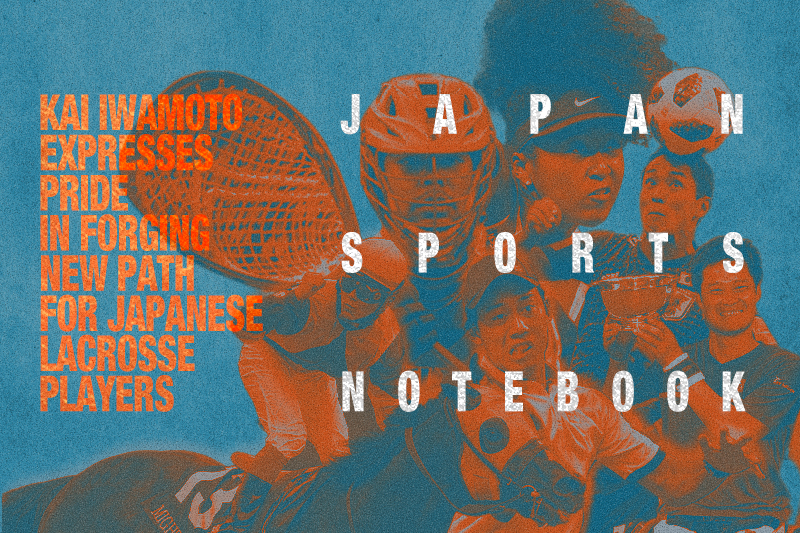 If the subject of Japanese sports trailblazers comes up in conversation, pioneering baseball and soccer stars would probably be mentioned first.
After all, Hideo Nomo and Hidetoshi Nakata enjoyed success on the baseball diamond and soccer pitch in North America and Europe, respectively, in popular, well-publicized sports.
Lacrosse, on the other hand, is a niche sport, with 10 players per team competing on a field that's 110 by 60 yards (101 by 55 meters). And the average sports fan would be hard-pressed to rattle off a list of lacrosse players' names.
Lacrosse goalie Kaisuke "Kai" Iwamoto became the first Japanese player to appear in a Major League Lacrosse (MLL) game on June 22, 2018. He started in goal for the Denver Outlaws against the visiting Dallas Rattlers in the season finale, saving nine of 19 shots against the league's first-place club at Broncos Stadium at Mile High (home of the NFL's Denver Broncos).
Iwamoto's determination is a defining trait of his career. A year earlier, the Tokyo native participated in Denver's spring tryouts, but didn't make the cut for the roster once the season started.
He stuck with it after making the training camp roster in 2017. He also tried out for the Outlaws and other MLL teams in 2016, a year after he moved to the United States to pursue his dream.
He tried out again for the 2018 campaign and earned a spot on the professional team's roster.
Persistence paid off.
"Working out with different guys, who I befriended at the training camp who also lived in the same area as me [was important]," Iwamoto said recently.
Now, more than two years after he made sports history, Iwamoto looked back on a seminal moment in his life in an interview with JAPAN Forward. And Iwamoto's voice beamed with pride when the topic of his unique sporting path was discussed.
"I'm a gate opener," Iwamoto said of being a trailblazer for Japanese lacrosse players.
Following Iwamoto's arrival in Denver, attackman Kota Kurashima also joined the Outlaws and became the first Japanese player to score a goal in an MLL match. In Kurashima's Denver debut, he scored against the Chesapeake Bayhawks on September 21, 2019.
For Kurashima, the occasion was special for another reason, too: teammate Iwamoto started in goal.
"He is the pioneer of Japanese players in the MLL and I have so much respect for him. I was so glad to be suiting up with him during the same game," Kurashima said of Iwamoto, according to asianplayers.com.
As coaches have reached out asking him to share his experiences, Iwamoto has embraced opportunities to provide goalie tips for Japanese youth, college and youth players.
"I'm the smallest goalie [5-foot-8] in the league ... so I had to just focus on everything, including my own strength, which is the quickest hands," Iwamoto explained, citing how he's enhanced his skills in recent years. "Of course I'm small, so I have to focus on the positioning, too. I cannot cover the entire cage, and also eye vision—reaction time—so that could make me feel that I can be quicker than [other players]."
Iwamoto traveled to Colorado in mid-June, and spent 14 days in self-quarantine. Although he didn't have an active role with the Outlaws this season, he was around the team until the end of July. (He was released before the Outlaws opened their season, with management opting to sign another backup goalie.)
But during the previous two seasons, Iwamoto's focus was on being a high-effort guy in practice. He believed this help set the tone for his teammates.
Or as he put it: "I had to play as hard as possible. I wanted to take other guys' shots because I wanted to get them ready for the game as much as possible. I'm really happy to do that because I love them because they welcomed me so well, even though my English is not perfect."
The shortened MLL season started in mid-July and wrapped up later that month, with the Outlaws playing five regular-season games (instead of 16) and two playoff matches. The Boston Cannons beat the Outlaws 13-10 in the title match on July 26 in Annapolis, Maryland.
Asked what he hopes his career has done in raising awareness for the sport in Japan, Iwamoto talked about being a visible role model.
"I think I did inspire some of the guys, especially goalies because I'm the first guy in pro lacrosse in the world as an Asian," Iwamoto said.
Looking ahead, Iwamoto, 34, revealed that he hopes to see the Japan men's national team contend for third place in international tournaments within the next 10 years, improving on its sixth-place showing at the 2018 World Lacrosse Championship and eighth at worlds in 2014.
"They are now learning some American lacrosse ... so they will know how to deal with them," Iwamoto commented.
As a high school student, Iwamoto joined the Keio High School lacrosse team and later played at Keio University. He grew up playing baseball and also trained in karate.
But the first time he grabbed a lacrosse stick and played, he became hooked on the sport.
"I loved it right away," said Iwamoto, who established the Stealers Lacrosse Club along with former college teammates in 2009. The Stealers remain an active team in Japan's lacrosse community, which is plotting a men's pro league in the near future with the backing of the Japan Lacrosse Association.
Major League Lacrosse held its inaugural season in 2001. Throughout its two-decade history, the Denver Outlaws have been one of the top teams. They've won three titles since joining the league in 2006, and picking up their third title in 2018.
In comparing the American and Japanese styles of lacrosse, Iwamoto made the following observations: "American lacrosse, because we have a shot clock, we've got to play fast, we've got to play quicker, and they are bigger and tougher than Japanese guys. Their shots are way tougher and faster. So that makes me better, I think."
In Tokyo, Iwamoto continues to work out in preparation for the 2021 season, hoping to land a roster spot with Denver or another MLL team.
He said he plans to reach out to Outlaws coach Tony Seaman and team president Matt Bocklet, a former teammate, to inform them of his interest in trying out for the team next season. "I'd love to play for them as long as possible," he said.
Tennis
Japanese Players Nab U.S. Open Wheelchair Titles
Top-seed Shingo Kunieda collected his seventh U.S. Open men's wheelchair singles title on Sunday, September 13, outlasting Britain's Alfie Hewett 6-3, 3-6, 7-6 (7-3).
For Kunieda, a 36-year-old Reitaku University graduate, it was his first title in the marquee event since 2015. The match lasted 2 hours, 54 minutes.
Hewett was the two-time defending champion at the U.S. Open.
In reflecting on the tournament, Kunieda described it as an important test for sports organizers.
"The U.S. Open ... ended safely without making a cluster happen. I think this showed a step toward [holding the Tokyo Olympics and Paralympics]," Kunieda was quoted as saying in an online news conference by Yahoo! Sports.
In the women's wheelchair doubles final, Hyogo Prefecture native Yui Kamiji and Britain's Jordanne Whiley triumphed 6-3, 6-3 in the women's wheelchair doubles final over Dutch tandem of Marjolein Buis and Diede de Groot on September 13.
Kamiji and Whiley together won their last U.S. Open in 2014. They have enjoyed sustained success in the Grand Slam events, with four Wimbledon titles, three more in the Australian Open and two at the French Open.
Osaka Pulls Out of French Open
Naomi Osaka, who won her second U.S. Open women's singles title on Saturday, September. 12, will not seek to capture back-to-back Grand Slam crowns starting later this month.
The Osaka-born tennis star withdrew from the upcoming French Open on Friday, September 18, citing a previous left hamstring injury.
"Unfortunately I won't be able to play the French Open this year," Osaka wrote on Twitter. "My hamstring is still sore so I won't have time to prepare for the clay—these two tournaments came too close to each other for me this time. I wish the organizers and players all the best."
By winning the U.S. Open, Osaka moved from ninth to third in the world rankings, which were released on September 14.
The French Open begins on September 21.
Nishikori Falls in Second Round at Italian Open
Lorenzo Musetti ended Kei Nishikori's comeback tournament on Thursday, September 17 in Rome.
World No. 249 Musetti defeated Nishikori 6-3, 6-4 at the Italian Open.
"I still lack consistency. I've had a lot of good plays though. I need to play in more matches to find my rhythm," Nishikori told reporters.
The 35th-ranked Nishikori opened the tournament by ousting Stan Wawrinka in the first round.
It was his first victory since the second round of the 2019 U.S. Open. He underwent elbow surgery last October.
Nishikori missed this year's U.S. Open after testing positive twice for COVID-19.
Soccer
Muto Moves to Eibar on Season-Long Loan
Forward Yoshinori Muto has moved from Premier League side Newcastle to La Liga club Eibar in a loan deal for the 2020-21 season, it was announced on September 16.
Midfielder Takashi Inui, who has competed with Muto on the Japan national team, is also on Eibar's roster.
"Eibar and Newcastle have reached an agreement for Japanese striker Yoshinori Muto to join the Gunsmiths on loan until the end of the season," the Basque-based team said in a statement.
Muto, 28, did not score in his eight Premier League matches last season. He has scored just two goals in 28 games in all competitions since joining Newcastle in 2018.
Akita Club Fined for Falsifying Attendance Figures
Blaublitz Akita, a J. League third-division club, was fined ¥4 million JPY ($38.25 million USD) for "inflating" the attendance figures for 85 home games between 2014-19, Akita Sakigake Shimpo reported on Thursday, September 17.
The team, which was established in 2010, entered J3 in 2014.
Blaublitz Akita's home venue, Soyu Stadium, has a seating capacity of 20,125.
Horse Racing
Fukumoto Rides Mighty Heart to Stirring Victory in Queen's Plate
Up-and-coming jockey Daisuke Fukumoto rode Mighty Heart to a headline-grabbing victory in the 161st Queen's Plate at Woodbine Racetrack in Toronto, Canada, on September 12.
It was a dramatic upset victory, a race that veteran turf writer Beverly Smith eloquently captured in her article for Beyond The Finish Line.
A brief snippet of Smith's reporting: "Consider this: the emphatic winner Mighty Heart (named after a woefully, spunky, runt-of-the-litter ugly Sphynx cat that beat all of the odds) broke from post 13, wore saddle pad 13 and went off at odds of 13 to 1. And oh yes, he has only one eye. How many omens do you need?"
Aboard Mighty Heart, Fukumoto excelled in the prestigious $1 million CAD race, winning by 7½ lengths after a great start. What's more, Mighty Heart completed the race in 2 minutes, 01.98 seconds, which happens to be No. 2 on the speed chart in Queen's Plate history, which began in 1860.
The race was set to be held on June 27, but was rescheduled due to the coronavirus.
"Yeah, he was sharp today," Fukumoto said after the race. "I thought it was fast, but I took the lead so I can't do anything, you know ... I let him go. He only has one eye, but he's got a big heart, a mighty heart."
Asked about winning the race, Fukumoto described the experience this way: "Unbelievable! I can't explain [it]. .... I saw that nobody [was leaving] so I just sent him and he just kept going. After the wire, he still kept going, he didn't stop there."
Fukumoto has been competing at Woodbine Racetrack since 2017, when he was an apprentice jockey.
On August 22, the 22-year-old Fukumoto rode Court Return to victory in the Eternal Search race, his first career stakes win at the same track.
Compatriot Kazushi Kimura guided Gretzky the Great to victory in the $100,000 Soaring Free Stakes on August 23 at Woodbine Racetrack.
RELATED COVERAGE: Horse Racing | Youthful Jockey Kazushi Kimura has Lofty Goals as Season Starts in Toronto
Basketball
Wizards Owner Congratulates Hachimura for All-Rookie Team Accolade
Washington Wizards owner Ted Leonsis reacted to the news of forward Rui Hachimura being named to the All-NBA Rookie Second Team on Tuesday, September 14 by issuing a statement on Twitter.
"Kudos to @rui_8mura!" Leonsis tweeted. "All-Rookie Team most deserved. @RealDealBeal23 [Bradley Beal] was our last all rookie team member. A fantastic human being; player and teammate. Coachable, respectful, wise, talented, and works hard to improve incrementally day by day. Can't ask more than that. Proud of Rui."
Rugby
Brave Blossoms Will Not Play in 2020
The impact of the global pandemic has kept the Japan men's national team out of competition this year.
After summer test matches against England and Wales were both canceled due to COVID-19 concerns, the Brave Blossoms opted out of European tour, meaning Scotland and Ireland matches were also called off.
The Brave Blossoms haven't competed since the 2019 Rugby World Cup quarter finals last October, losing 26-3 to South Africa.
"We have concluded there will be no test matches this year," Japan Rugby Football Union Chairman Kensuke Iwabuchi told reporters in a news conference on September 14.
Brave Blossoms coach Jamie Joseph said he supports the decision, citing the team's lack of training due to the canceled Top League season and players' inactivity.
"The right decision has been made. We still have plenty of time to prepare ourselves for the next World Cup," Joseph told reporters.
Editor's note: Interested in submitting a news item for possible inclusion in the Japan Sports Notebook? Send an email with relevant information to e.odeven@japan-forward.com, or JAPAN Forward's comment's page or Facebook page and look for future editions of Japan Sports Notebook on our website.
Author: Ed Odeven
Follow Ed on JAPAN Forward's [Japan Sports Notebook] here on Sundays, in [Odds and Evens] here during the week, and Twitter @itsjapanforward.