[JAPAN SPORTS NOTEBOOK] Yudai Ono Chasing History with Splendid Scoreless Innings Streak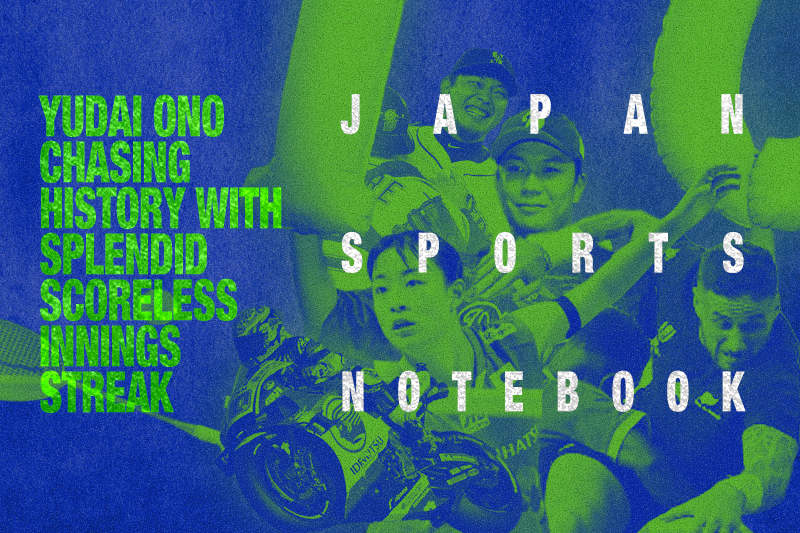 Yudai Ono's pitching excellence has kept the Chunichi Dragons in the headlines during the Nippon Professional Baseball team's so-so season.
The second-place Dragons (55 wins, 47 losses, 5 ties) were 9½ games behind the Central League-leading Yomiuri Giants, who are on the verge of booking a spot in the Japan Series, through Friday, October 23. (This season, the CL has scrapped the Climax Series, meaning its second- and third-place clubs will not have a chance to vie for a spot in the championship series.)
Consequently, Ono's brilliance of late is the big story around the team.
The left-handed starter extended his scoreless innings streak to 45 with a six-hit shutout of the Yokohama DeNa BayStars on Thursday, October 22 at Nagoya Dome. Chunichi won 1-0, a game in which Ono fanned nine batters, increasing his season total to 137 strikeouts in 135 2/3 innings. He's walked only 20 batters this season.
With his latest splendid effort, Ono broke Hiroomi Oyane's franchise record of 40 1/3 consecutive scoreless innings, which was set in 1956.
Ono improved to 10-5 with a 1.79 ERA. He has an NPB-best 10 complete games. He's also No. 1 in shutouts (six).
After the game, Ono, 32, acknowledged that he focused on the record even if he didn't want to think about it while standing on the pitcher's mound and doing his job.
"I knew that when I passed 4 1/3 innings tonight I'd set a team record, and I tried not to think about it," Ono admitted, according to Kyodo News. "But of course I was."
The NPB's all-time record is the next target. In 1958, legendary left-hander Masaichi Kaneda pitched 64 1/3 consecutive scoreless frames for the Kokutetsu Swallows.
It's unclear if Ono will pitch enough times in the remainder of the team's 120-game schedule to make a run at the record. Statistically, it could happen, though.
RELATED COVERAGE:
[ODDS and EVENS] Dragons Lefty Yudai Ono's Workhorse Mentality Leads to Career-high Number of Complete
Hisashi Iwakuma, who appeared in his first NPB game in 2001, threw a no-hitter for the Seattle Mariners in 2015.
Iwakuma to Retire After Season
Veteran pitcher Hisashi Iwakuma, who played for the Seattle Mariners from 2012-17, is retiring at the end of the current season.
Now employed by the Yomiuri Giants, the 39-year-old has not appeared in a top-flight game since signing a contract with the Central League club in December 2018. He played in two Eastern League games in 2019, but shoulder problems have sidelined him.
The Giants announced his retirement on October 19.
Then, on October 23, Iwakuma explained to reporters why he decided to retire, citing another setback in his injury comeback earlier this month:
I dislocated the shoulder while trying to give my all and that left me feeling my physical limits. ... I took the mound having decided it was time to give it a shot. I concentrated as much as I could and threw with all I had.
That pitch left me thinking about retirement, as it was seriously painful.
Iwakuma went 63-39 with a 3.42 ERA and 714 strikeouts in 150 games in his six seasons with the Mariners. He also threw a no-hitter against the Baltimore Orioles in August 2015.
In his NPB career, Iwakuma pitched for the Kintetsu Buffaloes (2001-04) and Tohoku Rakuten Golden Eagles (2005-11) before joining the Mariners. He has an overall record of 107-69 in NPB.
Iwakuma had his best season in 2008, when he went 21-4 with a 1.87 ERA in 27 games. He allowed just three home runs in 201 2/3 innings, walking 36 and striking out 159.
Rays' Tsutsugo makes first World Series appearance
Yoshitomo Tsutsugo of the Tampa Bay Rays made his first appearance in the ongoing World Series in Game 3 on Friday, October 23 in Arlington, Texas.
Called upon to serve as a pinch hitter with two outs in the eighth inning against the Los Angeles Dodgers, Tsutsugo grounded out to second base.
The Dodgers won 6-2 to take a 2-1 lead in the best-of-seven series.
Badminton
Okuhara, Japanese Doubles Pair Shine at Denmark Open
Nozomi Okuhara ended nearly a two-year title drought at the Denmark Open on Sunday, October 18, topping Spain's Carolina Marin 21-19, 21-17 in the women's singles final.
The 25-year-old Nagano Prefecture native earned her first title since the Hong Kong Open in November 2018.
"Compared to other opponents, Marin is faster and has a harder attack," Okuhara was quoted as saying by Agence France-Presse. "I was focused on defense and footwork, and my feet moved very well today. Overall the match went well."
Nozomi Okuhara won her first tournament since the 2018 Hong Kong Open.
On the same day as the former world No. 1 claimed the singles title, doubles partners Yuki Fukushima and Sayaka Hirota prevailed against two-time defending world champions Mayu Matsumoto and Wakana Nagahara 21-10, 16-21, 21-18 in Odense, Denmark.
Rugby
All Blacks' Perenara Finalizes Deal with Top League's Red Hurricanes
All Blacks' scrumhalf TJ Perenara has accepted an offer to play for the NTT Docomo Red Hurricanes next season, he revealed on Monday, October 19.
Perenara's deal with the Japan Rugby Top League's team is a short-term contract.
The 28-year-old Perenara has been a fixture in the Wellington Hurricanes' lineup since 2012, appearing in 140 matches for the Super Rugby club.
What's more, a member of New Zealand's 2015 Rugby World Cup-winning squad, he has 66 caps for the All Blacks.
Now, he's looking ahead to competing in Japan while taking a break from his Super Rugby team in 2021.
"I just wanted to make a massive shout out to all the Hurricanes fans here in New Zealand, over the last 10 years I've gone to work every day to put on a show for you guys," Perenara said in a video posted on social media.
"It doesn't mean it's the end for me (in New Zealand). I am looking forward to an exciting challenge over in Japan ... with a new group of players, a new coaching group and I'm really excited about that adventure for myself and my family."
Sumo
November Basho to Have Increased Attendance
After staging the Summer Grand Sumo Tournament and Autumn Grand Sumo Tournament with a maximum attendance of 2,500 fans each day at Ryogoku Kokugikan, the Japan Sumo Association has decided to double that number for its next basho.
The November Grand Sumo Tournament, which starts on November 8, will permit 5,000 fans to enter the Tokyo venue, it was announced on October 19.
The reduced attendance figures are in place as preventive measures during the COVID-19 pandemic.
Ryogoku Kokugikan seats roughly 11,000.
Motorcycle Racing
Nakagami to Remain with LCR Honda Next Season
LCR Honda Idemitsu motorcycle racer Takaaki Nakagami, who competes on the MotoGP World Championship circuit, reached an agreement to remain with the team "for 2021 and beyond," according to published reports.
The deal, officially a two-year contract, was announced on Thursday, October 22 in the run-up to the inaugural Teruel Grand Prix in Spain. The race is on Sunday, October 25.
The 28-year-old Nakagami is having his best season as a MotoGP racer. Currently, he's in seventh place before the race in Spain.
The Chiba Prefecture native finished 13th overall in the 2019 campaign and was 20th in his first season in MotoGP in 2018. He raced in Moto2 from 2011-17.
"I'm very happy to be able to continue racing for LCR Honda Idemitsu in 2021 and beyond. I'm grateful to Honda for their generous support, allowing me to bring out my full potential this season," Nakagami said in a statement.
He continued: "I will be doing my best to gain solid results for the remaining races, and build on that momentum next year. I'm aiming higher with Honda. I look forward to your continued support."
Auto Racing
Two-time Indy 500 Champ Sato Revels in Visit to Borg-Warner Trophy Sculptor
Takuma Sato, who won the Indy 500 for the second time on August 23, is enjoying the perks of his latest triumph in the prestigious race.
On October 7, he visited Tryon, North Carolina, where the "Tryon Theatre marquee was lit up with the words 'Rahal Letterman Lanigan Racing, BorgWarner Congratulates 2020 Indy 500 Winner Takuma Sato,' " indycar.com reported.
Adding elegance to the event, the iconic Borg-Warner Trophy was displayed on the street with the theatre in the backdrop.
Sato also visited famed sculptor William Behrends, who has crafted the faces of winning Indy 500 drivers that appear on the trophy since 1990, in the North Carolina town.
Speaking to NBCSports.com, Behrends recalled creating his first sculpture of Sato's face in 2017, when he won the Indy 500 for the first time.
"I did Takuma in 2017, and I have that life-size image that I did for him on the high shelf in my studio, but I haven't even taken it down," Behrends said. "I haven't even looked at that and started this one as if I had never done him before.
"I have yet to take that one down and compare the two, but how different they are, it's something I don't know yet."
And what's it like being tasked with sculpting Sato's face?
"Takuma just has a great face," Behrends told NBCSports.com. "He has a face a sculptor loves because he has good, strong bone structure and a great smile. He smiles with his entire face. He's a good image to do.
The artist continued his explanation of making the two Sato sculptures by saying, "There are any number of ways I can do these images. I just do it and then at the end, we'll see if it shows a little bit different Takuma, if it shows four years that have lapsed. But Takuma just has a great face, a face that a sculptor loves. He has great bone structure and a great smile."
Sato appreciates Behrends' attention to detail.
"It's nice to see his art again," Sato was quoted as saying by indycar.com. "It's more of a soft smile than last time. There is so much detail in Will's work, and that is very impressive. He has done this superb job, and everybody seems to be really happy."
Basketball
Japan Basketball Association Announces Dates for Winter Cup
The All-Japan High School Championship is scheduled for December 23-29, the Japan Basketball Association announced on October 19.
The 73rd annual event, also known as the Winter Cup, will be held at Tokyo Metropolitan Gymnasium and Musashino Forest Sports Plaza.
While other sporting events in Japan and overseas have been canceled due to the global pandemic, Yuko Mitsuya, the JBA chairman, expressed her desire to "hold it anyway" at a news conference.
The tournament will feature 60 high school boys teams and 60 girls teams representing each prefecture in Japan.
Editor's note: Interested in submitting a news item for possible inclusion in the Japan Sports Notebook? Send an email with relevant information to e.odeven@japan-forward.com, or JAPAN Forward's comment's page or Facebook page and look for future editions of Japan Sports Notebook on our website.
Author: Ed Odeven
Follow Ed on JAPAN Forward's [Japan Sports Notebook] here on Sundays, in [Odds and Evens] here during the week, and Twitter @itsjapanforward.