Japan Thanks Medical Workers for COVID-19 Sacrifice with 'Blue Impulse' Flyover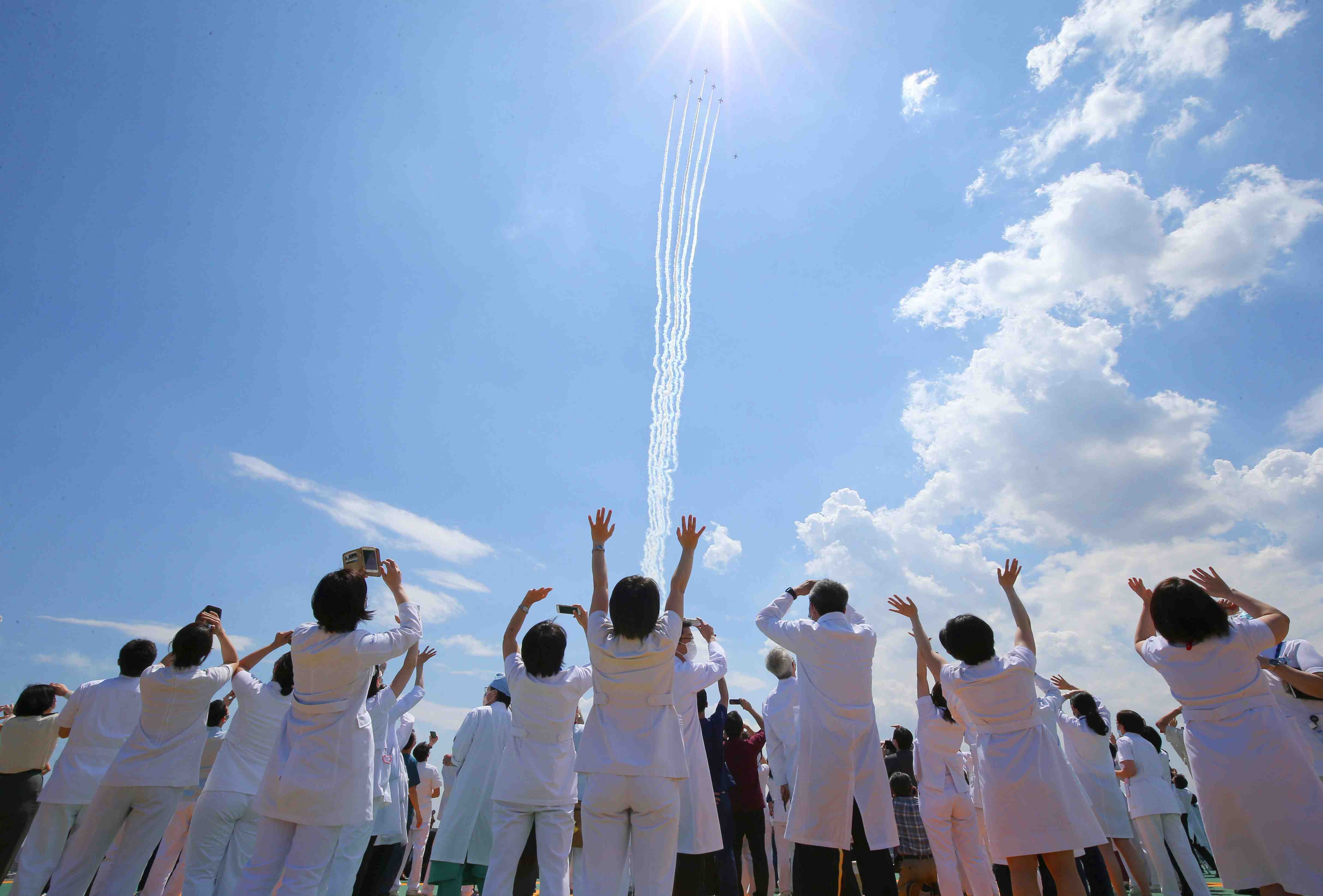 There have been various attempts all around the world to thank medical workers for the tireless efforts to fight the novel coronavirus.
In Japan on May 29, this effort took the form of six Blue Impulse planes from Japan's Air Self-Defense Force (JASDF) flying over the skies of Tokyo. Spectators in the capital stopped to marvel as the planes whizzed above in the clear blue sky, leaving majestic contrails behind.
The idea to have the Blue Impulse fly over Tokyo hospitals as a measure of gratitude for Japan's medical workers was the brainstorm of Defense Minister Taro Kono, he indicated in his personal blog on June 1.
The planes were ably piloted by elite members of the JASDF, who took off from Iruma Air Base in Sayama City, Saitama prefecture. Flying between 800 and 1,400 meters high in the sky, the planes drew a figure eight twice in a row, and flew in acrobatic formations for 20 minutes.
There were people gathered on bridges and overpasses, in the outer garden of the Imperial Palace, in front of Tokyo Station, and other open spots around the city, taking pictures of the six-plane formation and their contrasting white contrails against the clear blue sky.
In a hospital that had accepted many COVID-19 patients, the Self-Defense Forces Central Hospital in Setagaya Ward, 300 staff members — including doctors and nurses — went up to the roof and watched the display from there. There, medics gleefully snapped pictures and commented, "I have never seen anything like it, it's amazing!" Grateful spectators waved their hands in the direction of the planes, shouting "Thank You!" into the distance.
At a related press conference, Defense Minister Taro Kono commented, "This is to symbolize appreciation of the many people in the medical field who are working hard to prevent the spread of the virus." According to the Air Force, the last time Blue Impulse planes flew in an honorary formation over Tokyo was in May 2014. Independently he noted that, after receiving positive comments for the initiative, the Ministry of Defense is considering the options for flying the Blue Impulse team over other cities and hospitals around Japan in the coming months.
The JASDF initiative is part of a worldwide effort, including major cities, such as New York and London, to do something special to thank medical workers in the fight against COVID-19.
(Click here to see the original photocolumn in Japanese.)
Author: JAPAN Forward