[Odds and Evens] Trailblazer Hideo Nomo 25 Years Later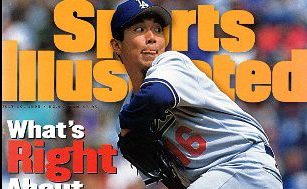 June 2, 1995, is a monumental day in the annals of Japan's baseball history.
Twenty five years later, it's an ideal time to revisit Hideo Nomo's first MLB victory, and his role as a baseball trailblazer. Even more so perhaps because of the current absence of the regular season in North America and Japan due to the COVID-19 pandemic.
Nomo achieved greatness from the get-go in his pro career with the Kintetsu Buffaloes of Nippon Professional Baseball's Pacific League, including 18-, 17-, 18-, and 17-win campaigns in his first four years (1990-93), while at the same time nabbing four PL strikeout crowns (287, 287, 228, and 276) in that span. He slipped to 8-7 in 1994, when he was bothered by a shoulder injury.
After the 1994 campaign, the Buffaloes rejected Nomo's desire to have an agent represent him in contract talks and a six-year contract. Agent Don Nomura and Nomo struck back. The hard-working right-handed hurler "retired." The voluntary retirement clause in the Japanese Uniform Players Contract, which hadn't been exercised before, enabled Nomo to break away from the Buffaloes, who retained his rights in Japan, and pursue playing opportunities elsewhere.
It revolutionized the relationship between MLB and NPB, opening the floodgates for Japanese players to pursue their dreams in North America.
But first it led to a minor league contract for Nomo with the Los Angeles Dodgers on Feb. 13, 1995. Yes, Nomo still had to prove himself to Dodgers management at a North American ballpark, but he had a $2 million USD signing bonus and a $109,000 deal, which was the MLB minimum salary in '95.
That's the short version of the story (more details in an upcoming series).
1995 MLB Season
A bitter labor dispute ended the 1994 MLB season early when the players went on strike on August 12, and the World Series was canceled for the first time since 1904. Finally, on April 2, the 232-day strike ended. The season started three weeks later. SEE Nomo's 1995 season game-by-game pitching log here.
Nomo, meanwhile, made one start for the Bakersfield Blaze (Class A California League), working 5 1/3 innings in a 2-1 loss to the Rancho Cucamonga Quakes on April 27.
His call-up to the majors made him the first Japanese native to compete in the majors since left-handed reliever Masanori Murakami of the San Francisco Giants in 1964-65.
In his MLB debut on May 2 against the Giants at Candlestick Park, Nomo showcased his ability to strike batters out (seven), but also issued four walks in five scoreless innings. He allowed just one hit in a 4-3 loss. Four more no-decisions followed on May 7, 12, 17 and 23. SEE the CNN report on Nomo's May 2 debut game here and check out the full game video here.
"The Tornado" took his first loss on May 28 against the visiting Montreal Expos, toiling for 6 1/3 innings. He gave up four hits and three runs, walked seven and fanned nine.
Then, on June 2, Nomo stymied the New York Mets over eight frames, holding them to two hits and one run (a Bobby Bonilla homer in the second). In the ninth, he yielded a leadoff walk to Rico Brogna, then reliever Todd Worrell replaced him. Nomo had thrown 123 pitches (70 strikes). FIND the June 2 boxscore here.
The Osaka native, who walked three and struck out six, watched the rest of the game from the dugout.
Worrell got the third out on a Dave Segui groundout to second baseman Delino DeShields.
Video footage preserved the hosts' post-game euphoria, and Dodgers announcer Vin Scully vividly described the way it ended.
"Hideo Nomo getting (high-) fives and hugs as he comes on the field," the Hall of Fame broadcaster said. "A big grin on Hideo's face as he has finally done it."
Longtime Dodgers manager Tommy Lasorda, who retired after the 1996 season, couldn't hide his excitement.
"For him to get his first victory here, with the crowd like that, it was very dramatic," Lasorda told reporters after the game.
"I haven't felt that kind of electricity here, going through the crowd, in a long time. He pitched a great game. ... Believe me, he was thinking about getting that first win, and we got it for him. And that's the first of many he's going to win for this club. He's a real quality pitcher."
Said Dodgers backup catcher Tom Prince, who started in place of Mike Piazza: "He was outstanding. He moved the ball around, and his forkball was working. He made some big pitches."
Stepping out of the dugout, Nomo tipped his cap for the fans, and then he celebrated.
Nomo carried a bottle of champagne into the Dodgers clubhouse after the game, according to the Los Angeles Times
"I'm very happy and I'm very glad," Nomo declared.
"I can't say that I was really tired," he added, speaking to reporters through a translator.
Fearless Performer on The Mound
Against the Mets and teams in both leagues throughout the rest of his 12-season MLB career, Nomo fired a baffling forkball that the late Los Angeles Times columnist Jim Murray, a legendary wordsmith, once called "a split-fingered something-or-other that tends to disappear on the way to the plate."
"He was fearless. He could strike out anybody on the planet," former MLB manager Phil Garner once said of Nomo.
This approach to pitching manifested itself throughout Nomo's magic carpet ride in June.
After the aforementioned victory over the Mets, Nomo enjoyed an amazing month on the mound: six starts, six wins (also beating in succession, the Expos, Pittsburgh Pirates, St. Louis Cardinals, Giants, and Colorado Rockies). He gave up six hits or less in all of them, while issuing 16 base on balls and recording 60 strikeouts in 50 1/3 innings. His June ERA: a microscopic 0.89.
In June, three games in particular helped propel Nomomania forward.
*June 14: Against the host Pirates he whiffed a Dodgers rookie record 16 over eight innings.
*June 24: Versus the visiting Giants he tossed a two-hit shutout, walked three and fanned 13.
*June 29: Facing the Rockies in the City of Angels, he scattered six hits, walked one and struck out 13 in another complete-game shutout.
Nomomania took off as the wins piled up, and he captivated baseball fans on both sides of the Pacific Ocean.
Millions of fans in Japan tuned in to watch all of his games, which were broadcast live in the middle of the night or in the morning.
And a delightful twist on Harry Belafonte's "The Banana Boat Song (Day-O) entered the pop music stratosphere, with Cookie Brown & The L.A. Fans' "Hideo Nomo Song."
Some choice lyrics include: "Hey Mister Dodger Man, thanks for signing Nomo. We're always watching Nomomania. ... When Nomo pitch, they eat their lunch.
"He throw the forkball and the thing ride by. The next thing you know, the ump says goodbye."
Nomo was named the National League's starting pitcher for the 1995 MLB All-Star at The Ballpark in Arlington, Texas, on July 11. Piazza was the starting catcher. For Nomo, it was a dominating, two-inning effort as his forkball danced and darted, with three strikeouts and one hit allowed. SEE Nomo's start in the 1995 MLB All-Star Game here.
The last rookie to start the All-Star Game? Dodgers southpaw Fernando Valenzuela in 1981. Fernandomania followed, which created a ballpark buzz that Nomomania replicated.
Nomo led the NL in strikeouts (236) and went 13-6 with a 2.54 ERA. He earned the National League Rookie of the Year award.
He commanded respect throughout the baseball world, even back home where plenty of people criticized his decision to leave the Buffaloes, brandishing him a traitor.
A Transcendent Figure
But in the final analysis, Nomo became a national hero because he stepped away from his comfort zone in the prime of his career.
People admire him for having the courage to do so.
"It was clear that Hideo wanted this challenge," former Dodgers general manager Fred Claire told JAPAN Forward's Odds and Evens by phone from California. "He was willing to risk his reputation in Japan. He was willing to risk what he had accomplished as an outstanding and popular player in Japan. He was willing to put all of that on the line, not knowing if he would be successful, but believing in himself, and that's why Hideo was a true pioneer.
"He had the confidence in his ability and he had no fear," concluded Claire, who served as GM from 1987-98.
Indeed.
Hideo Nomo paved the way for Ichiro Suzuki and Hideki Matsui, Yu Darvish and Daisuke Matsuzaka, Masahiro Tanaka and Shohei Ohtani, among others. More than 60 ballplayers born in Japan have now competed for MLB teams.
And it all started with victory No. 1 (of 123 MLB wins) for Nomo on June 2, 1995.
Look for exclusive interviews, retrospective analysis and more on Nomo's first season in the major leagues in an upcoming series, "Revisiting Nomomania 25 Years Later," here on JAPAN Forward.

Author: Ed Odeven
Follow Ed on JAPAN Forward's [Japan Sports Notebook] here on Sundays, in [Odds and Evens] here during the week, and Twitter @itsjapanforward.