Japan: The Colors of Springtime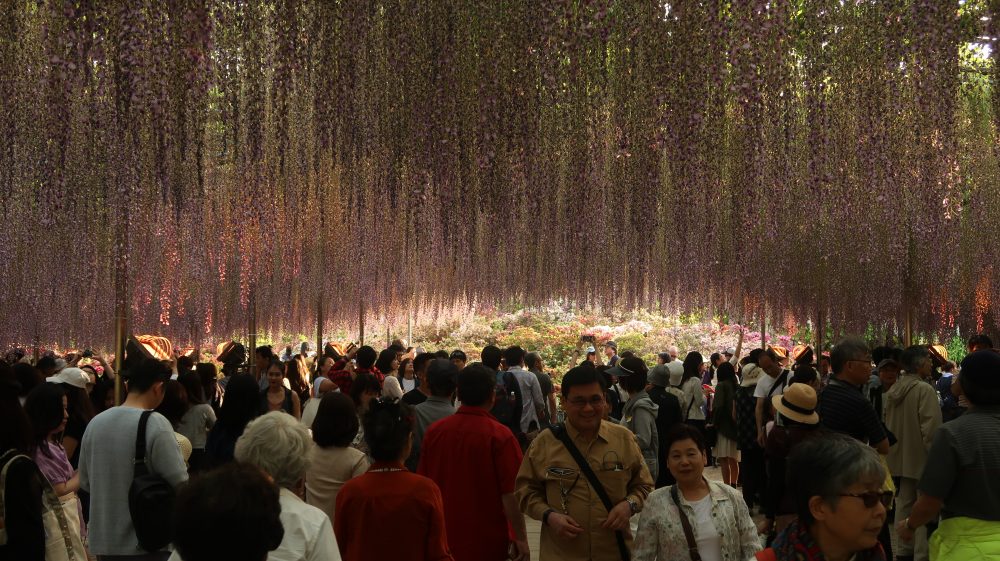 Japan is perhaps best known for its cherry blossom season, which sees much of the country turn an eye-catching shade of pink. Tourists the world over flock to Japan, hoping to view the ubiquitous cherry blossoms during full bloom, while local residents often enjoy o-hanami or outdoor flower viewing parties. What I will term "sakura fever" seemingly overtakes the country. I mean, you pretty much can find cherry blossom variations of anything from beer and cakes to udon and potato chips.
However, the exact dates for planning your trip are a bit difficult to judge and, depending on the part of the country, there's usually only a one-week window to see cherry blossoms in full bloom.
For those who missed Japan's cherry blossoms, don't spiral into despair (seriously, don't). There still are plenty of magical, multi-colored flowers to see just a short ride from the Tokyo area.
In the neighboring prefecture of Tochigi, for instance, Ashikaga Flower Park attracts thousands of visitors, transfixed by the dazzling colors of 350 wisteria trees and 5,000 azaleas in bloom. Just a two-hour train ride from Tokyo, the Shonan Shinjuku Line connects with the Ryomo Line at Oyama Station, which you'll then ride until you reach Ashikaga Flower Park Station. The festival is held from April 14 – May 20 and generally costs ¥1,000 per adult. Prices can vary from ¥900 to ¥1,800 though.
Listed among the top 10 international destinations by CNN, the park boasts an 80-meter-long tunnel (for those using the Imperial system, that's around 263 feet) covered with flowers. Some wisteria trees are over 150 years old—making the park a landmark of Japanese natural heritage.
After sunset, the park is illuminated, creating an otherworldly scene. In fact, some have compared the pink wisteria trees to the Tree of Souls in James Cameron's Avatar. For those not wanting an inter-stellar trip to Pandora, however, Tochigi's wisteria festival might be a good alternative—and hey, they've got wisteria-flavored ice cream! It kind of tastes like the marshmallows from Lucky Charms.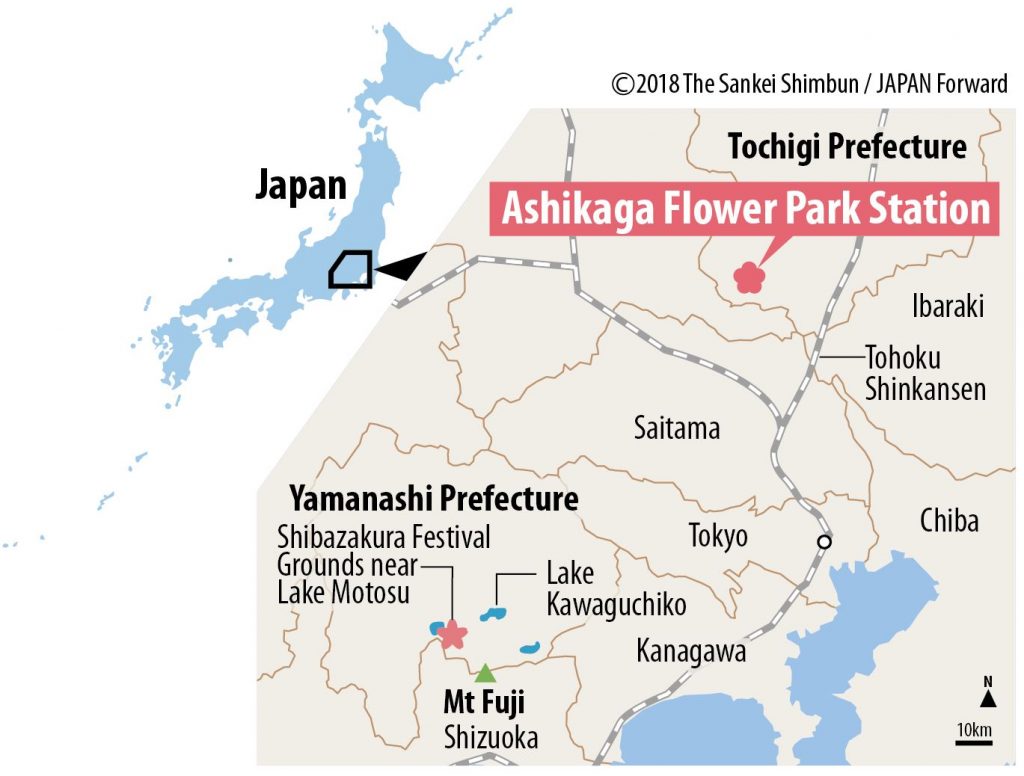 For the more adventurous types preparing to scale Mt. Fuji, you also can view the colorful nature of spring before venturing onwards. The flower known as shibazakura typically blooms mid-spring, at which time the base of Japan's iconic mountain is transformed into an expansive carpet of mostly pink, delicate flowers. There's approximately 800,000 stalks of this particular flowering plant, called moss phlox in English, in the Fuji Five Lakes area. They bloom in a variety of colors, including white, purple, and—most famously—pink. The Shiba-zakura festival, held from about April 14-May 27, is a great way to enjoy the blooms and the scenery around Mt. Fuji—on a clear day, the views from the festival grounds are unparalleled.
Visiting in the morning is recommended, since the area can become crowded, especially during Golden Week. There's a direct highway bus from the Shinjuku Station that costs around ¥2,200 and takes about 2.5 hours to reach the venue, but advanced reservations are necessary. Other highway buses leave Shinjuku for the Kawaguchiko Station about every 1-2 hours and cost around ¥1,750. The ride can be longer depending on exactly how many stops are made.
Either way, once at Kawaguchiko, a shuttle will provide round-trip access, along with entrance, to the festival site for ¥2,000. Going by train is another option and there is a direct rapid train departing from Shinjuku, along with Tachikawa and Narita Airport. The schedule provided on the festival website is very helpful in planning your trip.
Patrick Kelly is a reporter with JAPAN Forward. He currently is living in Tokyo, Japan.