Former Abduction Issue Minister Eriko Yamatani: 'This Time, The Feeling is Completely Different'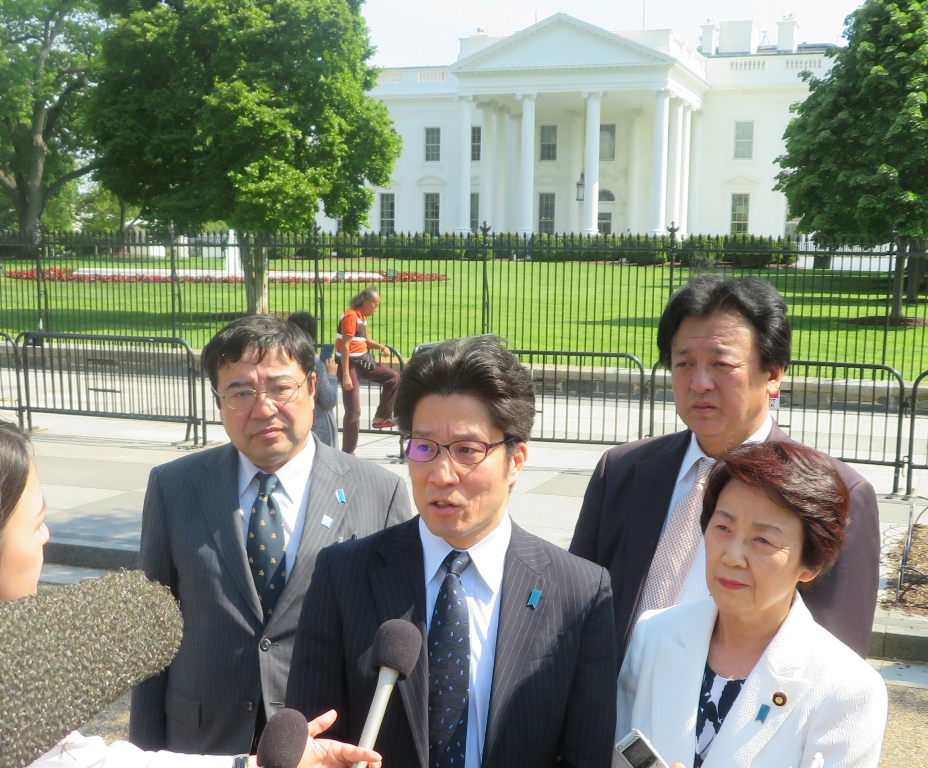 This past year has been the second most momentous in the long history of the abductions of Japanese citizens carried out by North Korea.
Beginning in the 1970s, North Korean agents, acting on direct orders from then-North Korean leader Kim Jong-il, abducted dozens—some say hundreds—of people from Japan. They were Japanese citizens living ordinary lives, men and women, mostly young people, but occasionally young children and sometimes even middle-aged adults, who steadily disappeared from their home communities, and nobody could understand why.
But then reports started to surface that the disappearances were connected. Eventually it became clear that those missing had been taken as part of an audacious North Korean terror and spy operation under an explicit state policy. It was almost too incredible to be true.
Pleas Long Ignored
For years, the families of the abductees could not get the Japanese government to listen to their pleas that their missing loved ones had not run away or been murdered. But Japanese public perception began to change through the efforts of family members, such as Sakie and Shigeru Yokota, whose 13-year-old daughter was abducted on her way home from school in Niigata in 1977, and the testimony of North Korean defectors who knew of some of the Japanese victims.
Finally, the Japanese government became convinced that many of those who had been reported missing over the years were in North Korea, victims of abduction by the Stalinist police state, and forced to work for the Kim regime.
Dramatic confirmation of this came in 2002. In that year, then-Prime Minister Junichiro Koizumi traveled to Pyongyang to meet with Kim Jong-il. At that summit meeting, Kim made the surprising confession that, yes, North Korea was holding Japanese citizens hostage. He agreed to the conditional return of five of the abduction victims: Kaoru and Yukiko Hasuike, Yasushi and Fukie Chimura, and Hitomi Soga (whose husband, American Robert Jenkins, would later join her in Japan). That year, 2002, was thus the most momentous in the history of the long North Korean abduction saga.
The U.S. Gets Involved—Then Backs Away
In 2006, Japan created a special Cabinet-level ministry for dealing with the abduction issue. That same year, then-President George W. Bush invited Sakie Yokota and her son Takuya to the White House in Washington, DC, to talk about the abductions. President Bush, who had two daughters of his own, was especially concerned about the case of Megumi Yokota, who was only 13 when she was abducted, and who—like the other Japanese and foreign victims—had never since been allowed any form of contact with her family. It seemed that the United States was finally becoming aware of the extent of the horror of the issue, and with it came the hope that a resolution might be in sight.
But in a stunning reversal—some would say betrayal—the U.S. suddenly removed North Korea from its list of state sponsors of terrorism in 2008 as a gesture in a deal never honored by North Korea. Throughout the entire Barack Obama administration, North Korea remained not only off the terror list, but, except for ineffective sanctions, also largely off the policy radar. The North's nuclear and missile programs, along with the abductions and other North Korean human rights issues, were shunted to the side as too difficult to solve.
The Trump Effect
But then Donald Trump was elected president of the United States. Over the past year, his attention and engagement have brought profound changes to the dynamics of the North Korean issues, including the abductions. In the fall of 2017, for example, he and Prime Minister Shinzo Abe met with many of the family members of the abductees while Trump was touring East Asia. At that time, Takuya Yokota, Megumi's younger brother, said that he felt President Trump really understood the problem and was committed to action.
Since then, the United States has continued to match words with deed. One additional major development came in early May of this year, when abduction issue experts and victims' family members gathered in New York and Washington for a series of meetings and a symposium on dealing with North Korea over the abductions.
Yamatani Meets with Cindy and Fred Warmbier
One attendee at the American meetings was Eriko Yamatani (LDP), member of the Upper House of the Diet, who was the Minister for Abductions from 2014 to 2015 and a representative of the bipartisan Parliamentary League for the Early Repatriation of Japanese Citizens Kidnapped by North Korea (拉致議連). She has been closely involved with the developments related to the abductions since the early outreach efforts to the United States, the United Nations, and Europe on the issue.
In an interview with JAPAN Forward, former Minister Yamatani said that the U.S. now understands what North Korea is capable of.
Yamatani explained that this is due largely to North Korea's brutal treatment of Otto Warmbier, the American college student who was arrested in Pyongyang in January of 2016 for allegedly attempting to steal a propaganda poster. Warmbier was sentenced to 15 years at hard labor for his so-called crime, only to be returned to the U.S. in 2017 in coma with severe injuries, from which he died a few days later. The North Koreans claimed he contracted botulism and then became comatose after taking a sleeping pill. American doctors found evidence of severe brain damage caused by beating.
Yamatani met with Warmbier's parents, Cindy and Fred, during preparations for the May 3, 2018, symposium at the United Nations, and the Warmbiers participated with the family members of Japanese abduction victims in the symposium itself, pushing for a tough stance against North Korea following their son's "brutal torture and murder."
Yamatani noted that North Korea had been deceiving the world for more than 25 years. She added, however, that she feels there is finally an American president willing to stand up to the brutal regime.
"This time," Yamatani said, speaking of the symposium in New York and meetings in Washington with Trump administration officials earlier in May, "the feeling is completely different."
For her, much of the credit for President Trump's engagement with the issue must go to Prime Minister Abe, who has detailed for the American president what kind of a place North Korea is and how often it has practiced deception and cruelty in the past.
Major Obstacles Remain
Still, some significant hurdles to the full return of all abductees remain. For one, Yamatani points out, Kim Jong-un, the leader of North Korea, would find it politically and bureaucratically awkward to return all hostages. Their return could be perceived as amounting to a rejection of one of his late father Kim Jong-il's key policy initiatives—including ordering the abductions—along with a tacit admission of guilt. More importantly, it would potentially expose North Korean secrets. Several of the abductees, including Megumi Yokota and Yaeko Taguchi, were forced to train top North Korean government agents and international spies.
Also, North Korea has claimed in the past that many of the abductees who were not returned in 2003 are dead. North Korea claimed, for example, that Megumi Yokota committed suicide in a psychiatric hospital, although the death certificate and other so-called evidence the North Koreans produced was a obviously fraudulent. To release Megumi and several of the others still alive now would be to expose many former and current officials engaged in spying, terrorism, and other intelligence work around the world, and by extension the entire North Korean government that perpetuated and escalated the fraud.
The Question of South Korea
Then there is the problem of South Korea. Yamatani says that South Koreans whose family members were also abduction victims often express jealousy over the Japanese government's highly-organized, top-level Cabinet response to the abduction issue. South Korea has not raised the profile of the issue to the same extent, and at times appears conflicted on whether to raise it at all, despite the fact that as many as 50,000 South Koreans—possibly more—were abducted by the North during and after the Korean War.
The complex interactions among Japan, the U.S., and South Korea have become even more delicate with the recent Kim Jong-un-Moon Jae-in summit meeting at the Panmunjom border compound, complete with a long two-person stroll and beaming smiles and firm handshakes for the cameras. Addressing South Korea's victims, together with the other North Korean issues within the U.S.-South Korea-Japan alliance, is made even more difficult by South Korea's ongoing deployment of the largely-debunked comfort women issue as a political weapon against Japan and a way to ingratiate itself with both North Korea and China.
For Yamatani, continuing the international campaign of extreme pressure on North Korea is key. Secretary of State Mike Pompeo's recent visit to Pyongyang, where he met with Kim Jong-un and arranged the release of three American hostages, was a result of the Trump administration, together with Japan and the United Nations, maintaining intense economic pressure on North Korea. Kim Jong-un's rash missile launches and nuclear tests have also alienated the Chinese, Yamatani says.
For China, North Korea under Kim Jong-un is no longer seen as their "little brother." The Chinese also are showing increasing willingness to acquiesce to pressure from President Trump and the United Nations to apply isolating international sanctions again North Korea, Yamatani points out.
Perhaps the most telling voices, though, are those of the abductees' families. For more than 40 years, the Yokota family has been counting the hours, the days, the months, the decades until Megumi's return. They now appear to have a renewed hope. And Koichiro Iizuka, who was an infant when his mother Yaeko Taguchi was kidnapped by North Korea in 1978, also agrees with Yamatani's assessment: "This time, things are very different."