Japan's Nodoka Okisawa Wins Besancon International Music Festival Competition for Young Conductors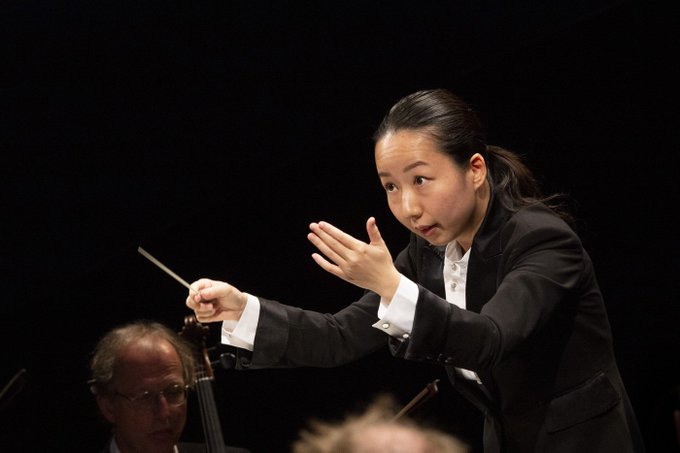 Nodoka Okisawa, a 32-year-old Japanese woman from Aomori Prefecture, is the winner of the International Besançon Competition for Young Conductors, part of the Besançon International Music Festival.
The announcement came in Paris on Saturday, September 21, the last day of the international music festival.
Among classical music conductors, winning this contest is widely regarded as a springboard to success. Previous winners from Japan include Seiji Ozawa (1959), Yoko Matsuo (1982), Yutaka Sado (1989), and Kazuki Yamada (2009).
Okisawa was one of three finalists. The others were from France and China. She conducted "Death and Transfiguration" by Richard Strauss.
In an interview with the Sankei Shimbun reporter in Paris, she said: "There were places where my conducting did not go well. When my name was announced as the winner, I was so surprised — I couldn't feel that it was really me. I am really delighted. This award is the result of the support of my parents, teachers, and friends, who stood by me over the past 10 years, even when things didn't go well. From here on I want to continue my musical activities at my own pace."
Okisawa is a graduate of the Tokyo University of the Arts in the field of conducting. After completing a graduate program at the same university, she went on to study at the Hanns Eisler Academy of Music in Berlin, where she is now based. In 2018, she was the first woman to win an award in conducting at the Tokyo International Music Competition for Conducting.
She is yet another example of young Japanese people, and Japanese women in particular, who are unconstrained by conventional social norms and high achievers among their international peers.
(Click here to read the Sankei Shimbun story in its original Japanese.)
Author: Mina Mitsui