Japan's Princess Ayako Weds at Meiji Shrine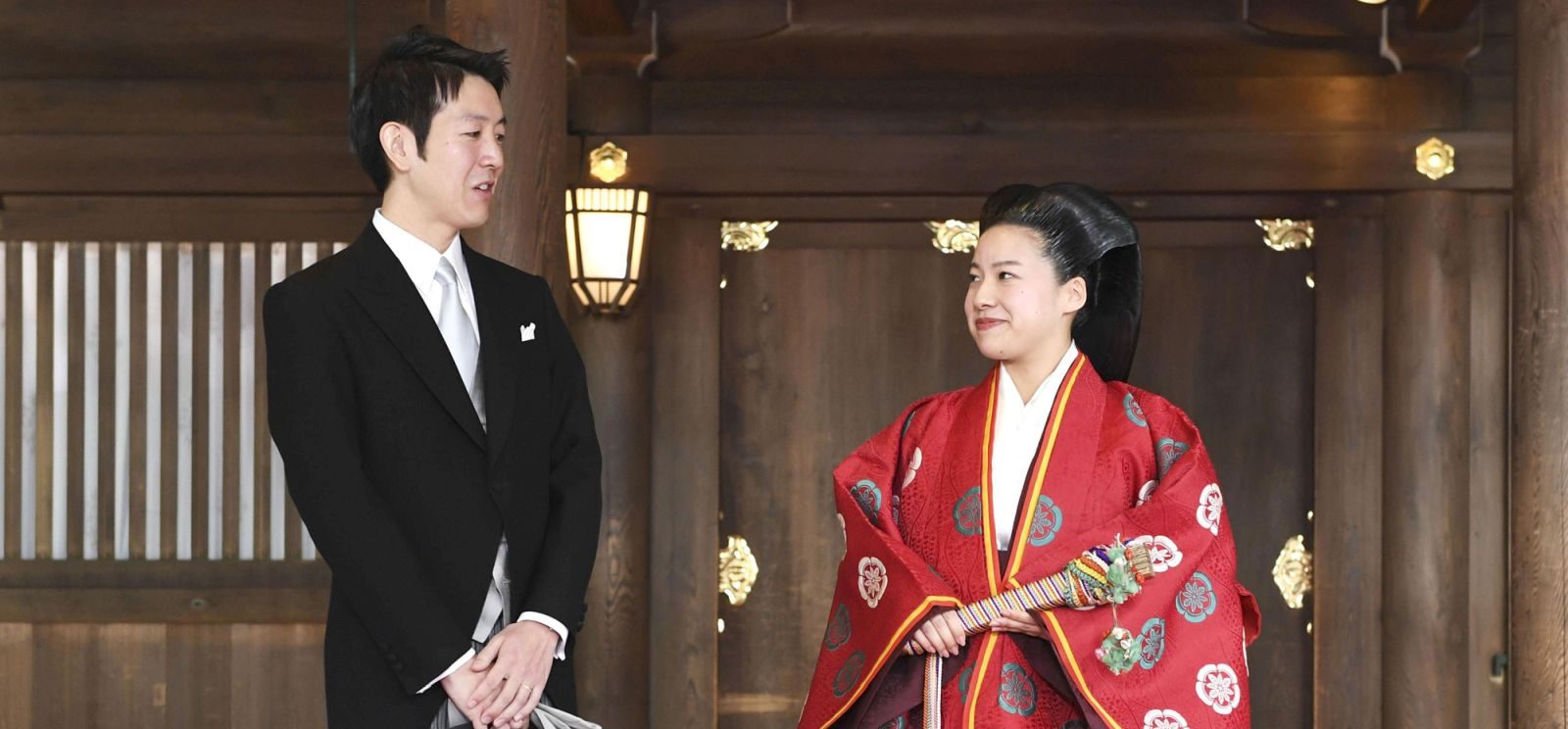 Her Imperial Highness Princess Ayako, third daughter of Their Imperial Highnesses Prince Takamado and Princess Hisako, wed Nippon Yusen employee Kei Moriya, age 32, in a ceremony at the Meiji Shrine in Tokyo on Monday, October 29.
The 28-year-old Princess Ayako leaves the Imperial Household to become Ayako Moriya. The announcement of their marriage arrived at Minato City Hall the same afternoon.
This is the first wedding in the Imperial Household since the marriage of the second daughter of Prince Takamado and Princess Hisako, Noriko Senge — Princess Ayako's elder sister.
With Princess Ayako's marriage, the structure of the Imperial Household shrinks to 18 individuals: His Majesty the Emperor of Japan, four men, and 13 women.
Princess Ayako, appearing this morning in a dress called a keiko and with her hair tied behind and hanging down her back, celebrated the ceremony judai no gi, in which she received Mr. Moriya's messenger.
After this preliminary rite, she was seen off by her mother Princess Hisako of Takamado and her elder sister Princess Tsuguko.
She was then transported by car to the Meiji Shrine, which has a deep connection to the Imperial Household.
The car used for this purpose was a Century Royale, an imperial vehicle reserved for important occasions, such as the symbolic opening of Diet sessions by His Majesty the Emperor.
Upon arriving at the entrance to the Meiji Shrine, where Mr. Moriya was waiting, Her Imperial Highness was greeted by applause from the assembled members of the public who welcomed the two betrothed.
Princess Ayako arrived at Meiji Shrine's East Entrance (Higashi Tamagaki). Mr. Moriya, waiting in formal morning dress, met her with a smile, and the two of them bowed and passed through the gate.
As they slowly made their way down the stone path, they drew cheers of congratulations and applause from the public, which they acknowledged with smiles and bows as they approached the ceremonial kagura pavilion.
Inside the pavilion, Princess Ayako changed into the traditional Japanese kouchigi and nagahakama dress for the ceremony. Then, with Mr. Moriya in his morning dress, a Shinto-style wedding ceremony was conducted.
Participants in the ceremony included Princess Hisako, Princess Tsuguko, other current and former members of the Imperial Household, and the families of both bride and groom, numbering 30 in total.
(Click here to read the original article in Japanese.)
Author: The Sankei Shimbun