Johnny's Goes Digital: Taking On K-Pop and the Rest of the World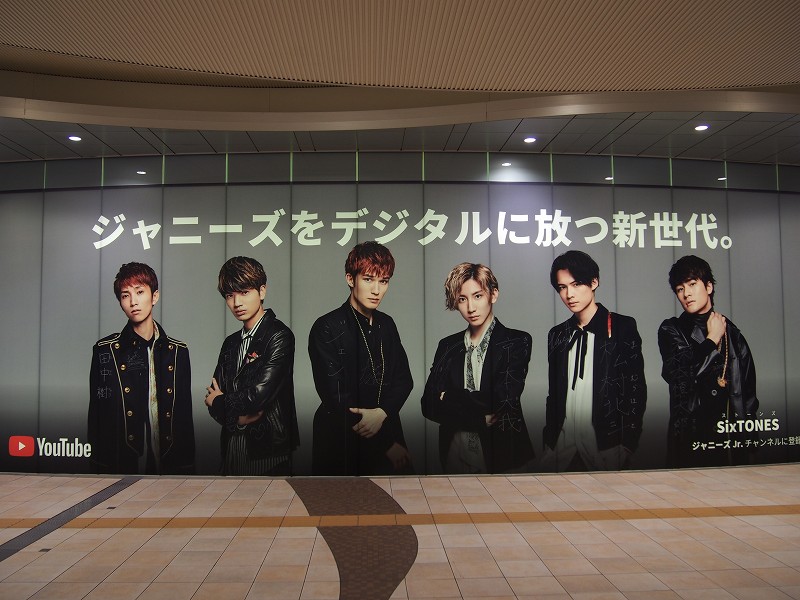 Johnny's (Johnny & Associates) released a music video on November — its first time ever. A marketing specialist predicts, "connecting to the internet will allow them to gain the same popularity as K-Pop artists and secure success."
Johnny's built its reputation upon being a technophobe over its long history in the Japanese music industry. The company has finally made the decision to power up their marketing strategy by going digital.
Hideaki Takizawa, the future successor of Johnny's, produced the recently-released music video for the six-member Johnny's Jr. boy band, "SixTONES" (pronounced: stones).
At the end of October, SixTONES was selected by YouTube for its Artist Promotion campaign, supporting and enabling artists to gain worldwide acclaim. The campaign, the first with Japan's participation, is implemented throughout all the regions around the world. It includes foreign artists who garner millions of views, such as Sean Mendes, BTS, Camila Cabello, and Dua Lipa.
As part of the campaign, YouTube placed giant SixTONES posters, advertising the group inside and outside major train stations around Tokyo.
On Monday morning, October 29, Johnny's and SixTONES fans were happily surprised to find huge posters hung from JR Shinagawa station with the very bold copy, "Launching Johnny's into the new digital era."
Murals appeared in Shiodome station a couple of days later, with similar visuals and individual cuts of the members. After the first day, the SixTONES members visited the mural and signed their names in Japanese as well as in English.
Posters are now displayed in Harajuku, Roppongi, Roppongi Itchome, Akasaka, Omotesando, and Ichigaya stations. Fans tweeted directions to the location of posters, which will remain on display until the end of November.
For Johnny's, it's their first shot at releasing a music video online. According to a company spokesperson, "It raises awareness of their talent among the younger generation."
The music video amassed over 1.29 million views two days after it was published. Currently the video has passed 5 million views.
With the support of YouTube Japan, SixTONES hosted a live stream session at the YouTube Space Tokyo on Friday, November 16, from 8 P.M. to 9 P.M. The livestream was a one-hour show based on their popular "radio broadcasting" videos, where six members display how well they get along with each other through communication mini-games.
One segment of the livestream had SixTONES members answering questions from fans that were sourced through Johnny's Jr and YouTube Japan's #SixTONESYouTube hashtag campaign on Twitter.
In the past, Johnny's strictly guarded all their digital assets. They prevented videos and photo assets of their talent from being distributed and given exposure online in fear of the brand being damaged. Johnny's celebrities were always removed from press conferences that would be broadcast online, and the front page of magazines would only have an outline or silhouette of their talent.
2018 marked a new beginning for Johnny's as their digital embargo was lifted for certain photos used on online media.
In March, they officially opened a YouTube channel showcasing five groups on different days of the week. Parallel to their selection in the YouTube Artist Promotion campaign, Johnny's joined the popular short-text social network service, opening an official account on Twitter, raising their digital presence exponentially.
With regards to Johnny's suddenly broad online exposure, a spokesperson said, "We are aware that it enables [our talent] to be seen by everyone around the world. When it's clear that there are many people watching, then it's really time to think about going global."
A specialist in the idol industry, Professor Hidetomi Tanaka of Jobu University's Faculty of Business and Information, analyzes the shift in strategy as deriving from "feeling a sense of crisis domestically with disbanded band SMAP member's 'A New Adventure' (atarashii chizu) and the keen rise of K-Pop's popularity internationally online."
K-Pop is known to be quite liberal with their intellectual property. Passionate fans on social media share music videos and photos throughout the online world, thus raising the public visibility of the artists. In May this year, popular K-Pop boy band BTS (Bangtan Boys) took first place all over the United States.
SMAP's adventures are not broadcasted on traditional media, but may be discovered through online videos. On average, each member's Twitter account has over 700,000 to 800,000 followers, and Tsuyoshi Kusanagi, who is now a YouTuber, commands a channel with over 840,000 subscribers.
Professor Tanaka said, "Both are benefiting from using the internet to successfully expand their fan base, and [Johnny's] must've realized that they couldn't stand a chance with their stance against the internet."
Admittedly, you can say that — in our world of online video streaming — the measurement of real popularity could be brought to light with the number of views and subscribers.
Professor Tanaka added: "They will proceed with much care going forward with their strategy, while fostering unsigned artists under the Johnny's Jr. banner. This time, with the release of their music video, Johnny's has passed the litmus test with their digital expansion."
Author: Tomoko Iizuka and Rei Miyake, the staff writers of The Sankei Shimbun Culture News Department contributed to this article.
(Click here to read the original article in Japanese.)