Kanto Region Waiting to Be Rediscovered As Center of Kimono Production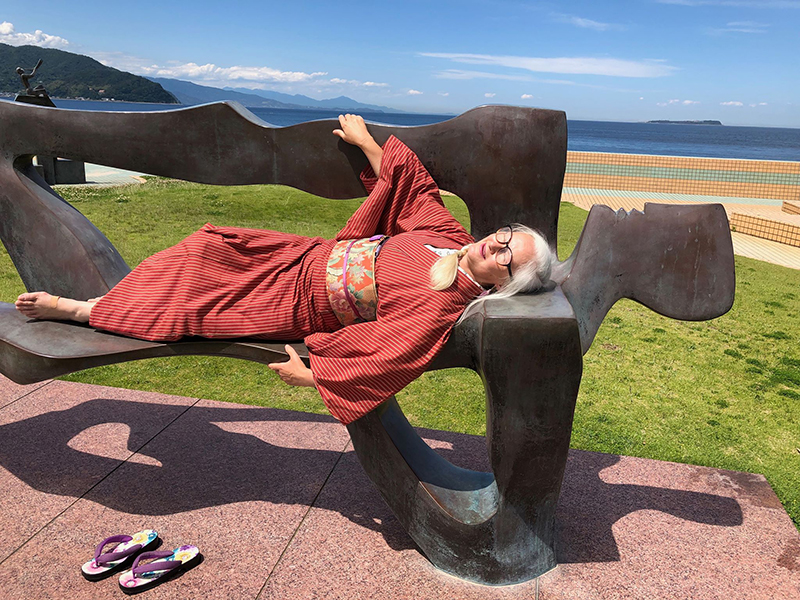 When one says "kimono," people's thoughts soon jump to Kyoto. This is because many believe Kyoto to be the center not only of the maiko and geiko entertainment world, but also the center of the world for kimono too.
It is true that many kimono and obi are produced in the city of Kyoto and its outlying area, Tango. But Kyoto is not the only center of kimono production in Japan.
In fact, the Kanto area around Tokyo has also been a major producer of kimono. This history is going to be remembered and discussed at an event coming up in Saitama, near Tokyo, on Sunday, October 13.
Saitama Prefecture is sponsoring a two-day festival of culture, "Wabi Sabi Dai Saiten," in Omiya Park. Not only will several well-known Japanese musicians and singers be performing for free, but there will be performances of traditional arts as well: flower arranging, calligraphy, dancing, and drums.
The festival will offer chances to participate in a tea ceremony, flower arranging, paper making, indigo dyeing, and kimono wearing. I will be helping to host a small kimono fashion show, and then speaking at a kimono summit at the Saitama Prefectural Museum of History and Folklore, which is located in the park.
Kanto's History in the Silk Industry
The Kanto area around Tokyo has been an important region for textile production historically. The mountainous area around the Kanto plain was not suitable for rice culture, and instead was used for growing silk mulberries for sericulture.
Thousands of farmers were involved in the sericulture industry. The history of Chichibu town and silk weaving goes back 2,000 years. Hachioji, Ome, Kiryu, Isesaki, Ashikaga, Tatebayashi, and Kawagoe were also famous weaving centers.
In the early 20th century, Japan was providing 80% of the world's silk. In spite of the great depression, silk was in demand for fashion, and especially for silk stockings for newly-revealed legs.
The finest quality of silk was used for export and the B quality was kept for domestic use. Originally it was woven at home, plain or in stripes. The untwisted threads were dyed with natural dyes and woven into futori or thick weaving.
This is the forerunner of the meisen kimono for which the Kanto area is now famous. Meisen was the first silk kimono to be industrially produced. Using a technique called hogushi ori, producers discovered how to print with stencils onto warp or weft threads before weaving them together.
The appearance is of hand-woven ikat. But this process meant that far more complex patterns with many colors could be easily produced. Gakushuin (then a girls school) and then other schools decided that wealthy girls wearing fashionable yuzen to school was distracting and unfair, and decreed that girls would wear yagasuri — arrow-pattern meisen kimono — to school.
Originally sold as serviceable home and work wear, meisen became the standard for school uniforms. And it was a short step from there into the streets of other towns and cities.
In the depression, the department stores were eager to attract customers from lower income brackets, and meisen price wars ensued. Trend-hunting committees were set up to try and establish the designs that would be popular.
Chichibu became famous for its shining fabric woven with different color threads on the warp and weft, and its warp ikat-style plant designs. Isesaki and Ashikaga put much energy into the development of stylish and colorful designs which sold well in Tokyo. There were shows and competitions, and even the large department stores in the Kansai area held exhibitions with trending meisen. It is thought that about 50% of the women of the era wore meisen.
Cotton Also Part of the Kanto Region History
Silk meisen was not the only fabric being woven in Kanto. Japan has a much shorter history with cotton production than with silk. Nevertheless, there has been domestic cotton in Japan since the early 1600s.
Needing plenty of sun and water, Okayama and the western part of Japan had the largest production sites. But it was produced and woven in Kanto too. Kawagoe is famous for its touzan, cotton-woven striped workwear.
The raw material was also produced and woven into stripes in Tatebayashi. Cotton tsumugi was also produced there. Kiryu was a large center for all types of textile production.
In some towns this chapter has now closed, and in others it hangs by a thread. But the textile industry has shaped many of the country towns around Tokyo. The Tomioka Silk Mill is a national heritage site, and Chichibu Meisen Kan is well worth a visit.
Author: Sheila Cliffe