Large Companies Speed Up Japan's Vaccine Rollout
After an initial glacial pace of vaccinations through April, now the total doses administered in Japan have jumped to over 34 million.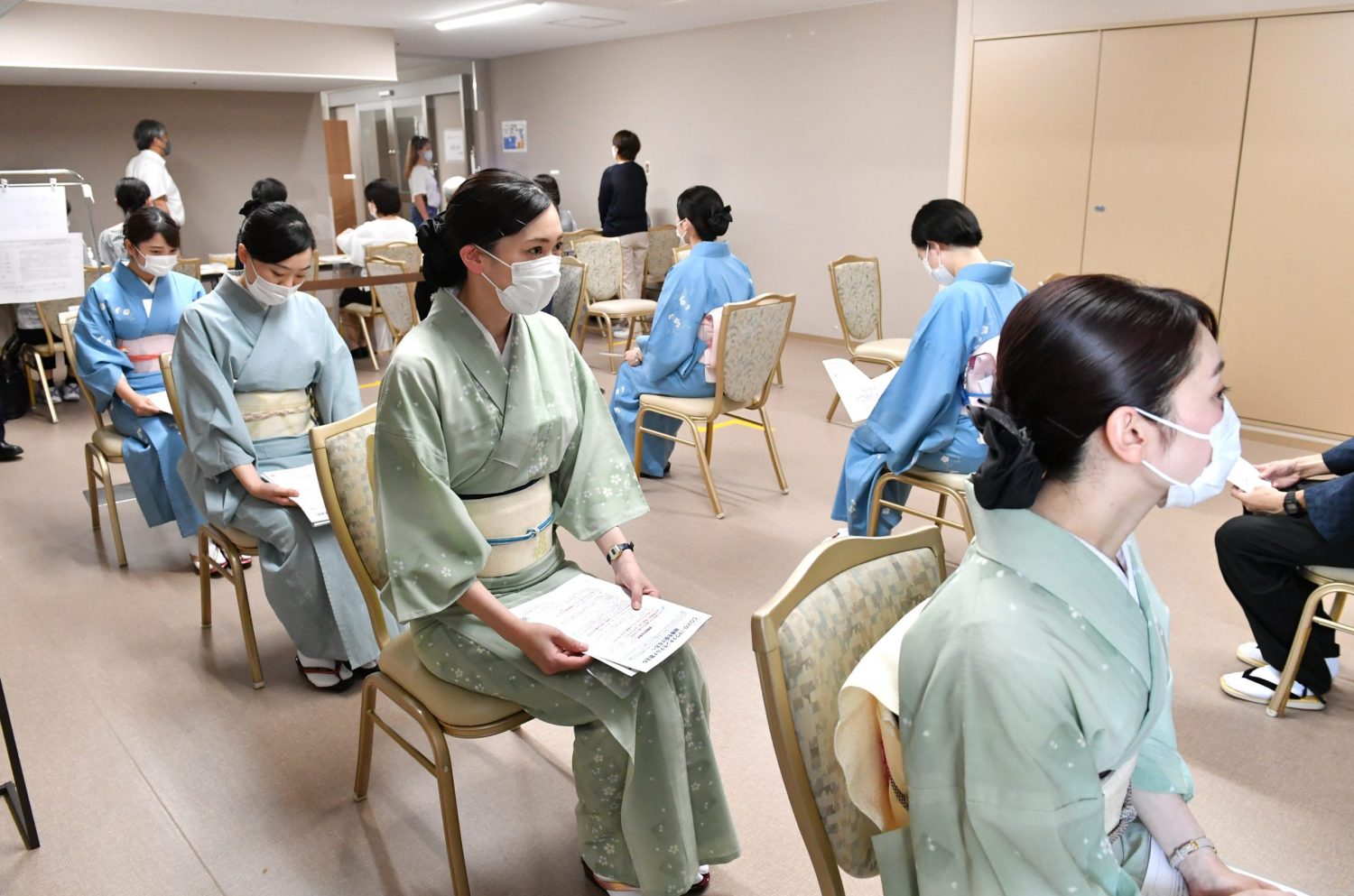 ~~
~
"I got vaccinated today!"
This sentiment, which I didn't think I would hear from my 30-year-old colleague, is now becoming a common fixture and reflects the mood of the vaccination effort in Japan: the speed is picking up, and it is doing so fast.
Companies are speeding up vaccinations so fast that it forced the minister in charge, Taro Kono, to call an emergency press conference on the evening of Wednesday, June 23, to announce a temporary halt in the acceptance of corporate applications, starting from June 25 at 5 P.M.
"There is the risk that we are already surpassing the limit on the number of doses we are able to distribute around the country on a daily basis," explained Taro Kono.
On June 21, 266 Japanese companies joined the vaccination effort and started inoculations. The numbers published on the Japanese government's vaccine-related Twitter page showed that as of the next day, June 22, more than 3,700 companies around Japan had applied to start vaccinations, which would amount to just under 15 million employees and their families.
In addition, as of June 21, about 17 universities started inoculating students who volunteered to receive a jab.
"Companies have applied for participation in the vaccination organization initiative in full force. This will take the weight off of vaccination efforts of the local governments, and for this I thank them. I am very grateful", said Minister Kono.
Kono elaborated on the fact that the applications needed to stop temporarily to allow time for the existing applications to be processed and make sure that the efforts of participating companies were not going to waste.
"We don't want the efforts of companies who have gone to the trouble of securing a venue and medical staff to go to waste, that is why we have come to this decision."
After an initial glacial pace through April, now total vaccine doses administered in Japan have jumped to over 34 million (as of June 22), with just under 15 percent of the population having received one dose.
Of this figure, over 16 million were administered to over 65s, meaning that over 45 percent of the demographic has received at least one jab of the vaccine. Meanwhile, close to 6 million medical professionals have received at least one jab, adding up to about 90 percent of the total in the profession.
Average daily doses are exceeding the million mark, according to Minister Kono, reaching about 1.2 million, and aiming to add another 200,000 vaccines administered daily by companies and universities.
Kono concluded by saying: "Until now, we've had the problem that we had the vaccine, but not enough venues to administer it. Now, thanks to the full effort of companies, we need to make sure that we can keep up this pace. It's a different ball game compared to just a week or ten days ago."


Japan Inc. Such as Rakuten, ITOCHU Start Administering Jabs
Some of Japan's largest companies are joining in the vaccination effort by adding their know-how and organization to the vaccine rollout.
Softbank was one of the large companies to start on June 15, aiming to vaccinate 50,000 employees, their families, and 10,000 locals.
To incentivize the younger generations, company CEO Masayoshi Son announced that employees in Fukuoka who got vaccinated could buy half-price tickets for the Softbank Hawks baseball game.
"Until now, the message has been one of self-restraint, but now with vaccinations moving along, we can resume economic activity," commented Son.
Rakuten Group Inc. and Rakuten Medical K.K started vaccinating 60,000 employees and their families from June 21.
ITOCHU also announced vaccinations for 7,500 employees and the approximately 1,500 childcare professionals who operate the in-house nursery facilities, from the same day, June 21.
Other companies included Toyota, Japan Post, Aeon, and Mori Building, just to name a few.


Onsen Town Hotel Staff and Geikos Receive the Jab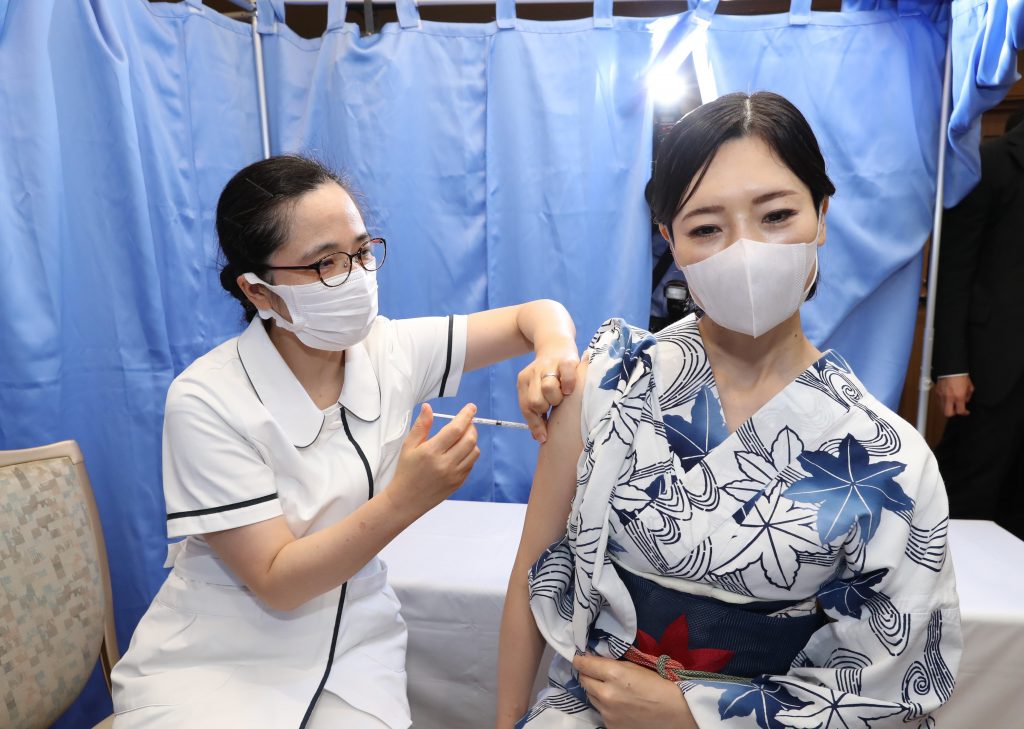 But it's not just large businesses with tens of thousands of employees taking the vaccination effort into their own hands. Local businesses are also pooling together to speed up a return to normality.
One such example is the staff in the famous hot-spring town of Arima. Not far from the port city of Kobe, the town is a popular destination for those who want to put their feet up and just enjoy their time in a hot spring or spa in the mountainous area near Kobe.
The local onsen association pulled together 215 local businesses to vaccinate the approximately 20,000 employees in the town, starting from June 21. Their aim is to finish everyone's jabs by August 12, in time for the Japanese holiday of Obon, when many people travel around the country.
And of course, the local Geikos, the Kansai word for Geisha, were also present on the day to receive their jab.
One Geiko, who goes by the name of Ichina, came to get vaccinated on June 21 wearing a kimono, and told a reporter from The Sankei Shimbun with a smile: "When we dance, now we have to stand quite far away from our customers. If we finish vaccinations, then we can dance without worrying about the distance with our customers."
Due to the state of emergency, most businesses in Arima were asked to close until June 24. The head of the local onsen association, Hironobu Kanai stressing the urgency of getting vaccinated for the economic recovery of Arima, explained: "Due to COVID-19, tourists to Arima have decreased considerably, and the town is struggling. Therefore, we had to come together to ensure that Arima can become 'COVID-free' as soon as possible."
He continued: "We want to finish vaccinations for our employees soon, so that customers can come and enjoy our hot-springs with peace of mind."


The Bottleneck of the Vaccine Vouchers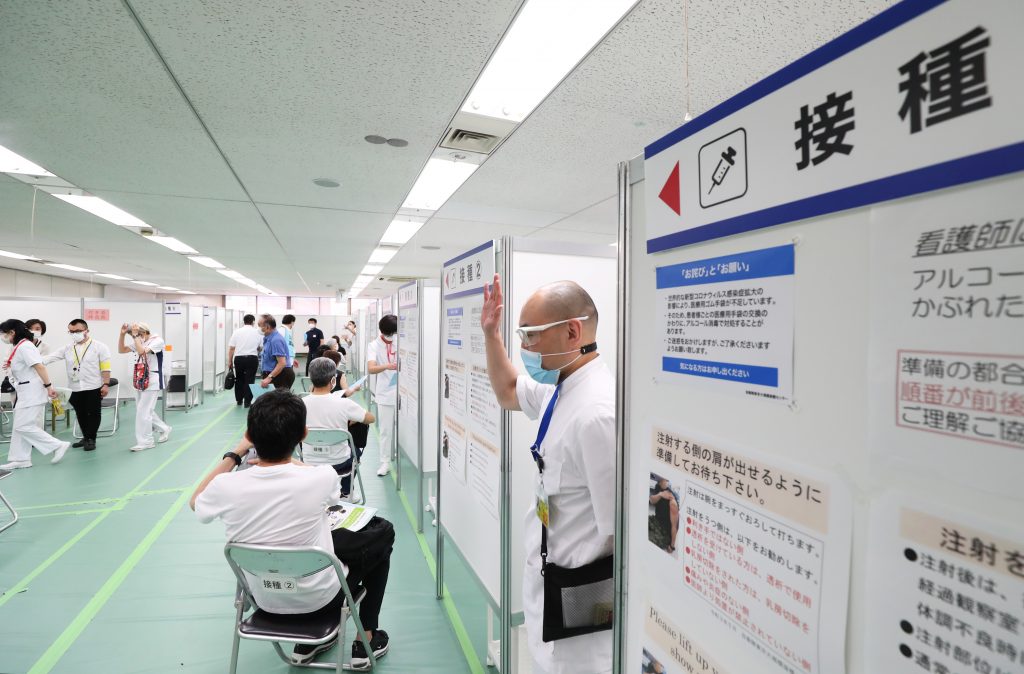 A big advantage of entrusting part of the vaccine program to corporations is that through this channel, those who wish to get a vaccine don't need to wait for the local government's vaccine coupon to arrive beforehand.
Up to now, only those who have received a vaccine voucher from their local ward or government, which contains the patient information and unique code for registration, were allowed to sign up for vaccination at local or Self-Defense Force centers.
The fear is that, excluding business organized inoculations, wide-ranging vaccinations without the vouchers could delay or make patient tracking difficult at a later stage.
Yet, the local government bottleneck in distributing the vouchers is showing no signs of abating. It is left to each region around the country to send out vouchers to the population within their local government jurisdiction, according to their own schedule. For example, in the 23 wards of Tokyo, Sumida Ward and Nakano Ward have been fast, but some of the other local government offices might not get vaccination vouchers to their under-65 demographic in June, according to the Nihon Keizai Shimbun.
On the outskirts of Tokyo, representatives of Yokohama City in Kanagawa Prefecture, with approximately 2.45 million people in the eligible group between the ages of 18 and 64, have said they will send vaccine vouchers out between the end of June and the beginning of July.
A look at the case of Kagoshima Prefecture provides perspective on how many people want to be vaccinated, but cannot because they lack a voucher. The prefectural mass-vaccination centers, located in the cities of Kagoshima and Kanoya started vaccinations for those over over-65, but when only 13 percent slots were reserved as of June 21, the local government opened vaccinations to all those between the ages of 18 and 64, whether or not they had a voucher in hand. So many people wanted to register that it caused the server to crash on June 22. (Most of the bookings were thereafter taken by phone.)


Vax Minister Taro Kono Tackles Disinformation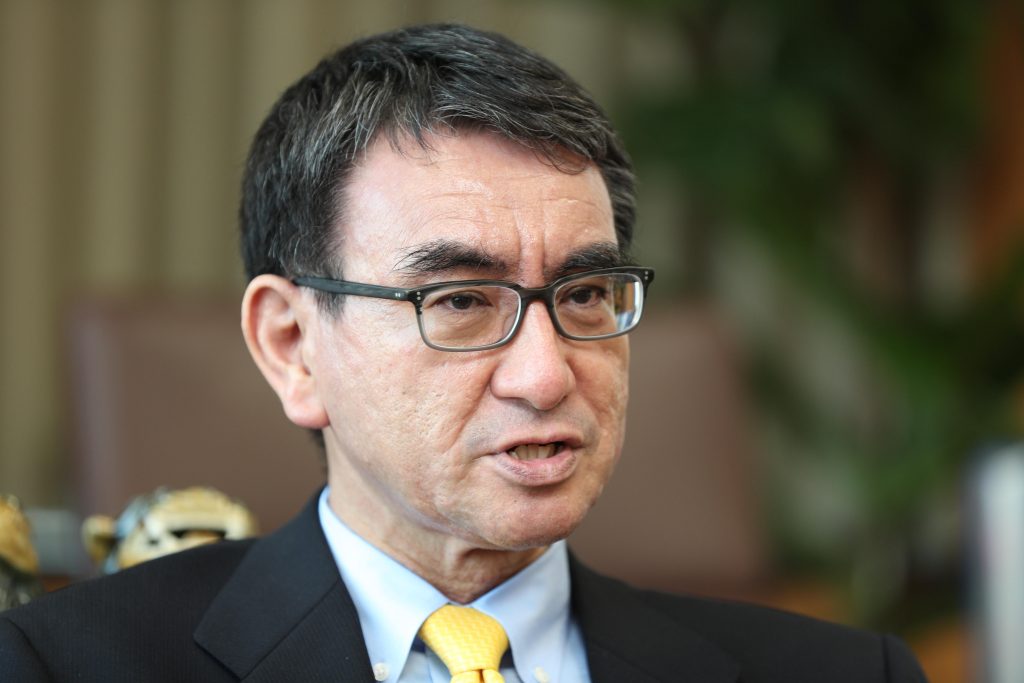 Meanwhile, it appears that every country is in a similar situation when it comes to tackling vaccine-related disinformation and the skepticism driven by false news.
The Minister in charge of Vaccinations, Taro Kono, in recent days has gone on a media campaign to tackle some of the uneasiness of people in Japan, and counter disinformation circulating about the vaccine.
In a June 20 program on Nihon Television, he took on the factually erroneous rumors that "Vaccines cause people to become sterile", saying: "this is a false rumor, we need to share more information on how this is not possible from a scientific point of view."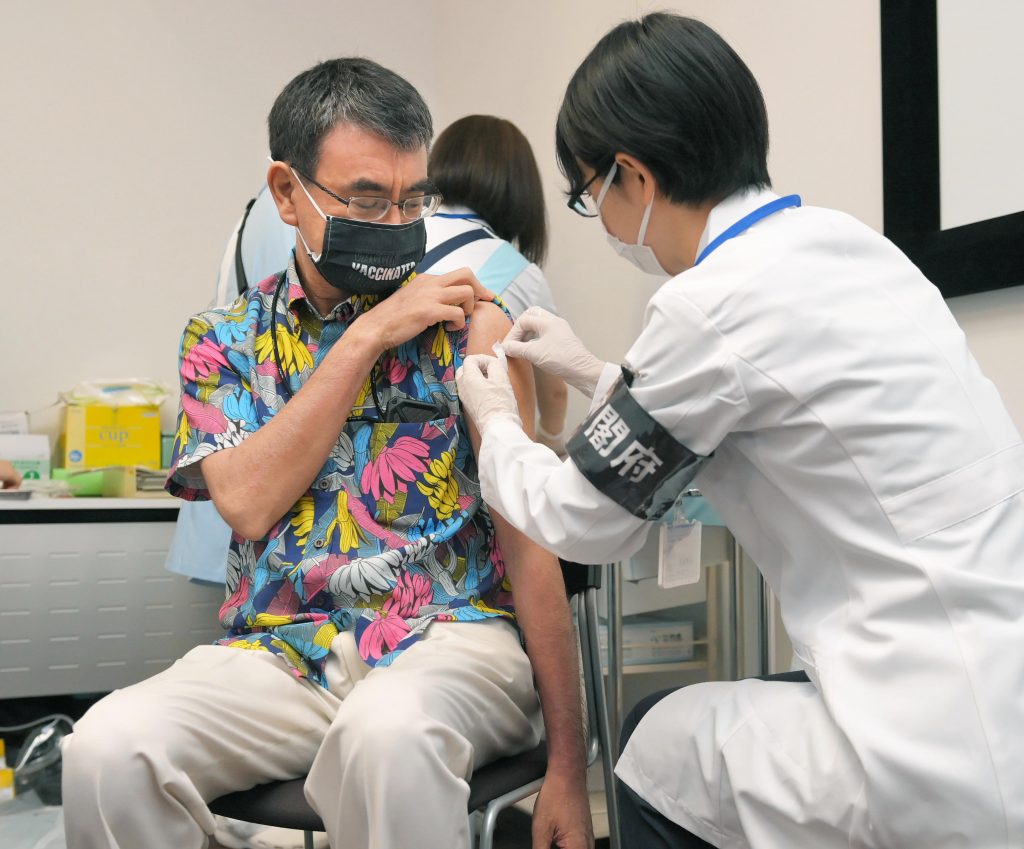 During the 9 P.M. evening news program of national broadcasting company NHK on June 21, Kono addressed the topic in more detail, explaining: "Pfizer and Moderna are what are known as m-RNA vaccines, where m-RNA is injected to stimulate the body's defenses against the virus. However, this genetic material doesn't stay there. It decays over a period of time, so there is no evidence of long-term side-effects."
Appealing particularly to the younger generation, he reminded NHK listeners: "It's not just the issue of vaccinating oneself. It is that by getting vaccinated you can protect society as a whole. In that sense I would like to ask young people to get vaccinated when they have a chance."
In the same program, Kono expressed optimism about finishing vaccinating everyone who is willing by October, November at the latest, suggesting that the vaccine sprint has yet to reach its peak.


Author: Arielle Busetto