Legendary Jockey Yutaka Take Guides Do Deuce to Victory in the 89th Tokyo Yushun
The winning duo finished in a race-record 2 minutes, 21.9 seconds, earning Take his sixth Japanese Derby title.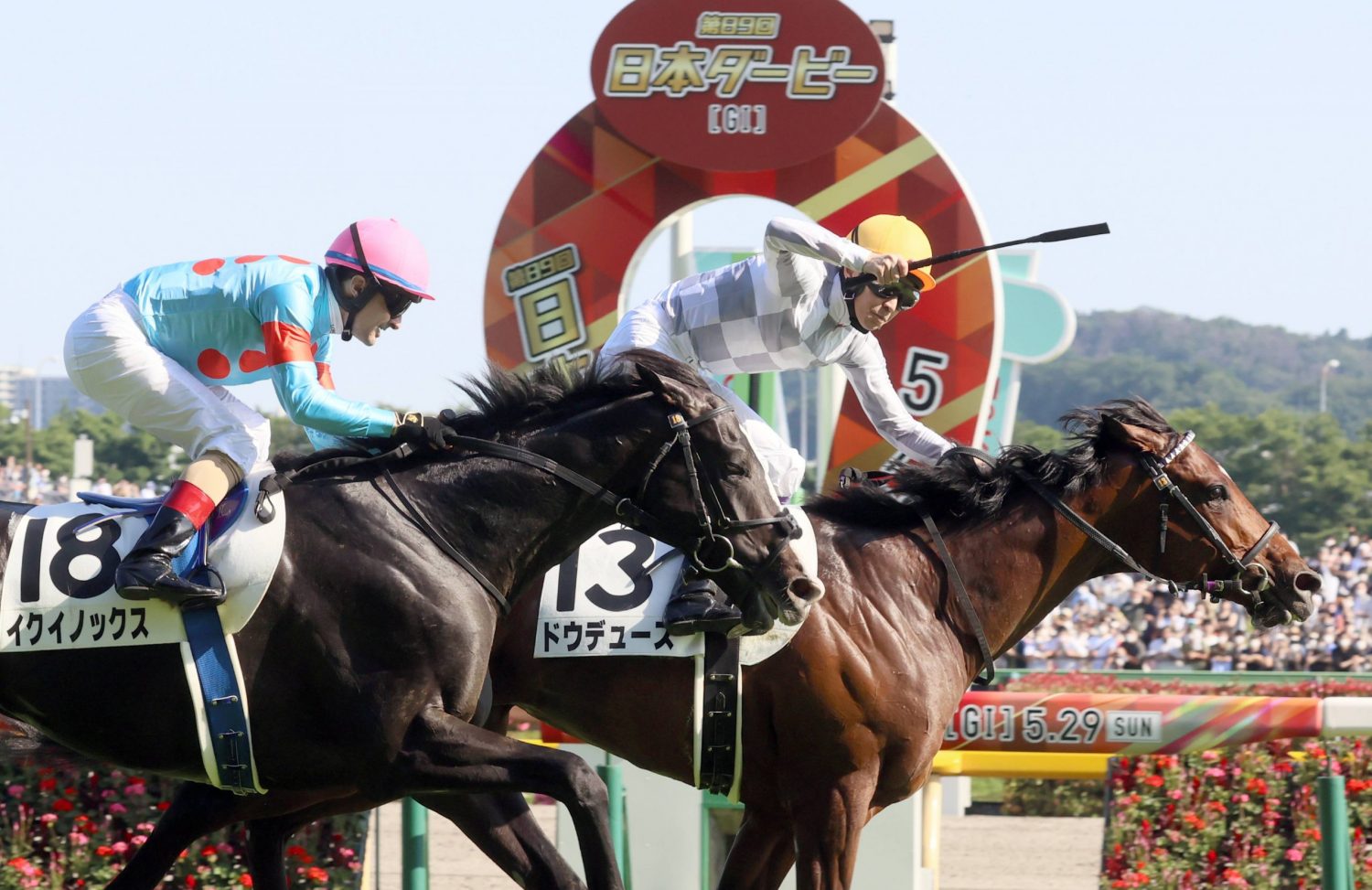 Jockey Yutaka Take added another major achievement to his remarkable career at the 89th Tokyo Yushun (Japanese Derby) on Sunday, May 29.
Aboard Do Deuce, Take orchestrated a late rally. The 3-year-old son of Heart's Cry was tied with Ask Victor More (Hironobu Tanabe's ride) for the lead with 150 meters remaining. Take then guided his horse to victory, edging fellow jockey superstar Christophe Lemaire and Equinox by a neck's length in a thrilling dash to the wire before a captivated crowd of 62,364 at Tokyo Racecourse.
On a picture-perfect afternoon, Do Deuce completed the 2,400-meter race, the second leg of the Japanese Triple Crown, in a race-record 2 minutes, 21.9 seconds. (Watch the race here.)
"This is a truly emotional experience for me and I couldn't be happier," Take said after the race. "Though my colt isn't such a good starter, we were able to sit in an ideal position so the fast pace didn't bother me. He had so much left in the tank at the final corner when I asked him for his run — he responded amazingly and took the lead earlier than planned but held on well to the wire."
Running a smart, tactical race, the winning duo emerged from the middle of the pack, putting pressure on Ask Victor More, who led with 400 meters to go.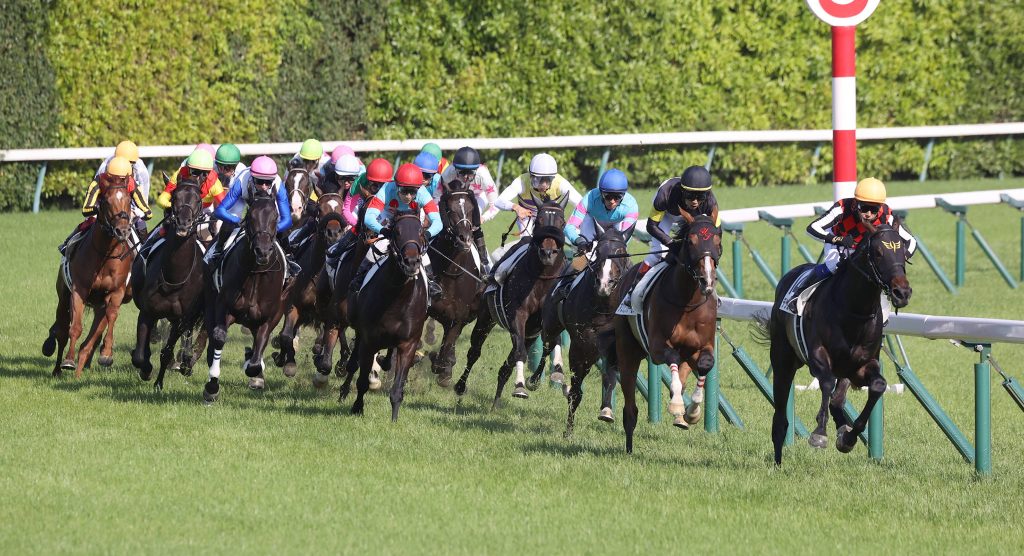 For much of the race, Desierto, guided by Yasunari Iwata, led the field. But Desierto faded over the final 300 meters and finished 15th.

Be Astonished (Ryuji Wada) and Piece of Eight (Yusuke Fujioka) also looked to be in contention late in the race, but both also slowed down and dropped far back in the final standings. Be Astonished fell to 10th and Piece of Eight to 18th.
At the same time, Do Deuce and Equinox positioned themselves for a run at the top prize.
Stride for stride, they challenged one another the rest of the way.
But Do Deuce was a step quicker.
Ask Victor More finished two lengths behind the runner-up.
The favorite, Danon Beluga (Yuga Kawada), placed fourth. Pradaria (Kenichi Ikezoe) was fifth and Killer Ability (Takeshi Yokoyama) sixth.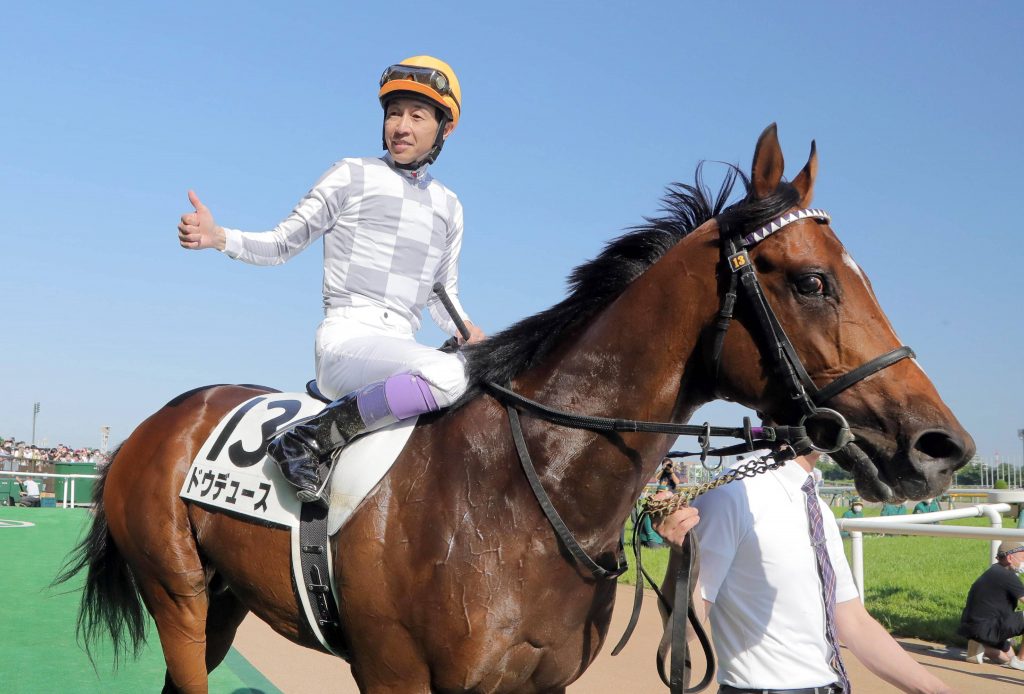 Take Does it Again
For Take, it was his sixth Tokyo Yushun triumph. In addition, he extended his streak of winning a Japanese Racing Association Grade I race to 24 consecutive years with his 79th G1 victory in his homeland.

What's more, the 53-year-old became the oldest winner of the Japanese Derby.

It's been said that age is nothing but a number. Yet when the conversation is about Take's illustrious career, it's a reminder that he's been competing as a professional jockey for decades.
Take won his first Japanese Derby with Special Week in 1998. He did it again aboard Admire Vega in '99. In 2002, he rode Tanino Gimlet to victory, followed by two more Tokyo Yushun wins (with Deep Impact in 2005 and Kizuna in 2013) before Sunday's spectacular feat.
Three of the top six finishers ― Ask Victor More, Pradaria and Killer Ability ― were sired by the late Deep Impact, considered the greatest Japanese thoroughbred, and it's a reminder of the historical connections in Take's career.
Take, who finished 16th in the 2021 Japanese Derby aboard Deep Monster, said he was delighted to compete in front of a large crowd, adding that "you couldn't be a jockey and not dream of living this moment."

So what's next for Do Deuce, who ran the final three furlongs in 33.7 seconds, 0.1 seconds faster than Equinox?

"The Prix de l'Arc de Triomphe should be a strong option for the owner (Kieffers Co., Ltd.) and will probably be our next target," Take said of the early October race in Paris.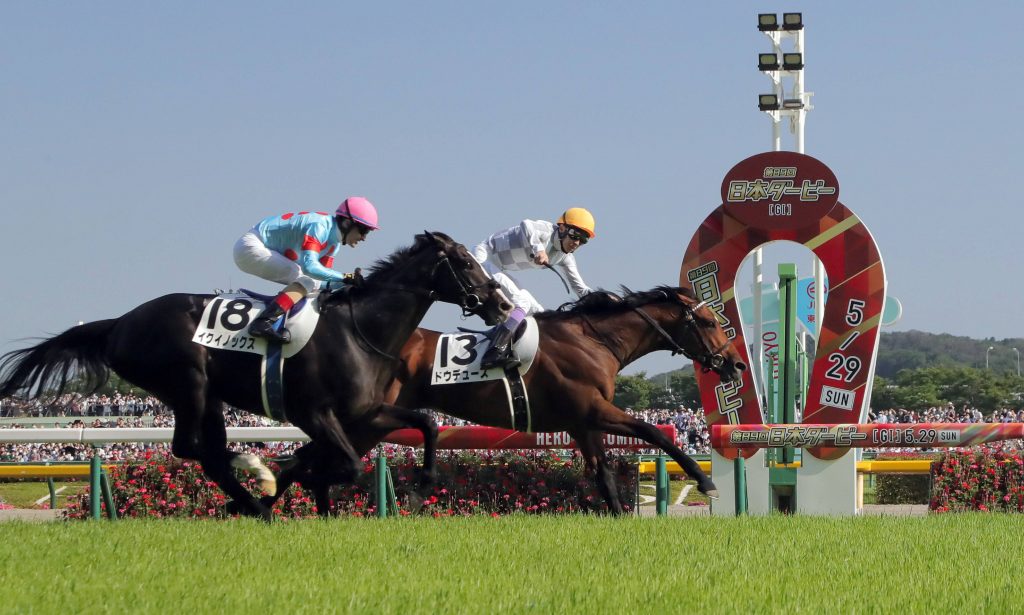 Big Expectations in 2022
Do Deuce, the third favorite for Sunday's 11th race and a 3:40 PM post time, won the 2021 Asahi Hai Futurity Stakes with Take at the reins.
Trainer Yasuo Tomomichi's 2022 Tokyo Yushun entry was named the JRA's Best Two-Year-Old Colt in 2021. Then he finished as the runner-up in the Yayoi Sho Deep Impact Kinen, a G2, 2,000-meter competition on March 6.
On April 17, Do Deuce was third in the Satsuki Sho (Japanese 2000 Guineas), the opening race of the Japanese Triple Crown. Geoglyph, ridden by Yuichi Fukunaga, won the 2,000-meter event at Nakayama Racecourse in Funabashi, Chiba Prefecture.
Fukunaga arrived at Tokyo Racecourse for Sunday's Japan Derby with fourth favorite Geoglyph, and he entered the prestigious competition looking to extend his winning streak in the race to three after earning victories in 2020 (aboard Contrail) and 2021 (with Shahryar).
Geoglyph finished seventh in the 18-horse field, which had a total prize amount of ¥432 million JPY (about $3.75 million USD).
The Kikuka Sho (Japanese St. Leger), the third leg of the Triple Crown, is on October 23 at Hanshin Racecourse in Takarazuka, Hyogo Prefecture.
Follow horse-racing coverage here on JAPAN Forward's dedicated sports website, SportsLook.
RELATED: Geoglyph Chasing Victory In The Tokyo Yushun, Second Leg Of The Japanese Triple Crown
Author: Ed Odeven
Follow Ed on JAPAN Forward's [Japan Sports Notebook] here on Sundays, in [Odds and Evens] here during the week, and Twitter @ed_odeven, and find him on JAPAN Forward's dedicated sports website, SportsLook.