Make no Mistake, China: Your Kremlin Friendship Defines How the World Sees You
Representatives of Japan and Europe have bluntly told the leaders of China that they abhor its tacit support for Russia's invasion of Ukraine.
China's leaders have been told that the war in Ukraine has dire implications for the security of Europe and the Indo-Pacific region. The messages were delivered clearly by Japan's Foreign Minister, Yoshimasa Hayashi and the European Commission President, Ursula von der Leyen, who each traveled to China in early April.
Mr Hayashi told China's Foreign Minister, Qin Gang of his grave concerns over China's collaboration with Russia and the increase in China's military activity - including its maritime presence - in the East China Sea.
Minister Hayashi also talked about the "importance of ensuring peace and stability in the Taiwan strait." In return, Qin Gang warned Japan "not to interfere in the Taiwan issue or undermine China's sovereignty in any form," stressing that Taiwan is "the core of China's core interests."
Chinese state media later ran a series of articles criticizing Japan, stirring up historic grievances.
The hostile response from China did not silence Mr Hayashi. Indeed, a few days after he returned from his trip, he published a powerful essay on the Politico website, outlining Japan's concerns.
Mr Hayashi described Russia's aggression against Ukraine as "the most deplorable example of a unilateral attempt to change the status quo by force." He warned that military activities around Japan are intensifying.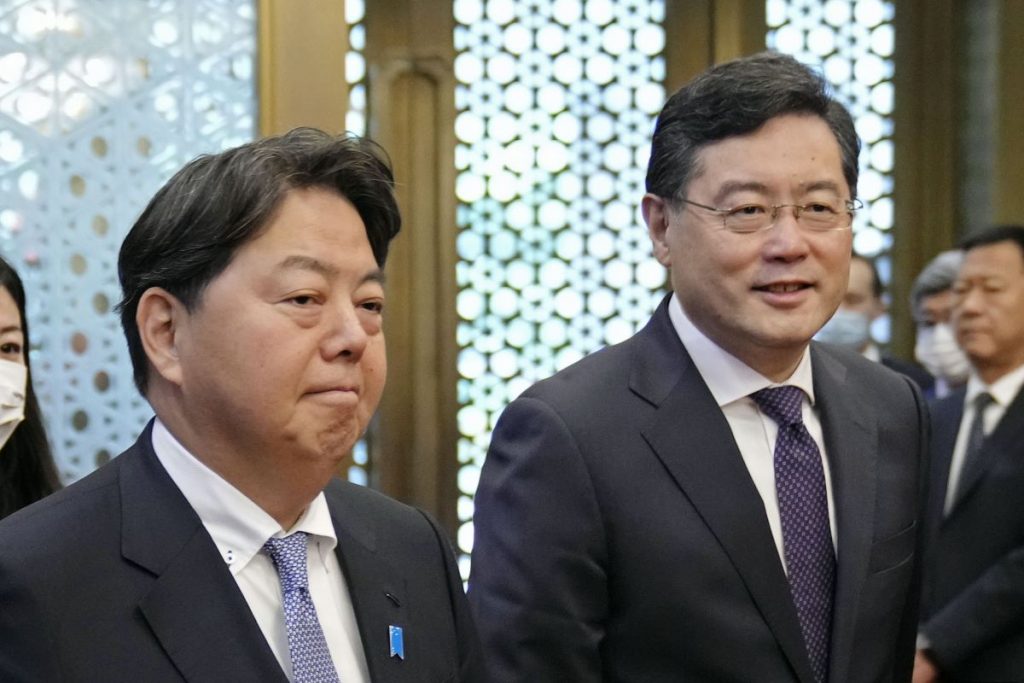 Counterproductive Approach
I asked Professor Steve Tsang, Director of the SOAS China Institute in London for his view of the exchange between the foreign ministers.
Professor Tsang told me: "Foreign Minister Qin attempted to persuade Japan not to follow the United States in taking what he sees as an 'unfriendly' approach to China. He said that good relations between China and Japan would bring mutual benefits. However, the way Qin Gang made his points will have put the Japanese side off; the Japanese foreign minister will not have welcomed a lecture from his Chinese counterpart."
So what about the spate of negative articles about Japan which have been disseminated through Chinese propaganda?
Professor Tsang then said: "The Chinese public is likely to approve of Qin Gang's wolf-warrior remarks without realizing they are unlikely to persuade Foreign Minister Hayashi to change his approach."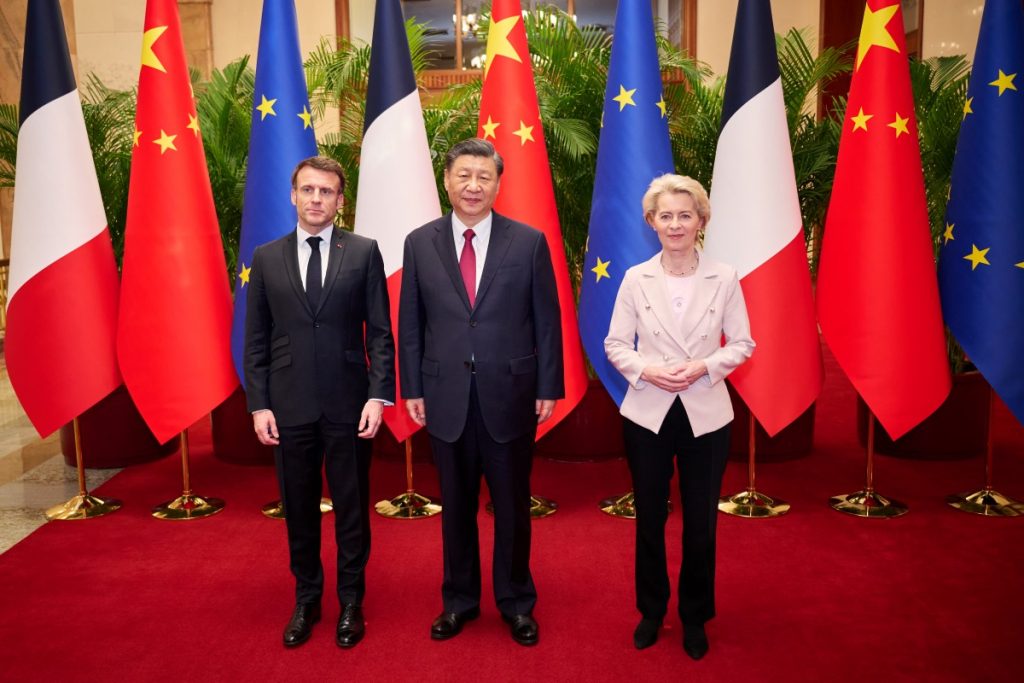 The European Perspective
Soon after Mr Hayashi's trip to China, the European Commission President, Ursula von der Leyen arrived in Beijing. She was further joined by the French President, Emmanuel Macron. The pair took a three day trip from April 5 to 7.
Their meeting with Xi Jinping was described as "a frank and open discussion on key issues in European Union - China relations."
Only the leaders who were in the room know what was said. But I expect that the most tense part of the meeting was when Ms von der Leyen spoke to Xi Jinping about China's tacit support of Russia's invasion of Ukraine.
Before she went to China, she delivered a striking speech in Brussels, in which she criticized President Xi for maintaining a friendship with Vladimir Putin. She furthermore dismissed China's proposal to negotiate an end to the war as "simply not viable."
She stated that the manner in which China deals with Russia in the wake of the Ukraine invasion will be a "determining factor" in EU-China relations for years to come.
Ms von der Leyen said China's international standing has been diminished. She also said China has "turned the page on the era of reform and opening and is moving into a new era of security and control."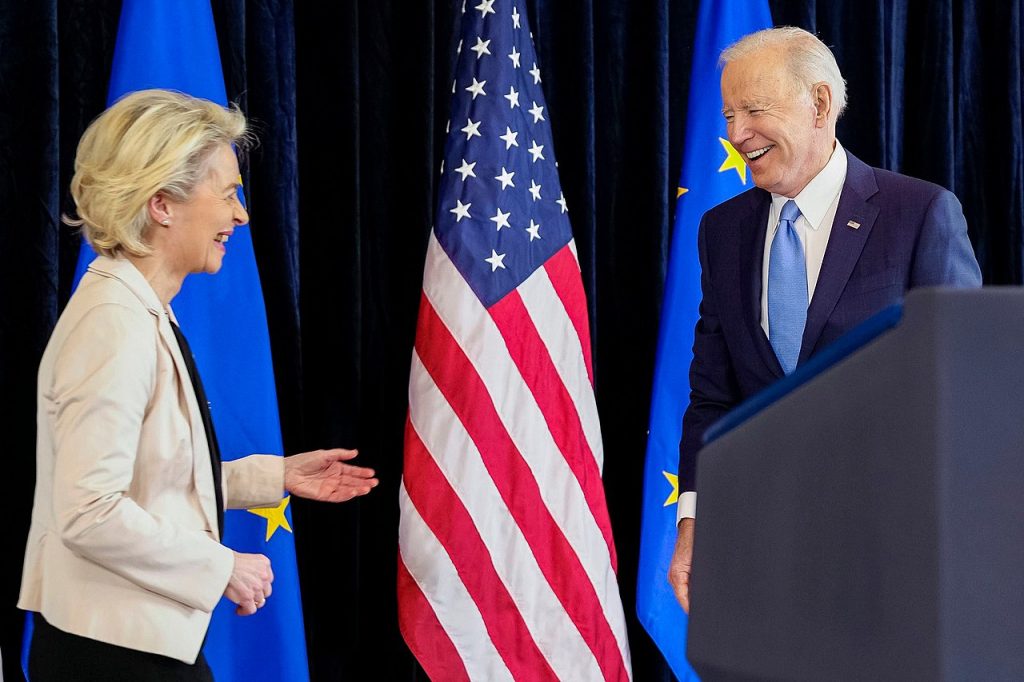 Joe Biden's Role
President von der Leyen's speech was written soon after she met Joe Biden at the White House in March. This made me wonder how much alignment there is between the European position on China and that of the Americans.
For guidance, I turned to Professor Moritz Rudolf. He is a German, with experience of working at a think tank in Berlin. He is now based at Yale University in the United States, where he specializes in China.
Professor Rudolf told me: "The central question is to what extent national security issues shape relations with China. The United States is increasingly viewing its economic relations with China through the prism of national security concerns. In Europe, the Commission shares this perspective. However, if you compare governments in the US and Europe, there is a contrast."
France's View
Several experts have pointed out that when compared to President Macron of France, Ursula von der Leyen appears to be far more skeptical of China's potential role as a peacemaker in the Ukraine conflict.
In Beijing, Mr Macron asked Xi Jinping to "bring Russia to its senses." Meanwhile, Ms von der Leyen and Foreign Minister Hayashi expressed the view that because Russia has violated Ukraine's sovereignty, it must be isolated and punished through sanctions.
Professor Rudolf from Yale told also me: "The US is facing a challenge by China for its position in the world as number one. The Europeans don't generally care about being number one. They care more about their own economic development. However, they do not want to export technology to China if it is used to help the army or the state security services."
The next high profile figure to travel to China is the EU's High Representative for Foreign Affairs and Security, Josep Borrell, who will go to Beijing in mid-April.
He is unlikely to flatter his hosts.
Mr Borrell made also his view on the "no limits partnership" between Russia and China clear at a recent press conference in Brussels, in which he said: "China has a moral duty to contribute to a fair peace and cannot side with the aggressor."
RELATED:
Author: Duncan Bartlett, Diplomatic Correspondent
Duncan Bartlett is the Diplomatic Correspondent for JAPAN Forward and a Research Associate at the SOAS China Institute. You can read his other articles and essays here.