Manga Should be Made Cultural Property, Says British Museum Curator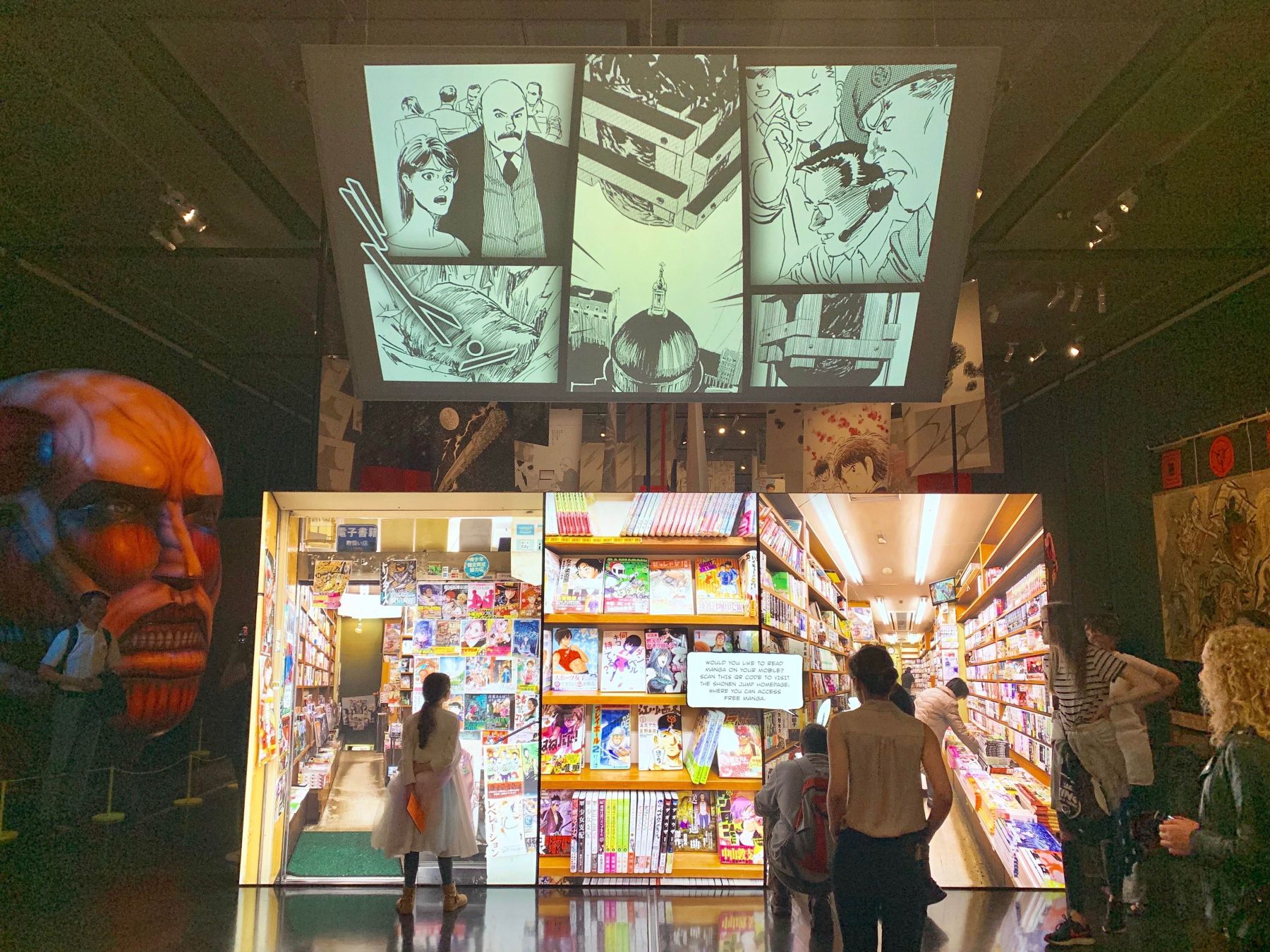 PHOTO CAPTION: Pages from comics and images of Japanese bookstores are projected onto screens at the British Museum's Manga exhibition. (Eishi Honma)
A new exhibition called Manga has opened at the British Museum, home to many of the world's important cultural treasures and national cultural property.
The collection, which experts in Britain and Japan put together, has many interesting elements that are new even to Japanese people who are familiar with the genre. However, its organizers also recognize the need to protect original artwork from misappropriation overseas.
SNS Promotion
Unlike movies and music which can be enjoyed by large groups of people, or art museums where artwork can be appreciated alongside other visitors who share the same taste, manga is a type of media which is generally enjoyed alone. So how can it be made appealing to British people? I went along to the exhibition to see for myself.
The first thing that caught my attention was the use of SNS, making the exhibits "Instabae" (worth posting on Instagram). Unusually, photograph taking is allowed (with the exception of one section). There were lots of young people taking pictures in front of a life-size cut-out of Son Goku, the main character of Dragonball. And there was a long snaking queue in front of the photograph taking corner, which turns your photo into a manga frame.
Incorporating fun, interactive sections such as these means the exhibition is not just for passive learning.
Poppy, 11, came to see the exhibition from Kent in England, cosplaying as her virtual idol Hatsune Miku. "It was really fun. I'm glad I came. The best exhibit was the 'Beautiful Girl Warrior Sailor Moon,'" she exclaimed, her eyes sparkling with excitement.
An Anglo-Japanese Collaboration
The roots of this exhibition go back 10 years. Museum Curator Nicole Coolidge Rousmaniere (professor at the University of East Anglia) explained to me that its starting point can be traced back to an introduction by Yukinobu Hoshino, a manga artist known for interweaving fiction and archaeology, whose work was exhibited by the British Museum back in 2009. It was only a small-scale exhibition, but it quickly gained popularity.
Then, in 2015, a special collection of the work of three manga artists — Hoshino, his master Chibateya, and Young Saint Men creator Hikari Nakamura — was exhibited. It is thought that around 100,000 visitors came to see the exhibition, increasing the curators' confidence in the popularity of the genre among British audiences.
"We realized we could do an even bigger exhibition, and that was what led to this manga exhibition," Rousmaniere said.
This current exhibition is the biggest manga exhibition ever to be shown outside of Japan. However, initially publishers expressed concern that such a large exhibition wouldn't be possible, even in Japan, where manga is a familiar genre in popular culture.
Luckily it was considered a just cause for diffusing manga abroad, and manga artists and publishers cooperated on the project. However, it was organizers such as Rousmaniere who were ultimately the driving force behind this exhibition.
"We took countless trips to Japan to meet and speak with artists, editors, and publishers to gradually build up our material. It may be located in the British Museum, but this exhibition is a collaborative work between the U.K. and Japan," she stressed.
The exhibition has also been adapted to the needs of the British Museum. Its visitors come from all over the world, but are mostly aged between 40 and 60. Recently, the Tate Modern, London's main art museum, has been attracting interest from younger people, snatching visitors away from the British Museum.
But now, the British Museum has been able to attract young interest again. I saw many young people and children visiting the manga exhibition, mostly accompanied by parents and grandparents. I even saw many enjoying themselves in the exhibition's all-you-can-read corner, which holds hundreds of comic books, doing tachiyomi (bookstore browsing) as if they were in Japan.
Protecting Original Manga Art
"We want manga to become a global art form. We want it to become cultural property," said Rousmaniere. However, she raised the important issue of the need to protect original manga art. With the demand for manga rising abroad, many comic books are being sold cheaply at online auctions and the integrity of the original art is being threatened.
According to publishers, original artwork hasn't always been protected in Japan either. There have been cases of original works being abandoned in artists' cupboards, or the editor's locker, and being thrown away by mistake. Although there have been efforts to protect original artwork — a prime example being the Japanese Manga Museum of Art in Akita Prefecture — more needs to be done.
"Just like imitations of ukiyo-e (Edo period woodblock prints) sold on the overseas mass market in the 19th century, manga is in danger of losing its market share to copies. Manga is a high quality art form and should be preserved as such," Rousmaniere emphasized.
This time, Rousmaniere argued, the manga exhibition also has many things that appeal to Japanese people who are already familiar with the genre. "I would like Japanese people, the Japanese government, even politicians to come and see the exhibition, too."
"The next time around I'd like to choose a more specific theme, such as Moe (affection for a fictional manga character) or 'Manga in the digital world,'" Rousmaniere mused.
The British Museum's exhibition Manga runs until August 26 and is open daily. Tickets costs £19.50 GBP (approximately ¥2,700 JPY).
More information about the exhibition can be found here and at the British Museum website.
(Click here for the original article in Japanese.)
Author: Eishi Honma, Culture Section, The Sankei Shimbun