'Truth Wins': Maria Ressa, News Site Rappler Acquitted of Tax Evasion Charges
An adverse ruling against Nobel laureate Maria Ressa and Rappler could have had far-reaching implications on media and business in the Philippines, says lawyer.
MANILA — The Philippine tax court on Wednesday, January 18, acquitted journalist and Nobel Peace laureate Maria Ressa and the holding company of her news site Rappler of tax evasion charges filed by the former government of Rodrigo Duterte.
Speaking to journalists at the premises of the Court of Tax Appeals shortly after the "not guilty" ruling was read out, Ressa said: "Today, facts win. Truth wins. Justice wins."
The decision — which, Rappler said in a statement, was marked by "professionalism and [a] sense of justice and fairness" — came more than four years after the Duterte-era internal revenue agency, without much basis, filed the cases.
Ressa and Rappler Holdings Corporation, where she sits as president, were charged in 2018 with three counts of "willful failure to supply correct information" and one count of tax evasion.
Duterte Era Case Against Rappler, Maria Ressa
The charges were in connection with the Philippine Depositary Receipts worth P182 million PHP (¥484 million JPY, or $3.7 million USD at the time of transaction) issued by Rappler Holdings to raise capital in 2015, when Duterte was not in power yet. PDRs are legal financial instruments recognized by the Philippine government and also issued in the past by various companies, including broadcasting giants ABS-CBN and GMA Network.
Three years later, under Duterte, the Bureau of Internal Revenue and the Department of Justice filed the cases, saying that when Rappler Holdings issued these investment instruments, it was actually acting as a "dealer in securities." In conflating capital raising with profit making, the government said Rappler therefore earned money and should have paid taxes.
Rappler lawyers had argued that this line of reasoning went against the Philippine tax code. Moreover, they said, it went against the internal revenue guidelines of the government.
During the course of the trial, tax officials presented by the prosecution themselves in fact acknowledged that even the records kept by their agency clearly reflected that Rappler Holdings was involved in an investment transaction, and not in any "purchase" or "sale" of securities.
Tax officials also said that in the 20 years since PDRs were introduced, this was the first time that the BIR classified a holding company as a dealer in securities in relation to the issuance of PDRs.
Unlike Rappler, other media companies that had raised capital through PDRs before were never charged with the constitutionally-prohibited foreign ownership and tax evasion.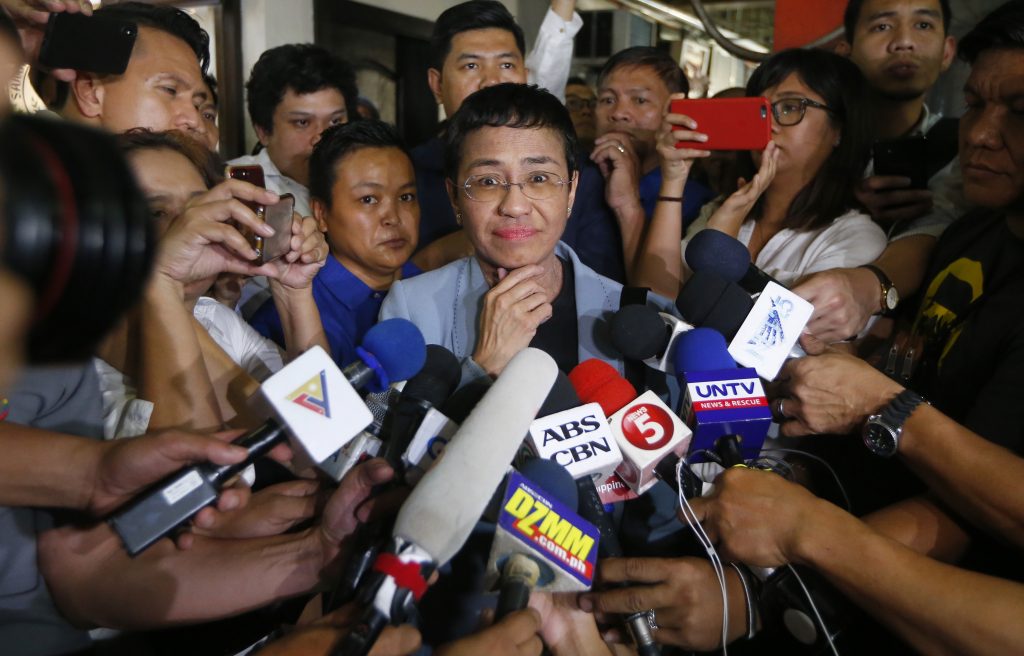 Appeals Pending in Other Cases Against Maria Ressa, Rappler
In a separate case, the Philippines' Securities and Exchange Commission insists on revoking Rappler's license to operate. It says that the PDRs it issued to Omidyar and Northbase Media was equivalent to selling shares of stocks, thus violating the rule that media companies should be 100% Filipino-owned. An appeal in this case is pending in court.
Rappler and Ressa are facing several cases in court which they characterize as all politically motivated due to the news sites' investigative reporting on extrajudicial killings, human rights violations, and corruption in the Duterte government.
"These charges were a brazen abuse of power, political harassment against journalists trying to hold power to account. This is where business, capital markets, and press freedom meet. So this victory is not just for Rappler, it's for every Filipino who has ever been unjustly accused," Ressa said on January 18.
Rappler said in a statement: "We thank the court for this just decision and for recognizing that the fraudulent, false, and flimsy charges made by the Bureau of Internal Revenue do not have any basis in fact. An adverse decision would have had far-reaching repercussions on both the press and the capital markets."
It added: "Maria Ressa and RHC may have won today. But so did the ordinary taxpayer and businessman being unjustly harassed by the BIR."
Rappler's Mission
With a major legal victory, the news organization said it would continue with its uncompromising reportage and to pursue innovations in journalism.
"Rappler will continue to dream big and explore what technology can offer. This is what fired our vision when RHC sought to increase capital and grow the business through Philippine Depositary Receipts in 2015. We believed then, as we do now, that journalism, technology, and empowered communities will be the guardrails of any democracy."
Ressa herself said journalists "have a lot more work ahead."
She also considered her and Rappler Holdings' acquittal as a good sign for other unjustly accused and detained journalists and political personalities.
"It's a ray of sunshine, HOPE — for those like journalist Frenchie Mae Cumpio, who begins her fourth year in prison in February and Leila de Lima, who begins her 7th year in prison in February as well," she said.
"Thank you, thank you, Court of Tax Appeals, our shareholders who stood by us during the darkest times — and were themselves harassed, our partners who stuck their necks out, and for all Filipinos who believe in the values that keep a vibrant democracy alive," she concluded.
RELATED:
Author: JAPAN Forward