[ODDS and EVENS] Buffaloes Fireballer Yoshinobu Yamamoto Emerges as One of NPB's Best Young Pitchers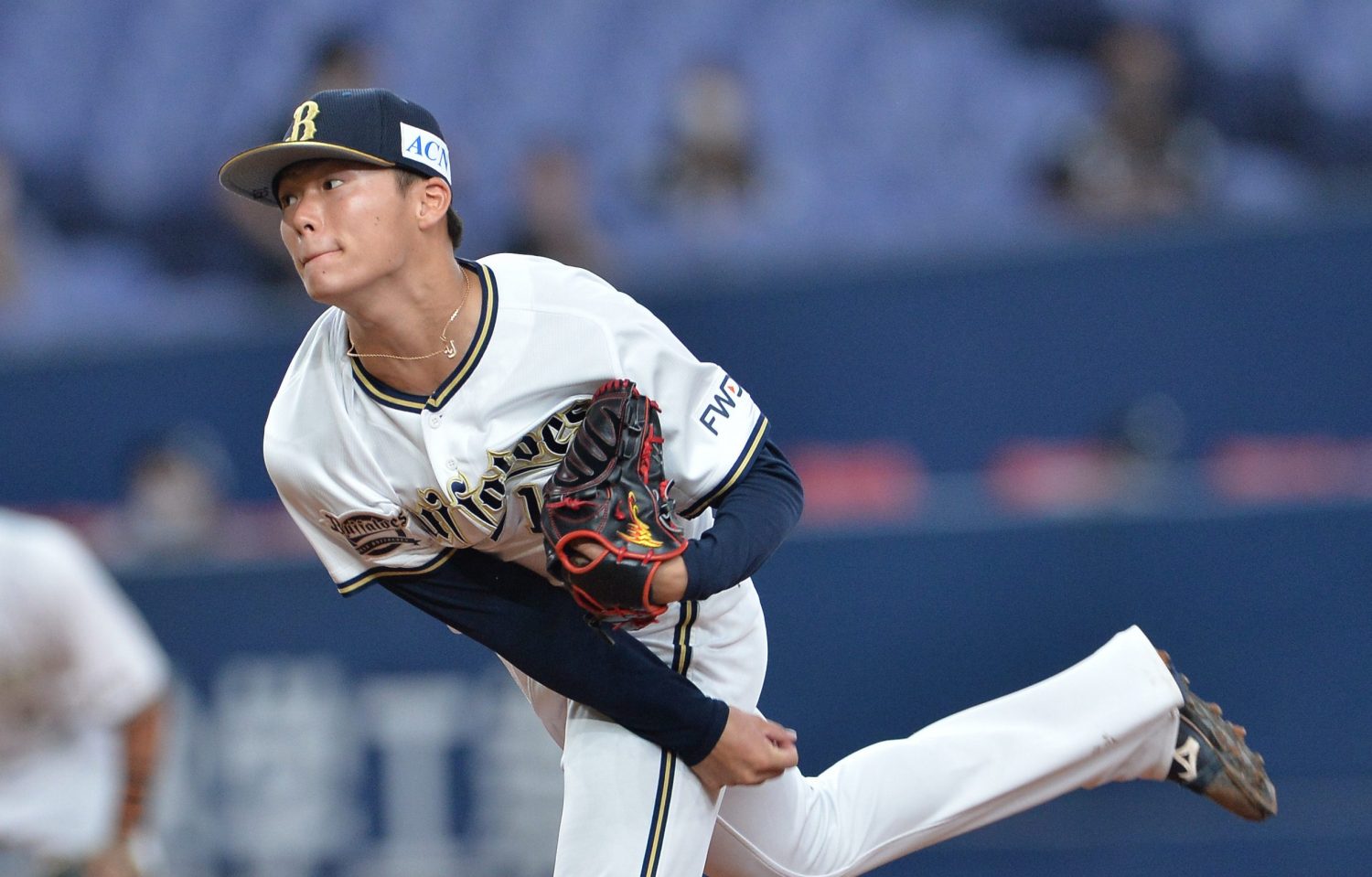 Yoshinobu Yamamoto possesses an explosive fastball and a determined demeanor on the mound. The Orix Buffaloes hurler also owns a fierce competitive spirit.
Yamamoto is one of the most promising young pitchers wherever pro baseball is played.
In 2019, his first season as a starting pitcher, Yamamoto had a headline-grabbing 1.95 ERA. He won the Pacific League ERA title.
Now, just days before his 22nd birthday (August 17), Yamamoto is showing signs of becoming one of the premier starters in Japan.
Exhibit A: Yamamoto fanned a career-best 13 batters on July 12 against the Hokkaido Nippon Ham Fighters at Kyocera Dome in Osaka in a complete-game 2-1 victory. Yamamoto threw a four-hitter and improved to 3-0 on the shortened season.
For Yamamoto, it was his first start of the season with fans in the stands, as Nippon Professional Baseball eased restrictions on spectators on July 10. The adjusted policy allowed up to 5,000 at each ballpark.
"I was a little nervous since it was the first time with fans in the stands in a long time," Yamamoto said after the game. "Today my teammates gave me an early lead to work with, and then made great plays behind me, so they were the key."
Exhibit B: Flip the calendar back to June 21, when Yamamoto flummoxed Tohoku Rakuten Golden Eagles batters. In eight dominant innings, he yielded a measly three hits and no runs. He walked none and struck out 10 in a 4-0 home victory in Orix's third game of the season.
While watching video highlights of that game, you see Yamamoto in complete command of his full arsenal of pitches. He exhibited pinpoint control. His 12-6 curveball broke downward with picture-perfect form. His fastball darted through the strike zone. His forkball was deceptive, too.
Through Sunday August 9, Yamamoto led the Pacific League in strikeouts (54). His strikeout-to-walk ratio has also been quite good; he's issued only eight walks in 48 2/3 innings with a 3.33 ERA. He's surrendered two home runs and 39 total hits.
In other words, hitters aren't consistently feasting on his pitches.
Yokohama DeNA BayStars pitcher Shota Imanaga is No. 1 in NPB with 60 strikeouts.
Yamamoto, on the other hand, is a real bright spot for a Buffaloes team that has endured a terrible start this season. Orix (15-25-4) has the worst record in the 12-team NPB.
The Okayama Prefecture native (3-1) has collected 20% of the team's wins entering his start in the opener of a six-game series against the Fukuoka SoftBank Hawks that started on Tuesday, August 11 at PayPay Dome in Kyushu.
Though he isn't a giant on the mound, Yamamoto has a real presence. He stands 178 cm tall. He works quickly and delivers fastballs that reach 155 kph (96 mph). See a glimpse of his pitching skills here.
Above all, teammates are confident in Yamamoto's ability to succeed.
After the aforementioned win over the Fighters on July 12, Buffaloes infielder Tatsuya Yamaashi spoke about how the team rallies around Yamamoto whenever he's pitching.
"In the pregame meeting, we talked about how Yamamoto pitches so well for us every time out and that it was important to get him a win," Yamaashi was quoted as saying by Kyodo News.
Buffaloes manager Norifumi Nishimura has faith in Yamamoto to give the team the best chance to win.
"Yamamoto pitched well for us. I trusted him completely to finish in the ninth," Nishimura said on July 12.
A week later, Yamamoto experienced his first defeat of the season.
The powerhouse Hawks didn't have any luck on offense in the early stages of their July 19 encounter against the Buffaloes. Yamamoto excelled. He had nine strikeouts through six innings. He gave up just one hit in that span.
Then Yamamoto's shot at a win slipped away. Seiji Ubeyashi's leadoff double set the tone for the Hawks in the seventh, who quickly scored three runs. Yuki Yanagita followed with a sacrifice fly to break the shutout bid. An Akira Nakamura homer stretched the lead to 3-0. Yamamoto exited after seven innings, and the Buffaloes lost 3-2.
From Reliever to Starter
Yamamoto began his NPB career in 2017, making five appearances. He emerged as a dependable reliever in 2018. In 54 games, he had 32 holds.
The Buffaloes converted Yamamoto into a starter last season. He went 8-6, including his first career shutout, and made the Pacific League All-Star team for the first time. In 143 innings, he fanned 127 batters and walked 36. He surrendered eight home runs, a telling stat for such a young pitcher. He also missed a month of the season due to a left abdominal strain.
Before his breakthrough 2019 season, Yamamoto impressed Nishimura with his crafty curveball during a February practice at spring training in Miyazaki.
"The curve was sharp and I think it's hard to hit," the manager said of Yamamoto, according to Nikkan Sports.
In November 2019, the Buffaloes awarded Yamamoto with a hefty pay raise in his annual salary, to ¥90 million JPY (about $848,000 USD), an increase of ¥50 million JPY ($470,000 USD).
Furthermore, he was assigned the iconic No. 18 jersey, which in Japanese baseball symbolizes a team's pitching ace. Many pitching standouts in NPB history have worn No. 18, including current Minnesota Twins pitcher Kenta Maeda and retired hurler Hiroki Kuroda.
This meant he was being elevated to top dog.
As he aspires to keep getting better, Yamamoto puts in the effort in between starts to hone his skills.
"I want to make perfect preparations," he told Daily Sports on August 10.
Proper preparation is a key component of notable success stories. Keep that in mind as you continue to follow Yoshinobu Yamamoto's rise to stardom.
Author: Ed Odeven
Follow Ed on JAPAN Forward's [Japan Sports Notebook] here on Sundays, in [Odds and Evens] here during the week, and Twitter @itsjapanforward.