[ODDS and EVENS] Cubs Pitcher Yu Darvish on Top of His Game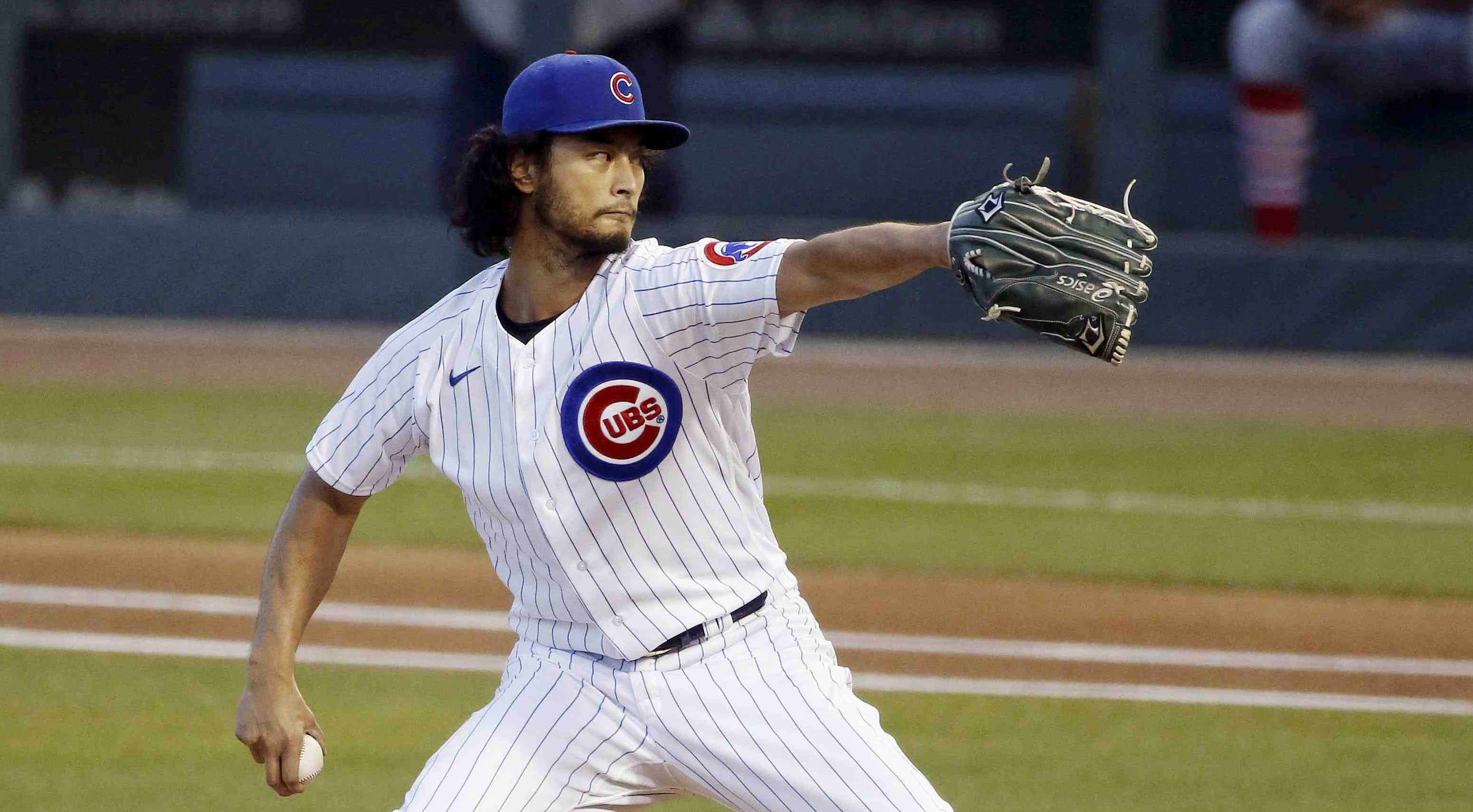 Statistical achievements are difficult to quantify in this global pandemic-shortened MLB season.
The sample size is still relatively small. In normal times, teams would have played well over 100 games by now.
But this year is different, very different.
Instead of playing 162 regular-season games, teams are scheduled to play only 60—and some teams will play even less due to games being called off because players and other team personnel have contracted COVID-19.
For example, the Chicago Cubs lead the National League Central Division with an 18-10 record through Monday, August 24. Only the Los Angeles Dodgers (22-8) have more victories among NL clubs. And pitcher Yu Darvish is a big factor in the Cubs' success to date.
The ace of the Cubs pitching staff, Darvish (5-1) has won five straight starts since a season-opening loss on July 25. He leads the National League in victories.
In his second start, Darvish held the Pittsburgh Pirates to no runs in a strong six-inning pitching performance. Since then, he has allowed one run in each of his past four starts, including holding the Milwaukee Brewers to one hit on August 13.
Darvish's latest outing, on Sunday, August 23, was a vivid reminder of his marquee value.
The Cubs entered their August 23 game against the Chicago White Sox with two straight losses and defeats in three of their last four. So it was a good day to have him penciled in the starting lineup.
The 34-year-old Darvish, who became a Hokkaido Nippon Ham Fighters star in his early 20s, gave the Cubs a big boost: a victory to close out their long homestand, one in which they went 5-6, with Darvish earning three of those wins.
Darvish held the White Sox to one run in seven innings in the series finale. He struck out 10 batters and walked one in a 2-1 Cubs victory.
For Darvish, it was a clinic in pitching ingenuity. He relished the chance to mix things up. Not relying just on power, he used his bag of tricks to keep the White Sox off-balance.
"Darvish got a whopping 26 swings-and-misses from the Sox, including 13 on the slider. Only two of the 25 sliders he threw were put in play," Russell Dorsey of the Chicago Sun-Times reported in his game story.
Darvish's reaction to his outing in the Windy City showdown?
"I feel like I have confidence right now," he told reporters after the game. "I feel really good. Especially today, I had a lot of power in my body. But I was not thinking about the past or my numbers. Just focusing on each pitch."
While focusing on each pitch, Darvish worked effectively throughout the game.
Or as Cubs manager David Ross observed, according to the Chicago Sun-Times: "The secondary stuff is so good, and the way he commands it is fun to watch. I tell him that all the time. It's a credit to him.
"Knowing himself, he continues to work the lineup and work to his strengths off of that. On paper, [it was] probably not the best matchup today for some of his pitch characteristics. But he continued to execute those pitches on the corners. And the fastball looked explosive today."
Explosive is a succinct way of saying it was very difficult to hit.
After all, batters have just a split second to adjust to the rotation of the ball as it zooms toward them at speeds reaching around 161 kph (100 mph).
The spin of the ball and how it looks to the human eye isn't the same for fastballs, curveballs, forkballs, split-finger fastballs, etc. Knuckleballs and knuckle-curveballs are tricky in different ways, too. Darvish has incorporated them into his crafty arsenal, too.
"I wasn't thinking about anything, just following the scouting report," Darvish told reporters of his approach to facing the White Sox. "Just used the breaking ball and mixed in the cutter, slider and knuckle-curveball at the right time, especially to righties. [Then] throw a chase slider and cutter."
In Contention for NL Cy Young Award
Darvish is clearly in the conversation for the National League Cy Young Award, and might be the leading candidate right now.
In addition to his 5-1 record, the Osaka Prefecture native has exhibited terrific control—44 strikeouts and six walks in 37 innings. His 1.70 ERA is second-best in the NL.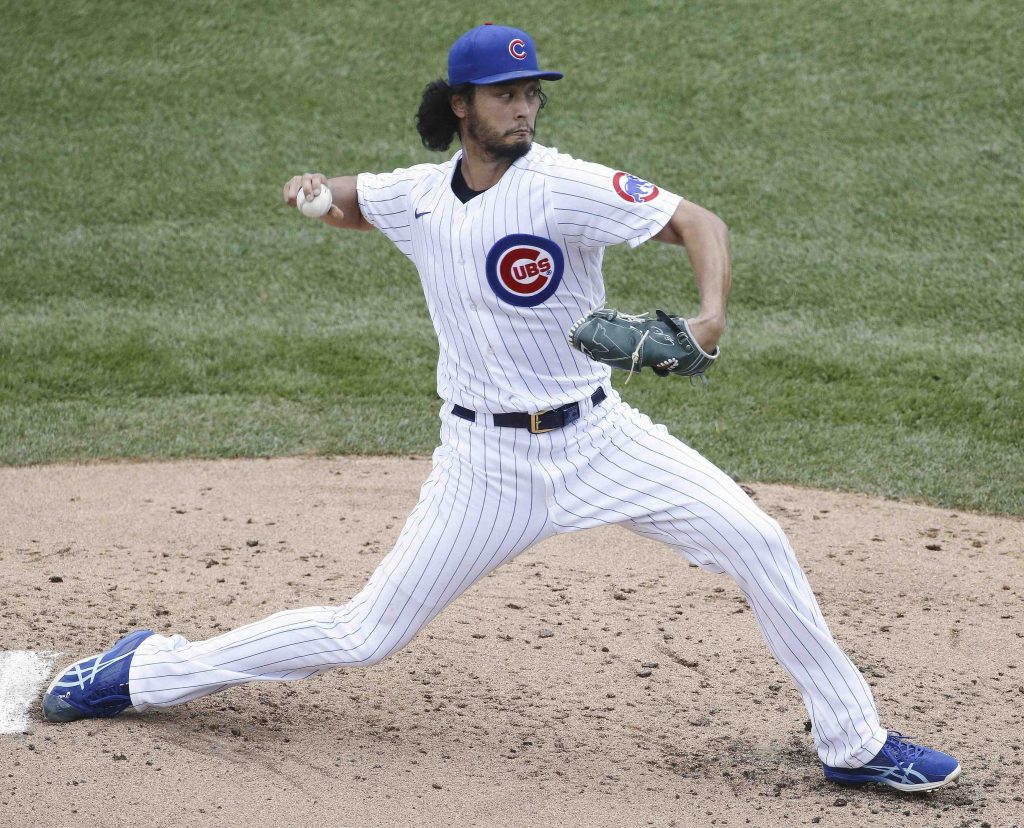 A four-time All-Star with the Texas Rangers (2012-14 and 2017), Darvish had his most successful MLB season nearly a decade ago. He won 16 games and lost nine times for the Rangers in 2012, finishing with a 3.90 ERA. The next year, his second in the majors, he went 13-9, lowered his ERA to 2.83 and led the majors in strikeouts (277), and was second on the AL Cy Young Award ballot behind Detroit Tigers stalwart Max Scherzer.
Darvish hasn't reached double digits in victories since going a combined 10-12 and recorded 209 strikeouts for the Rangers and Los Angeles Dodgers in 2017.
But in this weird season, he's already halfway there. He's looked impressive and focused and confident.
And that's a combination that every manager wants.
Just ask Ross.
"Every [contending] ballclub has that type of guy, right?" Ross was quoted as saying by NBC Sports Chicago on August 23. "The teams that are going to have success, you need those guys that you feel like it's 'Win Day.' We've got a couple of those guys. Yu has been at the top of that list here lately."
The skipper went on: "Every time out, it's a lengthy outing. It's executed. It doesn't matter the lineup, he pitches his game, and has electric stuff."
In March 2015, Darvish underwent Tommy John surgery on his right elbow, but came back to pitch with some of that same electricity in 2016 and 2017. In the first two years of his six-year deal with the Cubs, Darvish coped with injuries, including to his right elbow, and mediocre pitching form. For instance, he yielded an NL-high 33 home runs last season en route to a 6-8 record. He also was second in the Senior Circuit in wild pitches (11).
The script has been flipped.
Darvish's overall performance has been among the best in baseball in 2020. And it's a compelling story to follow.
Author: Ed Odeven
Follow Ed on JAPAN Forward's [Japan Sports Notebook] here on Sundays, in [Odds and Evens] here during the week, and Twitter @itsjapanforward.