[ODDS and EVENS] Current and Former Ukrainian Athletes Take a Brave Stand Against Russian Invasion
"They have an idea to rebuild the Soviet Union, but we do not want to return to the USSR. We see our future as a free democracy." ―Ex-world heavyweight champion Vitali Klitschko, mayor of Kyiv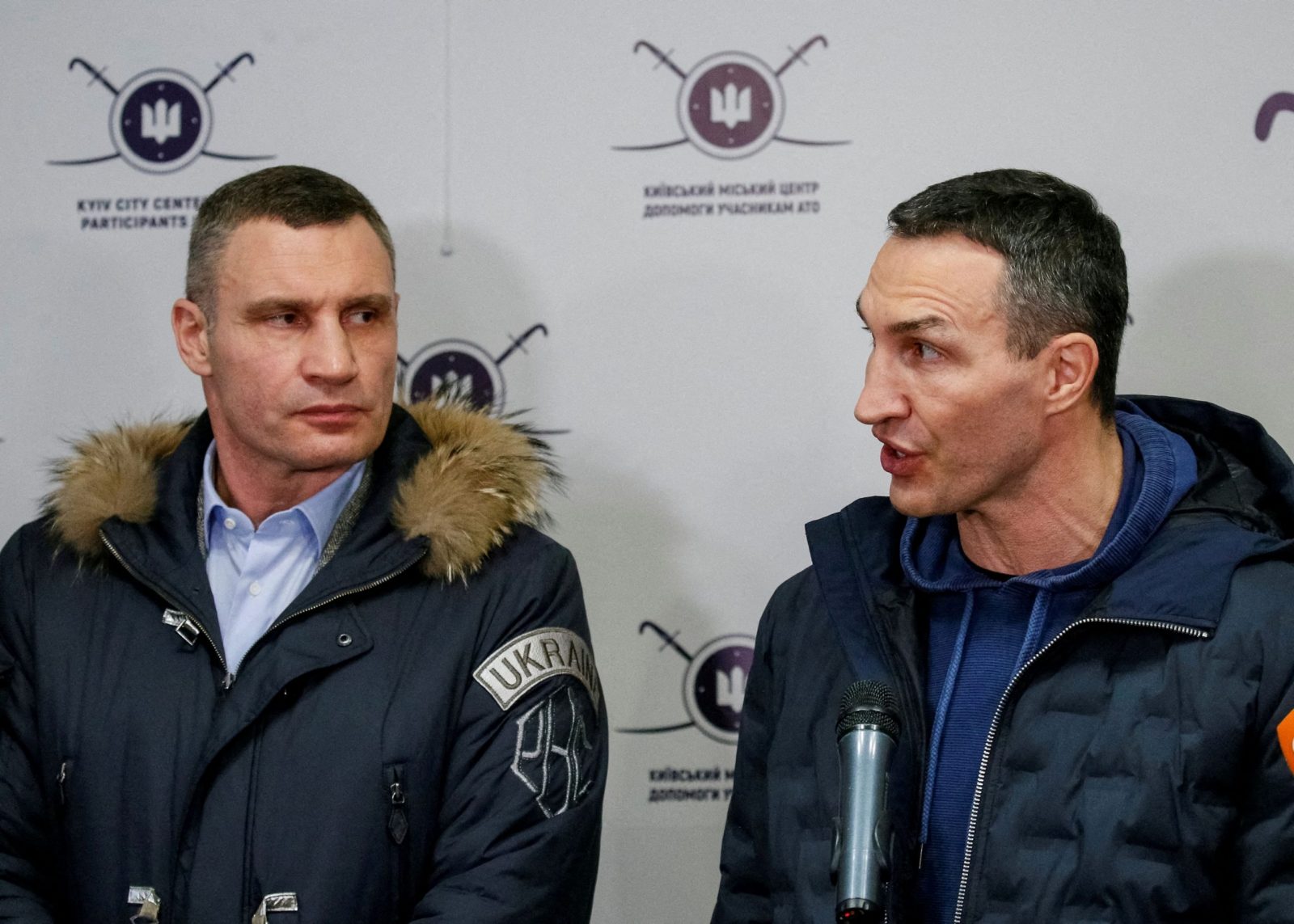 ~~
Like in war, powerful symbols exist in sports.

Within the past week, we've witnessed sports figures take on greater symbolism than in normal times in Ukraine and beyond.
Ukraine's fight for survival against invading Russia has unified the nation. As they rally behind their president, Volodymyr Zelenskyy, Ukrainians have also been inspired by courageous leaders with sports backgrounds, including two former world boxing heavyweight champions, brothers Vitali and Wladimir Klitschko.

Vitali, 50, threw his final punches as a professional boxer in September 2012. Ten years later, the Kyiv mayor said he has a duty to take up arms against Russia.

'I don't have another choice," Vitali, who had 47 pro fights (and 45 victories), was quoted as saying by Daily Mail, a British tabloid. "I have to do that. I will be fighting. I believe in Ukraine. I believe in my country and I believe in my people."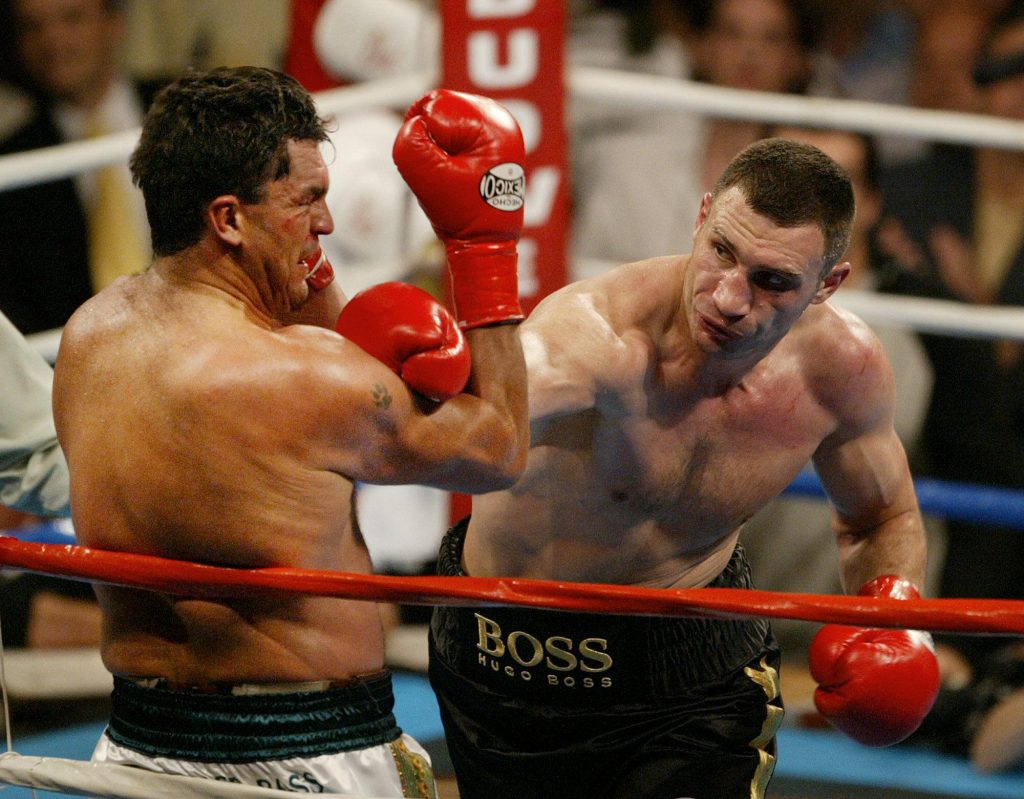 Mayor Klitschko appeared on CNN earlier this week, discussing the Russian invasion and the bravery of Ukrainian soldiers.

"We are ready to fight and ready to die," the Kyiv mayor told CNN's Anderson Cooper.
Wladimir, 45, retired from the fight business in 2017 after compiling a 64-5 record.

Although he amassed a fortune from his fistic encounters in a pro career that spanned three decades, the younger Klitschko also said he must defend his homeland.
Those words were backed by action. In February, Wladimir enlisted in the Ukrainian reserve army.

"One district from here, my little girl is going to school," he said, according to the Daily Mail. "It is the love, the love for my city, my home, my family, my neighbors, my daughter that has brought me here, that I took this initiative and am now taking part in this territorial defense. I can't stand still and I won't. That's why I signed up for the territorial defense of the country and the city."

The elder Klitschko elaborated on his thoughts about Ukraine sovereignty in a revealing TV interview with United Kingdom's Channel 4 News in January:
Our eastern neighbor is not happy with our decision to become part of the European family. We do not want to return to the USSR. We were in the USSR and we see our future as part of a European family. Mr. Putin disagrees. They have an idea to rebuild the Soviet Union, but we do not want to return to the USSR. We see our future as a free democracy.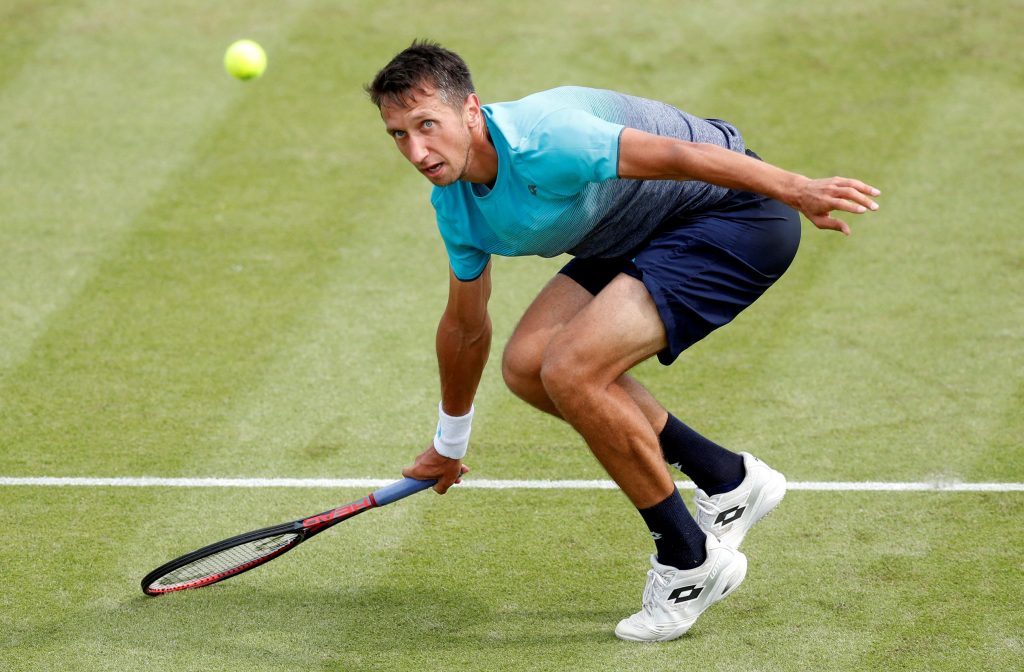 Other current and former Ukrainian athletes have also joined the military in recent days during the nation's existential crisis.
Over the weekend, pro tennis player Sergiy Stakhovsky, 36, announced that he has enlisted in one of Ukraine's military reserve units.

"Of course I would fight, it's the only reason I'm trying to get back," Stakhovsky said, according to British broadcaster Sky News.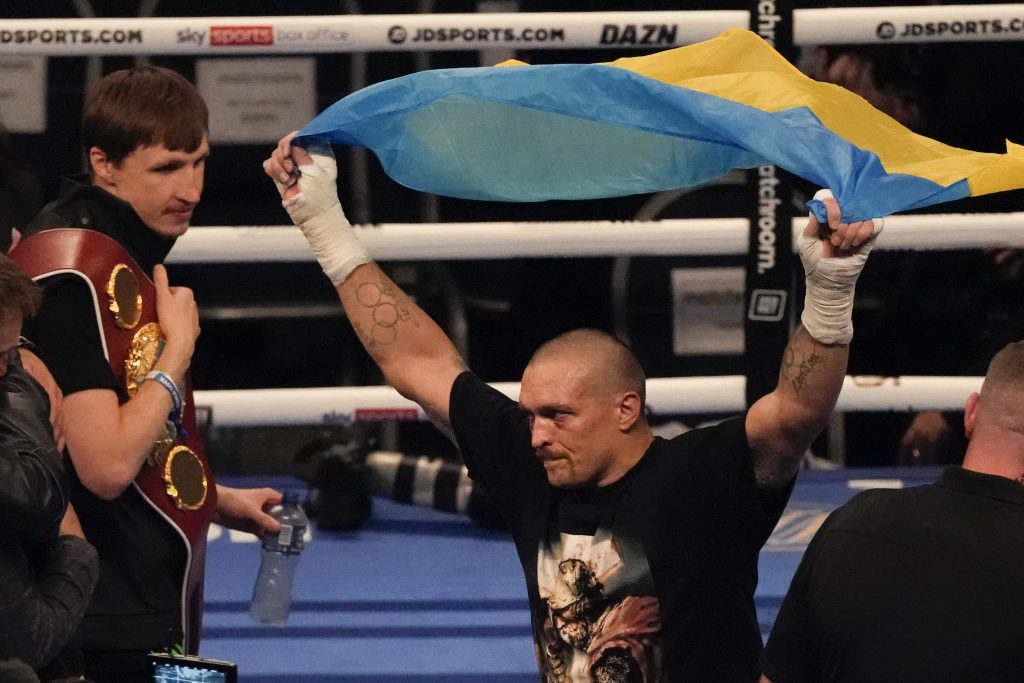 Heavyweight boxer Oleksandr Usyk returned last week to Ukraine from the UK, where he was involved in a promotional activity for the game eSports Boxing Club. Upon his return, the 35-year-old said he has joined the Kyiv Territorial Defense, and photos of him online show him holding a large machine gun.
Indeed, a powerful symbol.

Usyk also explained the nature of his overseas trip.

In an Instagram video, Usyk said: "Dear Ukraine and dear Ukrainians, some wrote about me running away. Not true, I had a work trip and now I'm back. I'm home.
"Friends, we need to unite together and overcome this, because we are faced with exceptional difficulties. I'm very overcome with emotions and I'm very concerned for my country and for our people. Friends, we must stop this war and we must do it together."

Soccer Striker Yaremchuk Expresses Patriotism on the Pitch
Roman Yaremchuk is in his first season with Portuguese first-division club Benfica.

The 26-year-old striker from Lyiv, a city in western Ukraine, made a bold statement on Wednesday, February 23, as Russian military escalation heated up in his homeland.

Yaremchuk took off his shirt after scoring a match-tying goal on a header in the second half against visiting Ajax in a Champions League last-16 first-leg tie at Estadio da Luz.

Underneath Yaremchuk's Benfica shirt was a black T-shirt sporting a trident symbol. Ukraine's coat of arms features a blue shield with a gold trident.

After the match, which ended in a 2-2 draw, Yaremchuk explained his decision to remove his Benfica shirt.

"I am Ukrainian and I am proud of that," Yaremchuk wrote on Instagram. "Being thousands of kilometers away from my native country, I want to support everyone who is now in tension in their native land, now is the time to unite. This is our country, our history, our culture, our people and our borders. I would like to thank our defenders for their courage. Glory to Ukraine."

Yaremchuk, who entered the match as a substitute, was issued a yellow card for removing a piece of his uniform during his post-goal celebration.

Four days later, after the full-scale invasion of Ukraine had begun, Yaremchuk again entered the match as a substitute. This time, it was in a Primera Liga match against Vitoria. In the 62nd minute, Yaremchuk stepped onto the field.

In a unified show of support from the crowd, Yaremchuk was given a standing ovation.

He also received the captain's armband.

He had tears in his eyes as he got ready to play, with Ukrainian flags and "Stop War" signs on display in the stadium.

It was an emotional scene, and a vivid reminder of how humanity is connected through sports, through war … through everything.


Really touching moment. Yaremchuk was given the captain's armband as he was subbed on for Benfica, & was greeted with a standing ovation from the stadium. He was visibly emotional as the supporters reiterated their support for his home country, Ukraine. 🇺🇦 pic.twitter.com/DxJFDC0nbd

— Alex Goncalves (@Aljeeves) February 27, 2022


Author: Ed Odeven
Follow Ed on JAPAN Forward's [Japan Sports Notebook] here on Sundays, in [Odds and Evens] here during the week, and Twitter @ed_odeven, and find him on JAPAN Forward's dedicated sports website, SportsLook.