From Giving Funds to Volunteering as Soldiers, Japanese Rally for Ukraine
Over the first weekend of Russia's invasion of Ukraine, several cities in Japan held peaceful demonstrations to show their support for Ukrainians.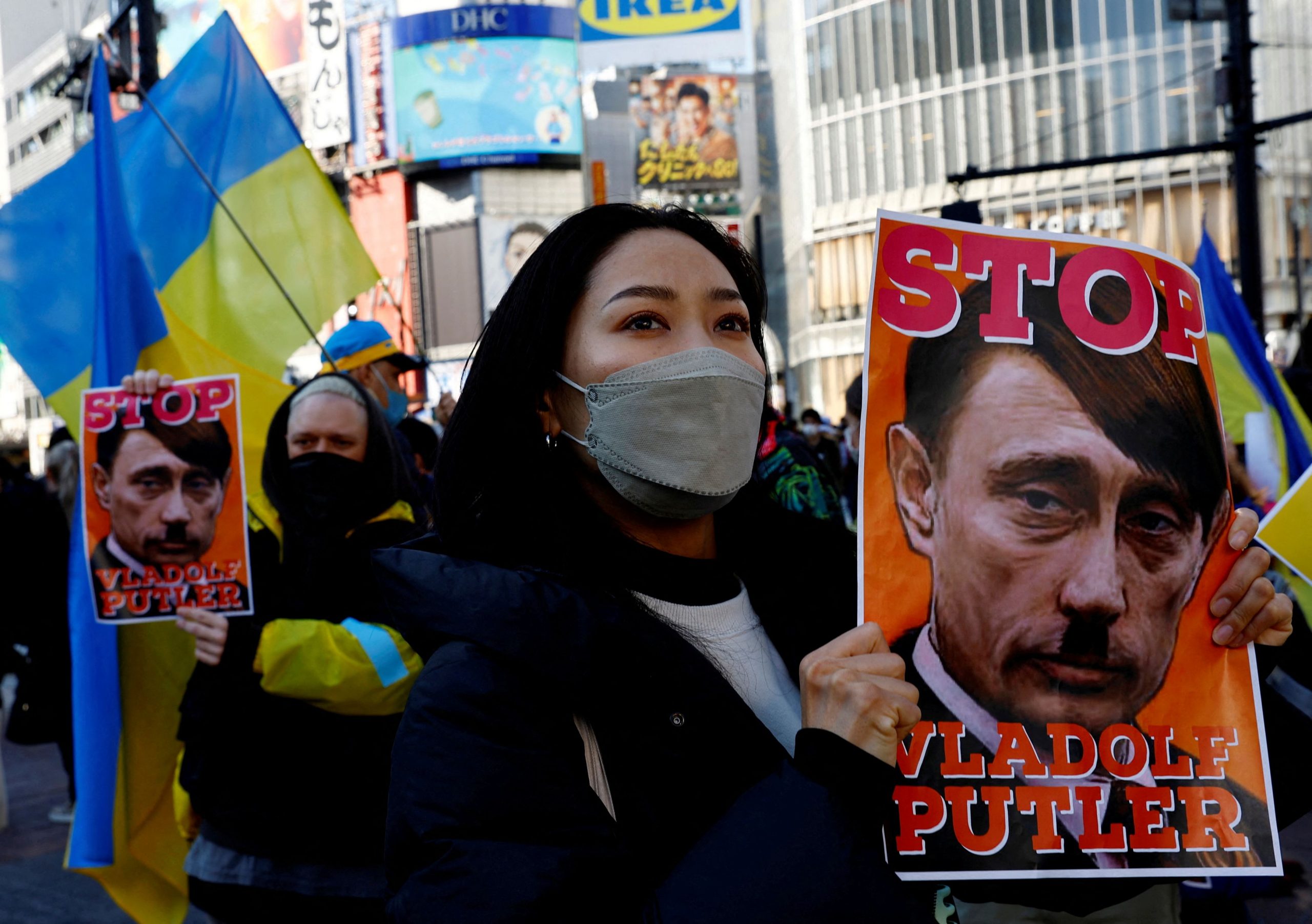 Typically, political activism in Japan is quite tame on the surface.
Not this time. The Japanese are rallying after Russia's invasion of Ukraine.
In the first few days of Russia's invasion, people in Japan have come up with a wide variety of ways to show their opposition to the war.


Donations Flock
On March 1, the Ukrainian embassy in Tokyo posted a message of thanks on Twitter to the people of Japan.
"We would like to express our heartfelt thanks, and we will make sure to distribute this sum to those most in need," said the embassy's tweet in Japanese.
Sergiy Korsunsky, Ambassador of Ukraine to Japan, confirmed in an interview with Sankei Shimbun and JAPAN Forward that the sum as of March 3 was up to nearly ¥2.5 billion JPY (about $17.4 million USD), for the people of Ukraine.
Hiroshi Mikitani, CEO of online retailer Rakuten in a powerful statement from Japan's business world, announced that he and his family alone had decided to donate ¥1 billion JPY (about 8.65 million USD) to Ukraine.
Volunteers Sign Up to Fight
The Ukrainian embassy also shared the information that 70 people in Japan had responded to their appeal for volunteers to help on the ground.
Keichi Kurogi is a 39-year-old office worker who spoke with Reuters in an article published on March 3, explaining his reasoning for wanting to volunteer.
"I'm from a generation that does not know war at all," he told Reuters, "It's not that I want to go to a war, it's more that I would rather go than see children forced to carry guns."
On February 27, Ukraine President Volodymyr Zelenskyy called on all friends of Ukraine "to come and fight," which was then repeated by the Ukrainian embassies around the world. Ukraine had previously enacted a rule where all Ukrainian men between the age of 18 and 60 were not allowed to leave the country.
The Ukrainian embassy in Tokyo put a new announcement on Twitter on Wednesday, March 2, saying that they were looking for volunteers with medical, IT, communication, or firefighting experience.
Whether volunteers from Japan will be able to go is still a matter of discussion, as Japan doesn't currently have an arrangement to support volunteer soldiers for dispatch to other countries.
"We are aware that the Ukrainian embassy in Japan is calling for [volunteers], but we would prefer that people avoid traveling [to Ukraine], no matter what the reason," said Foreign Minister Yoshimasa Hayashi in the House of Councillors budget meeting on March 2.


Demonstrations Around Japan
The wave of solidarity among the populations has crossed Europe, North America, and Australia, and even permeated into democratic regions of Asia, especially Taiwan, and Japan. Capitals around the world have seen hundreds of thousands of people gathering to show their opposition to war and support for Ukraine.
Over the weekend of February 26 and 27, several cities in Japan were among those to hold peaceful demonstrations to show their support for Ukrainians.
One of the largest was in Tokyo on Saturday, February 26, when, based on various estimates, up to a few thousand people gathered at the Shibuya Scramble intersection in the early afternoon with signs and colors in support of Ukraine.
There were more demonstrations calling for peace in Nagasaki and Hiroshima, and even to the north in Sapporo.
Nagasaki and Hiroshima have a strong connection to anti-nuclear sentiment as the only cities in the world to have experienced atomic bomb attacks. The demonstrations were therefore a way to express concern about a country possessing nuclear weapons like Russia waging war upon its non-nuclear democratic neighbor.
Demonstrations in these cities turned out to be eerily on target in their fears. On February 27, Russian President Vladimir Putin announced that he would be putting nuclear forces on "special alert."


Ambassadors in Japan Respond
Key foreign ambassadors in Japan held separate press conferences in succession at the Foreign Correspondents Club of Japan (FCCJ) on February 25, reacting to Russia's sudden invasion of Ukraine.
"We must remove him (Russian President Putin) from the Kremlin. It is absolutely unacceptable that one individual created such a crisis for no reason. He must be stopped," pleaded Sergiy Korsunsky, Ukraine's ambassador in Tokyo.
He concluded, "We are not fighting the Russian nation, but we are fighting against the regime, which is anti-human."
There were supporting views from the United States ambassador.
"Neither China nor Russia has allies, friends, or coalitions — and there's a reason for that. It's not an accident," argued US Ambassador to Japan Rahm Emanuel. "Nobody is flocking to an authoritarian system based on the principle of raw exercise of power."
"Democratic governments have their challenges, they have their vulnerabilities," he acknowledged. "But people across the world…who are not part of it (democracy) want to join it, and people who are part of it are willing to fight to keep it."
Russia's Ambassador to Japan Mikhail Galuzin held a separate press conference the same day, also at the FCCJ, defending Putin's actions.
"We have presented to the US and NATO proposals to ensure European security. Regretfully, these proposals were ignored," argued Galuzin.
He went on to describe how supposed violence in the Eastern separatist regions by the Ukrainians led to the "forced" decision by President Putin to order a "special military operation to stop the tragedy in Ukraine."


RELATED:
Author: Arielle Busetto