[ODDS and EVENS] Freestyle Skier Anri Kawamura Hitting Her Stride at Opportune Time
The talented teenager has enjoyed a confidence-boosting stretch of success in the run-up to the Beijing Olympics.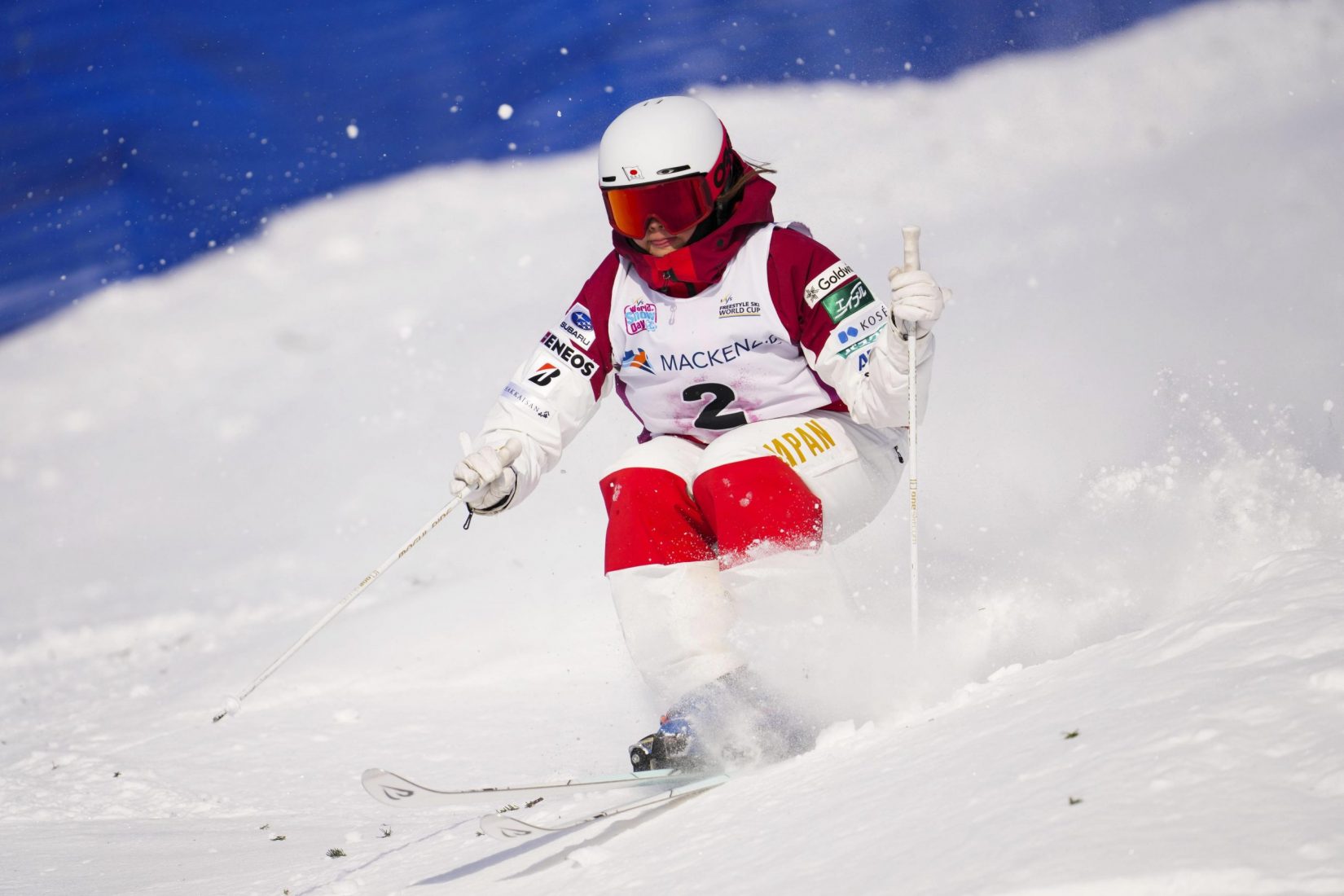 ~~
~
Since the calendar flipped to 2022, Anri Kawamura is on quite a roll, and it couldn't come at a better time for the up-and-coming freestyle skier.
With the Beijing Olympics just a couple weeks away, the 17-year-old is performing at an extremely high level on the Freestyle Ski World Cup circuit. In her four competitions in the women's moguls during the first two weeks of the year, the Higashikurume, Tokyo Prefecture native finished first, third, second and first.
Kawamura participated in the World Cup stop at Mont Tremblant, Quebec, on January 7-8, followed by a successful visit to Park City, Utah, January 13-14.
The four medal-earning results delivered a bold reminder of Kawamaura's abilities: exceptional talent to perform breathtaking turns and aerial maneuvers while bursting with speed on the course.


In 23 career starts, Kawamura now owns 10 podium finishes, an impressive figure for a young athlete who is still developing the skill set to compete at the highest level for years to come.
On December 11, 2021, Kawamura collected her first victory on the World Cup circuit in Idre, Sweden, finishing ahead of France's Perrine Laffont and third-place finisher Jakara Anthony of Australia.
By doing so, Kawamura became Japan's first women's moguls winner since five-time Olympian Aiko Uemura in March 2010.
What was Kawamura's reaction?
"It feels just amazing," she said, according to Kyodo News. "I'm really happy to be here and this first place today means a lot to me."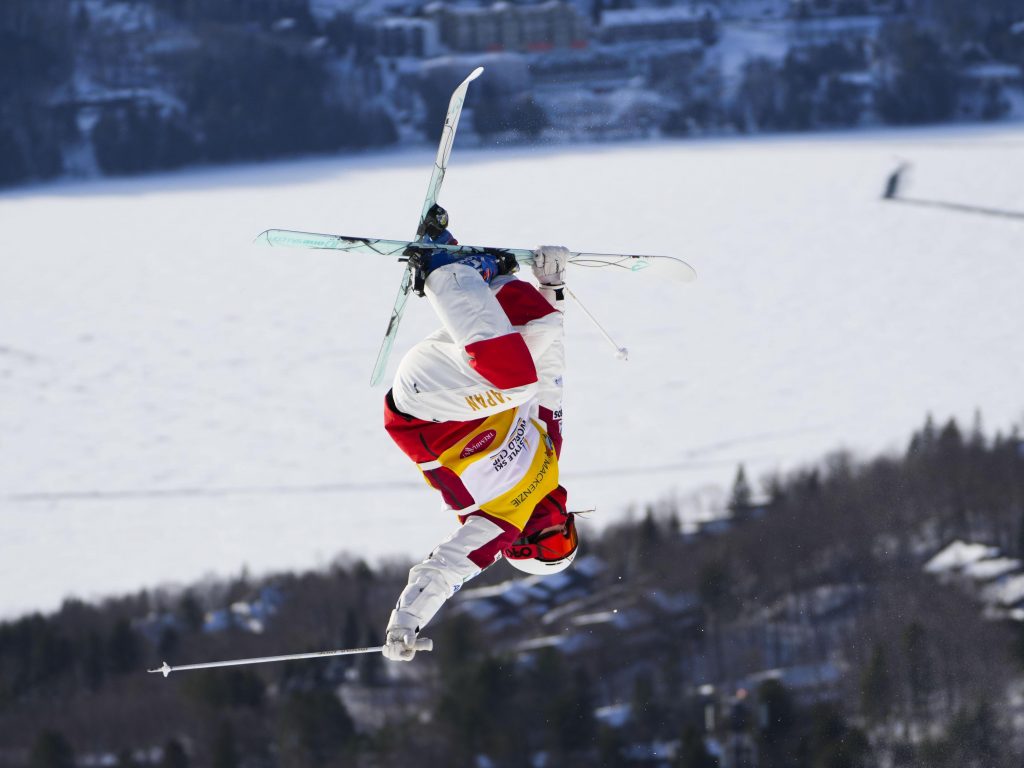 Kawamura experienced that winning feeling again on January 7 near Montreal, receiving 81.76 points in a narrow victory over Laffont (81.43). American Tess Johnson rounded out the top three with 79.25 points.
"It was a difficult course but I could pay attention even to the minor details with my airs and turns," Kawamura told reporters. "I won skiing the way I wanted to, so I'm really happy."
Seven days later, Kawamura had another big reason to smile.
For Kawamura, it was an authoritative performance in Park City on January 14, one that confirmed her reputation as one of the sport's most promising young stars.
The International Ski Federation website summed it up this way:
"Staring down the imposing Champion Run with the moguls World Cup leader Laffont and the moguls and dual moguls overall World Cup leader Anthony staring back up at her from the finish corral, Kawamura simply dropped in and did what she's been doing throughout the 2021-22 season ー as she executed her turns to near perfection, stomped two solid airs, and crossed the finish line with the one of the fastest times of the day to claim the victory with a score of 80.89."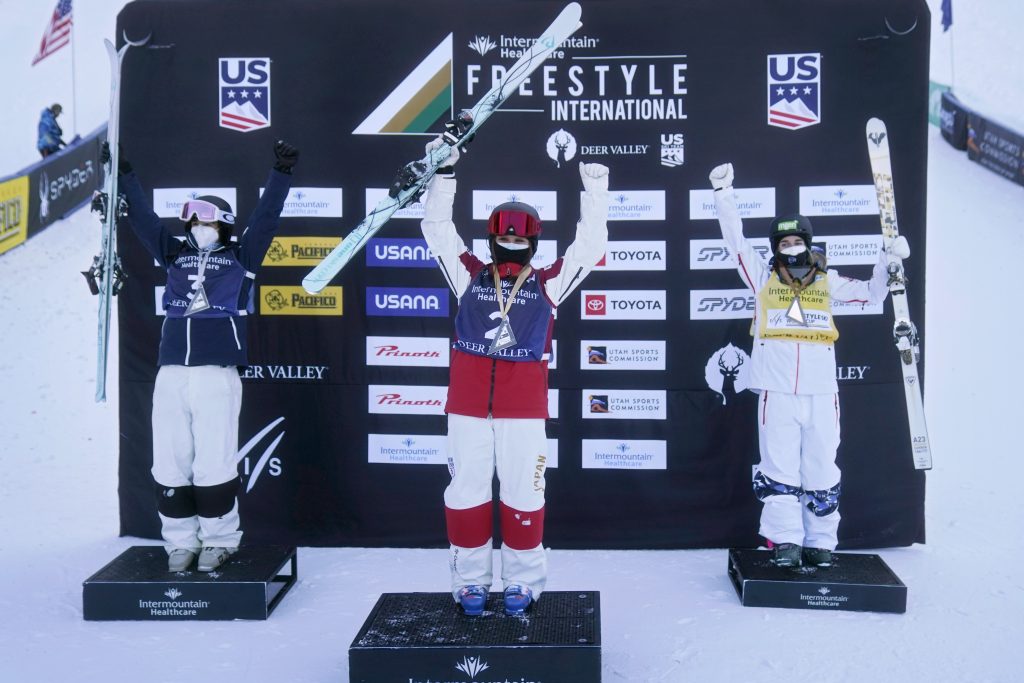 Leading the World Cup Standings
The win in Utah propelled Kawamura to the top of the World Cup individual moguls standings (549 points). Laffont, the 23-year-old reigning Olympic champion, sits in second place with 510. (Watch Kawamura's winning performance, which exhibited body control and balance, here.)
Kawamura, whose international career began in December 2019, couldn't hide excitement after the second day of competition in Utah, where she improved on her runner-up finish the day before.
"It's amazing," a smiling Kawamura told reporters after the win. "I'm so proud of myself, getting this victory right before the Olympics. I'm super happy to be here."
She added: "I'm confident for the Olympics."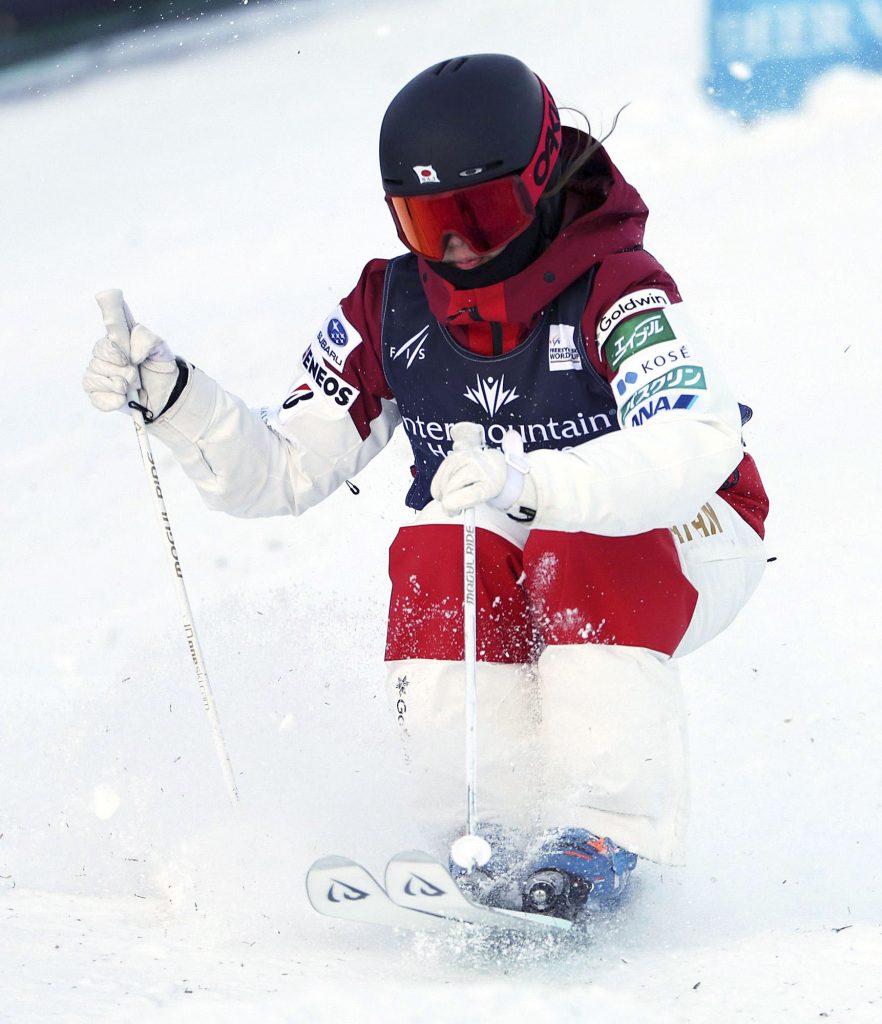 Kawamura's preparations for the 2022 Winter Olympics will mostly be away from the media spotlight, even though she's quickly become a media darling in recent months. Success in big competitions, of course, is a big reason.
The daily grind of exercise and training and getting plenty of rest are the pillars of her ongoing preparations.
As compelling as Kawamura's quest to win Olympic gold before becoming an adult is, the fact that two Japanese mogul skiers have a legitimate shot at winning the gold makes the opening weekend of the Beijing Olympics even more appealing for their supporters and fans.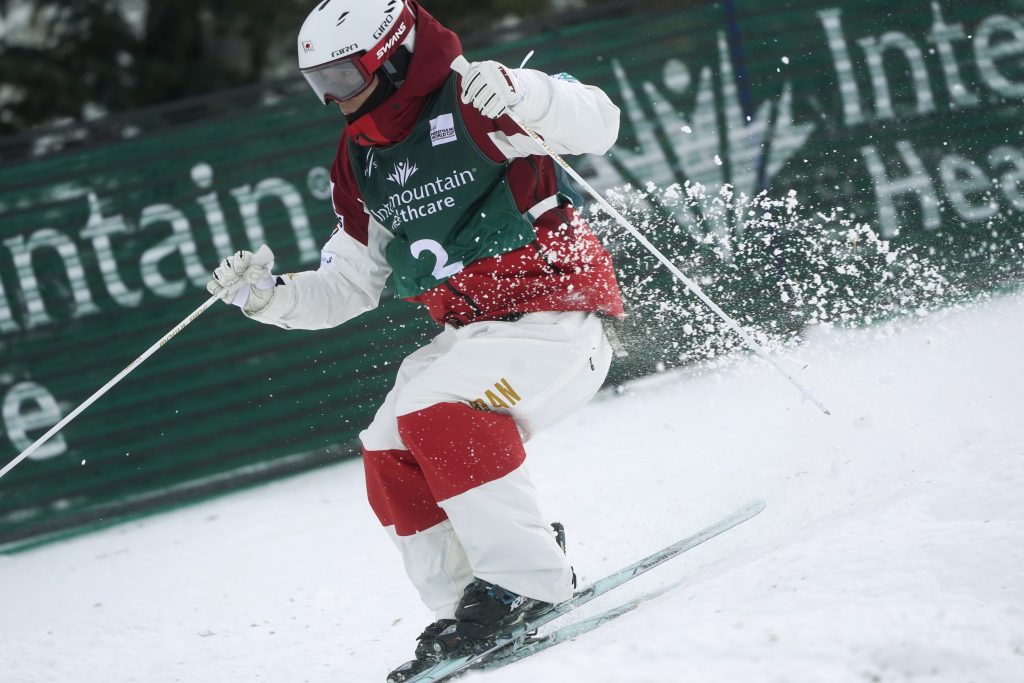 Like Kawamura, Horishima Elevates Expectations for Beijing
Ikuma Horishima has podium finishes in all nine of his World Cup circuit men's moguls starts this season, including three victories, the most recent of which he earned in the last event before the Beijing Games. What's more, the 24-year-old outscored 2018 Olympic champion Mikael Kinsbury (84.04-82.84) in the final round, ending the Canadian's four-meet winning streak.
Bolstered by his recent win, Horishima is in contention for the season title in men's moguls. He amassed 560 points before the Olympic break, trailing only Kingsbury (572).
"I'll try to maintain my form heading into the Olympics," Horishima told reporters in Utah.
The men's moguls final is scheduled to be held on February 5 (the day after the Opening Ceremony), with the women's final set for the next day.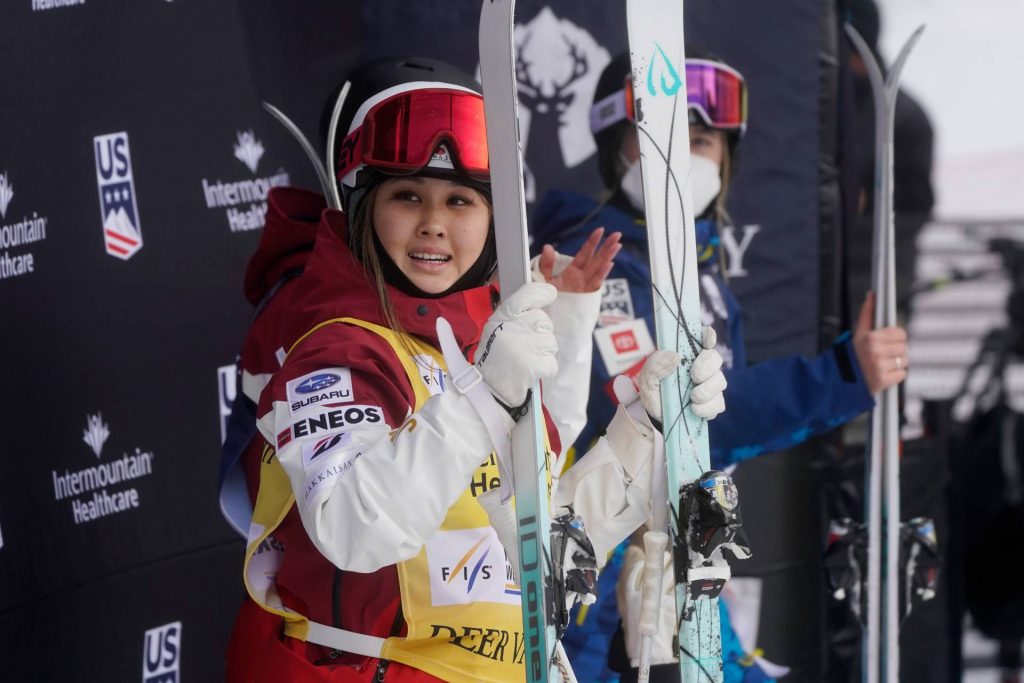 A Golden Opportunity
Can Kawamura become the first Japanese to win an Olympic moguls gold since Tae Satoya's triumph at the 1998 Nagano Games?
We'll find out soon enough.
Satoya's fame was tarnished several years after her Olympic triumph due to a sex scandal at a Roppongi night club.
Looking ahead, we'll see if Kawamura can hold off Laffont for the World Cup circuit moguls title a few weeks after the Beijing Olympics. The World Cup circuit's final round will be held on March 19 in Megeve, France.
2022 is shaping up to be a momentous time in Anri Kawamura's life.


Author: Ed Odeven
Follow Ed on JAPAN Forward's [Japan Sports Notebook] here on Sundays, in [Odds and Evens] here during the week, and Twitter @ed_odeven.