[ODDS and EVENS] How Legendary Runner Billy Mills Found Purpose By Chasing an Olympic Dream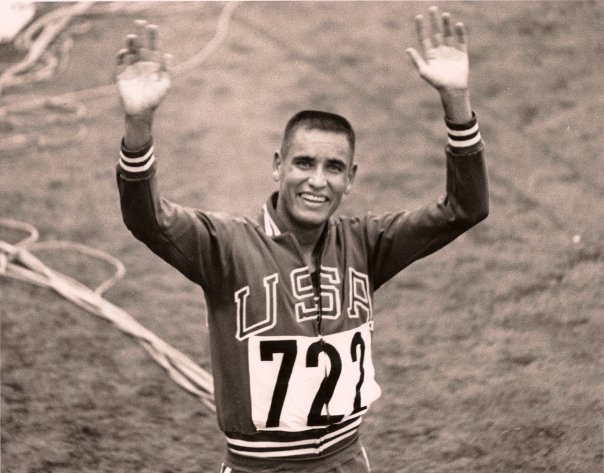 A dream can transform a life, giving it purpose.
Billy Mills is living proof.
The latest episode of American Voices with Senator Bill Bradley, a long-running SiriusXM satellite radio program, introduces (or reintroduces) Mills' amazing story.
Compressed to about 20 minutes, Mills' life and life mission are highlighted on Bradley's show which is posted on Soundcloud and Facebook.
Listening to the show is time well spent.
Decades after winning gold medals at the 1964 Tokyo Olympics, Bradley and Mills remain prominent figures. They are sports legends with wholesome reputations who have lived active, meaningful lives.
Within a 10-day period in October 1964, Bradley, the captain of the U.S men's basketball team, and Mills, the unlikely 10,000-meter track champion, collected their medals.
Mills, a member of the Oglala Sioux Tribe, shocked the world on October 14, winning the race in an Olympic-record time of 28 minutes, 24.4 seconds.
Then, on October 23, Bradley scored 10 points in Team USA's 73-59 victory over the Soviet Union in the men's basketball final.
Bradley deftly introduced Mills' life before and after that race, as well as compelling details from his run into the history books. He didn't probe like a prosecutor. Instead, his natural curiosity and intellect illuminate the conversation with sharp, focused questions.
Mills seemed to appreciate the opportunity. Over the years, he's been profiled countless times by newspapers and magazines and TV and radio programs, but he always provides detailed answers, not canned responses, about how a dream transformed his life. What's more, the movie "Running Brave," based on his life, was released in 1983. Robby Benson played Mills.
If this were a normal year, their compelling conversation could've been broadcast during the original timeframe of the 2020 Tokyo Games. But the COVID-19 pandemic pushed back plans for the Tokyo Olympics until next year. Mills' life illustrates the power of the Olympic spirit to inspire people, pushing them to make positive contributions to society. It's a reminder that beyond the contemporary commercialization of the Olympics exists a real societal and global benefit to competition.
In the segment's introduction, which highlighted Mills' triumph in the 10,000, Bradley said, "You just made everybody on the team proud."
Archival audio footage is included, capturing the end of the epic upset as Mills staged a late rally to pull ahead of Tunisia's Mohammed Gammoudi and hold off the favorite, Ron Clarke of Australia. Mills sprinted to the finish line to edge Gammoudi (28:24.8) and outsprint Clarke (28:25.8).
Highlights of the men's 10,000 meters at the 1964 Tokyo Olympics are on YouTube.
But before that, Bradley, now 77, prefaced the dramatic finish with a description of what had already unfolded:
"The announcers weren't even focused on him," Bradley pointed out, "and all of a sudden he was close to the lead, but then he was pushed back by another runner, actually twice. And now Billy Mills was (in) fourth place, and then he started running even faster."
Then the dramatic audio footage of the race was played.
"Billy Mills, Billy Mills, pouring on the steam," the announcer reported. "Billy Mills is really putting it on. Billy Mills has the lead for the United States heading toward the finish line. Billy Mills has just broken the tape."
Speaking to Mills, Bradley shared his memory of that day long ago.
"I remember the other Olympians were watching it on television," said Bradley, who played for the NBA's New York Knicks (1967-77, two championships), served in the U.S. Senate (1979-97, representing New Jersey), and ran for president as a Democrat in 2000. "We couldn't believe it. He came from behind. Who? Billy Mills. That's incredible."
Mills laughed.
"When you actually finished, people looked at that," Bradley said. "They were so inspired with (sprinter) Bob Hayes or somebody else that was supposed to get a gold medal and that was one thing, but you showed the underdog coming back and your own personal story, and you just made everybody on the team proud."
Mills' Inspirational Story
Mills grew up on the Pine Ridge Indian Reservation in South Dakota. When he was 8 years old, his mother passed away. It was a time of profound sadness in his life.
To this day, Mills remembers what his father told him after his mother died, attempting to inspire and help him.
"My dad just simply said, 'Son, you have broken wings, and it takes a dream to heal broken wings. Your soul is broken,' " Mills told Bradley.
"Why would he say you have broken wings?" the former senator asked.
"He knew that I was broken with the loss of my mother," Mills confessed, who went on to describe the economic poverty on American Indian reservations, which leads to what he described as "the most devastating poverty of all, a poverty of dreams."
Mills, now 82, can still hear his father's voice, and he shared his father's inspiring words on the program.
"He would say if you pursue a dream, son, it takes you down a path, and a path leads to a passion," Mills recalled his father saying. "You find your passion. You develop the skills to equal the passion. You bring them together. What happens?
"And I'm just a little boy not knowing what to say, and I said, 'Daddy, I don't know.'"
After clapping his hands, Mills' father would say: "Magic happens, son. I want you to create the magic. And then over your lifetime, one or two of the magical things you do just might be looked upon as a miracle, son."
Those words made a profound impact on Mills' life.
"So I was believing in magic, I was believing in miracles."
Another Landmark in His Life
After his father's death when he was 12, Mills struggled to find reasons to live—"my world came crashing down"—and said he hit a breaking point and contemplated suicide as a junior at the University of Kansas, for which he had earned an athletic scholarship.
Mills, a three-time All-American cross-country runner and a member of Kansas' 1959 and 1960 outdoor national championship track team, shared a story about standing to pose for a picture with other top runners. The photographer asked Mills to step away. "You, the darker-skin one, I want you out of the photo," Mills recalled the cameraman saying.
This incident exacerbated his depression. He contemplated suicide, considering jumping off a tall building.
But in a quiet moment, Mills told Bradley that he heard "energy, movement spoken like my dad's voice: 'Don't, don't.' "
Mills cried and jotted down a dream.
"Olympic gold medal, 10,000-meter run—that God has given me the ability. The rest is up to me. Believe, believe, believe. So the Olympics became the catalyst to achieve my goal, which was to heal a broken soul."
A Dream Comes True
Mills, a Type 2 diabetic, trained at Camp Pendleton in California and qualified for the 1964 Tokyo Olympics. Upon his arrival in Japan, he was a First Lieutenant in the U.S. Marine Corps Forces Reserve.
Clarke (Australia), meanwhile, had entered the 10,000 in Tokyo with the world record (28:15.6), which was set in December 1963. Mills and Gammoudi (Tunisia) had never been clocked in under 29 minutes in the race. In addition to diabetes, Mills also coped with hypoglycemia (low blood sugar).
I heard Mills passionately speak about his Olympic experience in the summer of 2004 at the Lori Piestewa National Native American Games in Flagstaff, Arizona. Reflecting on his experience in the Olympic village, Mills said: "That's where you get the true meaning of the Olympic Games. That's where the birth of global unity through the dignity, through the character, through the beauty of global diversity emerged for me."
But it was on the National Stadium track in Tokyo where he carved his name into the annals of great sports upsets.
Mills battled exhaustion during the 10-km race. He revealed to Bradley that he thought about quitting at the halfway point, but he wanted to do it in a section of the track that wasn't filled with American fans.
"I'm going to quit where nobody recognized me," he said, explaining his thought process.
But something else happened.
While looking up into the stands, Mills spotted his wife, Patricia.
"That's impossible. Eighty thousand people and I looked into the stands and I saw my wife. And then there's no way I can quit," he admitted 56 years later.
Mills persevered.
Remarkably, he had enough stamina and speed at the end of the 25-lap race to run 50 seconds faster than he ever had in a 10,000 en route to a glorious victory.
Mills told Bradley that winning the gold medal was "a gift from the creator." As a result, he aspired to give back to society.
"I wanted to start an organization that could empower the wisdom of the elders and inspire the dreams of the youth," Mills said.
Humanitarian Efforts
Mills has dedicated his life to helping others. In 1986, he and Eugene Krizek, president of Christian Relief Services, founded Running Strong for American Indian Youth.
According to the organization's website, its mission is "to help Native American people meet their immediate survival needs—food, water, and shelter—while implementing and supporting programs designed to create opportunities for self-sufficiency and self-esteem."
In 2012, U.S. President Barack Obama presented him the Presidential Citizens Medal, the nation's second-highest civilian honor, for his work with Running Strong.
The organization continues to have a profound impact on the lives of Native Americans. For example, check out information on the organization's ambitious Dreamstarter grant program here.
As Mills' passion shined through while describing the organization's work to Senator Bradley, he explained how the Olympics helped him find a calling, a purpose.
"I am very humbled in trying to say this, but my Olympic gold medal was a gift," the runner told the former basketball star. "...The only way I can even accept the gift is if I can give back. I've tried to spend my life giving back."
For years, Mills has talked about wanting to visit Tokyo again for the Summer Olympics. He had planned to be hereー before the COVID-19 pandemic. In a recent interview, he discussed this with the World Athletics website.
"It's very emotional for me," Mills told the website. "It has nothing to do with winning the gold medal. Tokyo was about healing a broken soul. It was finding peace, making friends.
"Now it's about going back and just participating and watching the day's youth of the world hopefully come together. I hope they can leave Tokyo with some of the empowerment that I left Tokyo with."
Billy Mills' life is a great example of the power of a dream, and the Olympics are a great catalyst for dreams. Which is a powerful reason to support the Olympics' return in 2021.
Author: Ed Odeven
Follow Ed on JAPAN Forward's [Japan Sports Notebook] here on Sundays, in [Odds and Evens] here during the week, and Twitter @itsjapanforward.