[ODDS and EVENS] Kanoa Igarashi Aiming for Stellar Finish to World Surf League Season
The silver medalist at the Tokyo Olympics has a shot at securing a spot in the tour's five-man finals in September.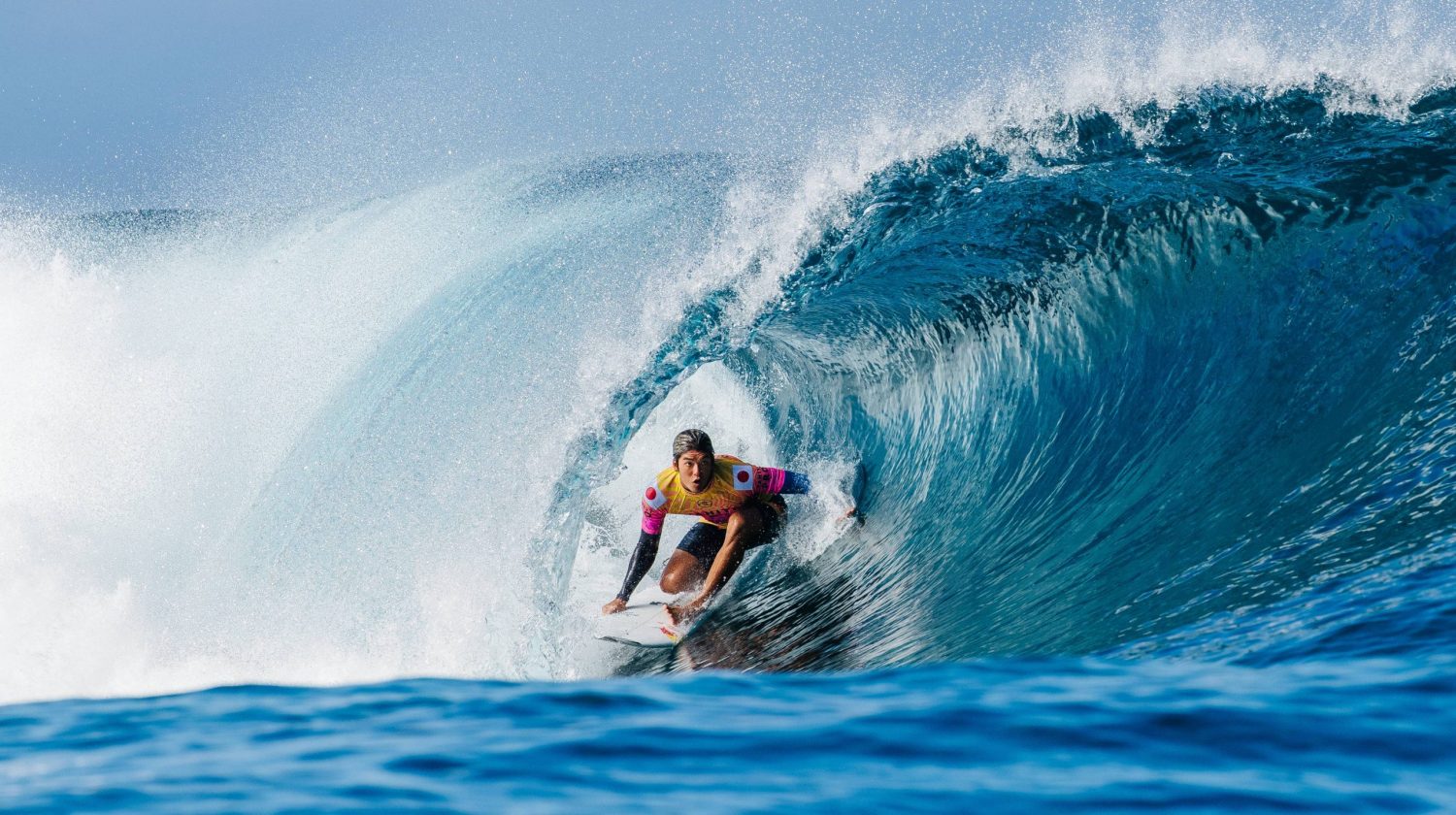 Surfing symbolizes freedom, gravity-defying artistry in motion, youth culture and much more.
The professional structure of the sport also adheres to the rigidity of mathematics. Points determine the winner and overall standings at each event plus the final standings.
A prime example: the World Surf League Men's Championship Tour, which is holding its 10th and final regular event of 2022 from August 11-21 in Tahiti.
The Outerknown Tahiti Pro competition is the last event before this year's WSL Finals, scheduled for September 8-16 in San Clemente, California. In Tahiti, the fifth and final men's participant will be determined.
Current No. 5 Griffin Colapinto (36,800 amassed points in 2022) and Kanoa Igarashi (35,205) are the top contenders to lock up the fifth spot. But several other men also have an outside shot at qualifying for the WSL Finals. (Follow daily updates from Tahiti here.)
Entering the Tahiti tournament, Brazil's Filipe Toledo sits atop the standings with 53,360 points, followed by Australia's Jack Robinson (48,025) and Ethan Ewing (40,970). Italo Ferreira is fourth (39,130).
Earned points for completed Championship Tour events can be assigned as follows: 1,330, 3,320, 4,745, 6,085, 7,800, or 10,000. For example, Igarashi received 6,085 points in July's lone tournament.
This year, Igarashi has earned four fifth-place finishes, a third-placing showing in the most recent tour stop (Corona Open J-Bay in Jeffreys Bay, Eastern Cape, South Africa, in July) and a runner-up finish at the Hurley Pro Sunset Beach competition, which wrapped up on February 23 in Oahu, Hawaii.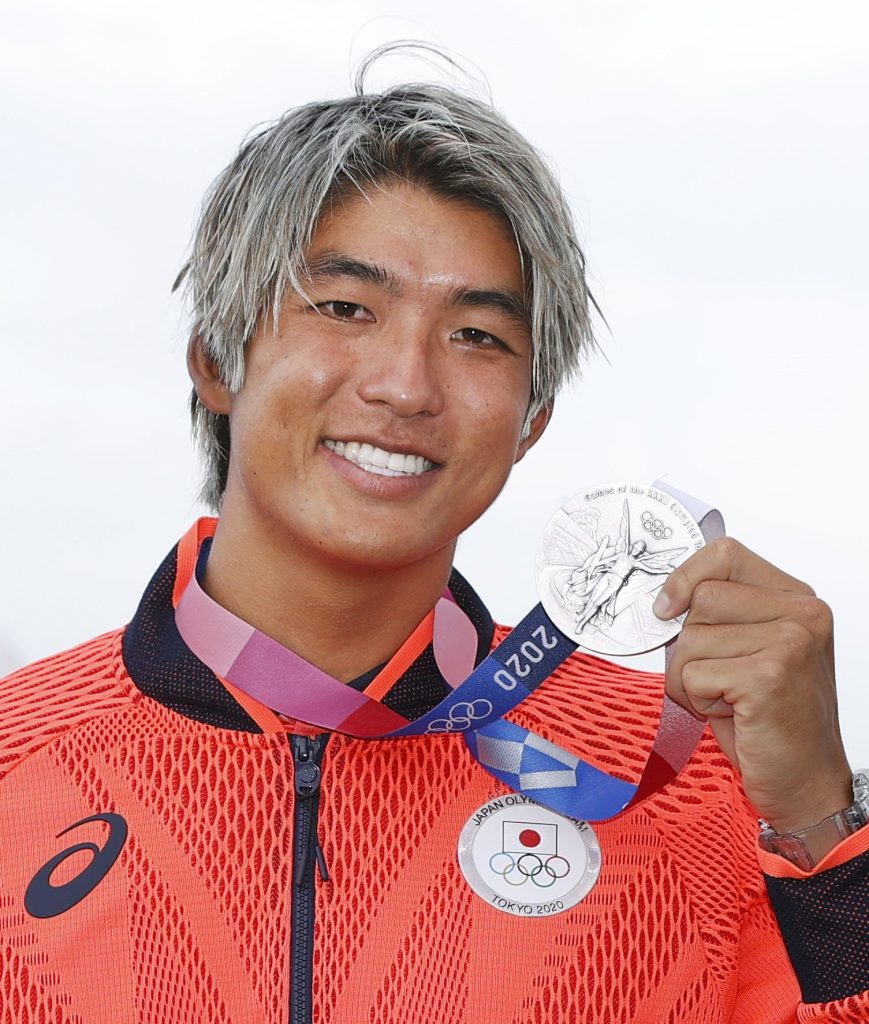 A Day to Remember
July 27, 2021, marked the biggest day of Igarashi's surfing career. Competing in the land of his birth, Igarashi, collected the silver medal in the men's surfing final in the sport's Olympic debut at the Tokyo Games.
Ferreira captured the gold medal at Chiba Prefecture's Tsurigasaki Surfing Beach.
When the competition was over, Igarashi, who grew up in Huntington Beach, California, summed up his emotions this way: "I got power from the people around me and am happy that I've won a medal."
Preparing for the delayed Tokyo Olympics, Igarashi told Australia's ABC News in April 2021 that he felt a sense of purpose for his life thanks to surfing.
"I never thought surfing would lead me to something that is much bigger than just the sport. The Olympics is much bigger than that," Igarashi said in an interview.
"I feel like I've kind of found myself with the Olympics."


Valuing Time with Family and Friends
In late July, Igarashi spoke to the Los Angeles Times about the demands of the job and the importance of knowing how and when to relax.
In an article that ran before the Vans US Open of Surfing began on July 30 in Huntington Beach, California, the 24-year-old highlighted his desire to compete in his hometown.
"To be completely honest with you, my preparation is spending time at home, spending time with my family, my friends, recharging the batteries," Igarashi told the newspaper. "Sometimes that's a lot more important than physically training, physically being ready. I do that all year. There's nothing I'm going to learn in Tahiti a week before the event."
Igarashi elaborated on his decision to compete in the non-WSL Championship Tour event in California by pointing out that he felt heading to Tahiti weeks early wasn't necessary.
"I spent three weeks chasing a swell there during COVID last year," Igarashi said, according to the Los Angeles Times. "Those are the times when you improve. I guess what I'm trying to say is, you have to stay good. I've done my work out there in the past, [and] there's not something I'm going to do a week before the event that's going to change the result for me."


A Rise in Prominence
Igarashi made his WSL Championship Tour debut in 2016. He placed 20th in the standings that year.
He rose to 17th overall in 2017, then placed 10th in 2018.
In 2019, he finished sixth and won his first Championship Tour event (Corona Bali Protected in Indonesia). His victory in Bali was the first by a Japanese surfer on the tour. Watch highlights of the final here.
The WSL canceled the 2020 season due to the global pandemic.
Igarashi returned to competition in 2021 and had a pair of fifth-place finishes and a third-place showing.
The Tokyo Olympics served notice that he's one of the world's elite male surfers.
And now, vying for a spot in the WSL Finals is further proof that Kanoa Igarashi picked the right occupation.
Forget about an office. He just needs waves and a surfboard.


RELATED:
Author: Ed Odeven
Follow Ed on JAPAN Forward's [Japan Sports Notebook] here on Sundays, in [Odds and Evens] here during the week, and Twitter @ed_odeven, and find him on JAPAN Forward's dedicated sports website, SportsLook.