[ODDS and EVENS] Kashiwa Reysol's Michael Olunga Maintains Torrid Goal-Scoring Pace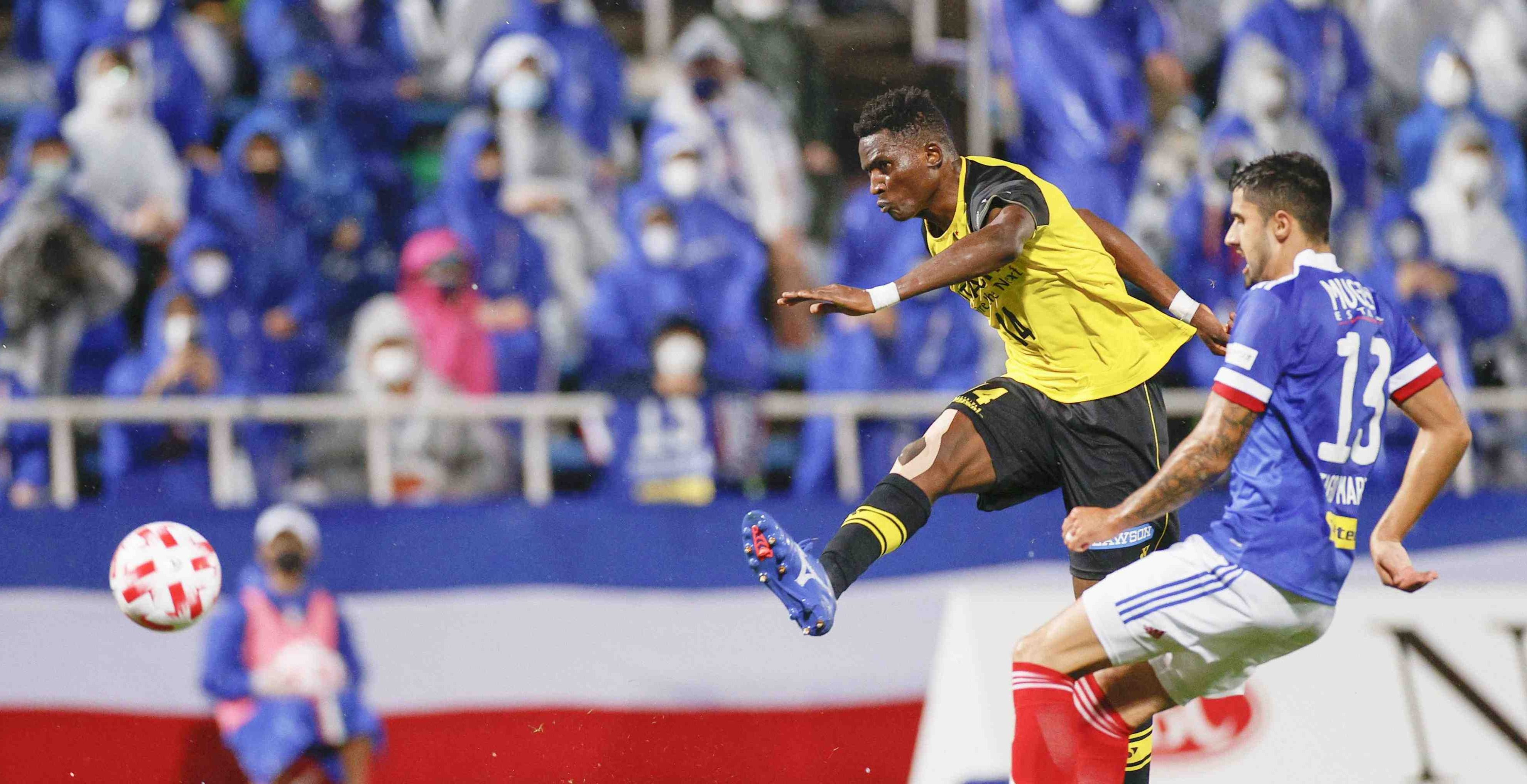 Scoring goals on a consistent basis requires a special set of skills.
Naturally, being in the right place at the right time helps. Speed, strength, great vision, balance comparable to a trapeze artist's, and a wide range of attacking skills supplement a player's chances of putting the ball into the net.
Kashiwa Reysol's Michael Olunga combines all of those skills with a preternatural ability to finish plays.
Like a knockout artist in the boxing ring getting the job done with a power punch, he is at his best when he's controlling the ball and has just one man to beat—or sometimes multiple men.
The proof is in the numbers. The Kenyan center forward has 23 goals in 23 J. League matches this season.
Fans celebrate goals, the plays (and the players) that are always showcased on highlight reels. Put it this way: Nobody is surprised when Olunga scores a hat trick. For him, a three-goal effort is akin to a 9-to-5 shift at the office.
So think of it this way: Olunga has brought a lot of joy to Reysol supporters, even if Kashiwa sits in ninth place in the 18-team J. League first division prior to its away match at FC Tokyo on Wednesday, October 28.
And whatever physical tactics and mental strategies he's employing in any particular game and throughout the season, Olunga is the J. League's premier goal scorer by a wide margin.
Brazilian Everaldo of the Kashima Antlers is his closest challenger with 13 goals.
What's more, Olunga has scored one-half of Reysol's 46 goals. That's remarkable. The team, which has 11 wins, four draws and nine losses through last weekend, has 37 points. Kawasaki Frontale leads J1 with 65.
The 193-cm (6-foot-3) Olunga is in continuous pursuit of the ball in all of the Reysol highlights that I've seen. That's, of course, what he gets paid to do.
The 2020 J. League campaign started in late February and then was halted due to the COVID-19 pandemic and declaration of a national emergency and shutdowns in the spring. Then its teams got back on the pitch on July 4, resuming their season.
Olunga, who scored twice in the season opener on February 22 against Consadole Sapporo, took a few weeks to regain his splendid offensive rhythm.
But once he found it, he began creating headaches for opposing defenses, again and again.
Starting on July 18, when he netted two goals against Shonan Bellmare, Olunga began a seven-match goal-scoring streak. It continued with one tally against the Urawa Reds on July 22 and three against Vegalta Sendai four days later. Then he followed that hat trick with a goal apiece in each of Reysol's next four games.
Since then, the first Kenyan to play in the J. League has produced three braces, aka two-goal efforts, against the Antlers, Yokohama FC and Vissel Kobe in recent weeks.
After the brace against the Antlers on August 29, Olunga spelled out his mission for the rest of the season. "Hopefully, this is the beginning of many more [goals], I am always working hard for the team's victory," Olunga was quoted as saying by goal.com.
In Kashiwa's latest match on Saturday, October 24, Olunga scored again, tying it up in the 80th minute with a left-footed goal, in a 2-1 road defeat to Gamba Osaka at Panasonic Stadium Suita.
"I'm sorry I couldn't win. I will do my best again [next time]," Olunga tweeted after the match in a message to Reysol fans.
Michael Olunga has scored 23 of Kashiwa Reysol's 46 goals this season.
Olunga's Career on the Rise
Last season, Olunga excelled in the J. League second division, finishing second in the scoring race (27 goals), one behind Brazilian Leonardo of the Albirex Niigata.
More importantly, Olunga's goals helped produce successful results. Kashiwa earned promotion to J1 for the current campaign after finishing 2019 as J2 champion.
But before Reysol returned to J1 after one season in the second flight, Olunga generated international headlines with a game for the ages against Kyoto Sanga on November 24, 2019.
"I had come back from playing for the national team and it was the last game of the season," Olunga recalled in an interview with FIFA.com in April. "Honestly, I didn't expect to score eight goals in that game. My target was to score a hat trick because I was fourth in the goal-scoring chart with 19 goals. I knew I had to do something special, because scoring a hat trick isn't just any other thing that happens in football.
"I had already achieved my target in the first half and I knew I had 45 minutes to try something which seemed impossible. I went out there in the second half and gave it a good shot. I think it was the perfect way to end the 2019 season."
For some players, eight goals represents a career output. Olunga did it in an hour and a half. Watch the jaw-dropping performance here.
And as noted above Olunga has maintained his prolific scoring output against better competition in this start-and-stop-and-start-again campaign.
Reysol boss Nelsinho Baptista, who began his managerial career in 1985 in his native Brazil, has effectively utilized Olunga's immense talents on offense over the past two seasons.
Time With Reysol
In 2018, Olunga joined Reysol after more than half the season had been completed. He produced modest offensive numbers under former manager Nozomu Kato's watchful eye, delivering three goals in 10 matches.
The disappointment of that experience fueled Olunga's focus for 2019 and beyond.
He admitted as much while speaking to FIFA.com this past spring, commenting on his sustained success.
"I attribute the success to hard work, staying focused even when you think you are losing everything," Olunga stated "At the end of the day, it's about believing you are capable of achieving great things. There are many great players in the world, but with confidence, which I think is the most important aspect of a player, when you have it, you do wonders on the pitch."
Expect Olunga to receive generous contractual offers from teams in Europe's top leagues in the coming months. He's entering his prime as a player.
He's proven what he can do on the pitch.
His scoring totals aren't a fluke.
It says here he still has brighter days ahead in his professional career and in his role as a Kenya national team player.
Monitoring his progress in Japan—and likely elsewhere—in the next five to 10 years will be fun. Michael Olunga brings a joie de vivre to the stadium. Sure, there's a steely determination in his work, but a joy that comes from scoring goals is infectious.
Watch him exult after tapping the ball past a goalie or ripping a blistering line-drive kick from further away. Or score on a header at a gravity-defying angle.
Before his soccer career really took off and he earned roster spots on teams in Sweden, China and Spain before joining Kashiwa, Olunga attended the Technical University of Kenya and studied spatial engineering.
Kenyans fans delighted in Ounga's academic pursuits by calling him "The Engineer."
He'll collect another famous nickname or two before his career is finished.
Author: Ed Odeven
Follow Ed on JAPAN Forward's [Japan Sports Notebook] here on Sundays, in [Odds and Evens] here during the week, and Twitter @itsjapanforward.