[ODDS and EVENS] Kenta Kimura Relies on Experience to Capture Bassmaster Title
"This is my dream. It's what I've wanted to do all my life since I was a little kid." ―Kimura, a 40-year-old Bassmaster pro angler.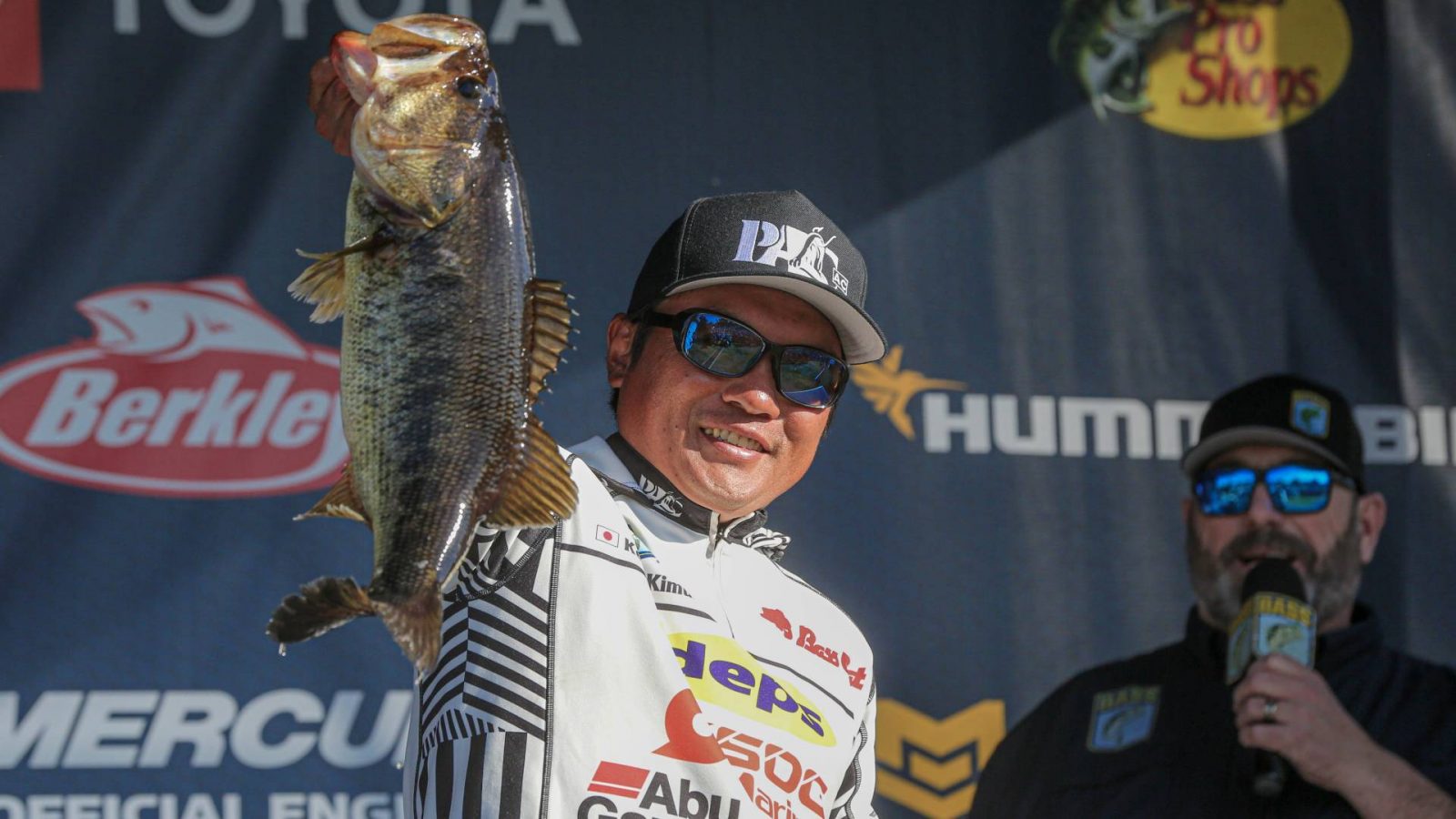 "Find something you love to do and you'll never have to work a day in your life," someone once said.

That timeless wisdom sums up Kenta Kimura's life.

As an 8-year-old, he found something he loved to do: fishing.

He discovered his love for the outdoor activity on a trip with his father to Lake Biwa in Shiga Prefecture. Then the Kyoto-born Kimura became an accomplished fisherman in Japan's junior ranks. He won seven tournaments as a 17-year-old, planting the seeds for a future career as a pro angler.
For more than 20 years, Kimura has pursued his passion, competing in tournaments in Japan and for a decade now in the United States.

In the euphoric aftermath of his victory in the Bassmaster Opens division in Richmond, Virginia, on April 16, Kimura expressed gratitude to American fishermen and the sport's culture in the United States, one that supports his livelihood. It was his first Bassmaster tournament title.

"I want to thank the American anglers. You guys have created a great sport," Kimura said after the competition had wrapped up at the St. Croix Bassmaster Northern Open at James River. "This is my dream. It's what I've wanted to do all my life since I was a little kid."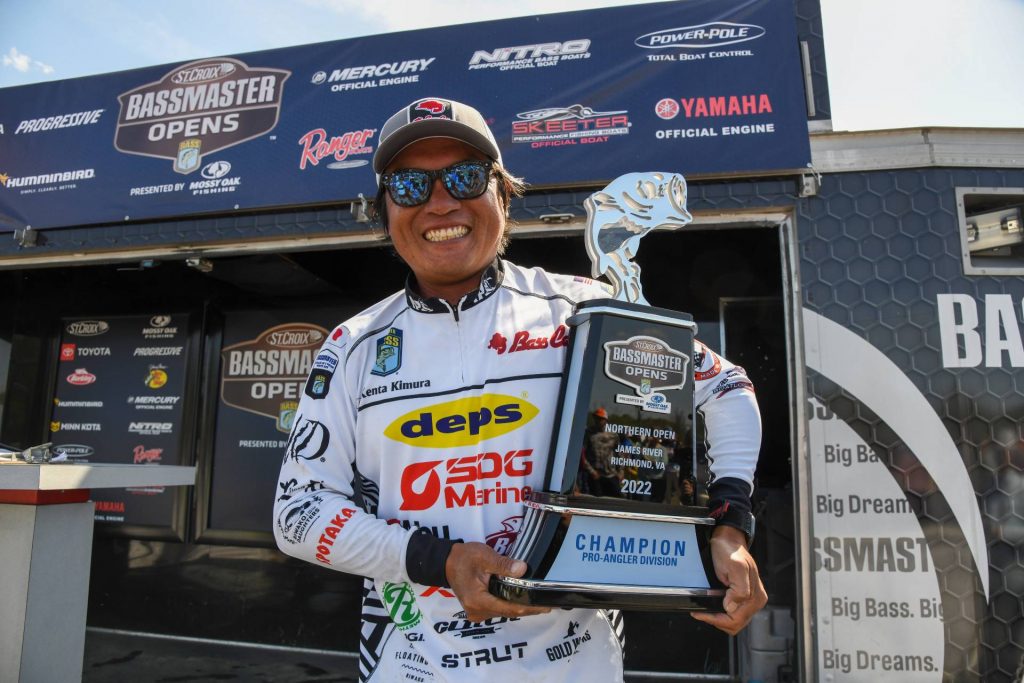 Kimura, who turned 40 in February, is one of four Japanese anglers in the Bassmaster Elite Series. The others: Takumi Ito, Daisuke Aoki and Masayuki Matsushita. Currently, there are 94 individuals in the pro-angler division.

Before winning at James River and collecting $52,000 USD (¥6.64 million JPY), Kimura's best result this season was ninth place at the SiteOne Bassmaster Elite at Harris Chain (Leesburg, Florida) in February.

What were Kimura's keys to victory in the three-day tournament in Richmond?

For starters, effective use of fishing lures played a pivotal part.

"Anywhere in the world, the bigger fish like buzzbaits in a river. Especially this place; all the fish are pressured," explained Kimura, who also works as a fishing guide on Lake Biwa and as a lure designer, in an interview with the Bassmaster website.
Kimura's approach paid off, though early on it didn't appear that he would win the tournament.

By the end of the opening day of competition (April 14), Kimura, who lives in Osaka, was in 19th place with a total haul of 17 pounds.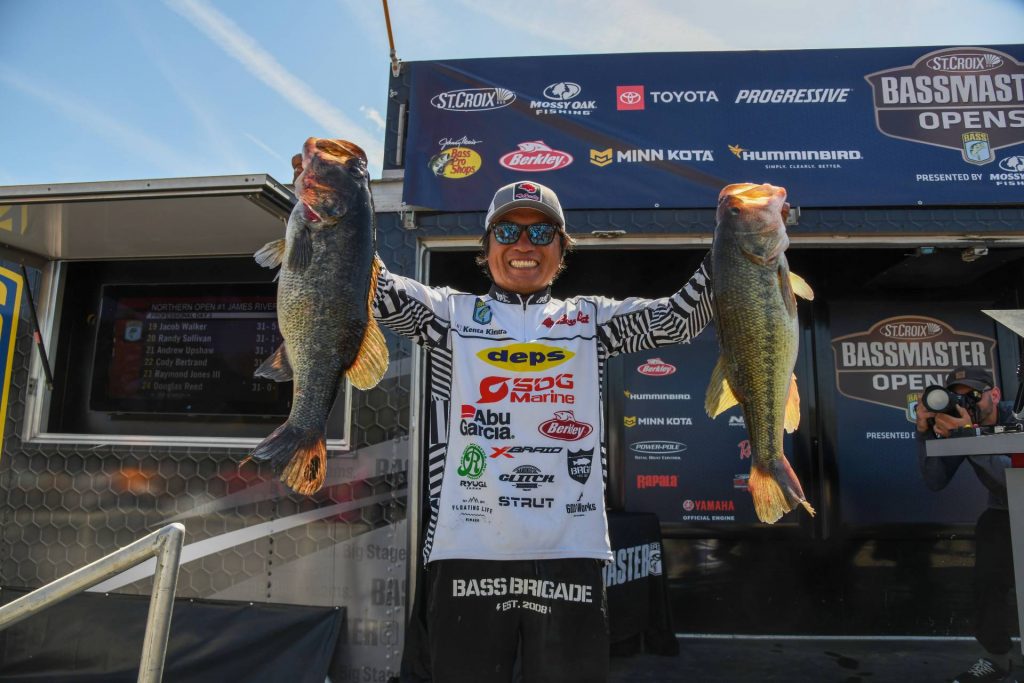 Emerging as a Contender
In a pivotal performance, Kimura, known as "Kimken" to fishing fans and his Bassmaster rivals, exhibited his fish-catching skills on Day 2. By the end of Good Friday, he had climbed into second place, catching a cumulative 23 pounds, 5 ounces for his five-fish limit.
Kimura's experience competing on the previous tour stop at Chickamauga Lake in Dayton, Tennessee, the week before helped him plot his strategy on James River.

For example, from April 14-16 he opted to use the same DRT Tiny Klash swimbait that was a successful lure for him on Chickamauga Lake, according to Bassmaster.com. He hauled in a 19-pound fish on April 8 in Dayton using the effective lure, which includes a lateral tail and an adjustable ABS plastic bill.

And Kimura stuck with the effective lure several days later, when he secured victory on James River with a 6-pound catch.

Earlier, a more modest catch proved vital, he acknowledged.
"I culled out a 2-pounder with that fish," Kimura told reporters. "Without that fish, I wouldn't have won."

Kimura also had his top overall day on the tournament's final day, reeling in his five-fish limit to the tune of 24 pounds, 11 ounces.

That added up to a three-day haul of 65 pounds, and Kimura defeated runner-up Keith Poche, a resident of Pike Road, Alabama, by 3 pounds, 9 ounces in the overall standings.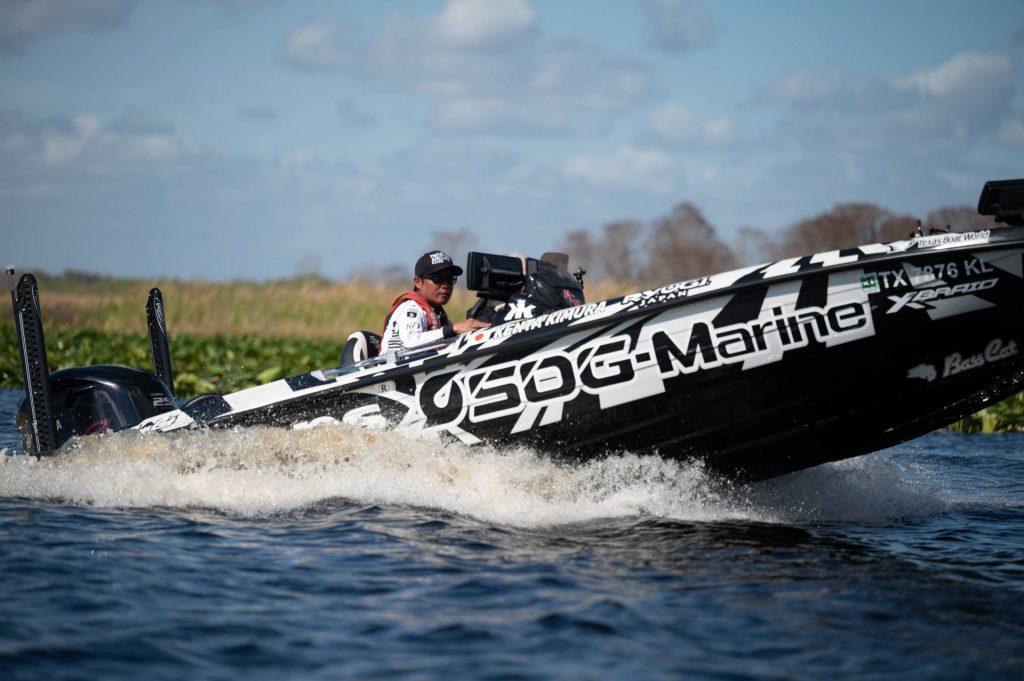 A Winning Strategy
In his first trip to James River, Kimura found his comfort zone 30 seconds away from the takeoff site, Osborne Park & Boat Landing. As a savvy veteran, he also adjusted on the fly, mixing and matching his lures based on what he was experiencing, e.g. finding the winning combination.

"Every time I've fished rivers, I make a long run, but I stayed closer to give me time to figure out what tide they liked," said Kimura, who discusses his fishing career, passion for designing lures and fishing tips in Parts 1 and 2 of an informative video interview series, here and here.
"The first day I was just running around a lot of different places and caught all of my fish on the buzzbait. I had a good day, but it was only 19th place.
"The second day, I caught a limit pretty easy on the squarebill and the spinnerbait, but I couldn't get a big one, so I switched to the big swimbait. They really liked the bigger profile."
By winning the top prize at the Bassmaster Northern Open at James River, Kimura exceeded his expectations.
After all, he was left with modest expectations entering the tournament after producing unsatisfactory results in practice.
"I really didn't expect this because I had a horrible practice," Kimura insisted after finishing atop the leaderboard. "I was going to be happy with 14 pounds a day, but I figured some things out. Some guys said it was going to take 18 pounds a day to make the cut, but I said, 'No way.' But this river is full of big fish.
"This might be the best river I've ever been to in the whole world. I love the James River."
***
Follow Bassmaster tournament results throughout the year on the organization's official website.


Author: Ed Odeven
Follow Ed on JAPAN Forward's [Japan Sports Notebook] here on Sundays, in [Odds and Evens] here during the week, and Twitter @ed_odeven, and find him on JAPAN Forward's dedicated sports website, SportsLook.