[ODDS and EVENS] Rafael Nadal's Extraordinary Success at French Open is Unparalleled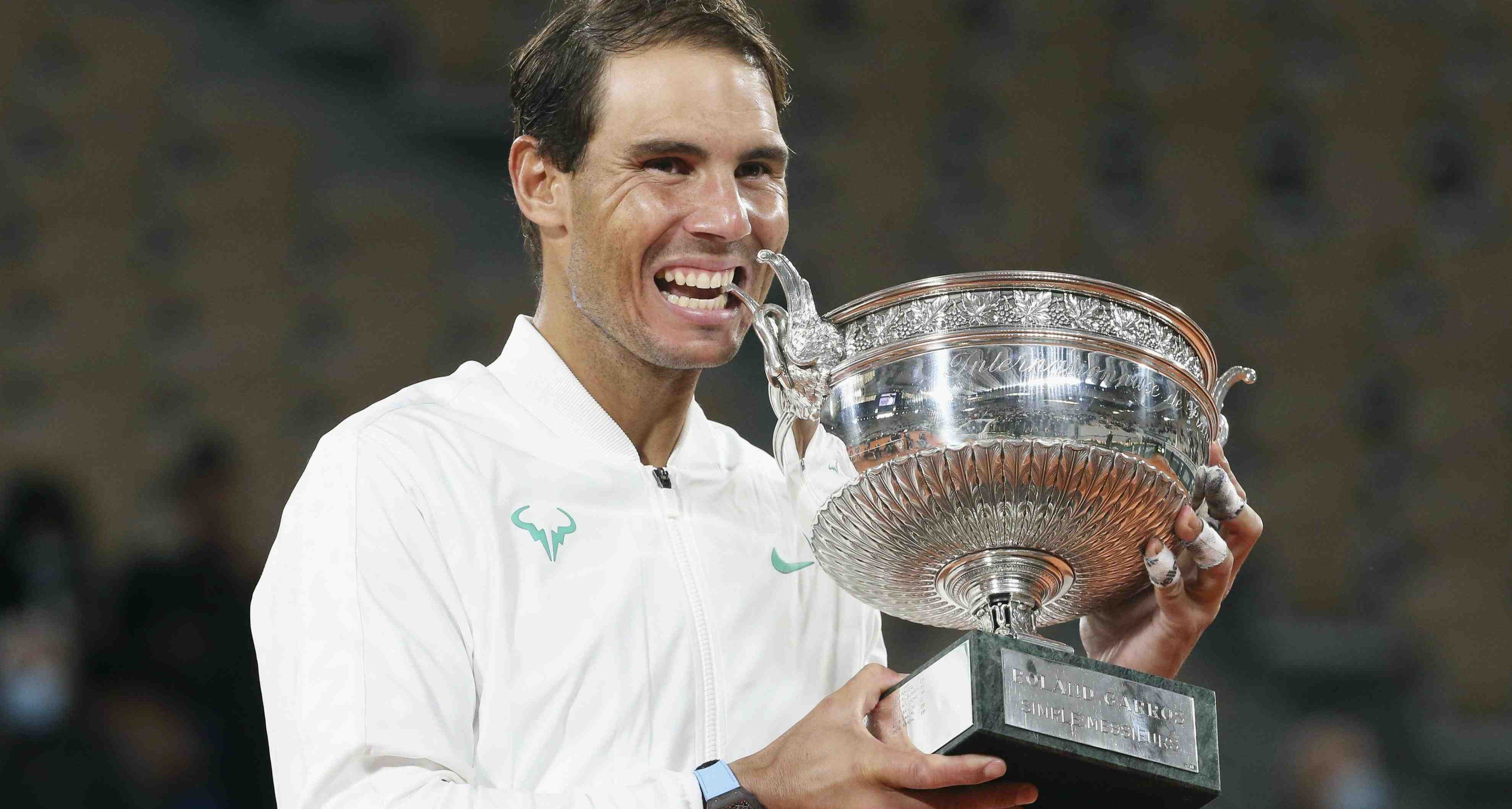 Rafael Nadal's latest Parisian conquest wasn't surprising. Nor should it be.
The Spaniard, who brings new meaning to the phrase "clay-court specialist," controlled the action, the tempo, and the real estate—78 feet (23.77 meters) long by 27 feet (8.23 meters) wide—against world No. 1 Novak Djokovic in the French Open men's singles final.
The result was a reminder of what we already know: Nobody plays as exceptionally well on clay as Nadal does—and did on Sunday, October 11.
Nadal's success at Roland Garros is unlike anything I've ever witnessed in pro sports.
In essence, it's automatic.
The world No. 2, now 34 years old, has played in 102 singles matches in the Grand Slam event, winning 100 of them. He denied Djokovic's quest to collect the prize with a clinical 6-0, 6-2, 7-5 victory.
For the fourth time in his legendary career, Nadal didn't lose a set in seven matches en route to a title. He previously accomplished the against-the-odds feat in 2008, 2010 and 2017.
And oh, by the way, Nadal has won the French Open singles title 13 times. Nobody has won as many Grand Slam titles at a single event.
With Sunday's win, the left-hander tied Roger Feder's all-time mark for most Grand Slam men's singles titles (20), and the Serbian Djokovic has 17.
See a compilation of Nadal's career highlights at the French Open here.
"I played a very good final," the King of Clay confessed. "I played at my highest level when I needed to play at my highest level. So it's something that I'm very proud (of)."
A familiar sight: Rafael Nadal holding the winner's trophy at the end of the French Open.
Nadal owns a success rate of 98.039% in the Paris extravaganza, including 13-0 in French Open finals.
What's comparable in our daily lives?
How many of us do anything successfully 98 times out of 100?
Not only did Nadal spoil Djokovic's ultimate goal from occurring on the final day of competition in the Gallic capital, he also reminded the world that when he's at his best nobody approaches his level.
The French Open was held from September 27 to October 11 this year due to the COVID-19 pandemic instead of being completed during its original dates (May 24-June 7).
While the timing of the event was unusual, seeing Nadal conquer Belarus' Egor Gerasimov, American Mackenzie McDonald, Italy's Stefano Travaglia, American Sebastian Korda, Italy's Jannik Sinner, Argentina's Diego Schwartzman, and Djokovic in succession, was a reminder that even in times of great global disruption some things still follow the normal order.
After finishing off Djokovic, Nadal spoke at length to reporters about the latest chapter of his tennis career.
"I'm super happy, but I'm not stupid," Nadal admitted in a sober reminder about far-reaching impact of the coronavirus. "The situation is tough for a lot of people around the world. I'm not as happy as usual."
Paying Tribute to the King of Clay
Even so, the 39-year-old Federer, the pride of Switzerland, commemorated the occasion of Nadal's 20th Grand Slam title by paying tribute to his great rival.
"I just hope 20 is just another step on the continuing journey for both of us," Federer wrote on Instagram. "Well done, Rafa. You deserve it."
While tennis balls travel at slower speeds on clay courts than on grass or hardcourt surfaces, Nadal is a master at being in the right place at the right time on clay.
Just ask his peers or past greats.
"For as long as most of us can remember, Rafael Nadal has been the best player on a clay court and there are several reasons for his dominance," retired star Boris Becker told tennis365.com in 2018.
"First of all, his movement on a clay court is exceptional, the spins he can put on the ball is incredible and it has a bigger effect on this surface and he also has an aura that makes it tough for his opponent to believe he can be beaten on clay.
"To win as many tournaments as he has done on the surface is just incredible, and it is a record that will probably never be beaten…
"On clay, the victor is the guy with the fewest mistakes, but I wanted to win matches by hitting the most winners and I found it hard to contain that ambition. I tried everything to win on clay, but it was tough for me."
In the same article, Federer offered this analysis: "His movement is so impressive on clay and his game fits the surface perfectly. I feel like I can play well on clay, but it is physically demanding and Rafa has mastered that surface better than anyone."
Nishikori's Experiences Against Nadal
Kei Nishikori, who has been Japan's top men's player for more than a decade, has faced Nadal 13 times in singles matches since 2008.
Nadal owns an 11-2 record against the Shimane native.
One of his two losses came at the 2016 Rio de Janeiro Olympics in the bronze-medal match, with Nishikori earning an upset victory, 6-2, 6-7 (1-7), 6-3.
Nishikori commented on that match in March, telling Tennis World USA, it was his top tennis memory.
"Of course, the medal was on the line," said Nishikori. "And that match being against Nadal made it very memorable."
Nadal's Career Trajectory
Rafael Nadal has been the year-end No. 1 player on the ATP Tour five times in his illustrious career, and has nabbed four U.S. Open titles, two Wimbledon crowns and one Australian Open trophy.
He holds the record for most tournament titles on clay (60). He triumphed in 81 consecutive matches on his favorite playing surface from 2005-07, another record in tennis' Open Era (since 1968, when rules barring professionals from competing with amateur players in Grand Slam tournaments ended).
Ten years ago this month, Nadal was well on his way to having one of the greatest careers of any athlete in an individual sport.
On October 10, 2010, the Spaniard prevailed 6-1, 7-5 over Gael Monfils in the final. (Days earlier, Nishikori was eliminated in the first round.)
"I have to enjoy these moments because you never know when they will end," Nadal told reporters after the match.
Nadal's overall power was on display throughout 2010, telegraphing what he'd keep doing if he could remain healthy—a shaky proposition at times due to knee injuries—for years to come. He collected French, Wimbledon and U.S. Open titles that year to equal a feat that hadn't been done in men's tennis since Rod Laver in 1969.
More than a decade later, Nadal's magnificent athleticism and love of competition have propelled him to great heights.
His staying power is, of course, the result of hard work, brilliant shot-making ability and an innate desire to win.
After winning the ATP Mexican Open in late February, Nadal had played a total of nine matches entering the final against Djokovic. The pandemic had kept him idle.
Despite the uncertainty that sometimes springs up for athletes when they don't "compete enough," Nadal pulled off his record-extending 13th French Open title with emotion and energy. Then, he made sure to praise his support staff.
"For me, honestly, one month and a half ago if you tell me you're going to have this trophy with you again, I will say, 'This year will probably be too difficult,' " he told reporters.
"In the sport, the life [changes] quick. I did the things that I had to do with the big support of my team. ... [It] is great to have such great professionals and great human beings next to me to push me and to help me in [those] tough days, no?
"In some way today, playing at that level, is dedicated to all of them that help me."
American tennis legend Jimmy Connors and others recognize Nadal's relentless pursuit of perfection, an endearing quality on the court.
So much so that Connors once said: "He's built out of a mold that I think I came from also, that you walk out there, you give everything you have from the first point to the end no matter what the score. And you're willing to lay it all out on the line and you're not afraid to let the people see that."
Author: Ed Odeven
Follow Ed on JAPAN Forward's [Japan Sports Notebook] here on Sundays, in [Odds and Evens] here during the week, and Twitter @itsjapanforward.