EDITORIAL | Hong Kongers Silent Protest on China's National Day a Call for International Support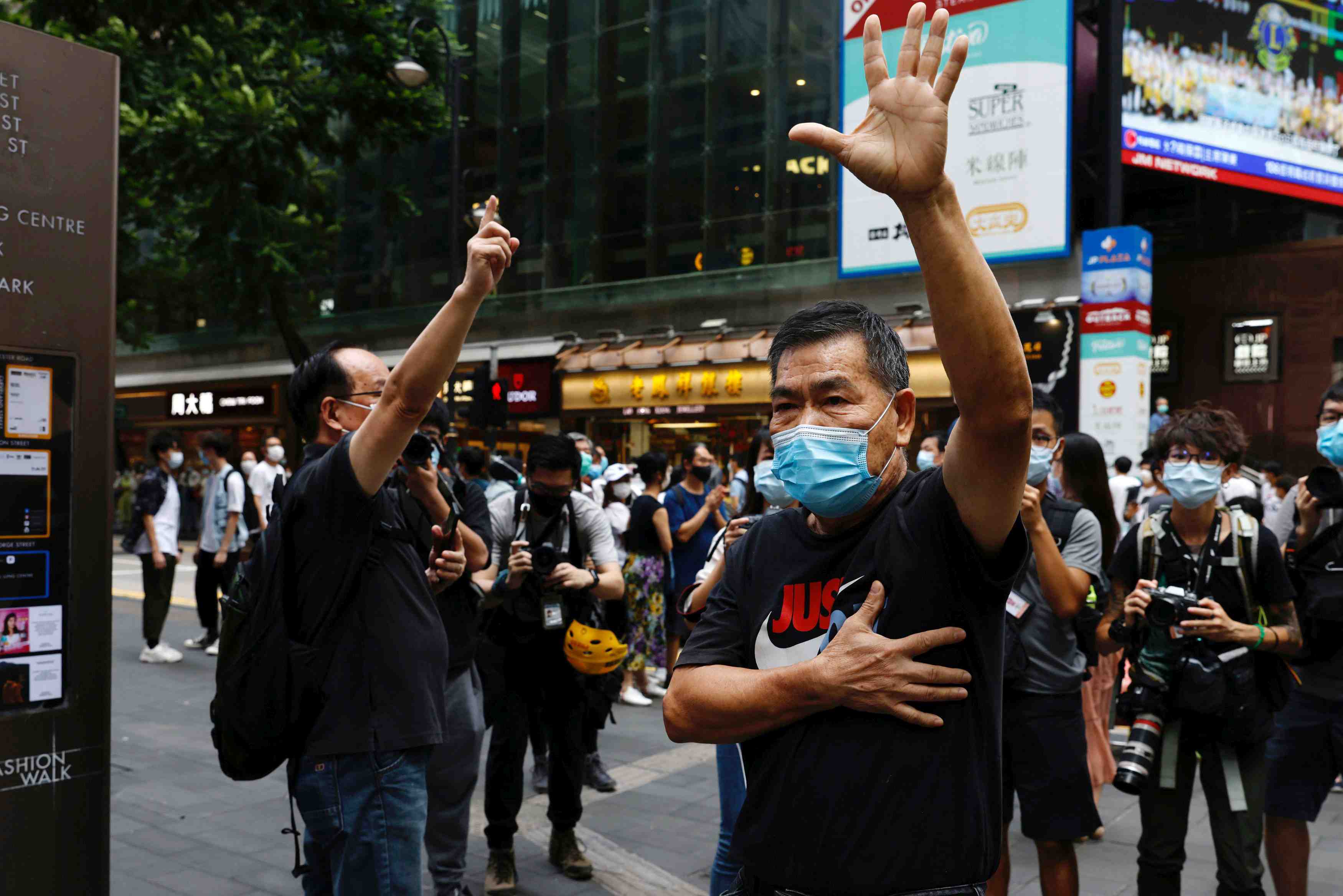 China's National Day on October 1 saw many residents of Hong Kong engage in silent protests in the face of the draconian Hong Kong National Security Law and other enhanced measures taken by Beijing to stifle free speech in the former British colony.
The local Hong Kong government has prohibited public assemblies of citizens under the pretext of policies to deal with the COVID-19 pandemic, and police arrested at least 86 individuals on suspicion of having engaged in unapproved gatherings.
Nevertheless, the crackdown has not extinguished international solidarity with those who would protest Chinese government actions. For example, on that same day public protests were held in Tokyo and other cities throughout the world to condemn Beijing's suppression of Hong Kong and its human rights violations of minorities within China, including the Uyghurs and Tibetans.
RELATED READ: Uyghurs, Tibetans in Japan Decry Beijing's Oppression of Human Rights in their Homelands at Diet Meeting
Chinese President Xi Jinping has declared that he intends to intensify China's assimilation policy so as "to plant deep in their hearts collective consciousness of being part of the Chinese people."
To achieve this goal the Chinese Communist Party has introduced policies such as mutual surveillance and massive forced incarceration to deprive minorities of their unique heritages in terms of language, religion and culture. We must judge Beijing's onslaught as the greatest attempt to suppress human rights in the 21st Century.
RELATED READ: China is Destroying Tibet. Will the Free World Stand Up Against This Repression?
Now. more than ever, the international community needs to stand up and criticize China and adopt necessary sanctions. We must also never flag in our sympathy and support for the courage of those who ignore the very real dangers and continue protest movements.
In the three months since the Hong Kong Security Law took effect, at least 28 individuals have been arrested on suspicion of violating it. They include prominent democracy activist Agnes Chow Ting and Jimmy Lai, publisher of the Apple Daily. Although later released, their arrests came as a shock to Hong Kong society.
Furthermore, 12 other democracy activities who were detained while seeking to sneak away by boat to Taiwan, were shipped off to a mainland Chinese Public Security in the city of Shenzhen in Guangdong Province.
In its determination to thoroughly crush advocates of democracy, the Chinese government is using terror tactics, such as incarceration and the shipping of prisoners to mainland China. It hopes that will be enough to put a firm lid on criticism. These are the tactics of oppression—Beijing style.
This National Day in Hong Kong there were no smiling faces and happy voices, or people shouting anti-CCP slogans on street corners. Instead, you could see many Hongkongers silently walking the streets in black, as if in mourning, and snatching up copies of Apple Daily, which has come to be considered a champion of liberty.
It was obvious that Xi Jinping and his security forces have not been able to expunge the hope for freedom from among the hearts of the people of Hong Kong.
A concern now is that international society will go timid. The National Security Law says that "collusion" with foreign forces constitutes a crime harming national security, and that it is even applicable to foreigners living overseas.
Won't this brazen threat create a climate in which international organizations dependent on ties to China, the business community and foreign leaders will be reluctant to criticize China or be involved with the democratic elements out of fear of such application of the National Security Law?
If we close our eyes to creeping totalitarianism and allow democracy to be threatened like this, that could well pave the way for the loss of our own liberty.
The support of international public opinion is the basic bulwark for the human rights of the residents of Hong Kong, the Uyghurs and the Tibetans. The Japanese government should keep this point firmly in mind.
(Read the editorial here, in its original Japanese.)
Author: Editorial Board, The Sankei Shimbun