ODDS and EVENS | Rikako Ikee's Swimming Comeback Inspires a Nation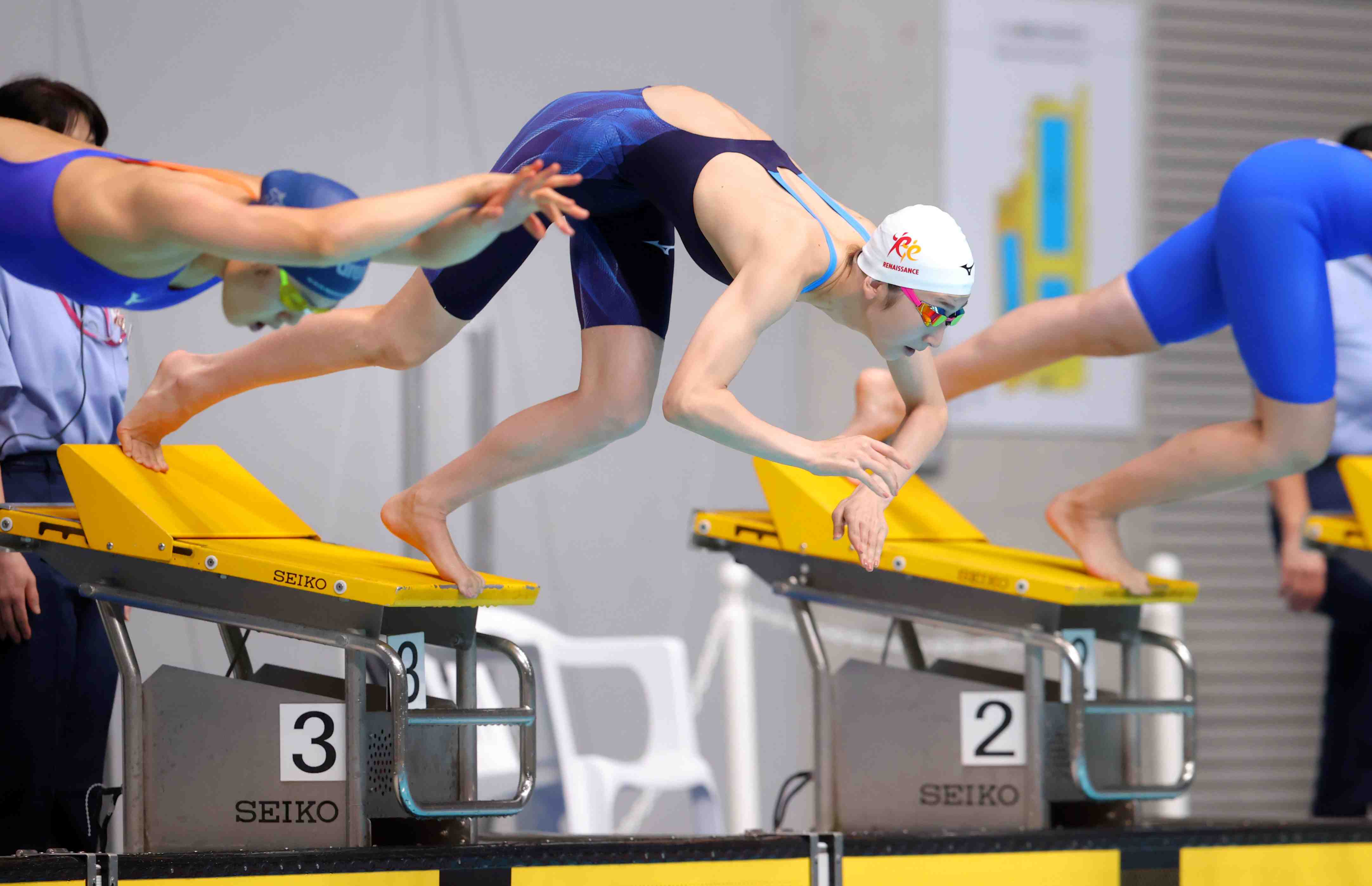 Rikako Ikee's return to competitive swimming is one of the most uplifting stories in these difficult times.
Day after day, we are inundated with news about the COVID-19 pandemic. Grim statistics of the death toll from the coronavirus are among the daily reminders of the fragility of life.
And Ikee's inspiring news made a big splash last weekend. Literally.
The 20-year-old leukemia survivor competed in her first swim meet in 19 months—594 days, to be precise—on Saturday, August 29. And she won her heat in the women's 50-meter freestyle event at Tokyo Tatsumi International Swimming Center.
How awesome is that?
Yes, there were tears of joy, too, during the Tokyo Swimming Association-organized meet.
How could there not have been?
Ikee and the tight-knit Japanese swimming community at large celebrated this important step in her comeback. A plethora of similar messages celebrated her return to the pool in a multitude of languages on social media. The gist of those comments: "Welcome back" and "congratulations."
Australian two-time Olympic silver medalist Madeline Groves, who swam at the 2016 Rio de Janeiro Games, expanded on that theme.
"I'm so in awe of @rikakoikee to see her persevere through the ultimate adversity at such a young age, and then come back to racing is incredible," Groves tweeted. "Wishing her all the best and hope to see her in #Tokyo2021."
Despite a slow start to the 50 free, Ikee, who swam in Lane 3, picked up speed as the race progressed and finished strong at the end to earn the victory.
Looking back on the race, Ikee summed up her accomplishment this way, according to the Olympic Channel: "[With 15 meters left], I thought I might have a shot here and I just didn't want to give in. ... As an athlete, I didn't want to lose."
Ikee is pushing her body one race at a time and focusing her mind on her goals.
In the aforementioned heat, Ikee finished the race in 26.32 seconds, placing fifth in the timed final. Ikee holds the national record in the event (24.21). Moreover, she achieved one of her goals by qualifying for the Intercollegiate Championships in October by finishing 26.86 seconds or faster. (The night's best time belonged to Runa Imai, who swam her heat in 25.22 seconds.)
"I never expected to finish first in the group," Ikee told reporters. "I am moved by the fact that I could swim again in a competition. This is the first chapter of my second swimming career. I made a good restart."
Mission accomplished. Ikee targeted a spot in the October meet and earned it.
"I worked hard over the past year, believing that I will compete in the championships," Ikee insisted afterward, according to published reports. "I want to show people that I can fulfill my dream."
Isamu Nishizaki, who serves as Ikee's coach, agreed with her assessment.
"I was surprised to see her swim this well after resuming her training [only recently]," Nishizaki said, according to the Asahi Shimbun. "She is blessed with natural talent, such as her strokes and the way she floats."
Longtime Japan national team head coach Norimasa Hirai told JAPAN Forward that he was encouraged by the first phase of Ikee's comeback. He confirmed that he was impressed with her perseverance.
"She sometimes seemed very nervous when swimming during the warmups," Hirai observed. "In the race, her starting strength was weak and her first 15 meters were not very fast.
"[But] she started accelerating with the same strokes as before. ... Her swim and time were better than expected. I was able to hear applause from the venue and had a very good time as everyone was celebrating Rikako returning to the pool."
What else did Hirai see from his poolside view?
"Some athletes have lost sight of their goals because the Tokyo Olympics have been postponed," Hirai observed. "But for Rikako, overcoming illness and making a comeback indicate that she truly loves swimming.
"I think top athletes not only have the opportunity to follow the results in front of them, but also to ask themselves about the significance of continuing to compete and grow [as athletes and individuals].
"I think her swim not only gives everyone courage, but also shows us many things, such as the significance of continuing to compete and the courage of human beings."
Personal Glory, Personal Challenges
In 2016, Ikee has been one of Japan's most talked-about, up-and-coming Olympians. Just 16 years old when she competed at the Rio de Janeiro Olympics, Ikee finished sixth overall in the 100-meter butterfly in Brazil.
Two years later, Ikee's rise to stardom was complete.
She won six gold medals and hauled in two silver medals at the 2018 Asian Games in Indonesia. As a result, Ikee became the first female to earn the Asian Games MVP award. She was also the obvious choice for the Japanese Swimmer of the Year award.
Indeed, the future looked promising for the versatile swimmer who raised the bar in her particular sport for the nation. Case in point: Ikee owns national records in the women's 50 and 100 butterfly, along with the 100 and 200 freestyle.
Then, in February 2019, Ikee announced that she had been diagnosed with acute lymphocytic leukemia. Ten months of hospitalization, including chemotherapy, followed.
The health scare forced Ikee to reassess her goal of competing at the Olympics again. And even though the 2020 Tokyo Games were pushed back to July 2021 because of the global pandemic, Ikee made a new target: the 2024 Paris Olympics.
There are challenges that lie ahead. Regaining world-class speed is never a sure thing.
But it's my belief that she'll qualify.
She is completely committed to making it happen, practicing four days a week in the pool and augmenting her aquatic activities with weight-room training.
And it's only the start. Ikee will continue to build up her strength and stamina in the months to come.
In early July, Ikee admitted she has a long road ahead in her pursuit of another Olympic berth. "I think my swimming ability has returned to about the level in my first or second year of junior high school," Ikee was quoted as saying by Kyodo News.
But remember this: The Nihon University sophomore is a serious, focused individual. She possesses an abundance of energy (see all of the above). And she's been impacted by the outpouring of support from people in Japan and around the world who encouraged her during her battle with leukemia.
It's quite clear that Ikee has been touched by people's compassion and kindness.
For example, at a ceremony to mark the one-year countdown to the start of the rescheduled Tokyo Olympics on July 23, 2021, Ikee talked about how sports unite and inspire people.
In one highlight during her speech, she urged everyone to share the "power of hope" for the Olympic Games to be held next summer in Japan.
Additional Insights
Ikee issued several remarks through her management company after her in-the-spotlight activity in the pool had wrapped up on August 29, a landmark day in her comeback.
The comments provided a revealing portrait of what it meant for her to once again be doing something she loves: competing.
"As I walked by the pool I shed tears," the Tokyo native confessed.
She went on: "I have been struggling with my illness every day, so I hope people who are fighting against my illness and who have always supported me will see my race and think positively. I'm looking forward to seeing what I can do."
Rikako Ikee is a beacon of hope during a period of great upheaval around the world.
Her courage, honesty, upbeat personality and positive energy are a blessing to us all.
Author: Ed Odeven
Follow Ed on JAPAN Forward's [Japan Sports Notebook] here on Sundays, in [Odds and Evens] here during the week, and Twitter @itsjapanforward.