[ODDS and EVENS] Ryoyu Kobayashi Flying High After COVID-19 Setback
"I hadn't been in top form but I finally put together a good performance. I knew I would win if I didn't make any mistakes," the veteran ski jumper said.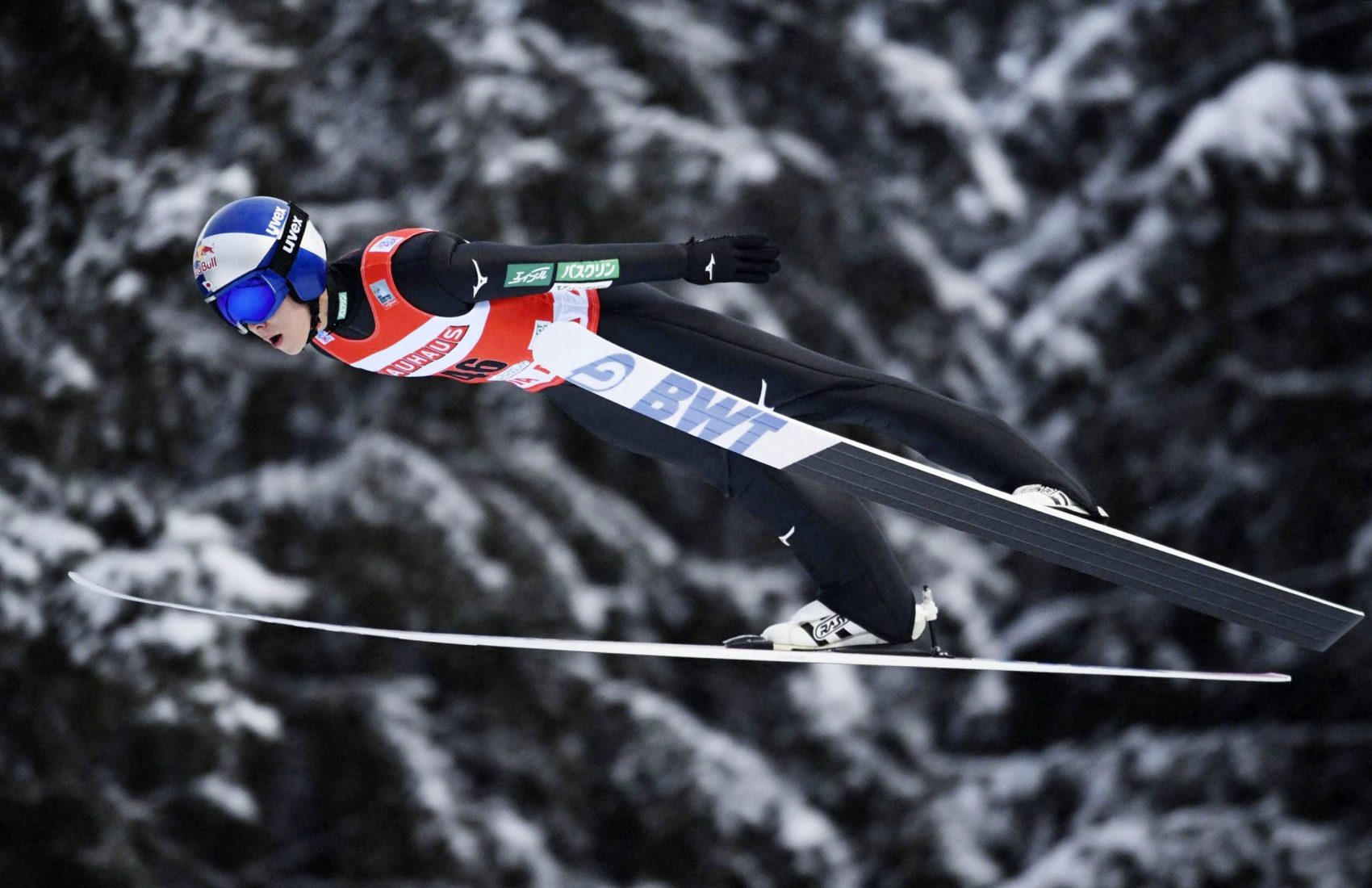 ~~
~
Ryoyu Kobayashi ascended to the top of his profession two years ago, winning the 2018-19 FIS Ski Jumping World Cup season men's title, the first of his career. He followed that display of sustained excellence with a third-place finish in 2019-20, then placed fourth overall last season.
Kobyashi hasn't lost his hunger for success. He continues to strive to be No. 1.
The Iwate Prefecture native, who turned 25 in November, has two victories on the World Cup circuit this season. He's in second place in the overall standings with 316 points, trailing only Germany's Karl Geiger (414).
This season, Kobayashi has also dealt with adversity that's directly connected to the global pandemic.
Kobayashi won his first event of the 2021-22 season in the men's large hill competition on November 27 in Ruka, Finland.
"I didn't have the [Japan] record wins in mind but I'm frankly happy," Kobayashi told reporters after winning the event. "My second jump was really good. I've been performing well so I hope to keep this up."
He added: "I'm very satisfied with my performance today. It was much better again, and I'm happy about the result."

Required to Isolate Due to COVID-19 Protocols
Kobayashi confirmed the next day that he'd tested positive for the coronavirus. So there wasn't time to remain euphoric or bask in the glow of victory, one that made him the first Japanese jumper, including Nordic combined veterans Kenji Ogiwara and Akito Watabe (both of whom have 19), with 20 career wins on the World Cup circuit.
Per FIS (also known as the International Ski Federation) rules, Kobayashi was required to self-isolate for 10 days. It turned out that Kobayashi was asymptomatic, and he resumed his ski jumping season last weekend.
Kobayashi also acknowledged the well wishes he received from supporters during his isolation period.
"Thank you for all the messages from the fans. I'm back to the hill today," he tweeted on Saturday, December 11.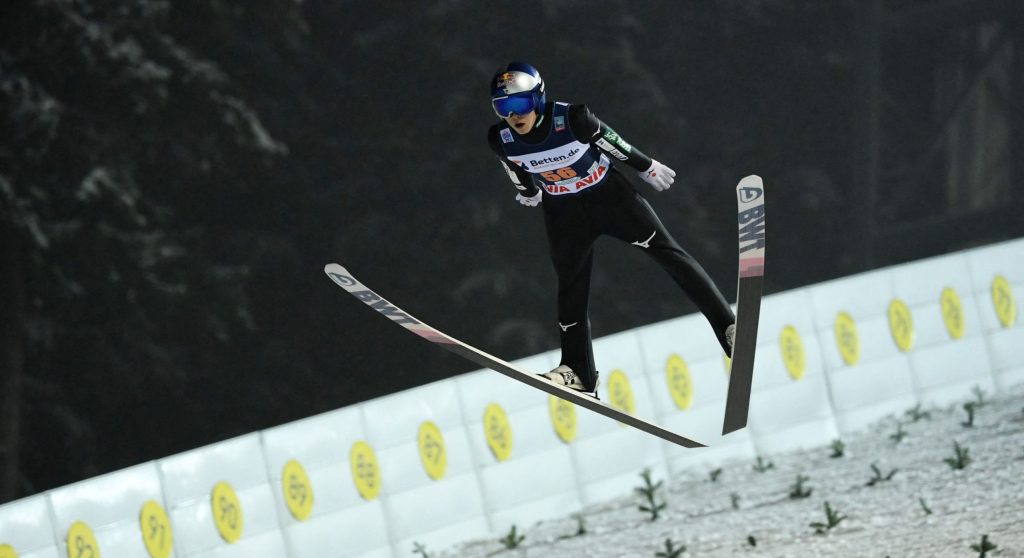 Defying Gravity in Germany
The hill in Klingenthal, Germany, was where Kobyashi went back to work on the same day.
He finished seventh with 257.3 points on the same day in a tight competition points-wise near the top of the leaderboard. Austria's Stefan Kraft claimed the top spot with 267 points.

For Kobayashi, who contracted COVID-19 in June but has revealed that he's fully vaccinated, the next day provided a positive boost for his title hopes this season.
Kobayashi handled the natural elements quite well en route to victory on Sunday, December 12, earning a podium finish with 262.8 points. His winning performance featured jumps of 129.5 and 139 meters. To put last weekend's results in context, it's worth noting that his best jump on November 27 was 143 meters.
In Germany, constant rain through the second day of competition slowed down the surface of the ramp, according to published reports.
"It was definitely an advantage for us that we trained in similar conditions very often on the Midtstubakken in Oslo in recent months, we know how to handle these kinds of conditions," Norwegian Johann Andre Forfang told the FIS website. "In addition, we have two experts for slow inrun speeds on our team with Robert Johansson and Daniel Andre Tande."


Kobayashi, a 2018 Olympian, also noted that he's quite familiar with how the impact of steady rain can affect a ski jump venue.
"I often trained in such conditions and in the past I also achieved good results in difficult conditions like today," said Kobayashi, whose older brothers Junshiro and Yuka and younger brother Tatsunao are also ski jumpers.

How did Kobayashi evaluate his performance after his 21st World Cup career victory?

"I hadn't been in top form but I finally put together a good performance," Kobayashi was quoted as saying by Kyodo News. "I knew I would win if I didn't make any mistakes [on my second jump]."
Mission accomplished. Kobayashi met the challenge head-on with a strong second jump.
And he'll have numerous chances to increase his victory total in the ongoing World Cup season, which is scheduled to end on the final weekend of March in Planica, Slovenia.

Ambitious Goals for the Olympics
After placing seventh in the normal hill and 10th in the large hill at the Pyeongchang Games, Kobayashi is determined to improve his results at the 2022 Beijing Games.
"It feels great to win at the World Cup but it must be even better to medal at the Games, Kobayashi said, according to a December feature story published by Olympics.com. "I want to produce an incredible performance, an incredible jump and have a blast doing it."
Kobayashi also stated that he hopes to "stay competitive for years" while flying to a title at the 2030 Winter Games is a long-term goal.
"I'm not sure how long I want to keep competing but I enjoy jumping and that is something I want to continue," Kobayashi said, according to Olympics.com.
"Winning a medal at the Beijing Olympics will be a springboard for all this and I would love to find out what happens to ski jumping in Japan if I win gold. I'm looking forward to trying."
Kobayashi's career is in an important phase. Success on the World Cup circuit is a continuous goal, and he is positioned to contend for one of the top spots this season.
But Olympic glory means more to the high-flying Iwate native as he seeks to leave a lasting positive impact on the sport in Japan.
Which is something to admire and respect.

RELATED: [ODDS and EVENS] Sara Takanashi Regains Mojo, Soars to Back-to-Back Victories


Author: Ed Odeven

Follow Ed on JAPAN Forward's [Japan Sports Notebook] here on Sundays, in [Odds and Evens] here during the week, and Twitter @ed_odeven.