[ODDS and EVENS] Speedy Yasutaka Shiomi Energizes Swallows
The 29-year-old outfielder is having the best all-around season of his career for the reigning Japan Series champions.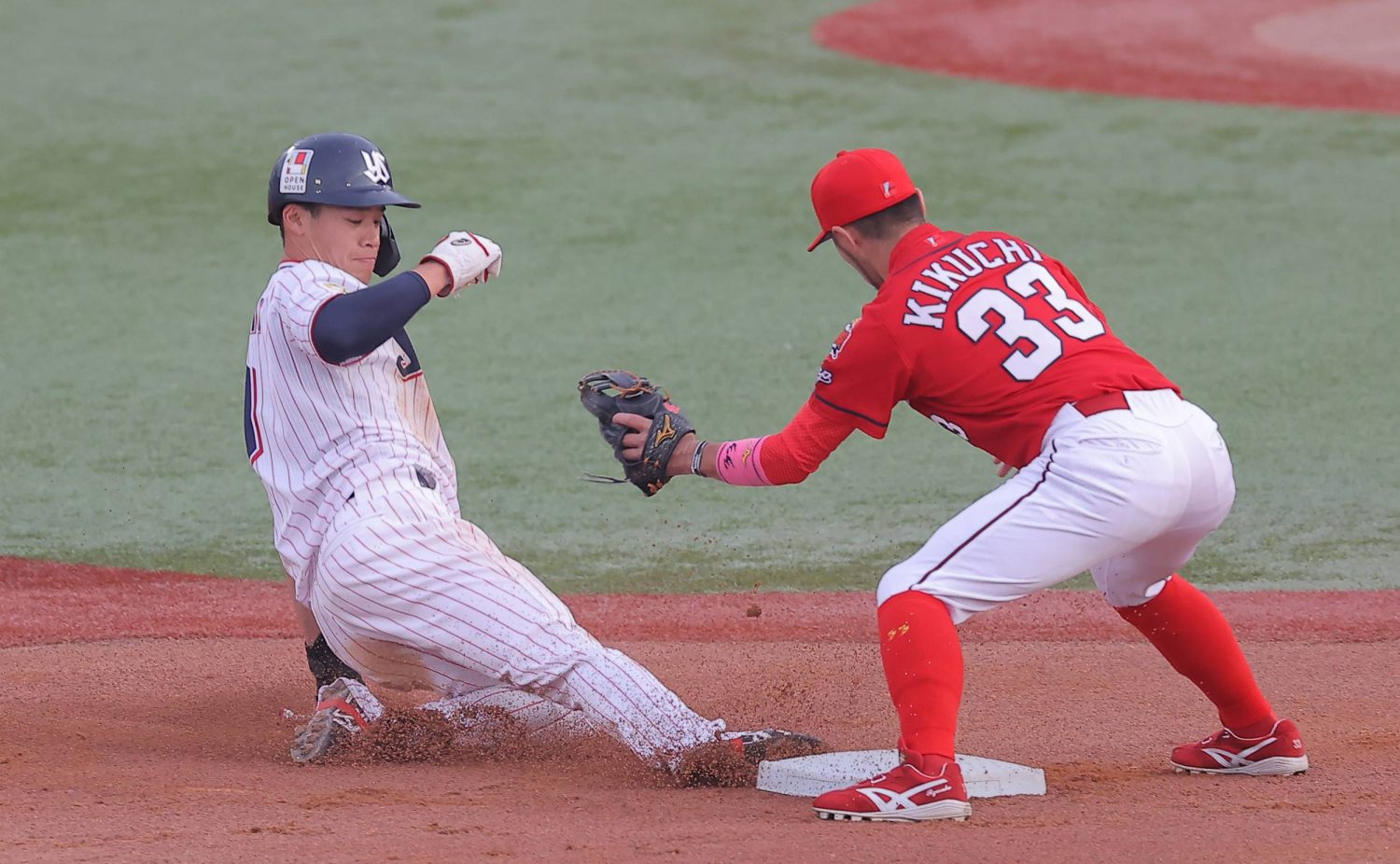 Yasutaka Shiomi is an indispensable part of the Tokyo Yakult Swallows' winning recipe.

The speedy center fielder's rise to stardom is directly linked to the Swallows' ascent as one of Nippon Professional Baseball's premier teams since the start of the 2021 season.

And as the reigning Japan Series champion, expectations were high for Yakult entering the current campaign, individually and collectively.
The Swallows have not disappointed their rabid fans.
Manager Shingo Takatsu's club holds a commanding lead in the Central League standings. Through Tuesday, July 19, Yakult owned an NPB-best 54-32-1 record.
The Swallows, who snapped a six-game losing streak with a 5-3 win over the Yomiuri Giants on Tuesday, were 11½ games in front of the CL's second-place club, the Yokohama DeNA BayStars as this column was conceived.

Shiomi, who turned 29 in June, is in his second full season as an everyday player in the Swallows lineup. He played a career-high 140 games in 2021, and it was a breakout year for him.

The Kanagawa Prefecture native hit a respectable .278 with 14 home runs and seven triples. He stole 21 bases and was caught just five times. In the first three years of his NPB career he appeared in 104 Swallows games from 2018-20.
Shiomi also spent considerable time on the team's Eastern League farm team in that time span.
A free-swinging batter, Shiomi struck out 156 times in 534 plate appearances last season.

He also had a knack for producing clutch hits in big moments. In Game 2 of the Central League Climax Series Final Stage last November, Shiomi, he smacked a bases-clearing triple in the Swallows' 5-0 victory over the Giants at Jingu Stadium.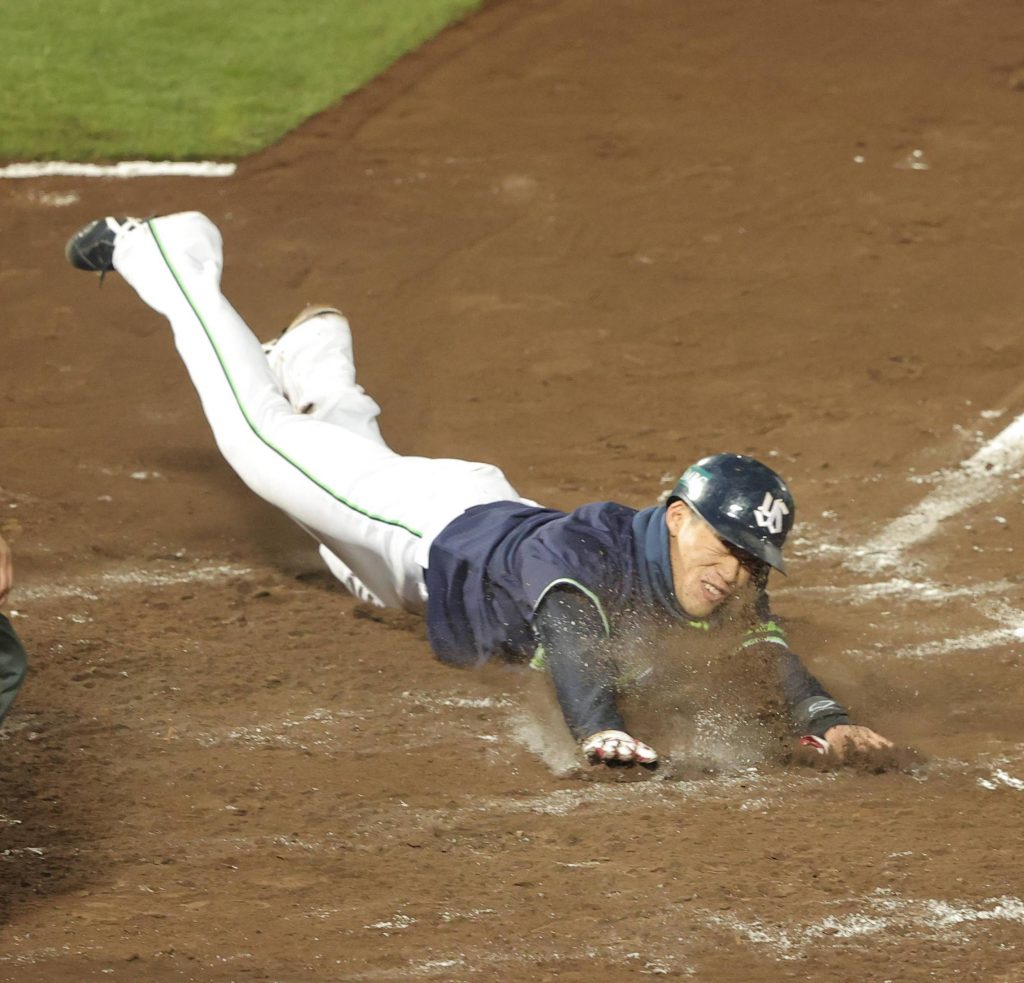 Shiomi's power-hitting ability was on full display against the Tohoku Rakuten Golden Eagles on May 27, when he crushed three home runs (a solo blast in the first, a three-run shot in the second and another solo round-tripper in the eighth) in Sendai.

Sparking the Swallows
In 78 games this season, Shiomi has a robust .516 slugging percentage. He has 96 hits, including 18 doubles, four triples and 12 homers while batting at a .314 clip. He's tied for the NPB lead in runs (61) with teammate Munetaka Murakami, the reigning CL MVP.
Shiomi leads the Central with a career-high 22 stolen bases. Much to manager Takatsu's delight, he's been thrown out just twice while attempting to steal a base. Hokkaido Nipponham Fighters outfielder Go Matsumoto, who is No. 1 in NPB in batting (.355), is No. 2 in the Pacific League in steals (21), trailing only the Chiba Lotte Marines' Akito Takabe, who has 28.
To offer a bigger-picture view of Shiomi's success on the basepaths, consider this: In Shiomi's blossoming career he has 60 stolen bases in 70 attempts (nearly an 86% success rate) in NPB.

Shiomi's gutsy instincts on offense helped produced one of Japan's most iconic baseball moments of the 21st century: a head-first slide into home plate on a Shingo Kawabata pinch-hit single with two outs in the 12th inning in Game 6 of the Swallows' Japan Series-clinching win against the Orix Buffaloes on November 27, 2021, in Kobe.
He also has a flair for the dramatic, as exemplified by a two-run homer in the eighth on his 29th birthday on June 12 against the Fukuoka SoftBank Hawks.


Coping with COVID-19
A COVID-19 outbreak has impacted the reigning Japan Series champions in recent weeks. The Swallows had 27 members of their playing and coaching staff from their first (NPB) and second (Eastern League) squads test positive for the coronavirus on July 9 and 10, including Takatsu, Shiomi and veteran outfielder Norichika Aoki, who, like Takatsu, is a former MLB player.

The Swallows were forced to cancel three games and replenish their top-team roster with call-ups.

Takatsu returned to the team on Wednesday, July 20, as did Shiomi.

A day earlier, Takatsu watched his team on TV at home.

"I felt a lot of things," the Swallows skipper said, according to Nikkan Sports. "I often see the images of the farm [team], but above all, it was a great plus to see such players playing on the first team."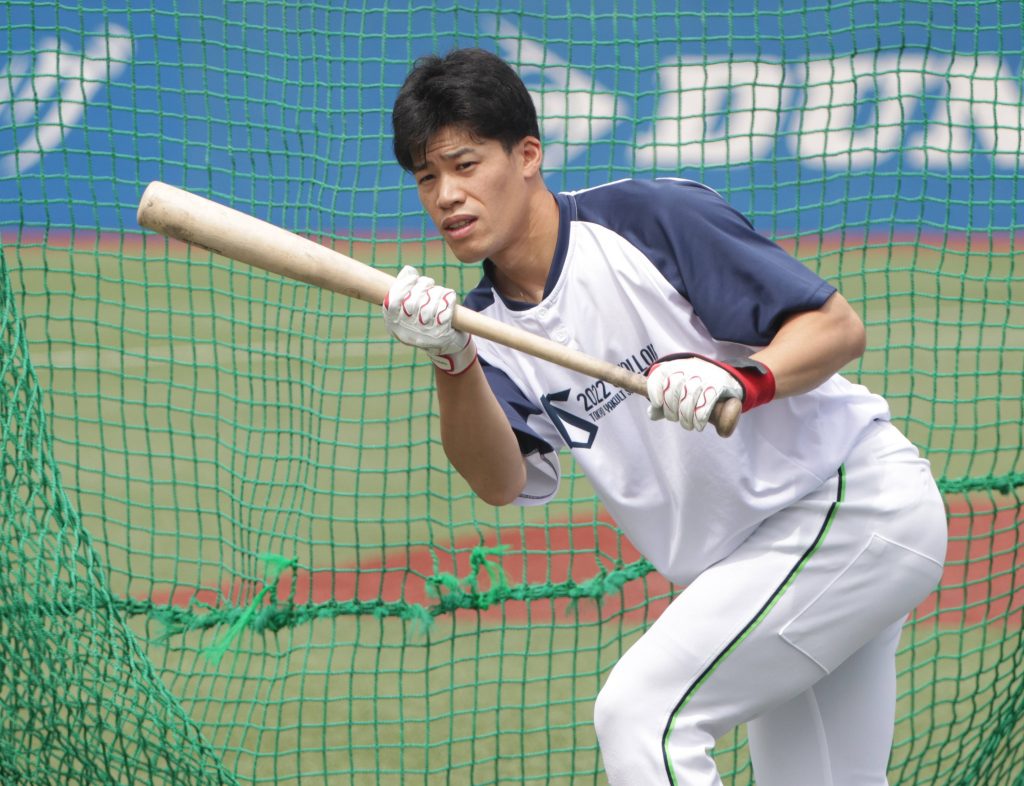 Shiomi's Path to the Pros
After attending Teikyo University, Shiomi played for JX-Eneos' Industrial League team and caught the attention of pro scouts. The Swallows selected him in the fourth round of the NPB Draft in October 2017.

During his college days, Shiomi gained fame at the university for his spirited outdoor workouts.
"When I was in college, I was chasing wild boars during lunch break," he recalled in an article published by Sports Graphic Number this month.

Shiomi also had a competitive streak and an appealing individual personality that Teikyo University manager Ryoichi Karasawa thought could help the team be successful.

"At that time, the team was generally serious and not mischievous in a good way," Karasawa recalled, according to Sports Graphic Number.

He added, "I wanted someone who was on the edge, who would go over the edge if there was a certain [situation]. Shiomi was just such a player. He was wild and competitive, and I felt he had something to offer."

In the years to come, Shiomi's physical skills and mental growth helped him develop into a fine all-around baseball player.

While Murakami is in pursuit of the CL Triple Crown, with jaw-dropping stats in batting, homers and RBIs, Shiomi has been described in recent weeks as the team's "shadow hero" by Slugger magazine.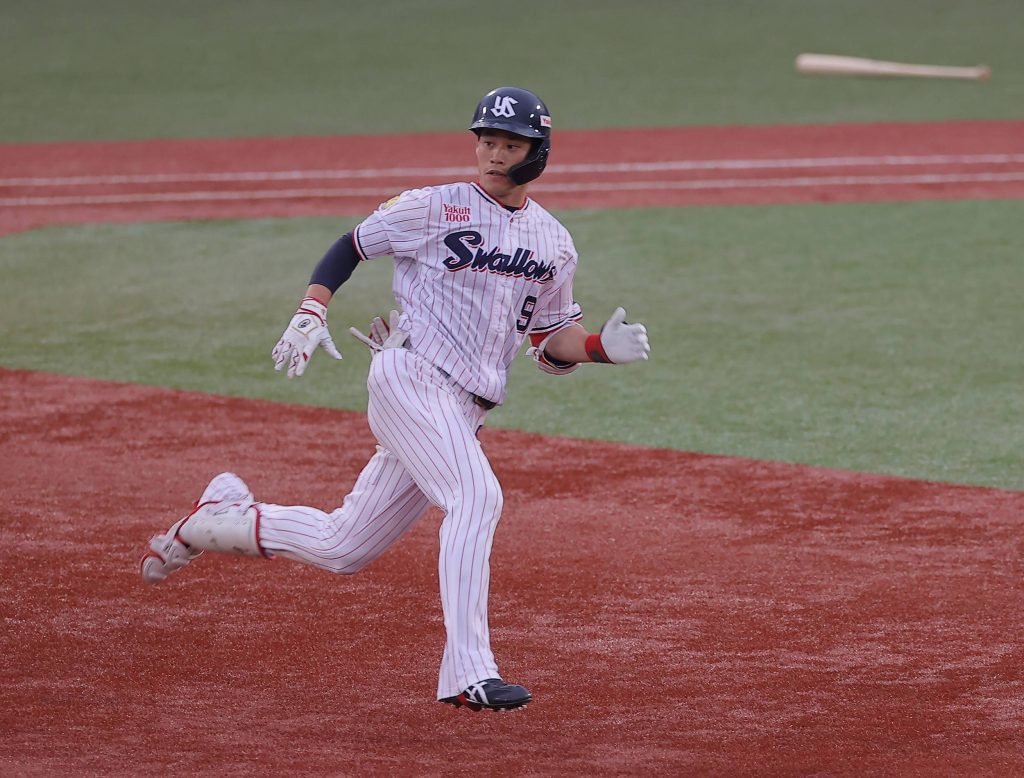 Former Swallows player, coach and manager Tsutomu Wakamatsu, who works on NPB telecasts as a commentator, recently described Shiomi's speed and derring-do on the basepaths as extraordinary.

He cited an example from the Swallows-Giants game on June 26, when Shiomi advanced from first to third on a wild pitch. It's customary, of course, for a runner to only advance one base in such a situation.
"It's amazing," Wakamatsu was quoted as saying by Baseball King. "If you think you can do it, it's amazing running ability without looking at the catcher at all."
Expect more of the same from Yasutaka Shiomi.


Author: Ed Odeven
Follow Ed on JAPAN Forward's [Japan Sports Notebook] here on Sundays, in [Odds and Evens] here during the week, and Twitter @ed_odeven, and find him on JAPAN Forward's dedicated sports website, SportsLook.