ODDS and EVENS | SWIMMING Olympic Champions Kosuke Kitajima, Ai Shibata Remain Symbols of Inspiration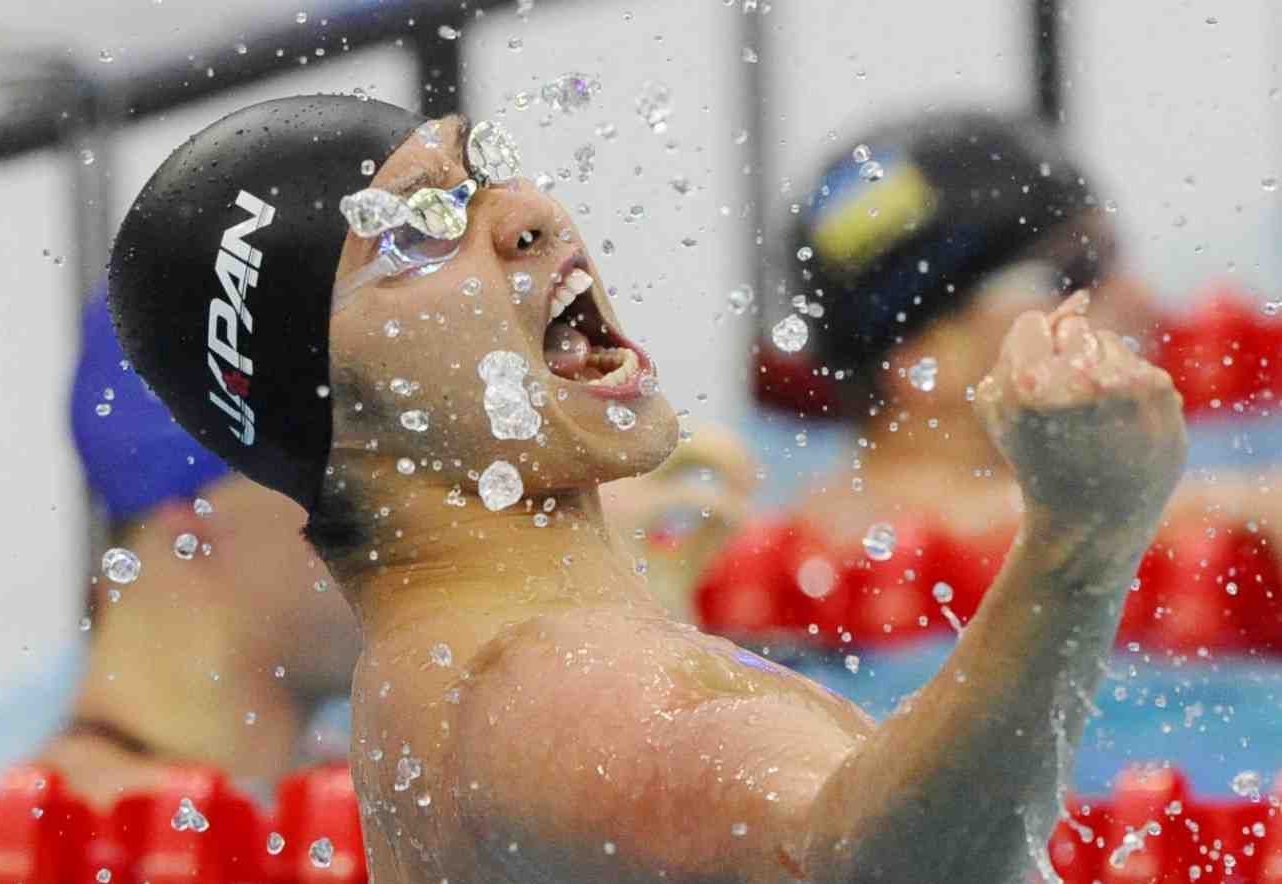 Victory validates effort.
And the emotions that follow a monumental victory ー spontaneous, euphoric, tearful ー can leave a lasting impression.
For participants and for observers, reactions to glorious achievements in sporting competitions are often remembered as much as how and when somebody won in a marquee event.
At other times, though, the real meaning of the victory can be equally compelling when it's discussed months or even years later.
To illustrate today's theme, the focus is on swimmers Kosuke Kitajima and Ai Shibata, both of whom achieved greatness at the Olympics.
Kitajima's double gold-medal haul in the men's 100- and 200- meter breaststroke at the 2004 Athens Games and 2008 Beijing Olympics is the stuff of legends. Decades from now, people will still discuss with awe what the muscular, but undersized swimmer did in Greece and China. Like his father, a butcher, Kitajima put his opponents on a metaphorical chopping block.
Seconds after Kitajima repeated in the 100 with a record-breaking time of 58.91 seconds in Beijing, I witnessed an emotional outburst of genuine excitement as great as anything I've seen before or after. Pure joy.
That image, splashed on the pages of dozens of newspapers, magazines and websites afterward, displayed the thrill of the moment and what led to that moment: thousands of hours of training in the pool, grueling workouts in the gym, daily discipline in all phases of life.
Repeating as 100- meter champion validated the Tokyo native's entry into an elite fraternity: Olympic legends.
Looking back at that race, Kitajima couldn't hide the fact that what he did impressed him.
"My performance was perfect and ideal," he declared in the Chinese capital in front of a throng of reporters, while inspiring a generation of young athletes, too. "I would have been baffled if you do not say that was perfect."
Honestly, nobody embracing logic could've argued with Kitajima's assessment on that hot August day. And that remains true.
Shibata's shining moment occurred in the Greek capital on August 20, 2004. She shocked the world by winning the women's 800 freestyle and ending American domination (five straight Olympic golds) in the event. She touched the wall in 8 minutes, 24.54 seconds in a test of stamina and strength.
In doing so, she became the first Japanese female to finish first in an Olympic swimming freestyle event.
In the run-up to the 2004 Athens Games, Shibata, who hails from Dazaifu, Fukuoka Prefecture, demonstrated that her commitment to excellence and athletic ability were a potent combination. In that year's national championships, she beat everyone in the 200, 400 and 800 freestyle races, while showing off-the-charts improvement in the 400 (5.36 seconds faster than her previous personal record) and the 800 (10.69 seconds quicker).
Not only did Shibata obliterate her own records in the process, but also announced her arrival on the national scene as a star by ending Sachiko Yamada's reign as Japan's freestyle queen.
Shibata ended Yamada's run of six consecutive titles in the 400, then stopped her string of seven straight crowns in the 800.
And what did that mean to Shibata?
Life-changing affirmation of her swimming ability.
"Before, Sachiko Yamada would always be leagues ahead of everyone and I would just hope for second," Shibata said in April 2005.
When Shibata arrived in Greece as an underdog, it was only a matter of time before she etched her name in the annals of aquatic history.
Indeed, her impressive physical fitness was a necessary catalyst for gold. But you can't dismiss the role that confidence played when Shibata made her big splash.
"I gained confidence after getting the gold medal (in Athens), so I'm no longer afraid to go all out in a race," Shibata said the next year. (And without fear, extraordinary athletic feats happen. Go ahead and watch any of Kitajima's Olympic gold medal-winning races as a reference point. All these years later, it's still a treat.)
After the conclusion of the four-year Olympic cycle, Shibata was at the pinnacle of her athletic career.
And her confidence was at an all-time high.
Winning, after all, breeds confidence. It's one reason people find watching sports such an interesting leisure activity.
Watching people enjoy success enriches our lives. (There's that old newspaper tale about why people turn to the sports pages: All the bad news — war, scandals, crime, death — appears on the front page, whereas there are winners in the sports section every day.)
Even so, Shibata couldn't remain on Cloud Nine forever. Even if she wanted August 2004 to last forever, it couldn't.
And then it was time to start all over again.
In the months that followed, Shibata's meticulous work output in the pool confirmed her commitment. I saw her several times in the pool during a month-long high-altitude training camp in Flagstaff, Arizona in the summer of 2005.
On one of those visits to the Wall Aquatic Center at Northern Arizona University, I asked Shibata about her outlook before her day of destiny in Athens.
"I didn't even think about that, (didn't) even dream about getting gold," Shibata insisted. "For that reason, I was so happy. After the awards ceremony, when I got the gold, I was saying, 'Oh, this is the gold medal. I won the gold medal!'
"And then, I was so happy that I couldn't express it in words."
Have you ever been so happy that you couldn't express something in words?
I haven't.
And maybe it's another reason why Shibata's near-perfect race still resonates 15 years later.
Though Shibata didn't repeat as Olympic champ in Beijing, her place in history is secured in the record books.
Since retiring as a swimmer in December 2008, she's stayed in the public spotlight in recent years, including working as a swimming adviser for the Tokyo Metropolitan Government's 2020 Olympic volunteer program. She served as a bid presenter for Tokyo 2020 at the Association of National Olympic Committees' General Assembly in April 2012 in Moscow. She's been a mentor to paralympic swimmers, providing motivation and tips for success. She's also appeared on TV programs, lending her expertise on swimming.
Kitajima hasn't slipped out of the public eye, either. He's been a fixture on Japanese TV shows as a sports analyst, offering his perspectives on competition, on training and on athletes' psychology before, during and after big competitions. He brings an insider's view to every topic. He's a natural in front of the camera.
In addition to media appearances, running Kitajima Aquatics, his own swimming club, keeps him busy. For example, a personal training session for using lifesaving equipment is scheduled for July. The International Swimming League, a team-based circuit of pro competitors, added a Tokyo franchise for the planned upcoming season with Kitajima as the group's frontman. It's a reminder of his gravitas within the swimming community. He's also boosting his influence as the recently appointed new president of the Tokyo Swimming Association.
When the ISL announcement was made in December 2019, the four-time Olympian said, "I am delighted and truly excited to be part of elevating the value of the sport of swimming in a global context. The opportunity for swimmers to succeed in the professional arena is something that most of us have only dreamed about.
"The ISL will make it possible for swimmers and their coaches to highlight their talent throughout the year in a global arena and inspire children to pursue the sport."
Years have passed since their greatest races, but Kosuke Kitajima and Ai Shibata continue to inspire, and in these difficult times, their stories of perseverance are as vital as ever.
Author: Ed Odeven
Follow Ed on JAPAN Forward's [Japan Sports Notebook] here on Sundays, in [Odds and Evens] here during the week, and Twitter @itsjapanforward.