'Oishii Ukiyo-e': Learning The Roots of Japanese Cuisine From Woodblock Prints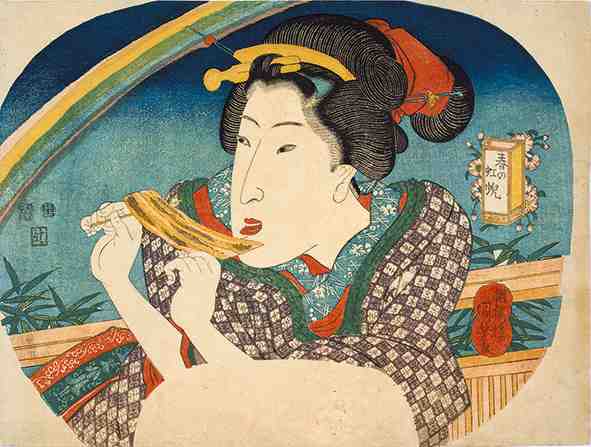 Photo Credit: Spring Rainbow, Utagawa Kuniyoshi, Private Collection
It's no secret that one thing Japan is famous for abroad is its culinary culture and history. Japanese traditional food didn't earn the accolade as "Intangible Cultural Heritage" in 2013 for nothing.
Consider for a moment that many of the favorite foods eaten in normal everyday life in Japan — like soba, sushi, tempura, and grilled eel — go back to the latter part of the Edo period (1603-1868).
A useful lens for analyzing Japanese cuisine is the world-famous medium of woodblock prints or, as they are known in Japan, ukiyo-e. Originally referring to the real world, the name underscored the idea that the world was characterized by pain, and was sometimes translated as "melancholy." However, in the Edo period it came to signify "floating" or "ephemeral," reflecting the buoyant and fun-loving quality of people's lives at the time.
In keeping with its meaning, ukiyo-e art has been best known for portraying everyday pleasures, such as beautiful women in kimono, kabuki plays, and geisha. With its hedonistic theme, it captured the imagination of people across time and space.
A special ukiyo-e exhibition inspired by this history was conceived as an invitation to visitors to discover Japanese food traditions. It is aptly named Oishii Ukiyo-e: The Roots of Japanese Cuisine.
To learn why Oishii Ukiyo-e is so special, JAPAN Forward sat down with Toshinobu Yasumura, one of the foremost experts and contributors to the exhibition and director of Hokusai Museum in Obuse-machi, Nagano Prefecture.
The Concept
The idea of choosing food as a fil rouge is in itself an innovative idea — it becomes an approachable way of enjoying art for everyone. As Mr. Yasumura made clear:
Until now, many exhibitions tended to be categorized by themes, say "Beautiful Women," or currents of artists, in a very scholarly way…. One might think, "Ukiyo-e is difficult, I'm not sure I understand it," but with the concept of "food" it's a really easy way to appeal to everyone. So we would like people to do away with the idea of "difficult ukiyo-e," and think of food instead, and this way perhaps they will see [ukiyo-e] in a new light. We tried to make it an experience that everyone can enjoy. It's called "oishii" (delicious), but with a bit of luck it can also be "tanoshii" (fun).
The exhibition is structured so that viewers can see different aspects of the food culture from the era presented in the art. This is thanks to the vivid representation achievable through ukiyo-e, as Professor Yasumura pointed out:
In a sense, even if we have records on food culture, it's difficult to gauge from just written words alone how it would actually take place, what it would look like. With ukiyo-e, almost like photographs, you can understand how people consumed their food, it's almost like traveling in time and seeing how things were done during that period.
For example, the first chapter of the exhibition looks at how food was enjoyed in different seasons, ranging from the decadent tradition of eating and drinking under the cherry blossom trees in spring, to the still popular custom of eating roasted sweet potatoes in winter.
A section is dedicated to the all-day affair that characterized going to see a kabuki play at the theater. Looking at the prints, we understand that spectators during the Edo era would crowd into venues, bringing sweets, bento boxes, and sushi to further enjoy the performance. We also learn that kabuki actors were the celebrities of their day, and would appear in woodblock prints advertising restaurants, and so on.
Cross Referencing Today's Cuisine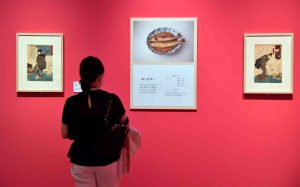 Simultaneously, the more one walks through the exhibition, the more one perceives the commonalities with the present-day Japan food habits.
The second chapter of the exhibition looks at specific foods, and how some have survived virtually unchanged since the Edo period. We learn that the currently popular way of cooking eel called kabayaki was in fact born in Edo. The process entails first grilling, then steaming, then dipping the eel fillets in a mixture of soy sauce and mirin.
More surprisingly still is the fact that many of the ways of enjoying food are in fact the same as we think of them today. For example, enjoying local specialties while traveling is still popular, as Professor Yasumura explained:
In the latter part of Edo [era], the highway [between Tokyo and Kansai] was hugely successful and it caused a boom in travel. So in each place you would eat the local specialty, and this was in itself something to look forward to. It's exactly like today, if you go to Hakone you try to eat this specialty, if you go to Nagoya you eat this other specialty.
An Innovative Way of Enjoying Art
The exhibition doesn't just try to be innovative in content, but also in the way it presents the material.
Ukiyo-e prints featuring specific foods are peppered with contemporary recipes of the delicacies. There are live reproductions of what a stall would have looked at the time, and even explanations showing restaurants in business since the Edo period which still maintain the original flavor of the recipes born hundreds of years ago.
For those hiring an audio guide, a comedic duo called Knights were enlisted to reenact an Edo period traveler duo, Kita-san and Yaji-san, giving a lively feeling to the exhibition.
And, last but not least, upon exiting, visitors are greeted by a restaurant, Cafe THE SUN, which features set menus designed to reflect the Edo period tradition.
Anyone for an abnormally large nigiri sushi?
In short, the exhibition attempts a lively, innovative way of showing art which stimulates the eyes, the mind, and the stomach! As Toshinobu Yasumura explained:
The wish of wanting people to enjoy themselves is a driving force in this exhibition. So not a process of studying but having fun while learning that in the Edo period people ate like this, like that, or even the fact that compared to the present day the way of eating was perhaps not so different.
So in a way it's a process of having people enjoy looking at the exhibition, perhaps making them a little hungry as they see all these images of food, then giving them the possibility to try the food inspired by the Edo period in the restaurant. So, for example, the sushi is really big! Why not challenge yourself to try it?
As Professor Yasumura smiled with a twinkle in his eye, we took our leave. The exhibition will be running until September 13, 2020. Those who have never enjoyed ukiyo-e might find this is just their cup of tea.
Author: Arielle Busetto
Mariko Azuma contributed to this article.