Photographers Are Sharing The Beautiful Snowy End To A Special Cherry Blossom Season In Japan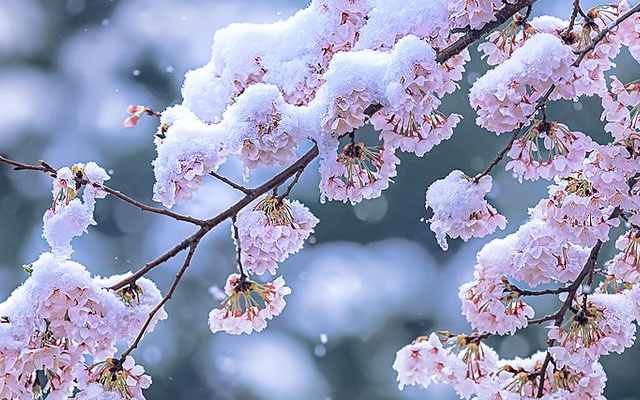 As Japan's beautiful sakura season begins to approach its end and people wrap up their hanami, or cherry blossom viewing parties, photographers have flocked to famous cherry blossom spots to capture the fleeting beauty of the iconic flower.

This year, however, weather has added a gorgeous wrinkle to their photography. As reported by the Yomiuri Shinbun, a cold front in the Kanto-Koshin region has shown temperatures usually seen in late January, resulting in snowfall in certain regions.
The timing of the longer-than-usual staying sakura and sudden snowfall have turned full bloom cherry blossoms into snow blanketed wonders.
秩父
桜の上に積もった雪
2019.4.10 pic.twitter.com/JaEYY6Pf0b

— Shin Sasakubo 笹久保伸 (@shinsasakubo) April 10, 2019
桜と雪

この最高コラボ撮ってみたかったんだ〜♥ pic.twitter.com/sz5bNWHqoX

— う ー み ん (@uuu25w) April 10, 2019
春の大雪に見舞われた信州伊那。
春日城址の満開のコヒガンザクラが雪を纏い幻想的な朝を迎えていました。#桜 #雪 #信州が美しい pic.twitter.com/GU9XcT18nf

— Shiokoh@山と写真と集落と (@Salt_Island_) April 9, 2019
滝桜
雪桜

撮影;2019.4.10.#三春町#三春滝桜#滝桜#ライトアップ#ふくしまの桜2019#福島撮影隊#空ネット pic.twitter.com/nnYaTKjVQI

— Non-Bay (@nonkian73) April 10, 2019