Photographing the Sacred Mount Fuji and the Enormous Winter Bloom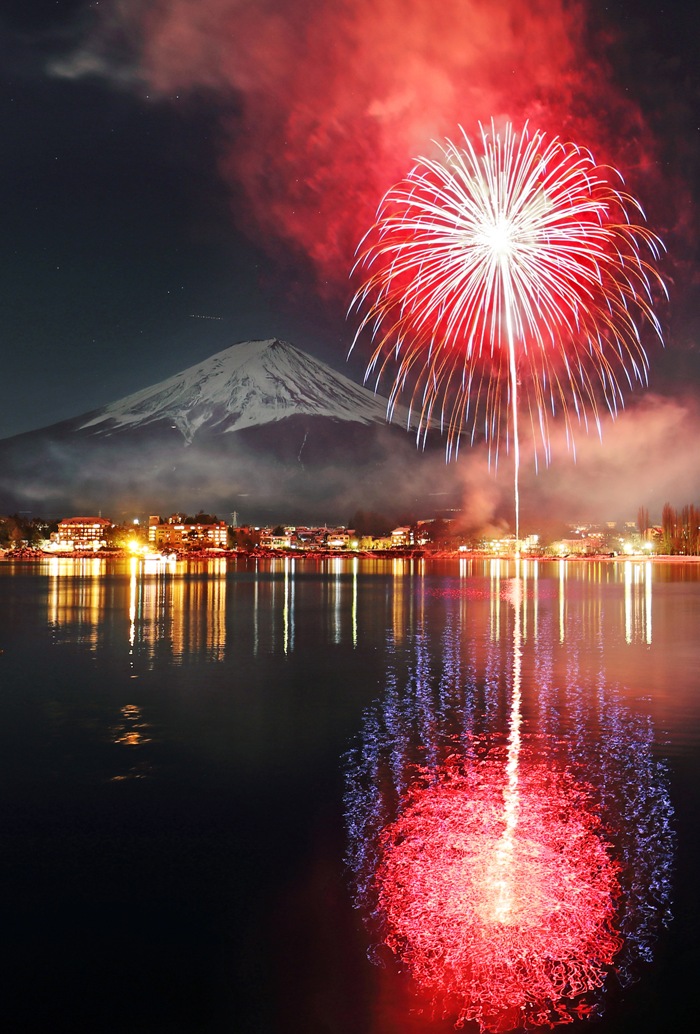 I felt the temperature drop suddenly once the sun set at the lake. My fingertips hurt. A fine layer of ice was beginning to form on the surface of the lake.
It was 8 P.M. As the fireworks shot into the clear night sky, a cheer rose from the gathered spectators at the duet of a snowcapped Mt. Fuji and the floral firework blooms.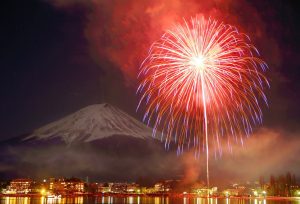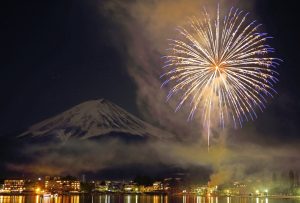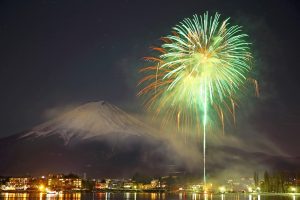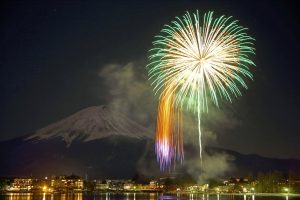 Started in 1998 in Lake Kawaguchiko, Yamanashi Prefecture (Fujikawaguchiko), as a means of drawing in tourists even during the winter, this is the 21st season the enormous fireworks display has been held. This year it is held on Saturdays and Sundays until February 18th and also on "Mount Fuji Day," February 23. Some 1,800 firework blasts spend 20 minutes coloring the winter night sky.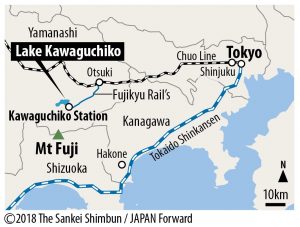 Mt. Fuji and Fireworks—I attempted to capture this unfamiliar scene in a photograph, but it was difficult. I aimed for a night when Mt. Fuji would sparkle in the moonlight, but just at the right time, the summit area would be hidden by clouds, or covered by firework smoke. In the end, it took four trips to the lake, battling the cold, before I took a photograph I was satisfied with.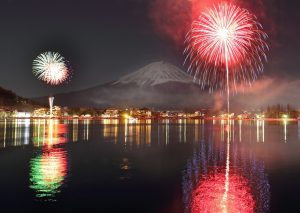 In the surrounds I could hear cheers in various languages, and I was surprised at the large number of foreign tourists. At Fujikyu Rail's Kawaguchiko Station, 80% of train and bus passengers are foreign tourists. In addition to those from China and Korea, recent years have seen an increase in visitors from Southeast Asian countries, such as Thailand.
One Malaysian university student, 21, from Johor Bahru, seemed satisfied: "This is my first time experiencing the unrivaled beauty of Mt. Fuji. I feel so lucky to see Mt. Fuji together with the fireworks. Mt. Fuji is truly a special place for the Japanese people, isn't it?"
Having listened to this story, I began to feel a little proud, as though I myself had been praised. And the blistering cold became a little milder.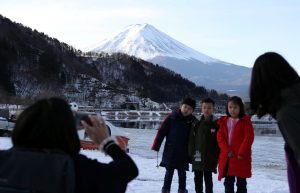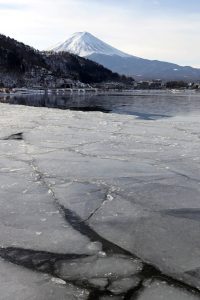 Kota Kiriyama is a staff photographer of the Sankei Shimbun Photojournalism Department.
(Click here to read the original article in Japanese.)