PHOTOS | Chaos at Narita as Typhoon Faxai Leaves Thousands Stranded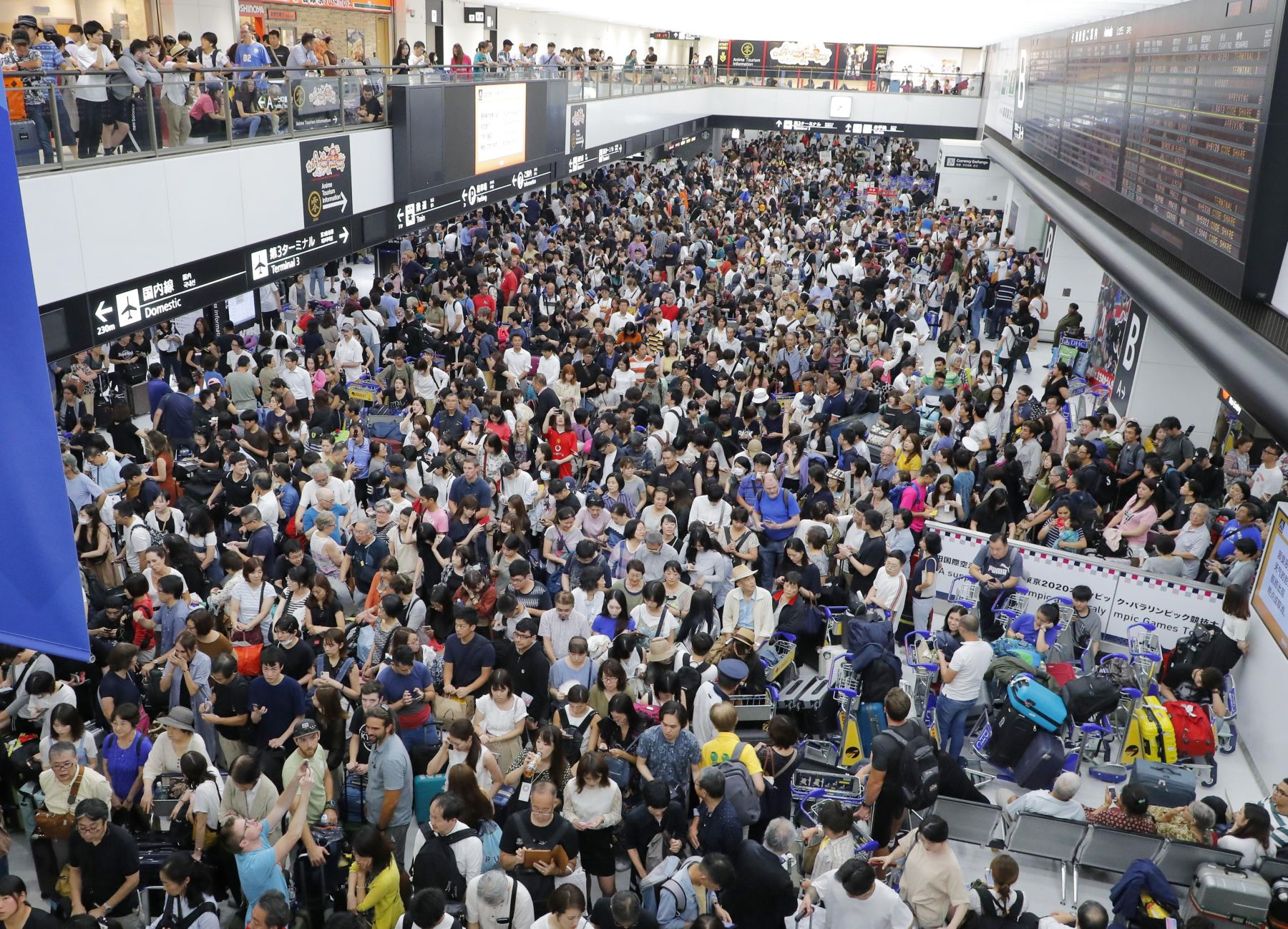 The last of the passengers stranded at Narita International Airport had flown out as of Tuesday afternoon, September 10, but accounts of shock and frustration among travellers who got caught in the aftermath of Typhoon Faxai continued to circulate.
Japanese authorities were quick to address the chaos that resulted from as many as 17,000 passengers being stranded after flights were cancelled due to the typhoon that hit Tokyo and surrounding regions early Monday morning, September 9.
Some travellers, however, raised questions on whether improvements could be made in airport emergency response, given that Tokyo will be expecting an influx of visitors in 2020 as it hosts the Olympics.
Faxai left 3 dead in the wider Tokyo area, more than 50 injured, and initially 900,000 households without electricity. However, while most of Tokyo had gotten back on its feet as of Tuesday, Narita International Airport in Chiba, southeast of central Tokyo, was still dealing with the last traces of the disorder.
Some 13,000 people spent Monday night at the airport due to the havoc, but as many as 17,000 people were reported to have been blocked at the airport, according to public broadcaster NHK.
The JR Narita Line and Keisei Line suspended train trips to and from Narita on Monday due to landslides caused by the typhoon in the region.
Buses could not get in and out of the international airport either since the highway was closed.
Before the JR Narita Line and buses resumed operations in the evening of Monday, for many hours only people in taxis or their own cars could leave the airport.
Visibly tired travelers in the queue for trains and buses voiced their frustration with the situation.
"I was looking forward to the trip to Switzerland with my wife, and it was cancelled, which was a real shame. I didn't expect that it would come to this," said a 72-year-old man from Yahaba, Iwate Prefecture.
To assist the stranded travellers, Narita International Airport management distributed bottled water, crackers, sleeping bags, and devices for charging phones. People were strewn horizontally both on seats and the floors, vending machines went out of stock, and queues as long as several meters formed at convenient stores.
A first-time visitor from Portugal interviewed by Nikkei Asian Review said he wished more airport staff spoke other languages to address the concerns of foreign travellers like him.
"We need more staff who speak foreign languages. If they had walked around and listened to our questions, it would have eased our anxiety," Tiago Mota said.
He said having multilingual airport personnel would be helpful since more visitors are coming for the Games in 20202: "I guess more foreigners will be coming for the Olympics and many of them cannot speak Japanese. I hope things will get better."
Author: Arielle Busetto