Pokémon Local Acts: Collaboration to Showcase Japanese Cities' Charms Can Go Global, Says Literary Scholar Robert Campbell
It was a special occasion on February 27: Pokémon Day. On this day all the way back in 1996, the games Pokémon Red and Green were first released, creating an incredible fan base in Japan and abroad. The Japan Anniversary Association formally recognized the date in January 2020, and Pokémon Day was established!
The Pokémon company started with games and has since expanded into other sectors, such as animé, merchandise goods, and technology. It's been almost 25 years of nonstop activity, and the company's still experimenting with new projects.
This time, Pokémon has teamed up with different localities around Japan to create a synergy and show off to fans at home and abroad the charms of both Pokémon and each participating Japanese city. The project is called "Pokémon Local Acts."
Robert Campbell, who has for years been showcasing Japanese literature overseas, visited Tottori Prefecture, exploring the aims and effectiveness of the intriguing new strategy.
Welcomed by Ambassadorial Pokémon At Tottori Sand Dunes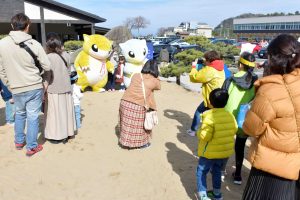 It's February 15 and we're at the location of Tottori Prefecture's pride — the Tottori Sand Dunes. Tourists are bathed in warm sunshine in front of a hill called "The Horse's Back," a beautiful 47-meter-high sculpture of nature.
Suddenly, two Pokémon appear. They are the Tottori Furusato (Hometown) ambassadors Sandshrew and Alolan Sandshrew.
The Pokémon move with tiny steps, to which surrounding visitors cry gleefully, "Kawaii! (How cute!)," immediately crowding around them. Looking at the people taking pictures together with the Pokémon, Campbell comments, smiling: "Everyone is really happy, wouldn't you say?"
The Greeting Event is just one part of the "Local Acts" project in the prefecture. Every third Saturday of the month, on "Sandshrew Day," the Pokémon become promoters of local tourism.
Mr. Campbell asks a young woman in her 20s who is visiting from Tokyo for her thoughts on this event. She replies: "I came to see the sand dunes, and seeing Sandshrew really took me by surprise. They're so cute, and it was really fun."
A local company employee says, hopefully, "I think it will create an opportunity for people to come and visit us in Tottori."
Campbell himself comments with visible curiosity, "It's really interesting that the 'Greeting' [Event] is in a way connected to omotenashi, Japanese hospitality."
Sandshrew and Alolan Sandshrew Collaborate with Tottori Locals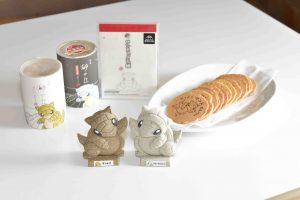 The "Local Acts" project also features goods produced in collaboration with local businesses. There are Sandshrew and Alolan Sandshrew's picture frames, which are made out of sand from the dunes, and pottery bells, which are handmade by local craftsmen.
Tottori Sand Dunes Visitor Center assistant director Shinobu Takenouchi comments that he can already feel the benefit of the initiative: "Visitors coming from Europe expressed the wish to buy Sandshrew-themed goods, so we decided to introduce them in shops."
Looking at the numbers, the project seems successful. The number of people coming to visit the prefecture is growing. Compared to 2017, in 2018 there was an increase of 38.6% in the number of foreigners who stayed in Tottori Prefecture — an increase of more than 194,730 people, the highest number ever recorded.
"Local Acts" was started in Tottori only in 2018, so perhaps the direct effects are not yet reflected in the data. Nevertheless, a representative from the Tottori Public Relations division reflects: "I think that not only domestic visitors, but also overseas tourists, think that Sandshrew and Alolan Sandshrew are cute. If we collaborate with Pokémon, which are already well-known abroad, I hope that more and more people will want to come and visit Tottori."
Mr. Campbell concludes the thought by commenting: "Thanks to both ambassadorial Pokémon, visitors of all ages from all over the world have a chance to instantly come together. By collaborating with Pokémon, they are creating something, spending time together, I think perhaps it creates a moment of exchange which goes beyond the barriers of language."
At Root: Supporting the Recovery of Disaster Affected Areas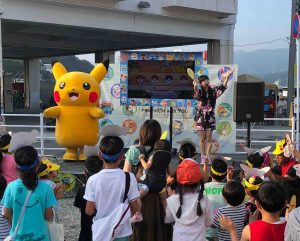 Roots of the "Local Acts" project date to 2011, when volunteers who worked at the Pokémon Company came together to help out in the aftermath of the Great Northeastern Japan Earthquake. This project is an outgrowth of their desire to continue helping the region's recovery.
Among the lessons learned, they found that there was a need to take care of the affected children. "POKÉMON with YOU" then launched, with the intention to support and bring back smiles to children who were affected by the disaster.
The project was aimed at raising money to support school students. It also included initiatives with nurseries and kindergartens, such as visits with Pikachu. From 2012, the company prepared wagons to visit children and encouraged playtime with coloring books and materials for paper crafts. Volunteers visited 850 locations, mainly in the three prefectures heavily damaged by the disaster: Iwate, Miyagi, and Fukushima.
On top of these initiatives, in collaboration with the JR East, Pikachu designs were used to decorate interiors and exteriors of the Ofunato train line during holidays. The train connecting Iwate and Miyagi prefectures was called the "POKÉMON with YOU Train."
One window of opportunity was presented by "Pokémon GO," the immensely popular smartphone game which integrates location information in the game play. In 2016, Pokémon set up an event in which visitors sought to find many Lapras, a rare Pokémon in the game, to support the three prefectures on the North Eastern Coast of Japan. According to the numbers provided by Miyagi Prefecture, in one of the event locations — Ishinomaki — there were more than 100,000 visitors during the 11-day event, adding up to an economic footprint of ¥2 billion JPY.
Daigoro Toyohide Suga, a director in the Player Relations section of The Pokémon Company, explained to Sankei Shimbun: "We found out that Pokémon may have a way of moving people. As Pokémon are also well known abroad, by having Pokémon communicating the charm of Japanese localities, we want to make it an opportunity for many people from both Japan and overseas to visit different locations."
It was with this impetus that in April 2018 "Local Acts" began as a full-fledged project. There is a particular initiative for selection of the "Ambassadorial Pokémon," which fits and supports the characteristics of each prefecture, in order to attract people to each location, in the same way that Sandshrew represents Tottori Prefecture and its sand dunes.
Each local government utilizes the impact of Pokémon in organizing greeting events, producing goods in collaboration with local artists and manufacturers, setting Pokémon utility hole covers called "Poké Lids," and so on. Yet the use of the characters themselves is free of charge. As Mr. Suga pointed out: "We are working in symbiosis in order to increase the fans of both Pokémon and local cities, so we thought it is necessary to make it royalty-free."
So far, the project has expanded to six prefectures. And, if you include events in which people collect series of stamps at railways stations, there have been more than 200,000 individual participants and 120 types of products. Currently, many local governments are actively proposing different initiatives, and it looks like Pokémon might just spread all around Japan.
Mr. Suga concluded with emphasis: "Going forward, by carefully showing the charm of each different prefecture, we want to make this an initiative which the locals will love as well."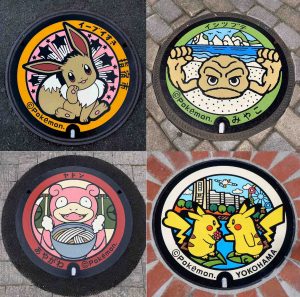 Other Local Partnerships: Traditional Japanese Crafts, Agriculture, Train Designs, and Childcare
With "Pokémon Local Acts," each participating prefecture chose the Pokémon that showcases the characteristics of their locality, and proposed projects to go with it. Apart from Tottori, there are five other participating prefectures, and their initiatives are described below.
Kagawa Prefecture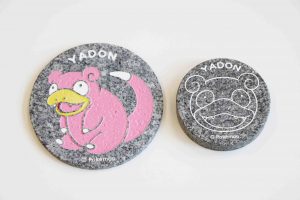 This prefecture is so famous for its Sanuki-Udon noodle that it has earned the name of "Udon Prefecture." Therefore, as it started its connection with "Pokémon Local Acts," it has chosen to showcase the character Slowpoke, since its Japanese name "Yadon" sounds similar to "Udon." As early as April 2018, for April Fool's, a "Rename Udon Prefecture into Yadon (Slowpoke) Prefecture Press Conference" was held.
A particularly distinctive feature of Kagawa's version of the project is its collaboration with traditional craftsmen. The prefecture has collaborated with Marugameuchiwa (丸亀うちわ), the producer of more than 90% of traditional paper fans all over Japan.
Kagawa also produces goods in what is commonly known as the "Granite Diamond" out of Aji Stone, which is meticulously crafted and pleasant to the touch. Out of this unique craft, locals are producing and selling coasters and paperweights with the cute Slowpoke carved on them.
A representative from the Tourism Promotion Division in the Prefectural Office commented, "Because the use of the character is free of charge, it's easy also for local craftsmen and small to medium businesses to participate in the project."
Fukushima Prefecture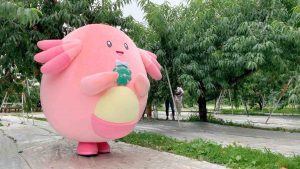 Fukushima boasts the second highest production of peaches in Japan. From this idea, the Pokémon collaboration came into full swing with Chansey, as the round shape and the characteristic pink color reminds people of the famous Fukushima peach. Food product ideas range from the traditional jellies and sorbets, to the more unusual "Fukushima Fruity Curry," which features peach, apple, and tomato as its ingredients.
In 2019, the stamp rally project "Code F" took place in more than 25 locations in Fukushima Prefecture. It is called "Look for Chansey!". More than 193,000 people participated, and the Fukushima prefectural office commented, "Thanks to Chansey, many more participants increased by 20%, and everyone really enjoyed the event."
Miyagi Prefecture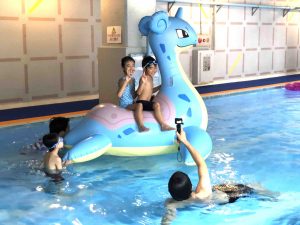 Aiming to appeal to people of all ages, Miyagi Prefecture chose Lapras, known among fans as a "Transport Pokémon," as a part of their tourism campaign. In some swimming pools in the prefecture, Lapras-shaped floats were set up to allow everyone to enjoy riding on the water, as well as the characteristics of this Pokémon.
Miyagi Prefecture is part of the northeastern coastal region of Japan, which was particularly badly affected by the Great Northeastern Earthquake of 2011. With the specific aim of boosting tourism and trying to encourage more people to visit the region, the prefecture organized sightseeing boats with Lapras decorations for the enjoyment of the season.
A representative from the Prefectural Tourism Division commented: "Almost every day pictures [of floats and so on] are uploaded on social media. The extent of the reaction has amazed us."
Iwate Prefecture
In Iwate Prefecture, The Sanriku Railway runs along the coastline, and its service was suspended in the aftermath of the 2011 earthquake. To commemorate its reopening in June 2019, the prefecture collaborated to have the train decorated with the Rock-type Pokémon, Geodude. The reason for this choice was that this Pokémon looks like a boulder with hands, and "Iwa" and "Te" translate as "rock" and "hand" respectively.
The designer of local PR mascots "Wankokyodai" was in charge of the illustrations, allowing for a slightly different feel to the Geodude we all know. The train operation was partially suspended following Typhoon Hagibis in October 2019, but will resume full operation on March 20, 2020.
There are also teapots produced in collaboration with Nanbu Cast Ironware, an object highly representative of the region and revered by many in Japan. The Iwate representative from the Tourism Division commented on the initiative, saying, "We want to create many more opportunities to collaborate with Geodude, leaving a stronger impression on tourists and locals alike."
Hokkaido Prefecture

Hokkaido has already a well-established reputation as a tourist destination, but to further increase the appeal of the region, it collaborated with Pokémon. It uses designs of Ambassadorial Pokémon, Alolan Vulpix and Vulpix to "Ryuhyo Monogatari Train," which runs in winter season, and to the child room of a ship which connects the remote islands of Rishiri and Rebun.
Putting together the values of Pokémon with good education and childcare, home study materials with illustrations of Ambassadorial Pokémon were distributed to the children in an elementary school in Esashichou, Hayama. According to the Hokkaido representatives of Public Relations and Public Affairs, "It would be great if this became an opportunity for children to make use of our education materials."
Finally, as of February 2020, there are more than 70 different designs for utility hole covers, known as "Poké Lids," all over Japan. Fifteen of them are located in Hokkaido Prefecture.
In particular, in a city called Pippu, there is a utility hole cover which is so highly revered that the locals even put up tents to protect it from snow, gaining it the reputation as "the most protected utility hole cover in Japan."
Robert Campbell's Take: Unexpected Charms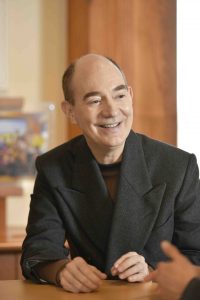 At the Greeting Event with Pokémon ambassadors Sandshrew and Alolan Sandhrew, I felt one with Japan's hospitality culture. It was almost like the tea ceremony, where you are asked to wait just outside before going into the room where you are served tea. In that one moment, you can sense the preparations taking place on the other side. From the moment you step across the garden and admire the flowers, the culture of hospitality begins.
The Greeting Event is the same, as visitors to Tottori Sand Dunes from all over the world discover a way of feeling the presence of Pokémon, by playing games and exploring the region.
From what I understand, the Sand Dunes are also a location for "Pokémon GO." With Sandshrew, who straddles both the physical and the virtual world, it felt as though I were witnessing a sudden reaction between the environment and the visitors.
I had seen other ambassadorial Pokémon around Japan before, but my experience at Tottori made me think their network might just take off and expand to cities all over the world. For example, if Tottori Prefecture teamed up with an overseas city with the same ambassadorial Pokémon, it might be able to create a new sort of synergy.
If I had to describe the charm of Japan localities, I would say "rich" is the best word. Used in the material sense, "richness" is present in many cities. Yet, what I perceived the second I stopped and sat down when I came to Tottori today, was a fundamental sense of space and of peace.
The sense of peace was conveyed through the feelings of those around me, and the consequent thoughts which were born in that environment were what struck me.
Some people feel they lose themselves when they are not relentlessly busy. But for me, the peaceful atmosphere allows me to move forward, to become more proactive. These are localities where you can relax, maybe write letters and books, take a deep breath, and feel the energy flow through you.
This article was translated from the Japanese and written in collaboration with the Pokémon Company. For more information on Pokémon Local Acts, check out this website.

Author: JAPAN Forward