Praemium Imperiale Architecture Laureates Highlight Environment and Creativity in the Pandemic
The power of the arts and culture can unite the hearts of disconnected people and let them become one. In this sense, I hope that the roles of artists will become more important in the future than they were before the pandemic. (1996 Architecture Laureate Tadao Ando)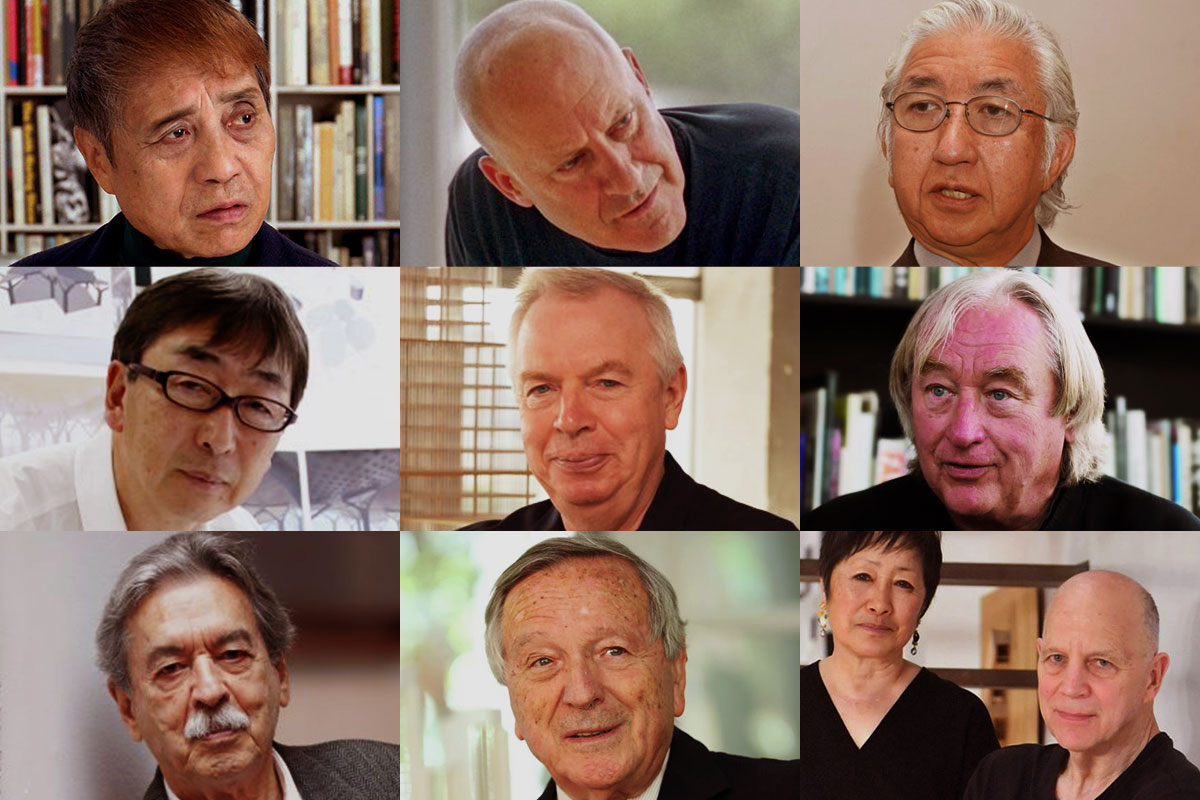 ~Through shared global and local action, we can not only recover from the pandemic, but prosperーNorman Foster ~


(Fourth of 6 parts)
Read
Part one: Praemium Imperiale International Advisors
Part two: Praemium Imperiale Laureates in the category of Painting
Part three: Praemium Imperiale Laureates in the category of Sculpture
Part four: Praemium Imperiale Laureates in the category of Architecture
Part five: Praemium Imperiale Laureates in the category of Music
Part six: Praemium Imperiale Laureates in the category of Theatre/Film
Among the pleasures of autumn, the annual Praemium Imperiale Awards are among the most highly anticipated in the global world of arts. This year, the 32nd anniversary of the awards ceremonyーinitiated by the Japan Art Association in 1988 to honor the artsーhad to be postponed until October 2021 due to the coronavirus pandemic.
To reaffirm the importance of the arts, the organizers asked previous Praemium Imperiale laureates for their thoughts and reaction to this pandemic.

Several guide questions were posed:

The impact of the coronavirus on art's network of social connections,
The way they view and create art,
The role of the arts in these difficult times, and
The important lessons that they, as artists, have learned from this crisis.


The wide variety of encouraging messages received from a total of 5 international advisors and 47 laureates in five categories have been compiled into a special issue of the 2020 Praemium Imperiale Yearbook, providing a valuable testimony of this global crisis from the great artists of our time. Their comments are presented in six parts, according to the artist's form of participation and artistic category.
Excerpts of the varied and thoughtful comments of the Praemium Imperiale Laureates in Architecture follow:



1996 Tadao Ando (Japan)
In the future, even if we slowly but steadily win the fight against Covid-19, I have the feeling that our society won't just return to how things were previously. The systems that have traditionally moved our world so far are getting old and are falling apart, new systems are expected to appear. We still have no idea how our future society will turn out, so what we should be doing now is to cultivate our minds and hearts so we can make accurate judgements and be sensitive to what the world shows us. For that, the arts and culture are indispensable. New values produce new arts and culture. I believe that, from now, artists should open their minds and hearts to these global changes and to treat them as new factors, as they express themselves through their art.The power of the arts and culture can unite the hearts of disconnected people and let them become one. In this sense, I hope that the roles of artists will become more important in the future than they were before the pandemic.



2002 Norman Foster (UK)
Healthier buildings will be in demand. The air quality in buildings where people gather together for work or entertainment must improve. Air conditioning systems that recycle stale air within a 'sealed box' building will disappear.
Through shared global and local action, we can not only recover from the pandemic, but prosper. The tools are available, we just have to use them more widely. All of the arts can make a decisive contribution to this process.



2005 Yoshio Taniguchi (Japan)
These architectural challenges for combating infectious diseases are more than just a public health problem to be solved and call for functional reforms and new ways of thinking in architecture as a whole.
Architecture doesn't just create a machine for people to live in, nor something to house a small specific number of people. Architecture should provide a space where many people are invited to come together and be able to gather safely. It should also create an artistic entity that moves people's hearts and souls. We can expect to see the emergence of a new architectural culture, full of functions provided by cutting-edge technology, beautiful designs and rich creativity.



2010 Toyo Ito (Japan)
When we think about architecture and the urban environment of the future, we must abandon the modernist ideology that encourages a society to prioritize its economy. In other words, instead of believing we can conquer nature through technology, we must create architecture and cities that can coexist with nature. Architecture should no longer rely solely on man-made environments, separated and insulated from the natural environment. A new way of architecture is to create buildings that
integrate with nature and to adjust the internal environment using available new technology. We must use the ravages caused by the coronavirus as an opportunity to transform our lives into a new tomorrow and try to see this disaster as a potential blessing in disguise.



2013 David Chipperfield (UK)
The lesson to be learnt is that it is possible to do things differently, it is possible to reorder criteria and to question the structure of things. If we are capable of responding forcefully and decisively in the face of this explicit crisis, why not to climate change and social inequality? Must we wait until they threaten us all even more catastrophically? If professionally we can manage to operate our way through this period of pandemic, perhaps we will have the courage and a greater mandate to insist on creating only the buildings, spaces and objects that give solidity to our lives and that serve as a more fitting background to those conditions we now recognize more clearly as fundamental to our quality of life.



2014 Steven Holl (USA)
I believe the role of the arts is more important than ever during global crises such as this via active social networks, the arts can inspire and help us define our current lives. As the great poet Kenneth Rexroth wrote, 'Against the ruin of the world, there is only one defense – the creative act.' With the creative works produced under any circumstance, we realize the central meanings of culture and the core aims of our existence.



2016 Paulo Mendes da Rocha (Brazil)
There is a very positive revelation of this recent phenomenon. Another light on the formation of the consciousness that we are all members of nature, the living at the same time. A timely summons.



2017 Rafael Moneo (Spain)
The pandemic has awakened the consciousness of architects by making them rethink how much housing should be the primary object of their attention. We hope that the cities that we have seen deserted, uninhabited, turned into 'other cities' into premature archaeology, will soon recover their pulse so that the architect's profession can continue to be what it was.



2018 Christian de Portzamparc (France)
From crisis, from danger, grows salvation', wrote Höderlin, and this global agreement of countries to go into lockdowns makes us think it may be possible for mankind to pull through. The fear of a violent death from the virus has somewhat united human beings in a kind of forced solidarity which will have to be, for us, the prelude to a longed-for solidarity. The fear of global disaster will be stronger every day and as it does. And the stronger the wave of salvation by which we will overcome, will have to be.



2019 Tod Williams & Billie Tsien (USA)
So to continue on that path of hope - we do feel as architects that we have something to give. We think that architecture will be less about style and more about service. We need to think about space that is at its essence democratic. As we make buildings we must focus on open space, infrastructure, and sustainability. We must try to build for the many and not for the few. Art, literature- all creative work is at its heart the way to connect to other human beings. It is how we remind ourselves that we are not alone. It reminds us that we are able to dream.



About the Praemium Imperiale:
The Praemium Imperiale was created in 1988 to commemorate the 100th anniversary of the Japan Art Association and to honor the late Prince Takamatsu, who was the association's honorary patron for almost six decades.
The Association chooses the winners based on the recommendations of individual International Advisors in England, France, Italy, Germany, the United States, and Japan. Each advisor is guided by the recommendations of a nominating committee, comprising cultural leaders from his home country. The international advisors are leading figures with a deep interest or involvement in the arts. International advisors to the Praemium Imperiale chair nomination committees and propose candidates for the annual awards. Japan Art Association selection committees make final selections. Selections for the 32nd Praemium Imperiale awards will be presented at a ceremony in October 2021.


(Continues in Part 5)


Author: JAPAN Forward