Residents Feel Safer Through Local Police's "patrol memos"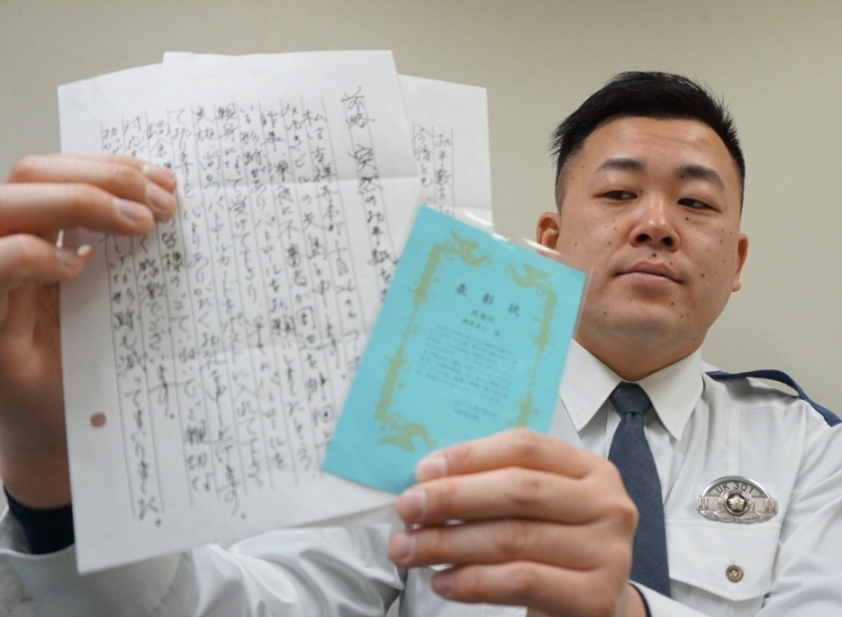 Head Patrol Officer Naoto Nabekura shows the thanks letters from local residents
Local police are making efforts to connect better with their communities, and the little note cards they leave with households seem to be doing the trick.
Called "patrol memos," the small pieces of paper contain pieces of advice on crime prevention. The police officers post them on houses during their nighttime patrols, especially in areas known to have many elderly or women-only households. Homes in areas which have had about robbery and garbage dumping problems receive these notes too.
Residents say the effort is helping them feel safer.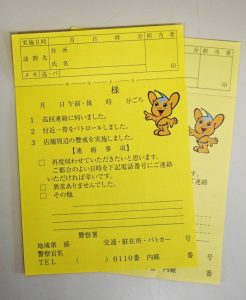 The patrol memos
Hit-and-run man surrenders
"We needed to change something," said a 57-year-old man in May last year, putting a bundle of patrol memos on the desk.
When an officer on duty asked the man who he was, the man said that he had been involved in a hit-and-run a few days earlier within the jurisdiction of Tamagawa Police Station.
"When I thought about the patrol officers who came to my house time and time again, I felt like I had to turn myself in," the man said.
The man was a victim of a robbery that occurred in February 2016. Police Sergeant Masanari Fujita, who was on duty at the Fukazawa Police Box at the time, started posting memos as a way to ease the family's anxiety.
The man's mother was suffering from an illness that came from old age. When her symptoms improved, he wrote a letter expressing his gratitude toward the patrol police.
So after committing a hit-and-run and seeing his mother in a much better shape, the man made up his mind. He gathered around 30 pieces of patrol memos that he had collected at home and turned himself into the Tamagawa Police. He confessed to his crime and apologized.
"Efforts put in patrol memos bore fruit in an unexpected way. They play an important role in letting the residents know that we're watching them and protecting them," said Makoto Iwasaki, chief officer of the Tamagawa Police Station Regional Office.
'Thank you' certificate
Even though these patrol memos are small in size, the effect they have is huge. In 2016 alone, Tokyo Metropolitan Police Department received as many as 1,500 thank you letters and calls.
The Musashino Police Station even received a heart-warming gift. Head Patrol Officer Naoto Nabekura, stationed at Kichijoji Higashiguchi Police Box, was on patrol duty one night. As he tried to post a "patmemo" to a house, he found a small handmade certificate stuck on the mailbox. It said, "Thank you for watching over us even on a rainy, windy or snowy day."
It was a house that he had begun patrolling after he received some word of concern during one of his patrol duties. Patmemos are posted after midnight or early in the morning when the residents are still asleep. "That's why getting some response about the memos makes it all the more motivating," Nabekura said.
Thanks to the patmemos, more locals say hello when they pass by the police box. "If they know our names, they will talk to us when something happens. We want to use patmemos as a means of communication," he said.
According to the Musashino Police Station, they post more than 6,300 patmemos a month.
Getting creative
Although the Tokyo Metropolitan Police Department (TMPD) calls them "patrol memos," these pieces of paper are called "patrol cards" nationwide.
The TMPD says the origins of patrol cards are not clear, but they appear in the Police White Paper of 1948, where the memos had checklists to remind the residents to lock their doors and take in their washing.
As for the card designs, in some cases the police headquarters decide on the design while some police stations create their own.
Since the cards are distributed mainly in areas with many elderly residents, many of the recent patrol cards have warnings printed on the back of the card to call attention to special frauds. Shimane Prefectural Police even uses cards that have braille writing.
TMPD calculates that a total of 1.4 million patrol cards were distributed 2016, while the Kanagawa Prefectural Police distributed 2.8 million cards in 28 years.
TMPD Regional Office explains that the patrol memos aim to foster this sense among residents: "Public safety is like the air. We want to inform the residents, through our patmemos, that nothing unusual took place, and to feel safe."
The same official emphasized: "Trust between the residents and the police becomes even more important when it comes to gathering information to prevent crimes or make arrests. We want to promote the distribution of patmemos as a way to form that trust."
(Click here to read the original article in Japanese)