RUGBY | Japan Begins Preparations for 2023 Rugby World Cup with Rout of Uruguay
Brave Blossoms coach Jamie Joseph used a combination of up-and-coming players and veterans in their first official match since November 2021.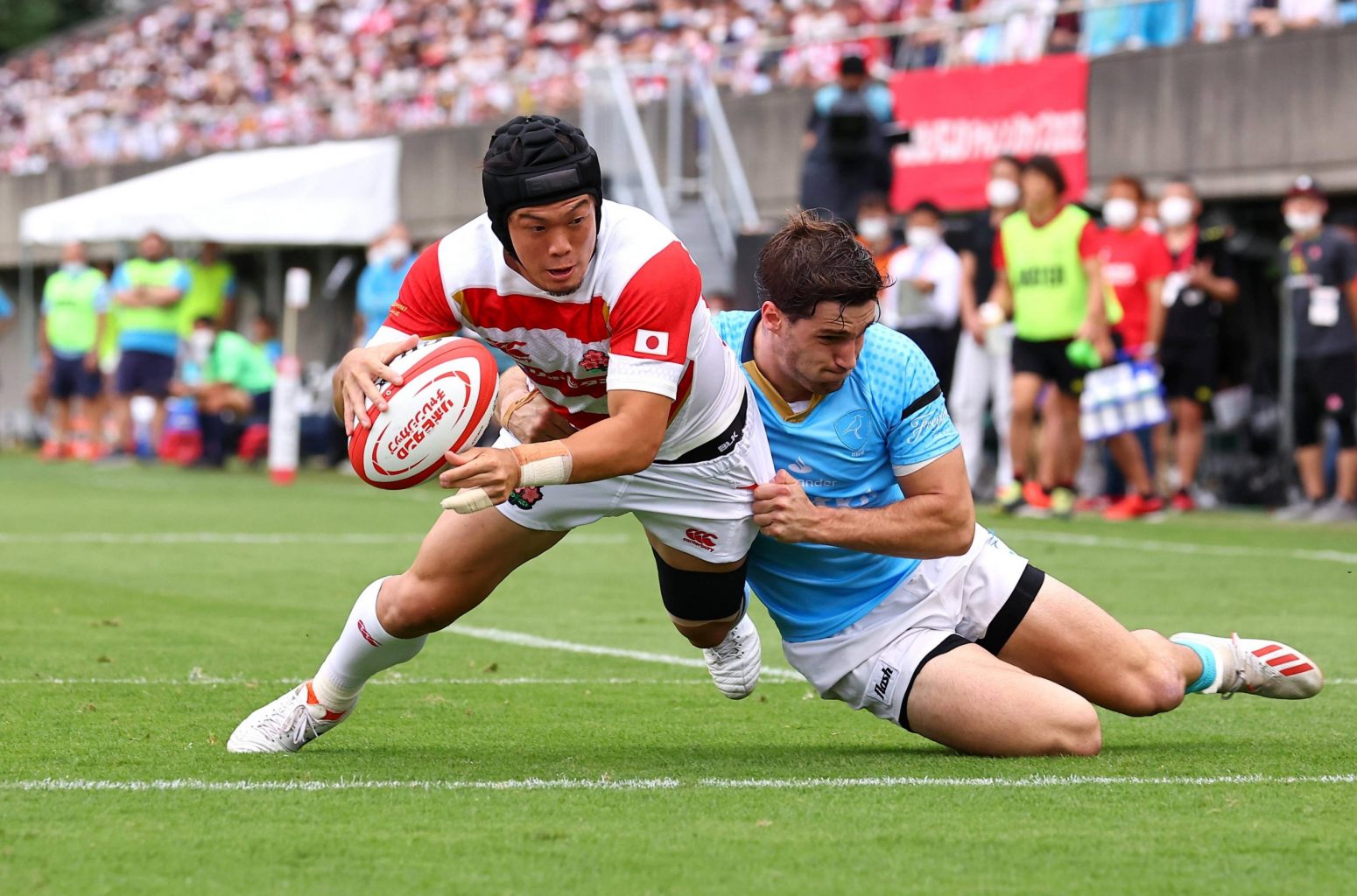 Japan kicked off its preparations for next year's Rugby World Cup with a convincing 34-15 win over Uruguay in Tokyo on Saturday, June 18.
With a combination of up-and-coming players and veterans, Jamie Joseph's Brave Blossoms were in control from the outset at Prince Chichibu Memorial Ground.
First-half tries from Koga Nezuka and Tevita Tatafu gave the 2019 World Cup hosts a 15-3 lead at halftime.
Kosuke Horikoshi ran in Japan's third try early in the second half and captain Yu Tamura converted to give the hosts a commanding 22-3 lead.

Diego Magno crossed with over 20 minutes left to keep things interesting but replacement Takeshi Hino scored Japan's fourth try in the 63rd for an insurmountable 27-8 advantage.
Hino added another try in the 72nd minute to seal the victory for the hosts, who will face Uruguay again on June 25 in Kitakyushu. A late try by Uruguay's Manuel Ardao, converted by Felipe Etcheverry, completed the scoring.
"We had a lot of players making their debut so it was a good result for us," Tamura said. "We only had two weeks to prepare so it was quite an accomplishment. We want to keep making progress."
Playing in its first test in Tokyo since the 2019 World Cup, Japan got off to a quick start when test debutante Nezuka crossed in the 10th minute.
With Lucas Bianchi in the sin bin, a penalty kick by Tamura eight minutes later made it 8-0.
"I was a bit nervous but with Tamura and the other backs leading the way, we were able to relax as the game went on," the 23-year-old Nezuka said.
The visitors got on the scoresheet in the 34th minute on a penalty by Etcheverry to cut the lead to 8-3.
Tatafu powered in from about 20 yards for Japan's second try in the waning minutes of the first half.

A Look Back And a Look Ahead
The senior team hadn't played since losing 29-20 against Scotland in Edinburgh in November 2021.
The Brave Blossoms surprised many by advancing to the last eight of the 2019 World Cup which they hosted.
Japan went 4-0 in group play before losing to eventual winner South Africa in the quarterfinals.
In the 2023 World Cup in France, Japan has been drawn in Pool D with first-tier nations England and Argentina. Samoa and a yet-to-be determined team from the Americas will also be in the group.
The Brave Blossoms will face France in Toyota, Aichi Prefecture, on July 2 and Tokyo on July 9.
The Japan Rugby Football Union also said Japan will play France in Toulouse in a November 20 test after taking on England on November 12 at Twickenham.
Follow rugby coverage here, on JAPAN Forward's dedicated sports website, SportsLook.


Author: Jim Armstrong
The author is a longtime journalist who has covered sports in Japan for more than 25 years. You can find his articles here.